To read more about uploading documents on Everlaw, feel free to refer to the articles in our Uploads section.
Table of Contents
Introduction to uploads
Everlaw's uploads feature allows you to add new data to your database at any time of your choosing.
Everlaw accepts:
Once documents are successfully uploaded, they will be searchable and viewable in your project. You can also easily find documents by upload on the homepage under the Document Sets column, by searching for them, or by using the history cards in the uploads page. Please note the following: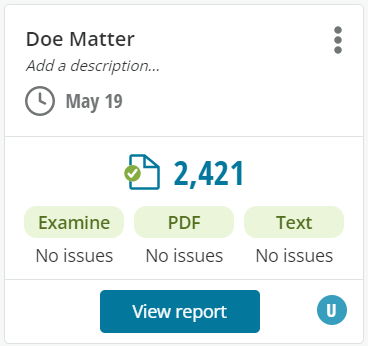 Do I have access to upload documents?
Because uploading documents adds the documents to your entire database and can thus affect projects that you are not on, the ability to upload documents is a database permission. In order to be granted the Upload permission, a database administrator must grant it to you from the Database Settings page. To read more about granting and receiving database permissions, please see this help article.
How Everlaw handles metadata
Upon upload, Everlaw automatically detects metadata fields that refer to the same underlying concept, and groups them together. For example, all variations of the custodian field ("Custodian", "Custdn", "CUST", etc.) will be grouped into the "Custodian" field. Though this automatic grouping is performed for all fields in the project, particular attention is paid to approximately 40 of the most common metadata fields, determined through an empirical analysis of the types of metadata fields that appear in document sets. These 40 or so fields are referred to as standard fields. Raw metadata fields will therefore be mapped to these grouped and standard fields upon upload.
You can view the 'raw', unmapped metadata fields for a document in the review window. If you click the caret icon on the metadata panel, you can choose to view the raw metadata by clicking on "Source" or click "Both" to view both Everlaw and raw metadata on a file. The names of raw metadata are colored blue, and Everlaw metadata is black text.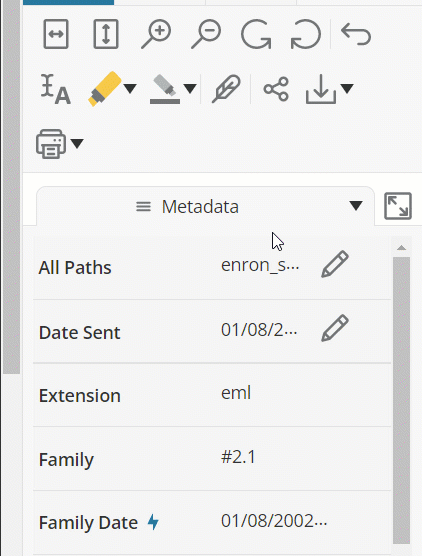 Because of the mapping, the default name of a metadata field might not be original field name. If you hover over the value of a metadata field in the panel, you'll be able to see both the original and mapped field name.

For more information on standard fields, visit our help article about the topic.