You can learn about full screen mode in this article.
How to access the review window
The review window can be accessed either through selecting a document from within a results table, or by clicking on an attached document in the message center.
Opening from the results table: To open the review window from a results table, simply click on the appropriate row. The review window will open in a separate browser window from the results table, allowing you to keep both views side-by-side, if desired.
Opening from message center: When you click on an attached document in the message center, the document preview will appear. The preview allows you to see the document's contents, metadata, notes, and highlights. You can also apply document-wide notes from the preview. To open the document in the full review window, click the "Open for Review" button.                 
Navigating the review window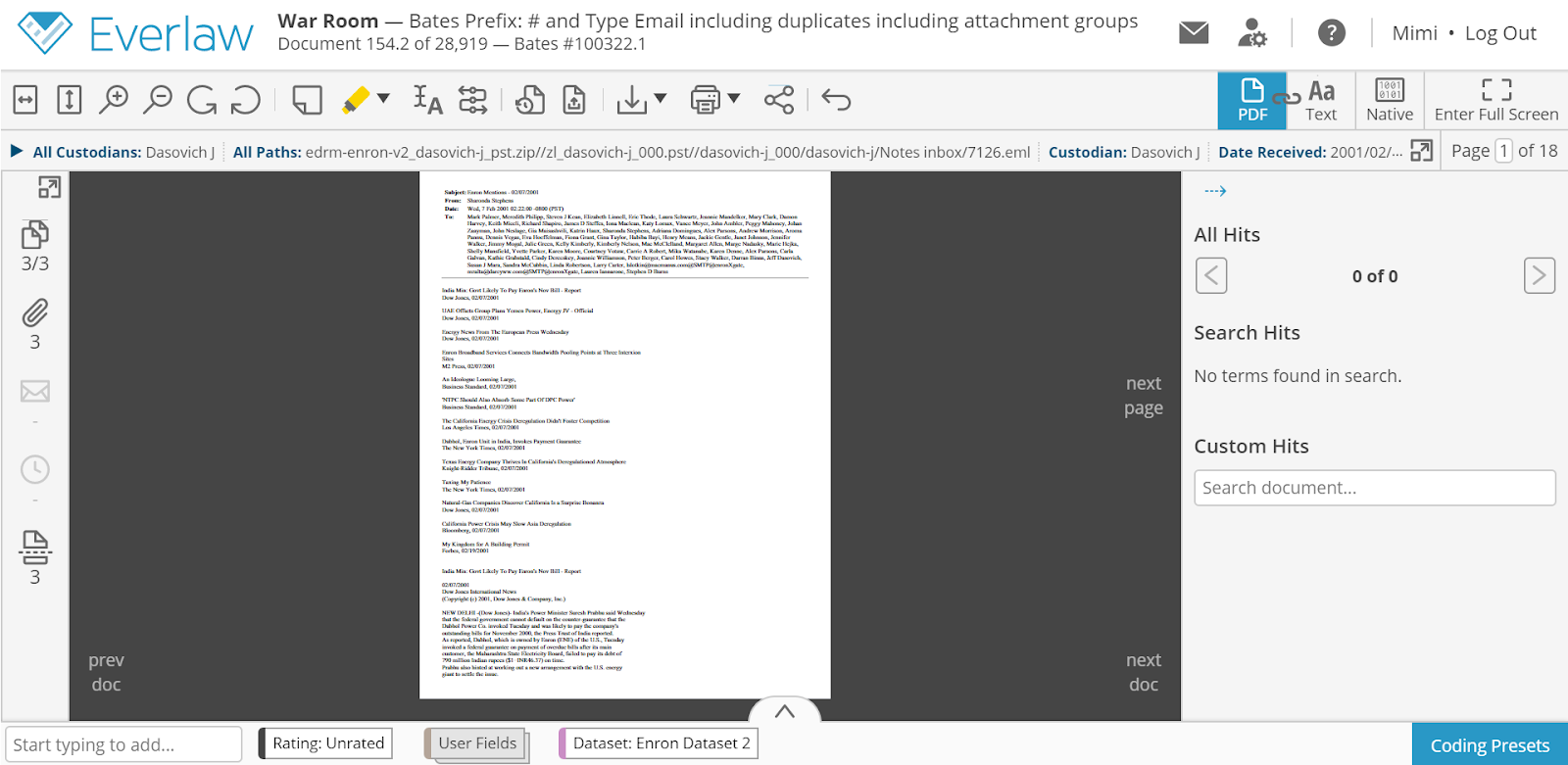 There are two ways to view documents: in standard mode, or full screen mode.
To learn more about navigating the full screen review window, see this article. Both standard and full screen include the below functionality. However, the below location descriptions apply to standard mode. 
 You can additionally use keyboard shortcuts to navigate the review window. For a full list of shortcuts, press the "?" (shift + /) key. 
The following instructions apply to both the classic and full screen review window. 
To navigate between pages in a multi-page document, use the right and left arrow keys on your keyboard or click on the large blue paddles to the left and right of the document.
If you know exactly which page you want to navigate to, use the page input option on top of the hit-highlighting panel.
Using the jump bar in the text view
If you are in the text view of the document, you can use the jump bar to navigate from page-to-page. As you run your cursor along the length of the jump bar, the corresponding page for that location is displayed. Clicking on the location will take you to that page. In addition, if there are hit-highlights in the document you are viewing, the jump bar will display a color band at the appropriate page location of the highlight. The band's color will correspond to the highlight color of the term or phrase in the hit-highlighting panel. This can help you quickly visualize where certain hit-highlights are located.
Navigating from document-to-document
To navigate between documents in a document set, use the up and down arrow keys on  your keyboard or click on the small orange paddles to the lower left and right of the document.
Moving in the document
If you want to move within a document, hold shift while using your keyboard arrow keys.