You can take a tour of the homepage in-platform by clicking "Walk Me Through" in the bottom right of your screen and choosing "Homepage Overview" under Homepage.
The first page you see when you login to Everlaw is the homepage.
Here is a video introduction to the homepage: 
The homepage is a user- and project-specific hub that keeps track of your activity in the project, and also displays anything that others on your team have shared with you. Most of the information shown on the homepage is private to the individual user. For example, running a new search will add an associated search card onto your homepage, but not to the homepage of others on the review team, unless you explicitly share the card. You can return to the homepage at anytime by clicking on the "home" icon in the navigation bar.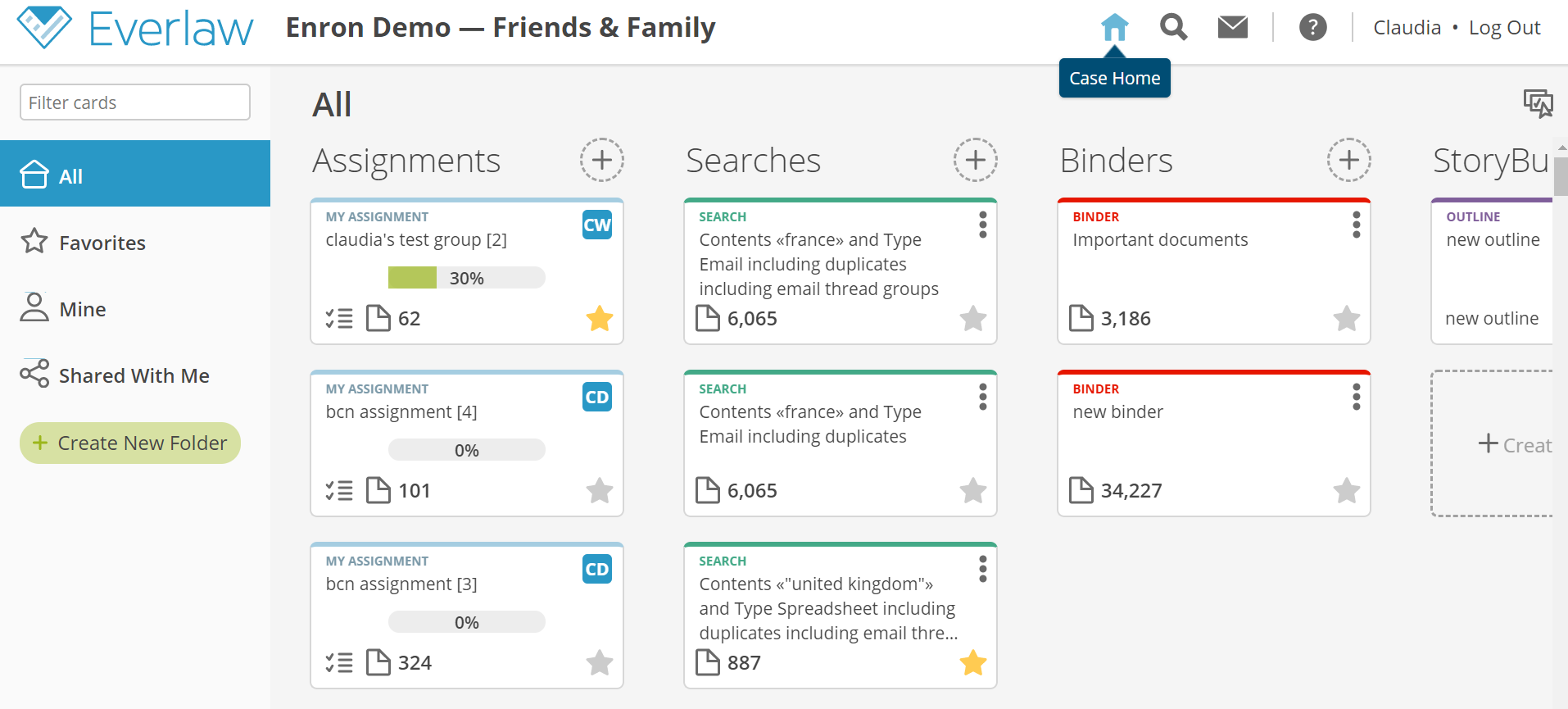 Information on the homepage is displayed via design elements called cards, and arranged into columns by category. Each card represents a discrete object or event, and shows pertinent information and modification options, if available. Any card containing the three dot menu icon is able to be renamed, shared, or deleted. Simply click on the icon, and choose the action you wish to take.
Here are the columns that appear on the homepage: 
Assignments: Allocate documents (admins only) or review batches of documents assigned to you

Search: Create searches that identify documents across your entire project

Binders: Organize arbitrary sets of documents

StoryBuilder: Create chronologies and outlines for post-review

Document Sets: Access uploads and productions

Batches & Exports: Track and undo batch actions; track and download document exports 
Additionally, the filtering and folders menu on the left-hand side of the homepage allows you to view and organize your homepage according to your needs. The filtering and folders article provides a more in-depth overview of this feature.
You can use keyboard shortcuts to efficiently navigate the homepage. To access the full list of shortcuts, press the "?" (shift + /) key.