Overview
StoryBuilder, Everlaw's narrative building toolkit, allows review teams to collaborate seamlessly during their post-review workflow. Two tools comprise StoryBuilder: Chronology and Outlines. Using Chronology, reviewers can collaboratively curate the most important documents in a case. Each document entry in the Chronology can be dated, labeled, and annotated with a description. Chronology also features a useful Events view, which allows review teams to see documents in relation to a timeline of events in the case. In addition to document organization, Chronology allows for people profiles, so that you can document information about who is involved in your case. 
Documents in the Chronology can be then used to build outlines using the Outlines tool. Common use cases for Outlines include creating deposition, argument, or case strategy outlines. Outlines is closely linked to Exhibits, a feature that allows you to sync your document references from Outlines, publish a exhibit list, and maintain a cohesive narrative in preparation for depositions.
What is the Chronology and why is it useful?
Chronology is used to collaboratively curate the most important documents discovered during review. Other documents, like depositions and court orders, can also be uploaded into the Everlaw database for use in Chronology. Chronology provides an easy and collaborative way to store, categorize, and find relevant documents.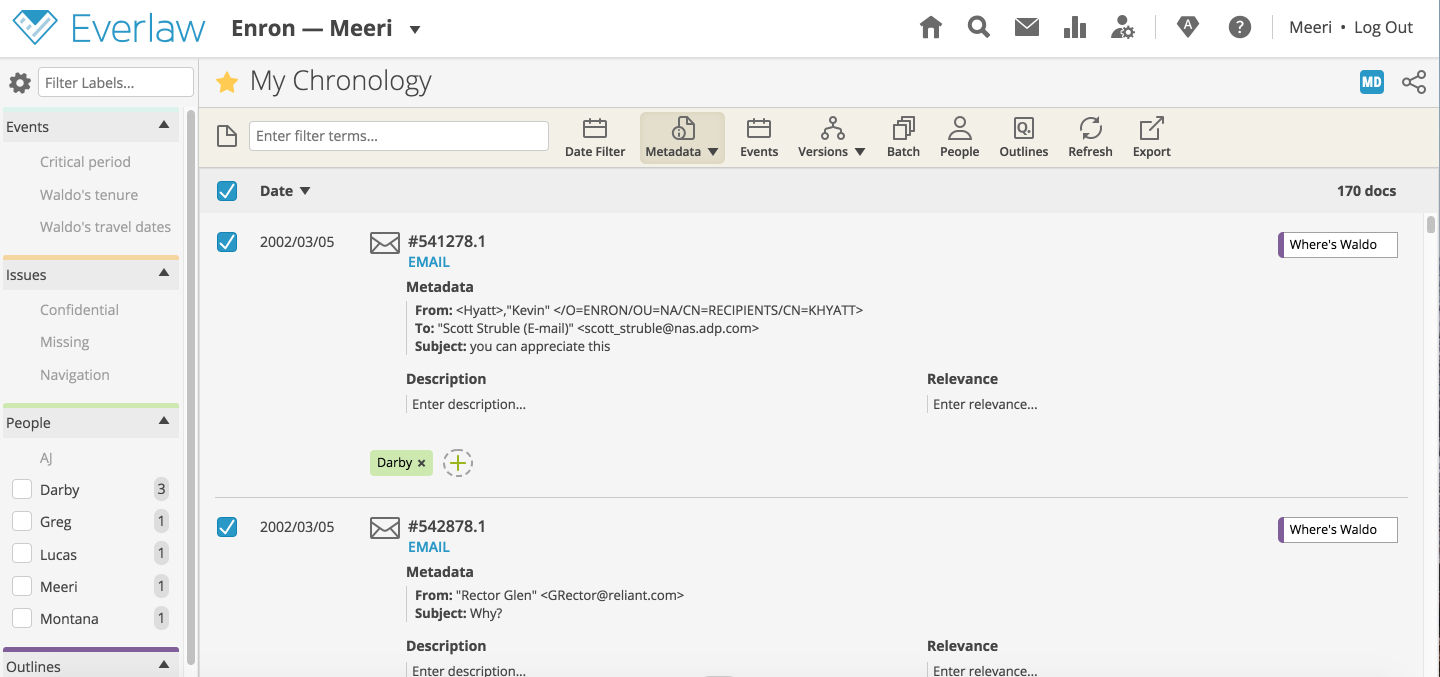 Relationship between Chronology, Outlines, and Exhibits
Documents in Chronology can be used in Outlines. StoryBuilder's Outline tool allows you to build outlines for your case. You can create work product (ex. case strategies, review protocols, case narratives, etc.) using the documents discovered during review. Chronology entries essentially provide a master sheet of documents, and you can select which ones are used for which Outlines.

In Outlines, you can then create depositions, arguments, or case strategy overviews. You can import an existing outline into the Outline tool as long as it's in the .docx format. Once in an Outline, you can use relevant evidence identified over the course of review as citations. Outlines are collaborative, and more than one person on your case can edit a single outline simultaneously, in real-time. All descriptions and relevance notes from your Chronology documents will be carried over into your Outline. Any edits you make to document info (labels, description, relevance) in Outlines will be automatically updated in Chronology.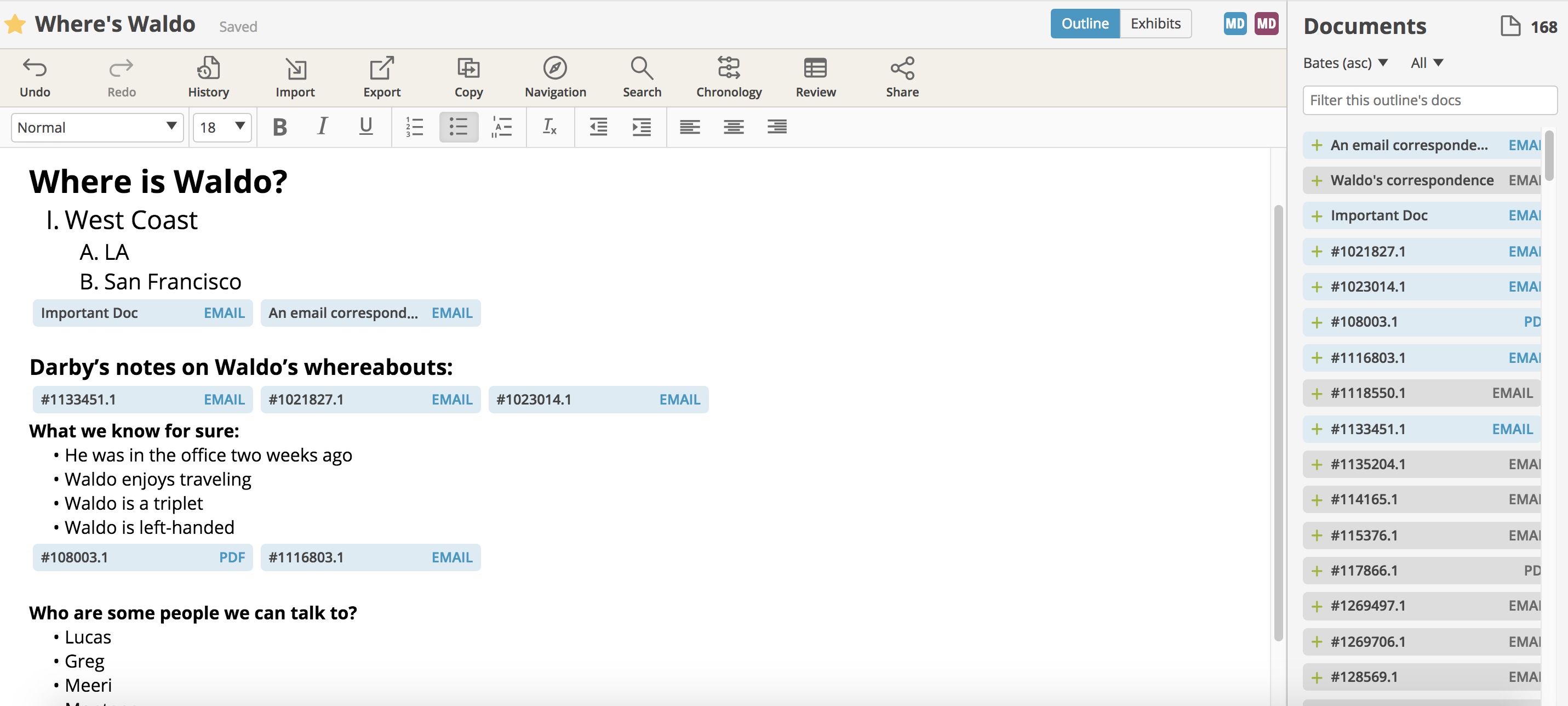 Exhibits allows you to view documents from your Outline and publish an exhibit list in a format suitable for deposition. You can easily toggle from the Outline to Exhibits view, where documents used in the Outline are generated as a list of exhibits. The automatic syncing between the two makes it easy to create an exhibit list, customize your view, and export your information.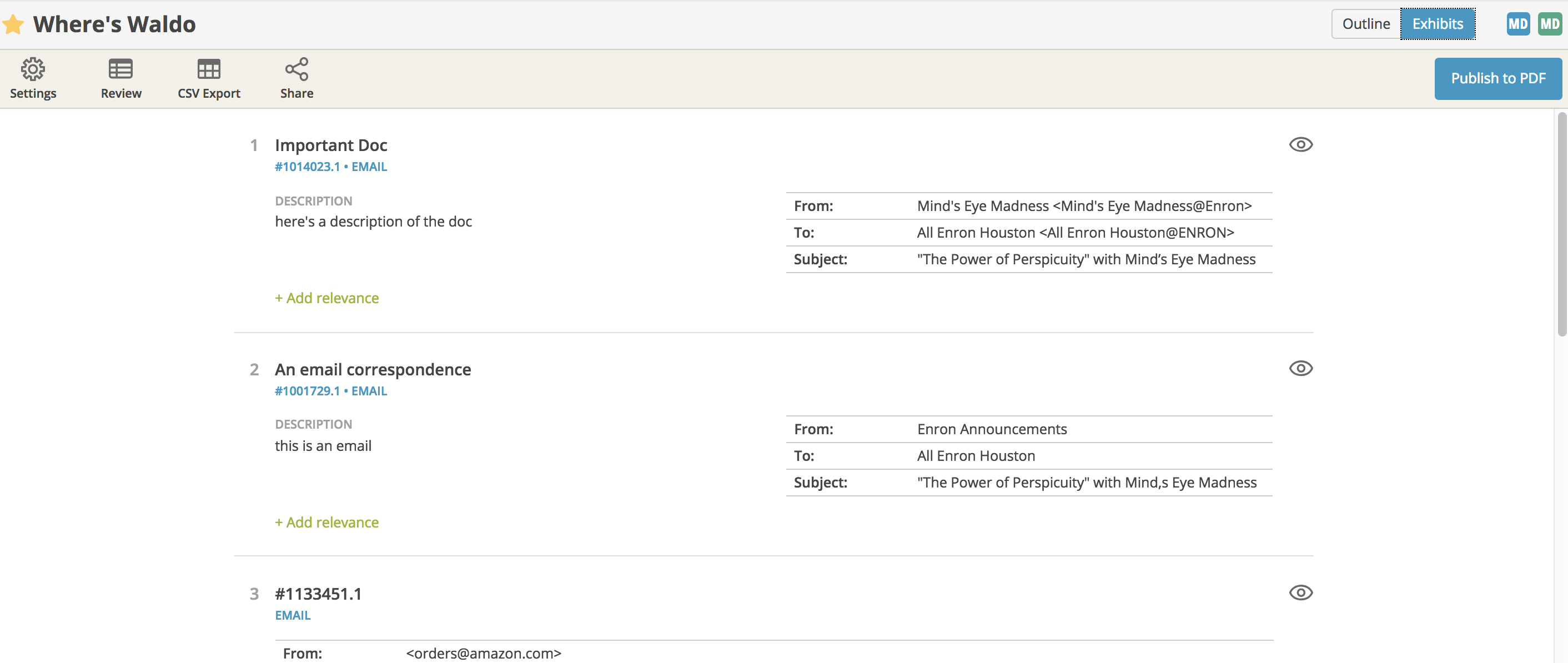 Now that you have an overview of StoryBuilder, learn more about the three components, Chronology, Outlines, and Exhibits: