To read more about uploading documents on Everlaw, feel free to refer to the articles in our Uploads section.
Q. Where can I find a list of supported file types?
A. Here is a table of supported file types.  
Q. I have issues in my native upload. How can I fix them?
A. To troubleshoot upload issues, please click on the "Examine" portion of the card. This will take you to a search of the documents that did not convert properly. From there, you can check the metadata panel to see the filepath of the document and navigate to it on your local computer. Once you are looking at the document, you can see if it's encrypted, won't open locally, or has other issues that will prevent successful conversion.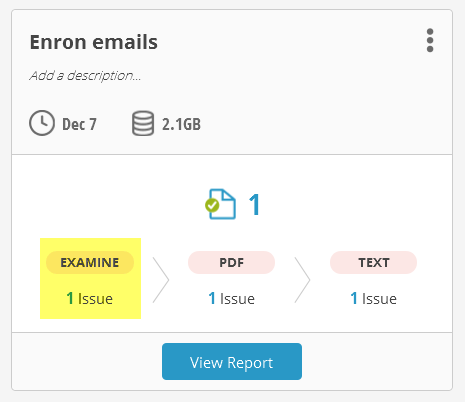 Please read this article for more detail on identifying and troubleshooting native upload errors. 
Q. Why am I unable to upload my documents?
A. One common cause of an upload failure is trying to upload too many files. The uploader will only accept up to fifty files at a time. To upload an entire folder or series of folders, you need to zip up the top level folder. The uploader will then accept the file, even though it contains multiple other files. Information on how to zip up (compress) folders is available here for Windows and here for Mac OS X.
Another cause of a failed upload is a bad internet connection. If your internet connection is lost, you will receive an error when uploading your documents. For very large files, you can resume uploading them after the upload fails instead of having to start over. You can test your upload speed here. If it is unusually slow, it is likely that your files will not upload correctly.
Q. How do I access my uploaded files once they've been successfully processed? 

A. Once your files have processed, you can find them in the Document Sets column of your homepage. If your case admin has turned upload notifications on and included you on the upload notification recipients list, you will also receive a message in your Message Center with the upload card attached. You can also click on the icon in the center of the upload card on the part highlighted below.
To read more about locating uploaded documents on Everlaw, see this help article.
Q. I just uploaded a set of documents containing media files, and the upload card says the documents have been processed. I can't access the transcripts for all of the files, however. Why is this?
A. Everlaw treats a processing task as "done" as soon as all the files have been sent to the transcription processor. However, despite having received all of the documents, the processor may still be working on transcribing the last few files. All transcripts should be available shortly.