Table of contents
What is Storybuilder by Everlaw?
Storybuilder by Everlaw is a standalone offering of Everlaw's Storybuilder tool. It contains a subset of the functionality of Everlaw's complete litigation platform focused on helping you craft a compelling narrative for your matter. Storybuilder is a fully collaborative environment where you and your team can upload documents, analyze and share key evidence, and construct case timelines and argument outlines to prepare for litigation. Storybuilder is included functionality on Everlaw, while Storybuilder by Everlaw is a standalone offering of only the Storybuilder tool.
You can log into your Storybuilder by Everlaw account at app.storybuilder.everlaw.com. If you are a user of the complete Everlaw product, you already have access to all the features contained within Storybuilder by Everlaw and more!
What features are available in Storybuilder by Everlaw?
NOTE: You might notice that other articles throughout the knowledge base may not apply. These features are available to users on the complete Everlaw litigation platform. If you're ever confused about what information in those articles is relevant to Storybuilder by Everlaw, you can always look out for the Storybuilder by Everlaw logo below.
Each project on Storybuilder by Everlaw contains exactly one Story. Your story will contain all documents uploaded to your project. You can see an overview of your Story on the Story Dashboard.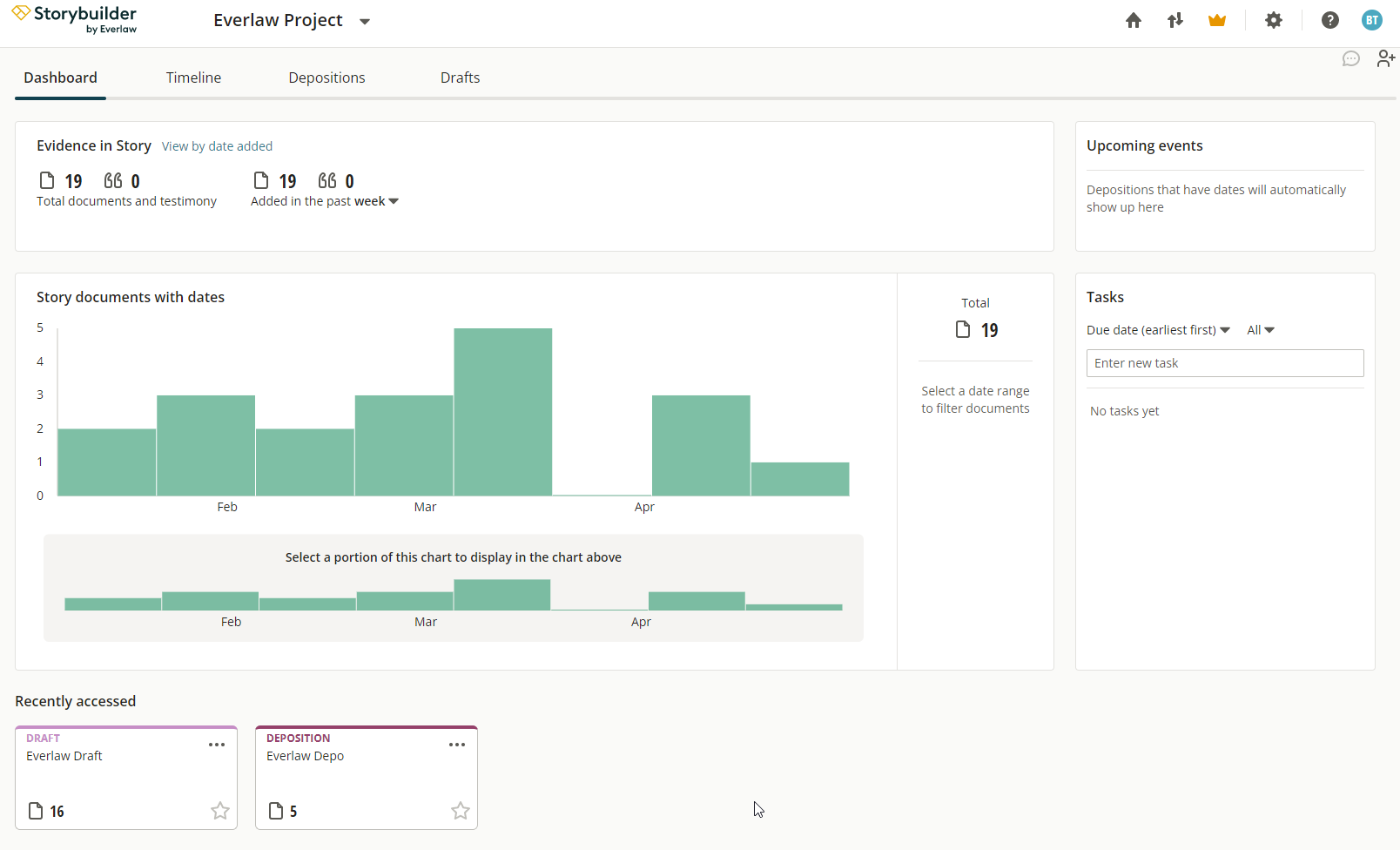 Via the Timeline view, relevant documents can be labeled by people, critical events, or other relevant issues related to the case.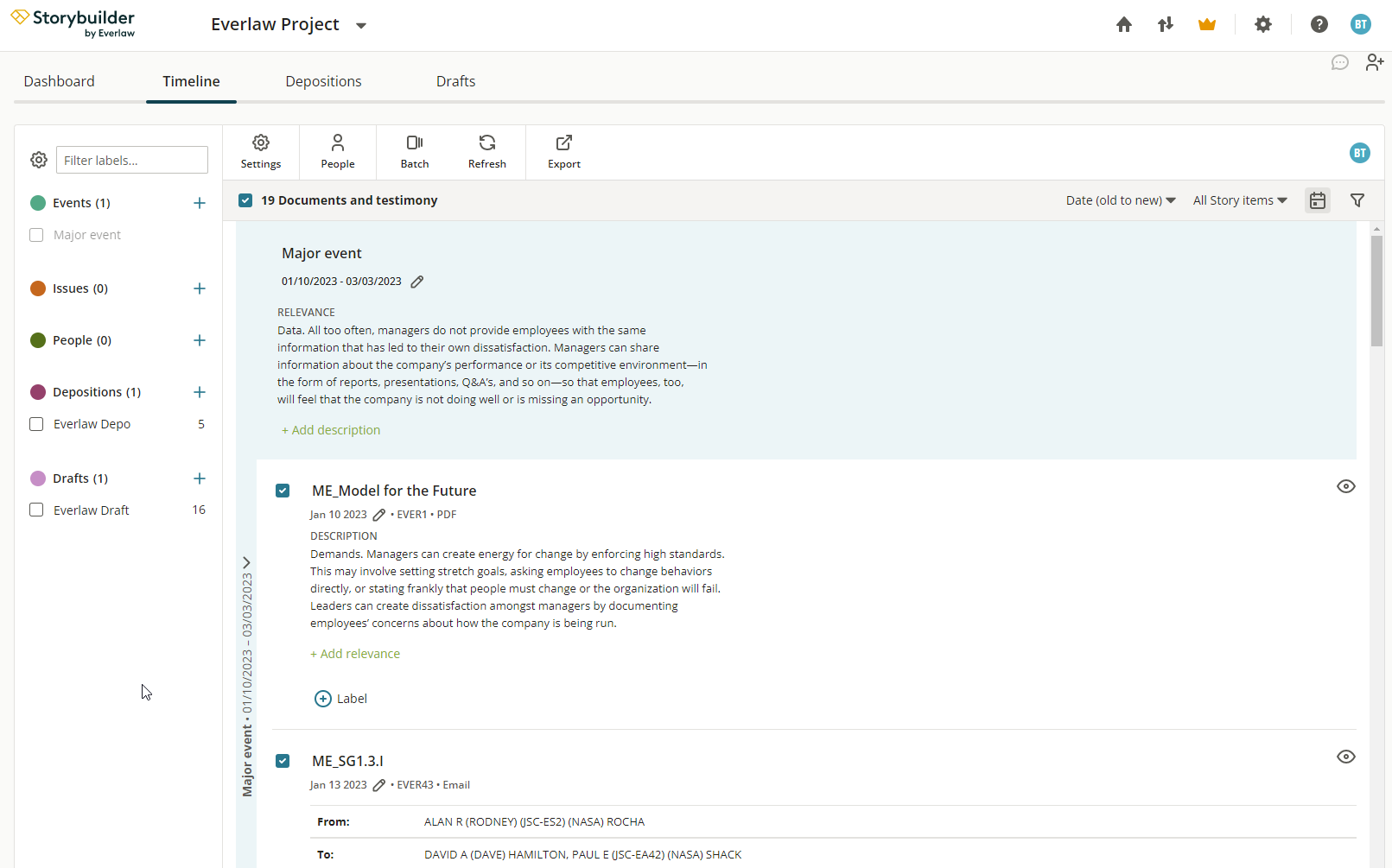 You can also prepare for a deposition or presentation by creating a Deposition or a Draft that lives as a separate collaborative tool for written work product. After the deposition you can upload the transcript to Everlaw and create Testimony for later use as evidence.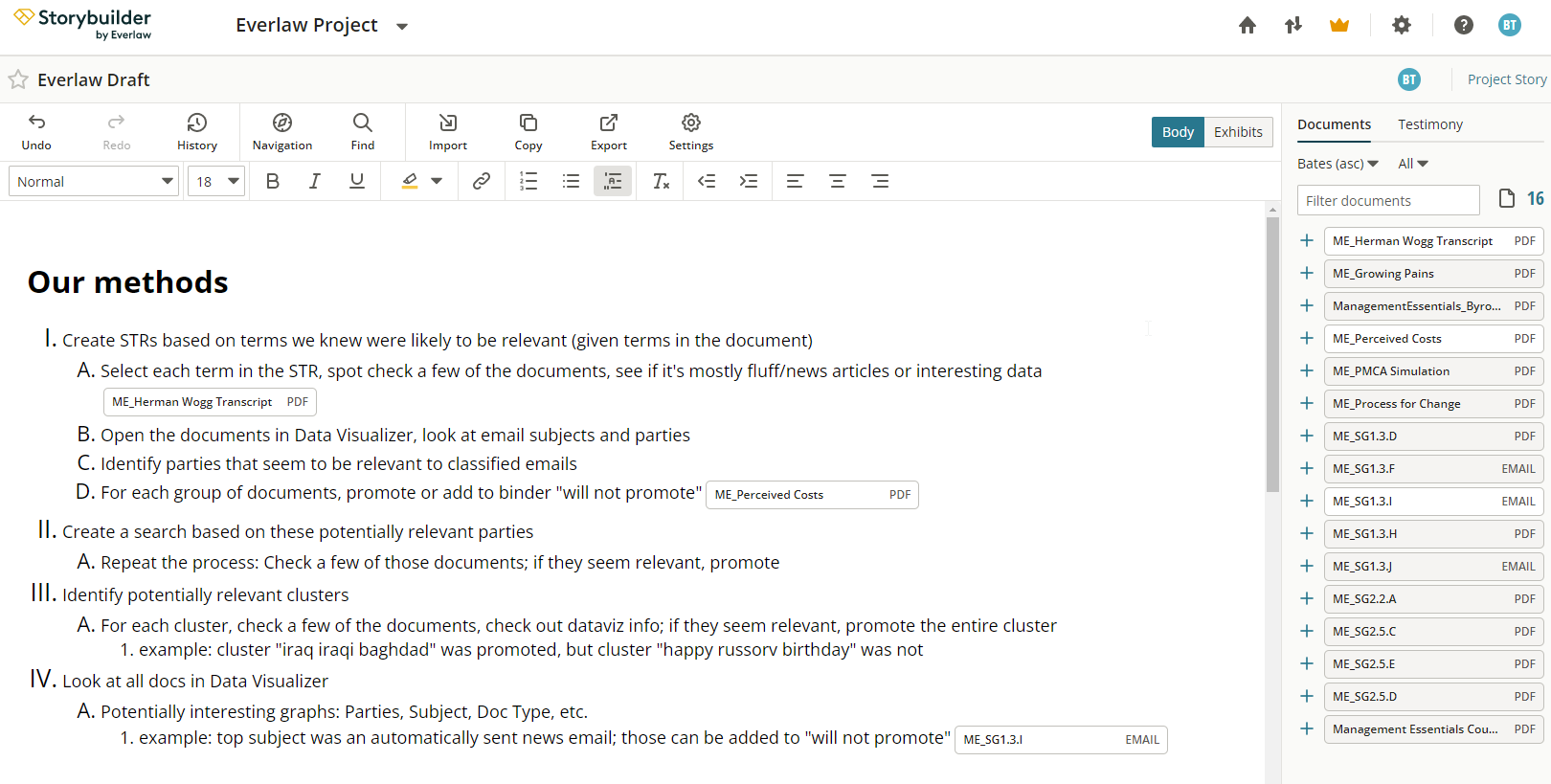 You can also learn more about Storybuilder by Everlaw through our training center.
How do I register for Storybuilder by Everlaw?
If you are interested in creating an account, please visit this link to sign up.
How do I add users to my project?
Adding a user is easy! You can see the steps to add a user to your project here.
You can add up to 200 users to a project on Storybuilder by Everlaw.
How do I upload documents?
On Storybuilder by Everlaw, you can upload documents with our processed data uploader. If your document sets have an accompanying load file, this article goes through how to upload them to your Story. If your documents are PDFs without a load file, you can upload them using these steps.
How many projects and documents can I have on Storybuilder by Everlaw?
Users on Storybuilder by Everlaw are limited to owning 5 projects at a time. However, you can be a member of any number of projects! You can view which projects you own by going to the project dropdown at the top-left of your screen.
Within each project, your team may upload up to 1,000 documents, with no documents larger than 100 MB in size.
How do I contact support for help with a Storybuilder by Everlaw project?
You can reach our support team by emailing storybuildersupport@everlaw.com. They are available between 9 am – 6 pm Pacific.
How do I find out more about the Everlaw's full litigation platform?
You can reach out to our team to learn more about Everlaw here.