Table of Contents
Uploading data directly into Everlaw from your Microsoft organization requires Database Upload permissions on Everlaw and Global Admin permissions on your Microsoft organization. Everlaw requires a Microsoft Global Administrator to give consent on behalf of the Microsoft organization for Everlaw to access your data. Uploads from your Microsoft Organization must either be performed by Global Admins on that organization, or by users that have been granted permissions to upload from the organization. Delegating this permission can be done by Cloud Management Admins. For more information on Cloud Management Admins and delegating Microsoft upload permissions, read this article on Cloud Management Administrators.

If you do not have Global Admin permissions, you can upload your Microsoft data from your local machine. For Teams data, read this article on Uploading Microsoft Teams Files from Your Local Machine. Other data stored in your Microsoft organization (Outlook, OneDrive, etc.) can be exported to your local machine and uploaded to Everlaw as native data. More information about data types that we support can be found in our article on Supported Native Data Types and our article on Uploading Native Data to Everlaw.
Uploading Data from Microsoft 365
To upload your Microsoft 365 (also called Office 365, O365, or M365) data directly into Everlaw, navigate to the Uploads page and select Native Upload. From there, scroll down and select Microsoft 365 under "Collect from cloud application."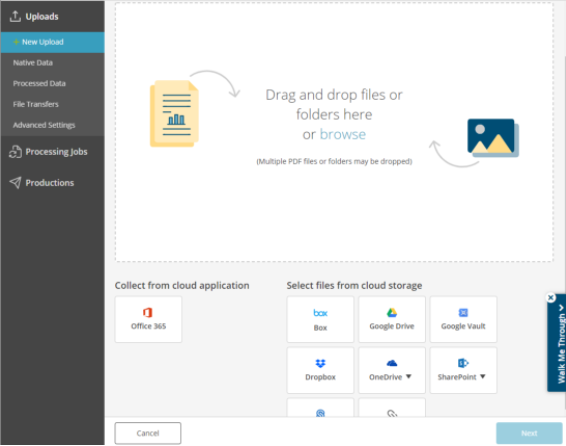 A dialog box will open and you will be prompted to log into your Microsoft account. Please note that you will need to accept two permissions requests. The first request gives Everlaw permission to read data from your account, and the second request gives Everlaw permission to read data from your organization as a whole.
Once you have connected your Microsoft organization and Everlaw, the dialog box will close and you will be able to configure your upload in Everlaw. An upload wizard will appear and you can select which data sources you would like to import from.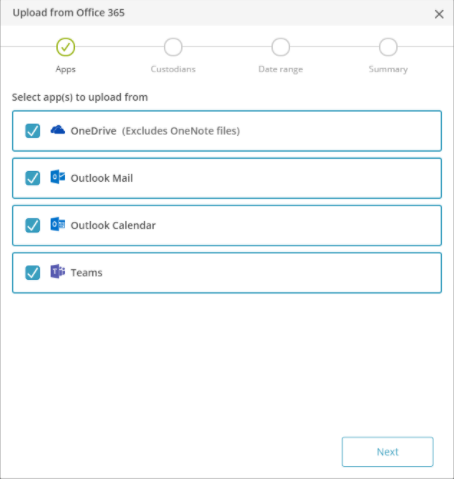 Once you are happy with your selection, you can click Next to proceed to the Custodians step. On the Custodians screen, you will see a list of all users and shared inboxes in your organization. You can filter this list by custodian name or email. Select a subset of custodians whose data you would like to import, or select all custodians by checking the box at the top of the table. Selecting a user as a custodian means that you will upload any documents this user has access to from the apps you selected in the previous step.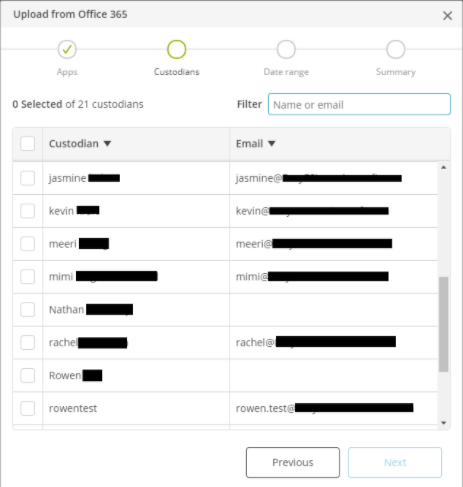 Click "Next" to move on to the Date range selection step. On the Date range step, you can choose to only import documents that were created or modified within a certain time frame. If you do not specify a range, all files associated with your selected custodians and data sources will be uploaded.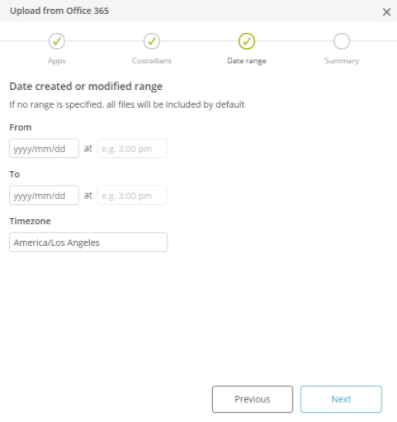 The final step in this upload wizard shows you a summary of your choices. This summary will show the selected sources, custodians, and date range. If you are happy with your settings, click Continue.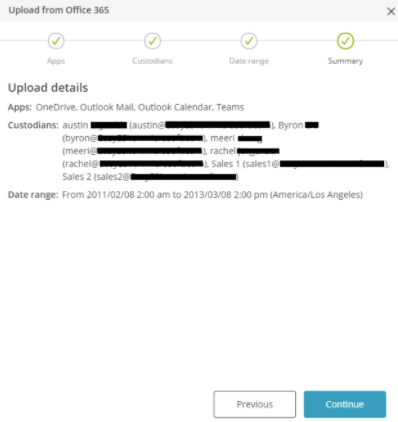 Once you click Continue, you will be taken to Everlaw's native data upload wizard. Here, you can name your upload, specify deduplications settings, and choose which projects to upload the data to. For more information about these upload settings, read this section of the Native Data Uploads article.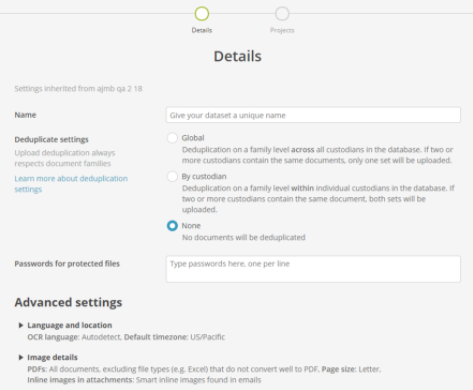 Your upload will be represented as a card on the Native Data page, as well as in the Document Sets column of your home page. For more information about upload cards, please see this Knowledge Base article on managing native uploads.
Supported Data Sources
OneDrive

Outlook Mail

Outlook Calendars

Group Calendars are currently not supported and will not be included in any Microsoft 365 uploads.

Teams

Teams Chats and Channels are converted to PDFs.

The header of each document will include information with the chat channel name, timezone, and chat contributors. Threaded messages will be denoted by a box encapsulating messages in the thread.
Everlaw also extracts metadata from chat conversations. The Chat Contributors metadata field is automatically populated with the names of all participants. Everlaw also populates the Start Date and End Date metadata fields with the date and time of the first and last message of the conversation, respectively.