Table of contents: 
Highlighter
The redaction highlighter is available in PDF view, as well as native view for spreadsheets, and lets you redact broad areas of documents. To use the redaction highlighter, first select it on the toolbar (the selected highlighter icon will have a darker background). You can also use the keyboard shortcut: "r". Then, place the cursor anywhere on the document and hold while dragging the mouse. A box of transparent black will appear over your selected area. After production, this selected area will not be visible, and the text below the redaction will not be OCR'd.
If you have errantly highlighted a passage for redaction, click on the redaction to bring up the preference panel, then click the trashcan to delete the redaction.
Text Selection Mode
Redaction via text selection is available in PDF view. To redact text via this mode, select the text selection icon, and click and drag over the text you want to redact.
A pop-up panel will appear with three options:
(1) redact the currently highlighted text
(2) redact all appearances of the highlighted text within the current document
(3) add the highlighted text as a custom hit.
To delete redactions, click on them in the document to open the options panel. Then select the trashcan icon. You can also bulk delete redactions applied to a text string through the hit-highlighting panel: select the string in the custom hits panel, and choose the "remove all instances of this redaction" option (the redaction highlighter with the red 'x' in the far right).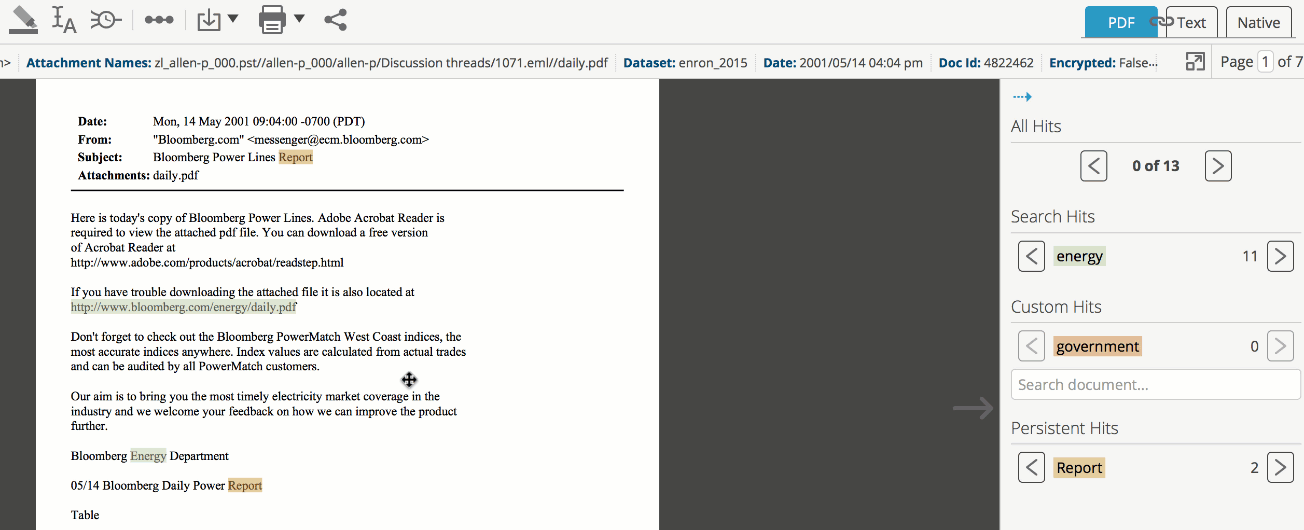 Applying Redaction Stamps
Admins in a case may create standardized redaction stamps that can be used to note why particular content is redacted. These stamps are available in the options panel. The options panel can be opened by clicking on a redaction. You can select from the list to apply a pre-created stamp. If given the proper permissions, you can also create custom stamps. The applied stamp will be overlaid on the redaction.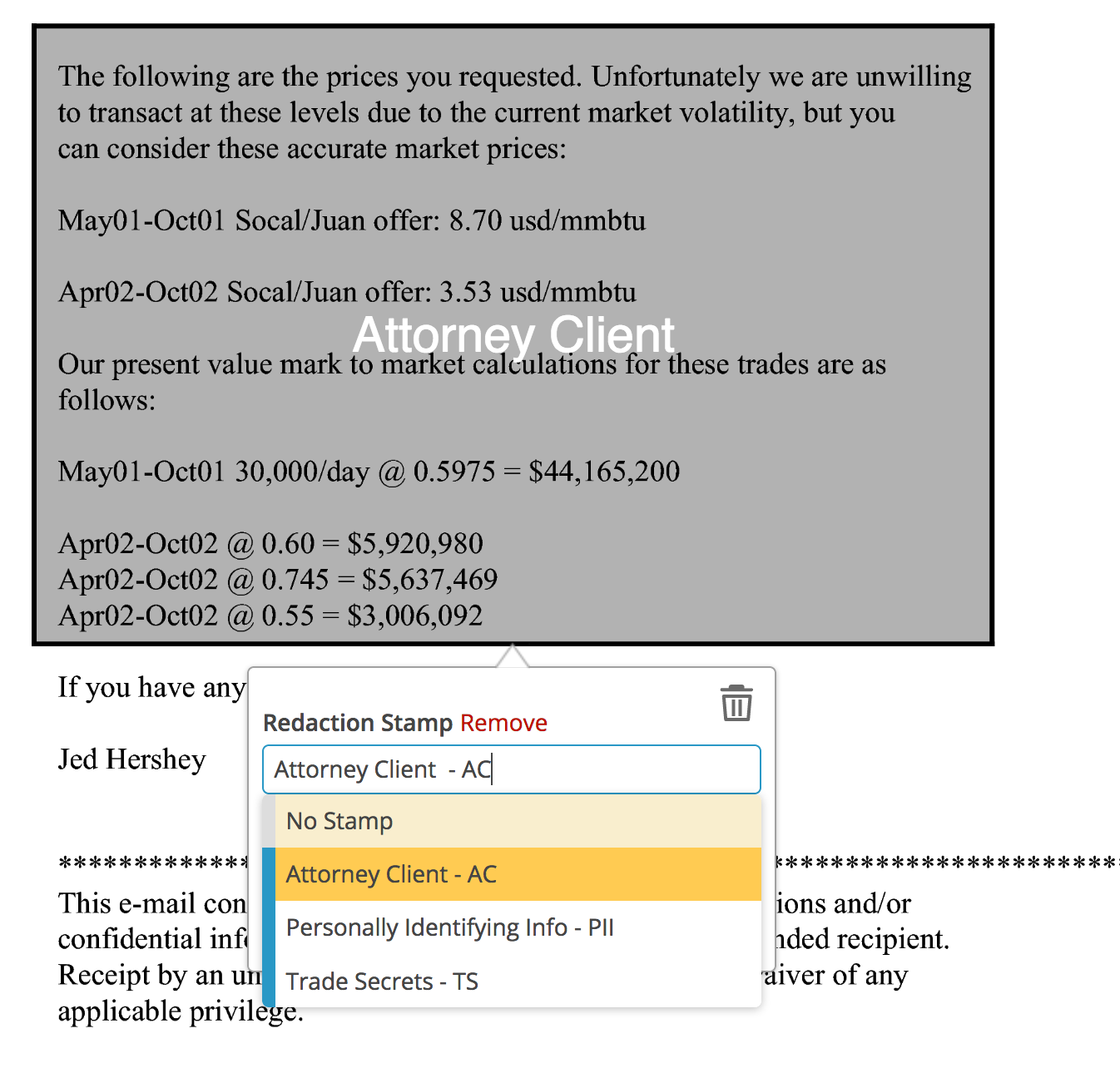 When choosing to bulk redact via the text selection tool, stamps can be applied by clicking the dropdown caret.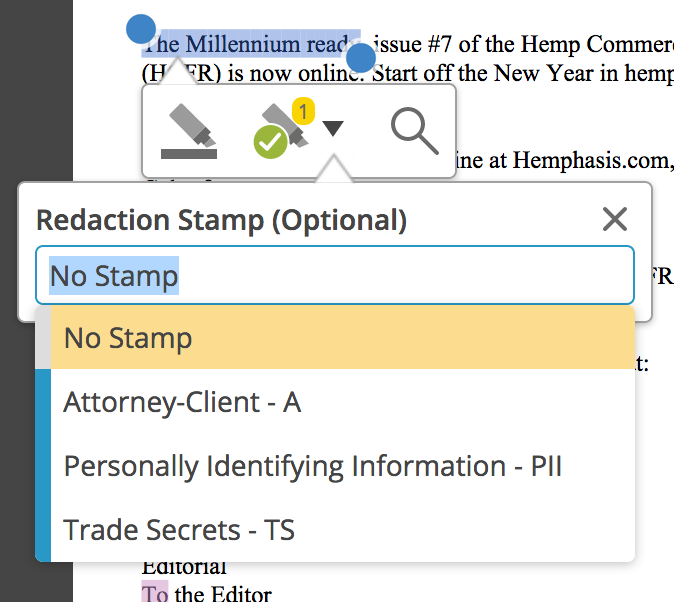 Redacting Metadata
In order to redact any metadata, you need to take a couple special steps to set it up. 
Create a user editable metadata field with the same name as the metadata field you intend to redact and set the datatype as Text. See Section "User Editable Fields" of this article for detailed instructions.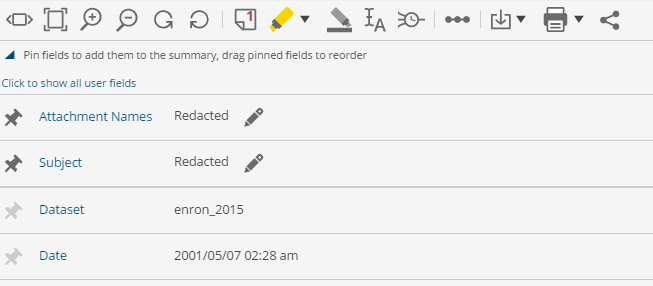 Then, set the value for the user-editable field to "Redacted".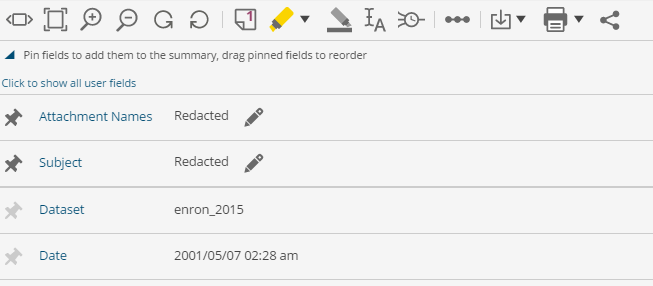 This is most common when you redact certain metadata values of emails. For example, when you redact the sender, recipient(s), subject or attachment(s) on a document, you must also redact the "From", "To", "Subject", or "Attachment Names" metadata fields. Please note that this method does not work for any "Date" metadata. If you intend to redact any "Date" metadata, please contact Everlaw support.