Accessing and Navigating the Spreadsheet Viewer
If the native file for a document is a spreadsheet, the spreadsheet viewer will replace the generic native viewer. The spreadsheet views displays a static view of spreadsheet, including all cell information, hidden cells, cell notes, and graphs. However, you will not be able to edit the contents of a spreadsheet or see dynamically generated pages, like pivot tables.

To access the spreadsheet viewer, click on the "Spreadsheet" button in the top right corner of the window, or use the keyboard shortcut combination of "v" then "n" to open the spreadsheet.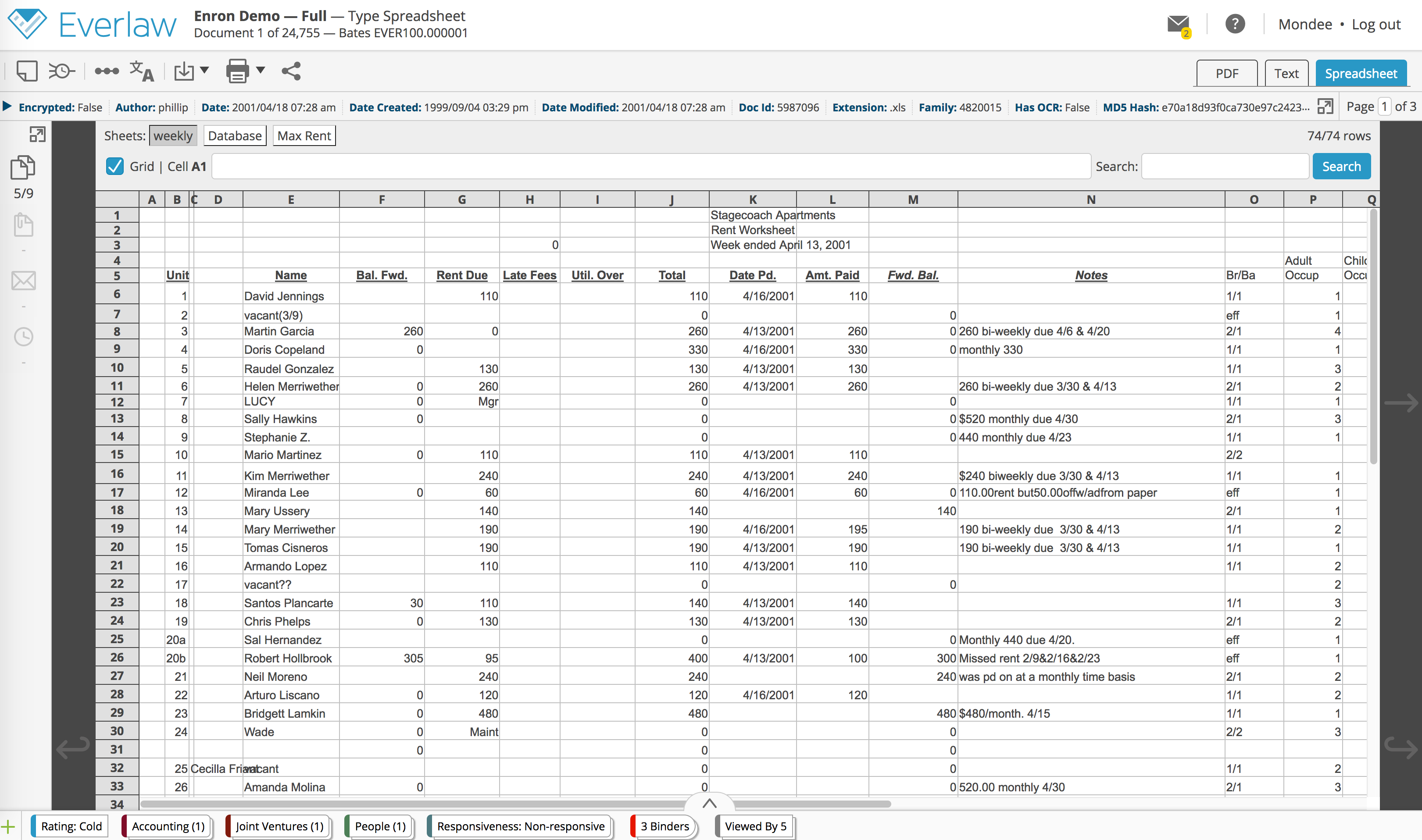 The top left corner of the spreadsheet displays the worksheets that make up the spreadsheet. To open any worksheet, click on the worksheet name. You may also navigate to other worksheets (pages) using the left and right arrow keys.

Seeing Cell Contents
To view the cell contents, simply click on a cell. The border of the currently selected cell will be outlined in blue. While a cell is selected, you can navigate to other cells in the spreadsheet using the arrow keys on your keyboard. As you navigate, the cell contents box below the list of available worksheets will update with the current cell's contents.
Just like in Excel, the cells in the table display the output values. To see any potential formulas underlying a value, navigate to a cell and look at the cell contents box. All hidden cells will automatically be expanded in the spreadsheet viewer. In addition, any graphs or highlights applied to the document will also be visible.


The spreadsheet view only displays a static view of the document. Dynamically generated pages, like pivot tables, will not be rendered. Natively applied notes associated with a cell will also not appear. If you want to access pivot tables, play around with formulas, or view notes, download the native file and open it in a native spreadsheet application.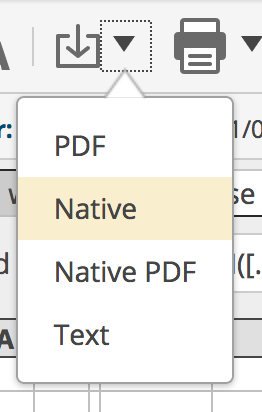 Searching the Spreadsheet
You can search the contents of a worksheet through the search box in the upper right corner. Input a content search, and press the search button. A tooltip will appear that displays the total number of hits matching your search, as well as the instance of those hits that you are on. Press 'enter' on your keyboard, or the search button, to navigate from hit to hit. Note that the search only looks for hits on the worksheet you are currently viewing. If you want to search across multiple worksheets, you must click in to each one separately and re-run the search.


Translating Foreign Language Text in Spreadsheets
To translate foreign language text in your spreadsheet, click on the translation icon in the toolbar. A text box will appear. Next, click and drag over some foreign text, and the English translation will appear in the box.