To read more about uploading documents on Everlaw, feel free to refer to the articles in our Uploads section.
What are Canonical Fields?
Upon upload, Everlaw automatically detects metadata fields that refer to the same underlying concept, and groups them together. For example, all variations of the custodian field ("Custodian", "Custdn", "CUST", etc.) will be grouped into the "Custodian" field. Though this automatic grouping is performed for all fields in the case, particular attention is paid to approximately 40 of the most common metadata fields, determined through an empirical analysis of the types of metadata fields that appear in document sets. These 40 or so fields are referred to as canonical fields. The canonical fields are listed below: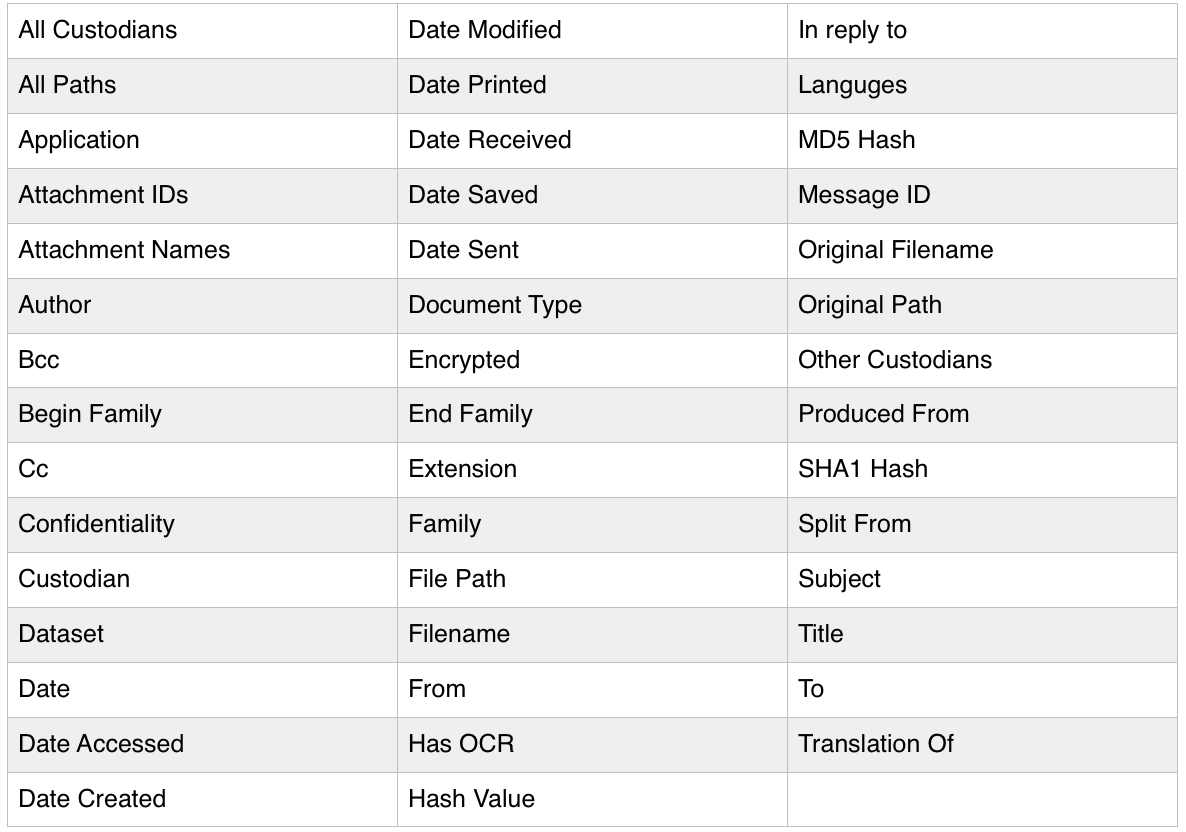 Grouped/Canonical Fields and Searching
For grouped canonical and noncanonical fields, only the group field or canonical name will be searchable. Similar to a metadata alias, searching a grouped or canonical field will search across all the fields grouped under that particular field name. This makes it much easier to search across documents with synonymous fields.
Seeing original fields in the review window
While looking at the metadata panel in the review window, you can see the original field name by hovering above the value for any displayed metadata field. For example, in the image below, the canonical "Date Created" field has replaced the original field name, "Created".

For existing searches on cases that started before 3/11/2016
For cases that began before 3/11/2016, all searches that contain a metadata search term that is a grouped or canonical field have been rewritten to reflect this update. In some cases, this might cause a change in the logic of the search, and therefore a change in the documents retrieved by the search. If you are concerned about this, or have questions, please reach out to us by emailing support@everlaw.com.