You can learn about homepage foldering in-platform by clicking "Walk Me Through" in the bottom right of your screen and choosing "Homepage Folders" under Homepage.
Table of Contents
Homepage filtering allows you to view your homepage more efficiently, while folders allow you to easily store and share multiple searches, binders, or other objects with other users on your project.
Homepage views
You can filter your homepage cards according to keyword, favorited cards, cards that you have created, or cards that have been shared with you.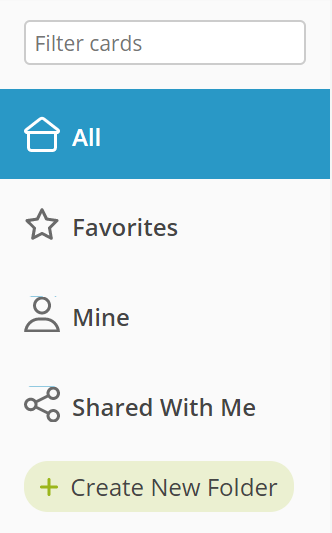 Click "All" to return to the default view of your homepage.
Homepage folders
You can also store homepage cards in folders for later reference, or to share with other users. This is an easy way to share multiple binders or other objects at one time.
Here is a video about homepage folders:
To create a folder, select "Create New Folder" on the left-hand toolbar and name your folder.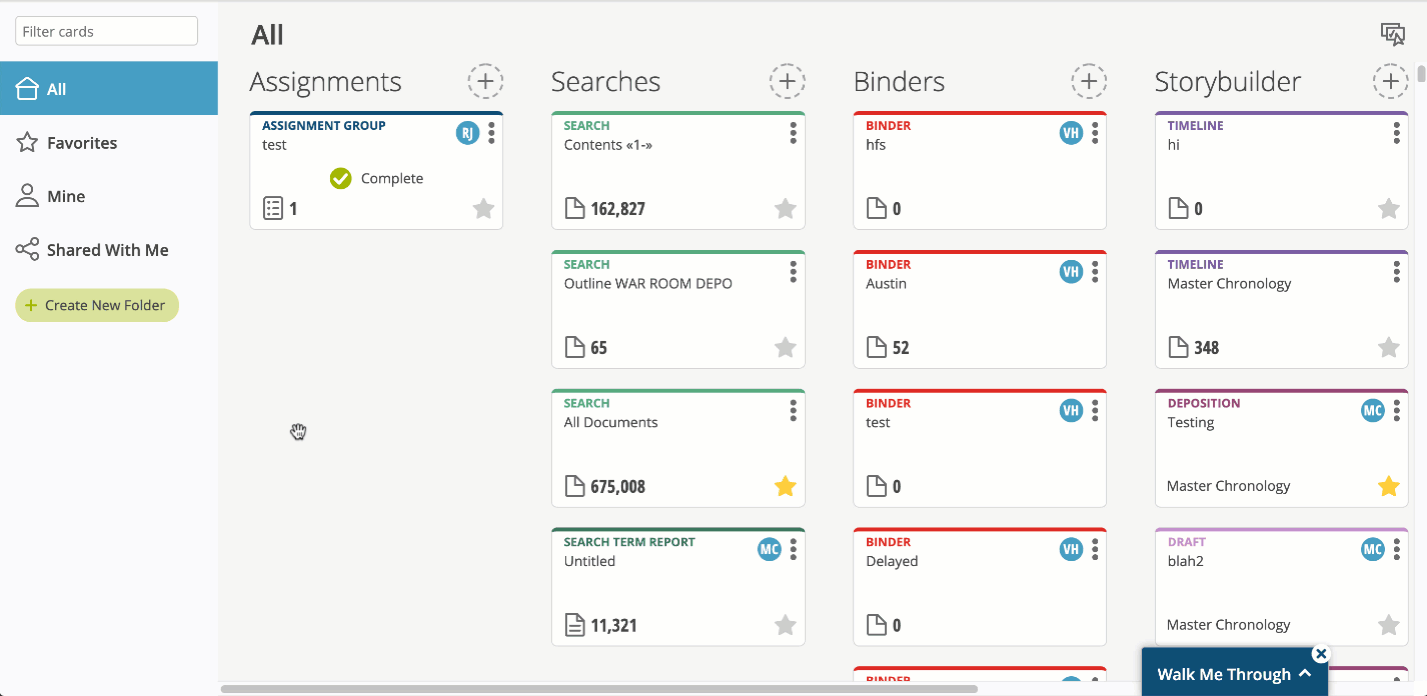 To add cards to your folder, enter Multiselect mode. This can be done by selecting the Multiselect icon, clicking and holding down with your mouse on a card, or pressing "x" on your keyboard. (Clicking the button or pressing "x" again will exit Multiselect mode.) Once you have entered Multiselect mode, select cards by clicking on them once. You can also select all cards by choosing the Select All button.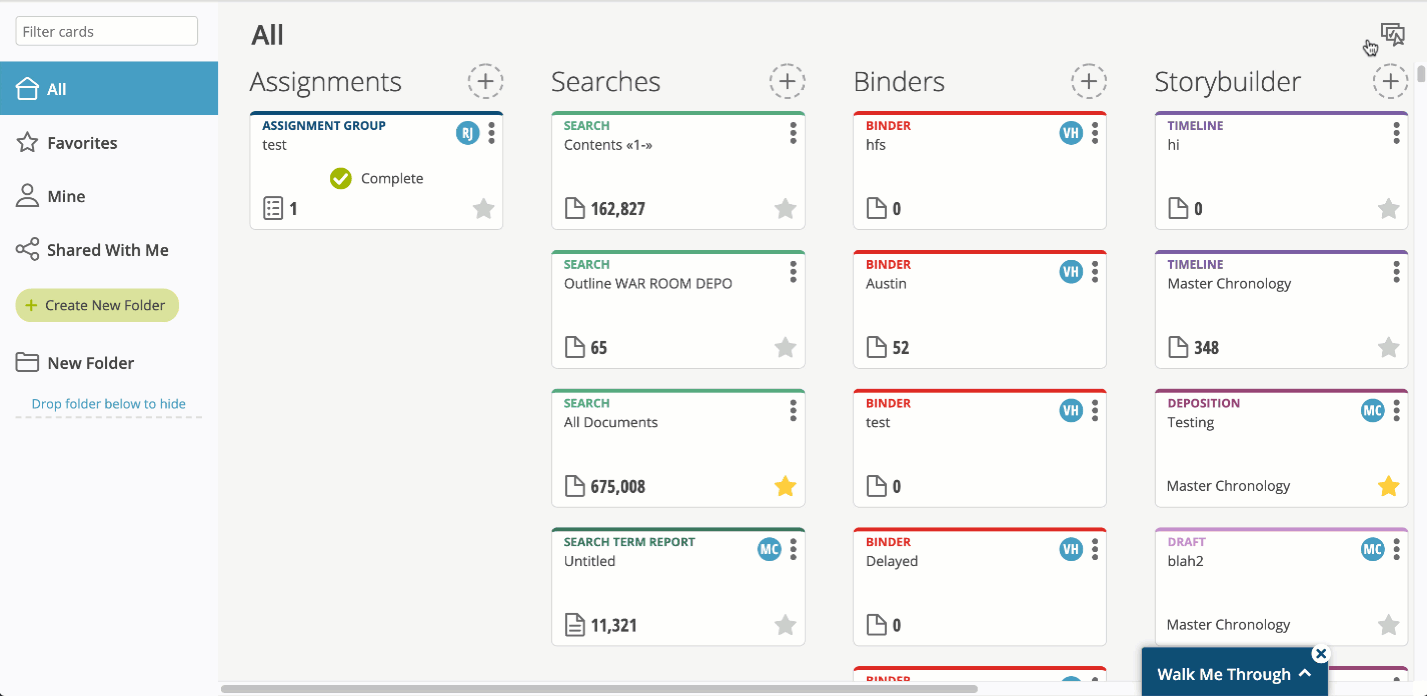 After selecting the relevant cards, drag the cards until they hover over the relevant folder and release the mouse. This will automatically add the cards to the folder.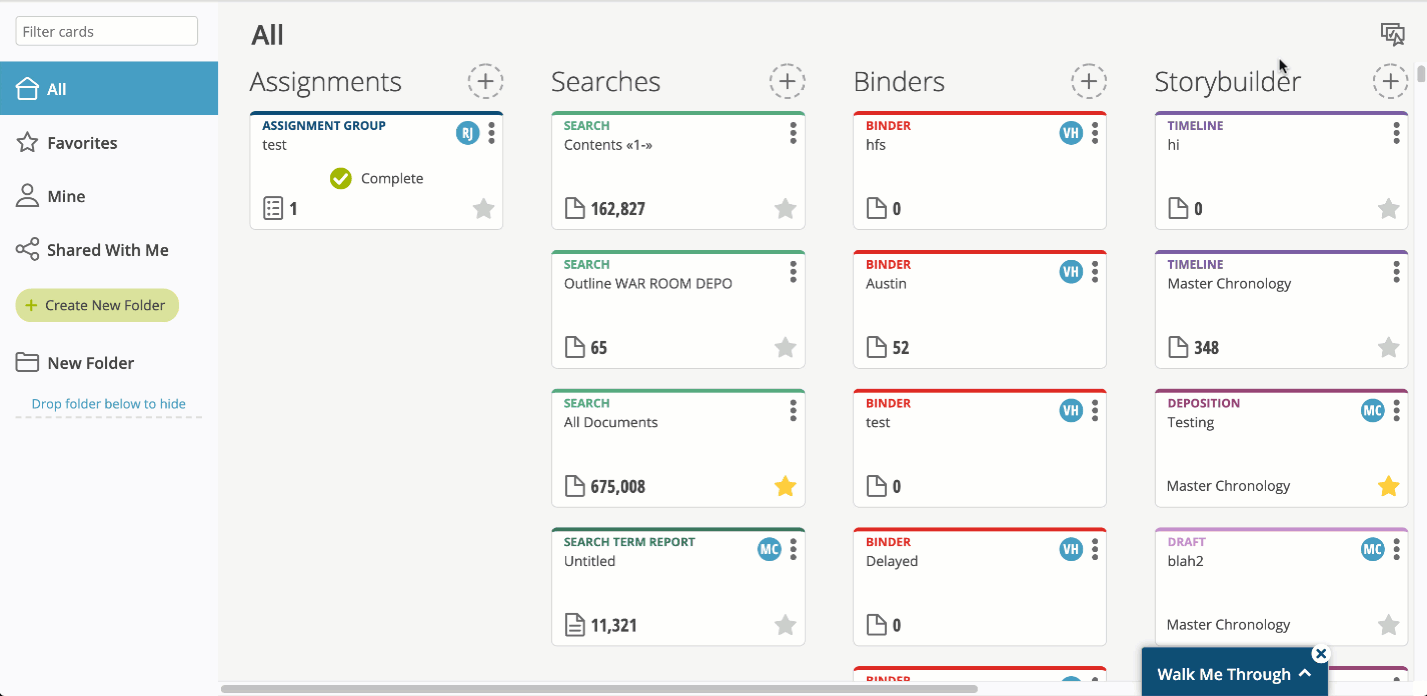 Click on a folder from the left-hand menu to open it and view its contents. If your folder only contains one category type (such as Search), then that category will be in expanded view, with cards arranged horizontally across the page in alphabetical order. Click the category header to collapse and return to column view.
You can create multiple folders in Everlaw. You can reorder folders in the menu list by clicking and dragging them into the desired order. To hide a folder, click the folder and drag it under the line that says "Drop folder below to hide". By clicking that same text, you will hide the folders below the line. You can always display them by clicking "Show x folders."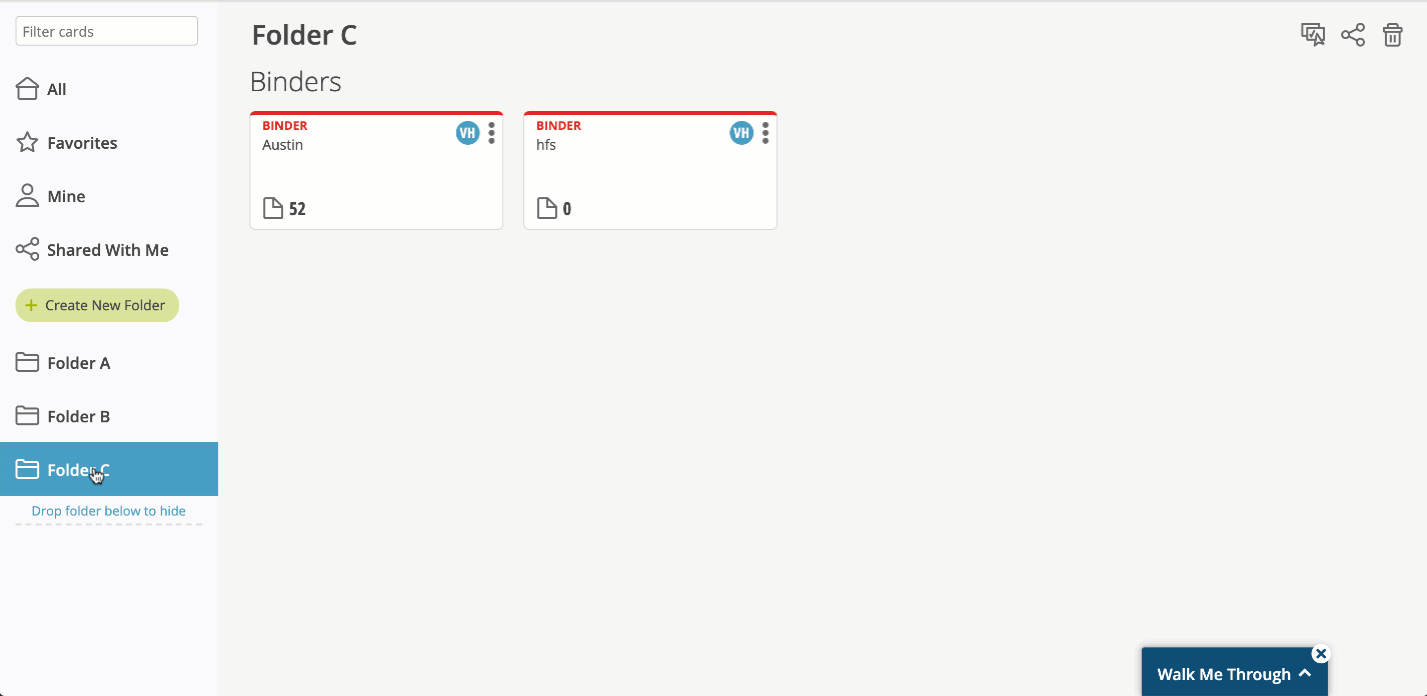 Sharing folders and messaging
You can share a folder by opening it and clicking on the share icon. You can then specify recipients for the folder and the permissions that these recipients will receive. Sharing a folder will also share all of the folder's contents.
The recipient must have permissions on the objects in the folder before you can share the folder. You will be able to specify permissions both for the folder as well as its contents. For example, let's say you want to share a folder with 10 binders. You want recipients to share and delete the folder, but you want to restrict them to only viewing the binders within the folder.
Click the Share icon in the folder view. Specify that recipients can "share and delete" the folder. For objects in the folder, you would select "view." This allows your recipients to share the folder with other users on the project, but they will not be able to share or delete the binders that the folder contains.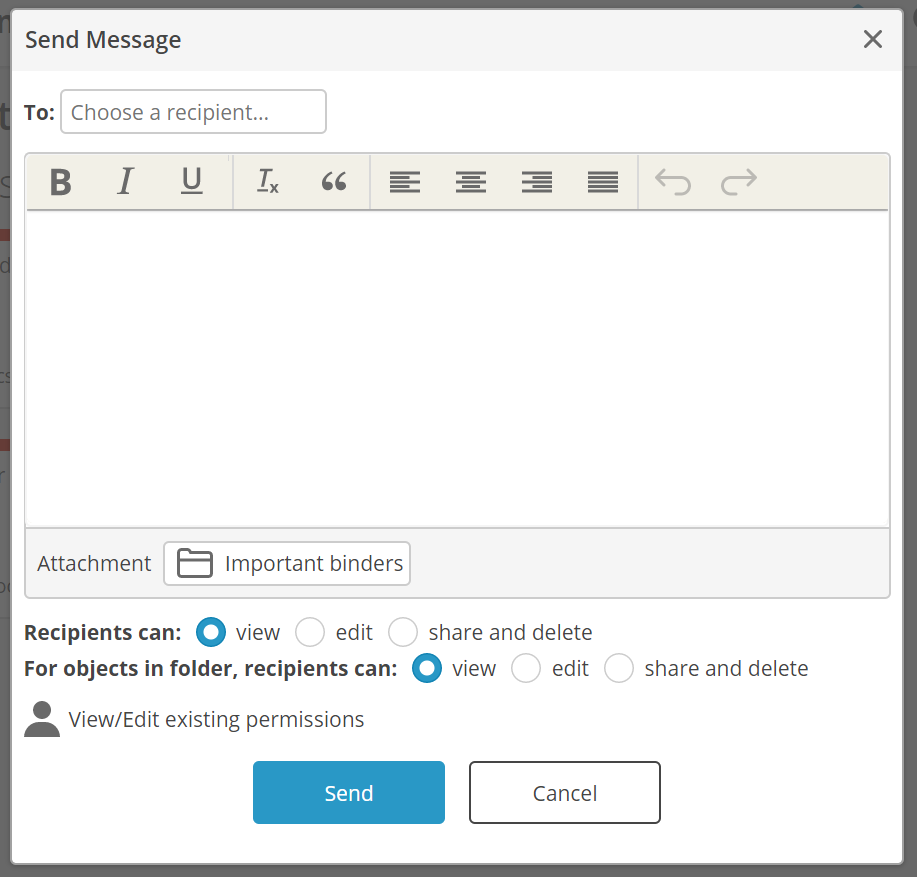 Sharing a folder does not give you extra permissions on objects in the folder. You will not be able to share folders that contain objects that you do not have "share and delete" permissions for. For example, if you set up a folder that contained three binders that you created and a fourth binder that you had viewing permissions on, you would not be able to share this folder with other users unless you removed the fourth binder.
If you have "share and delete" permissions on the folder, you can also send a message to all users who have access to the shared folder. Click the message icon within your shared folder. The message will include all users, by default, who have access to the folder. You can remove individual users from the message by clicking the red "x".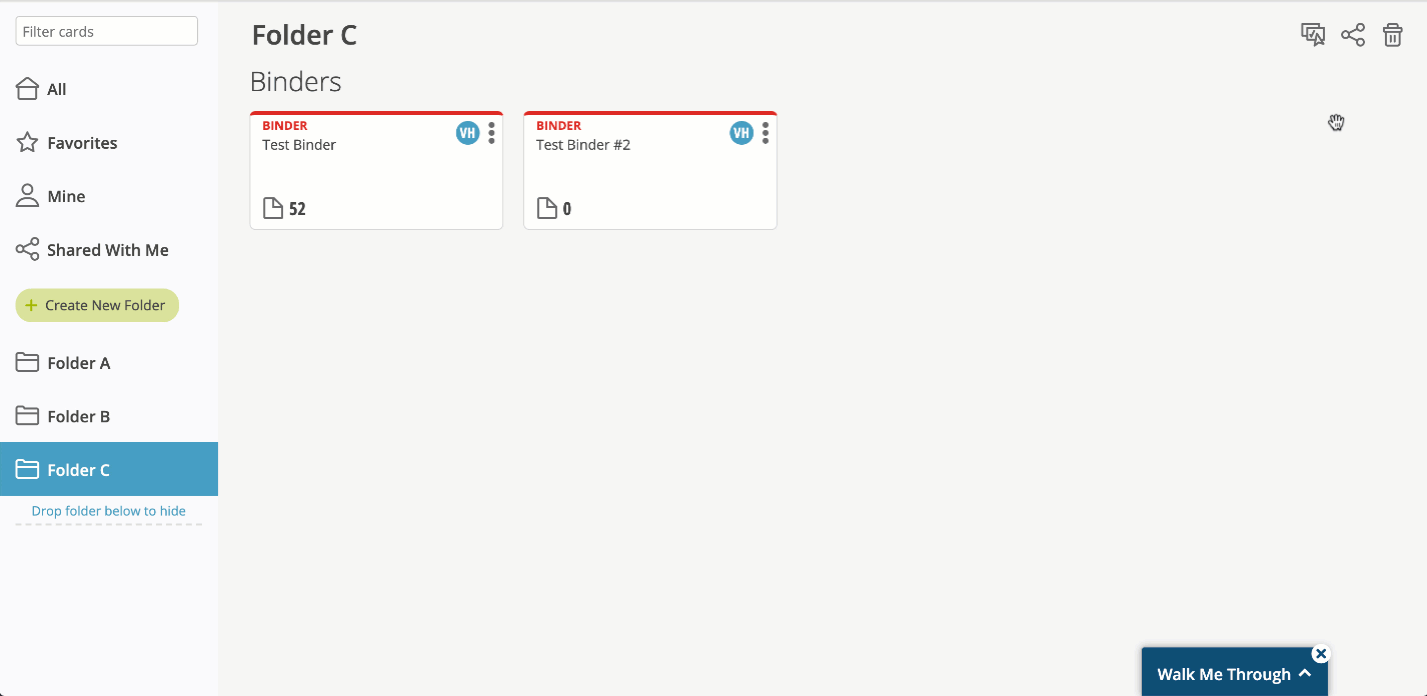 Deleting folders or folder content
You can remove folder content by entering multiselect mode, selecting the relevant cards, and clicking the red "Remove from folder" button.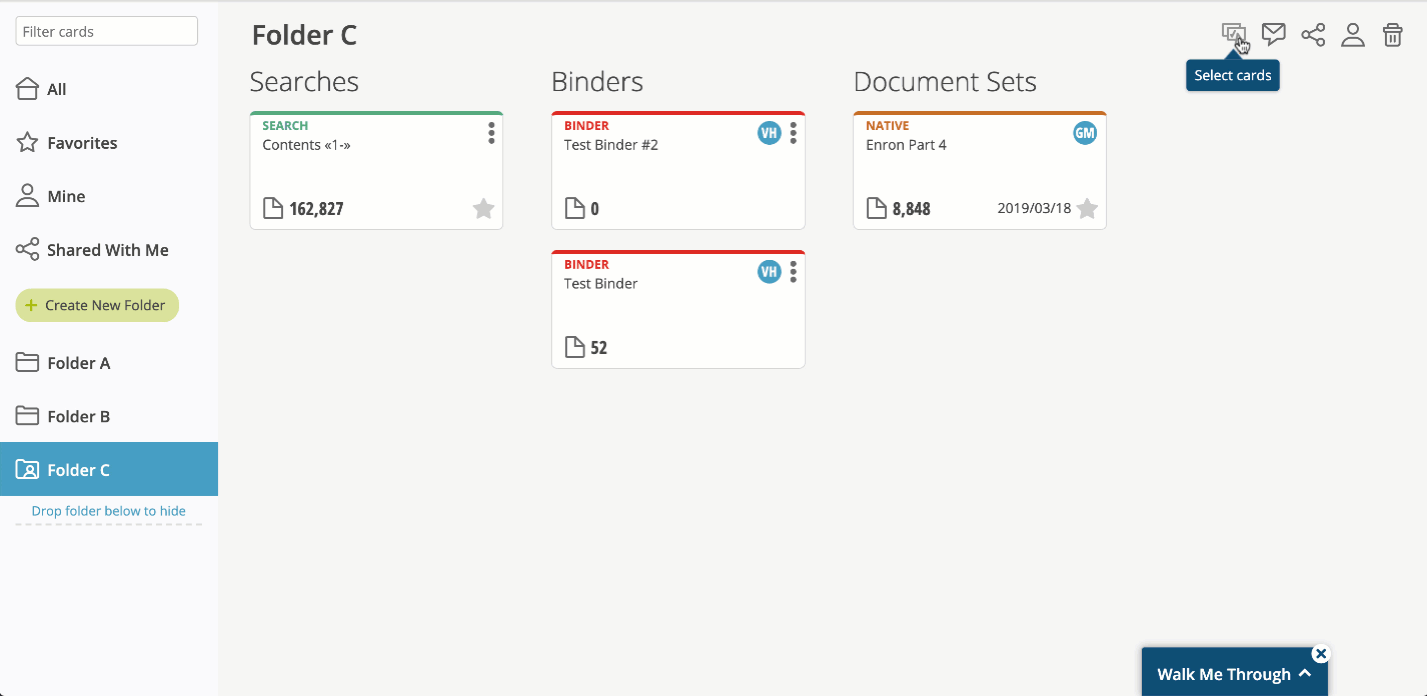 If you are the creator of a folder or have been given "share and delete" permissions on a folder, you can delete the folder by opening it and clicking on the trashcan icon in the top right corner of the screen. Deleting a folder will only delete the folder itself; its contents will be preserved. However, if there were items in the folder that you did not create and that were not otherwise shared with you, you will no longer be able to access these items after deleting the folder.