Table of Contents
The Analytics page gives you a view of all user activity on your project. From here, you can monitor live and historic activity of all users on your project, as well as all administrative activity.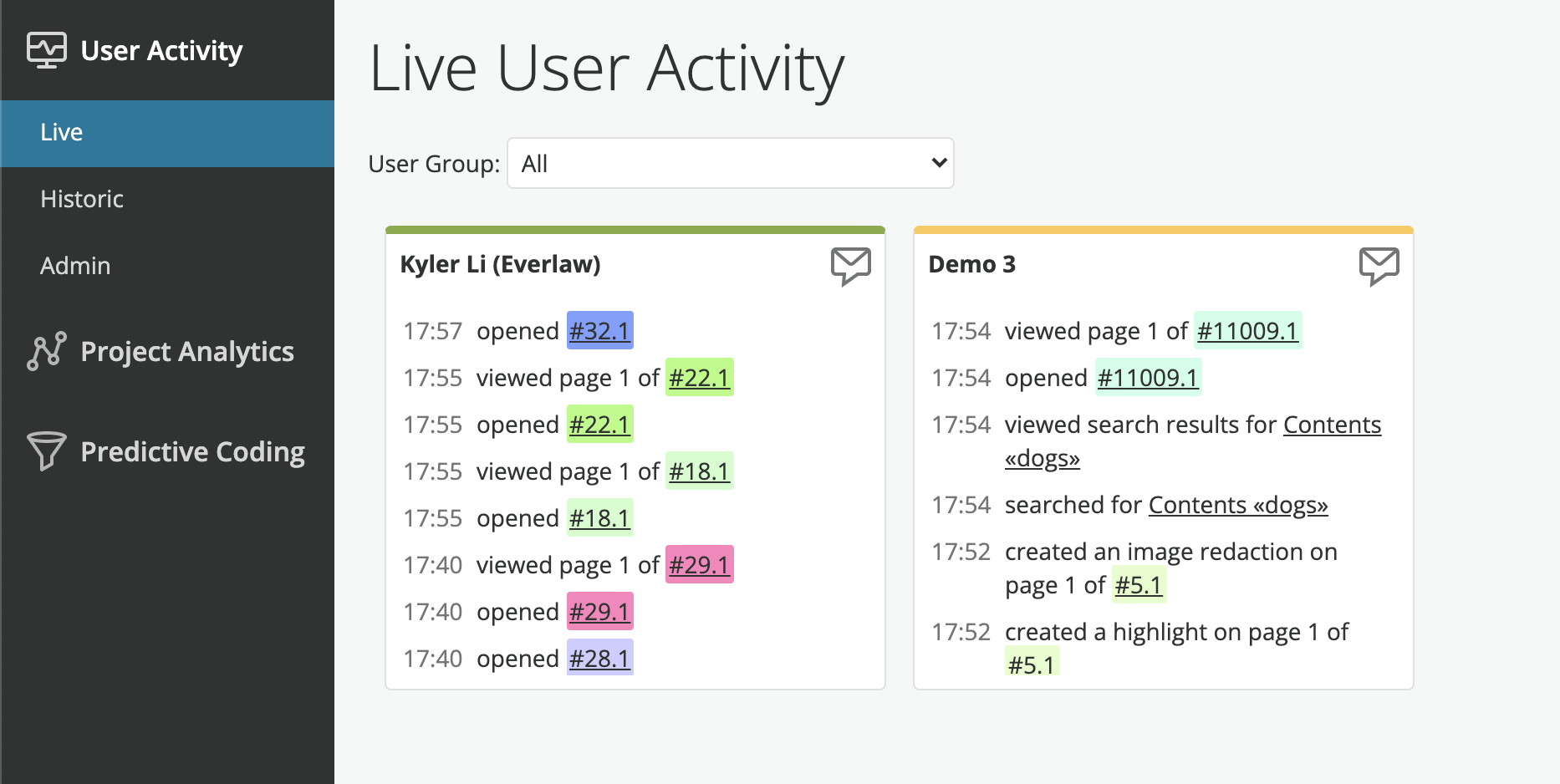 If you are a Project Administrator, you can access User Activity. You can navigate to the User Activity page via the Project Management dropdown.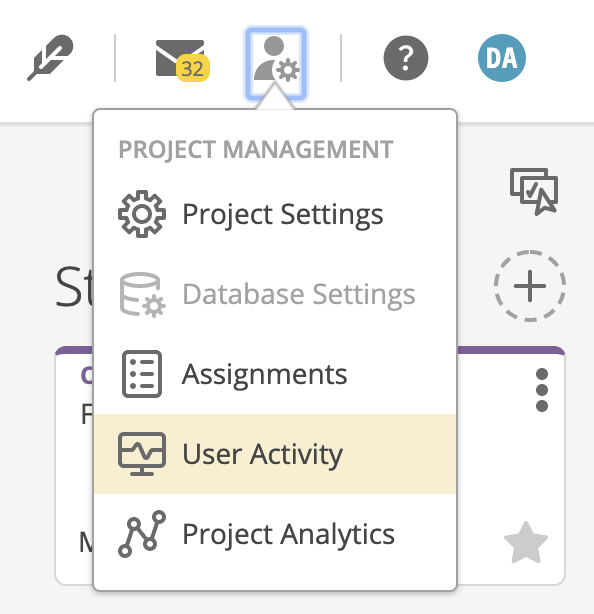 The User Activity section has three different tabs: Live, Historic, and Admin.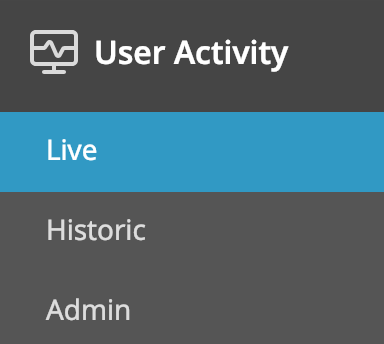 Live User Activity
The Live User Activity tab shows the activity of any users on your project during the past ten minutes. This includes documents the user has opened, review work they have applied (e.g., codes, notes), searches they have run, and any changes to project permissions they have made. A user will have a green band on top of their associated card if they are currently active, a yellow band if they have been inactive for 2 minutes, and a red band if they have been inactive for 5 minutes.
The Live User Activity tab does not track actions that affect multiple documents at once (e.g., batch actions, exports, productions). These actions are tracked in the Historic User Activity tab, which will be discussed in the next section.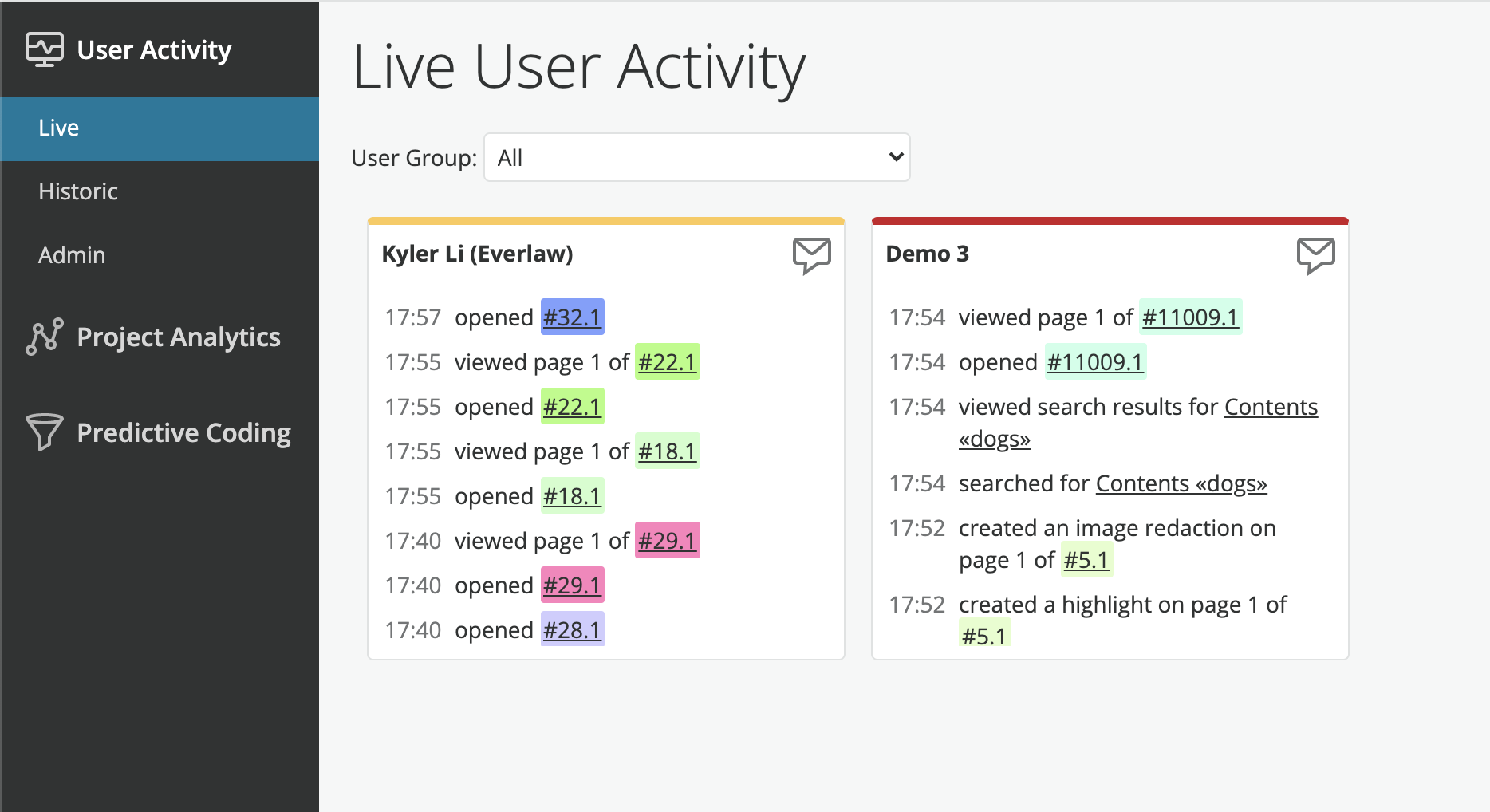 You can also look at the live user activity organized by user group. To do so, simply select the desired group from the User Group dropdown.

If a user is removed from the project, their historic user activity remains on the project.
Historic User Activity
The Historic User Activity tab displays the activity of all users on the project since the project's creation. This includes batch actions, exports/downloads, deletions, uploads/processing tasks, production actions, Storybuilder actions, searches, review work, actions on assignments, and changes to project permissions. To view historic user activity, select relevant users in the dropdown. Please note that selecting multiple users will increase loading time.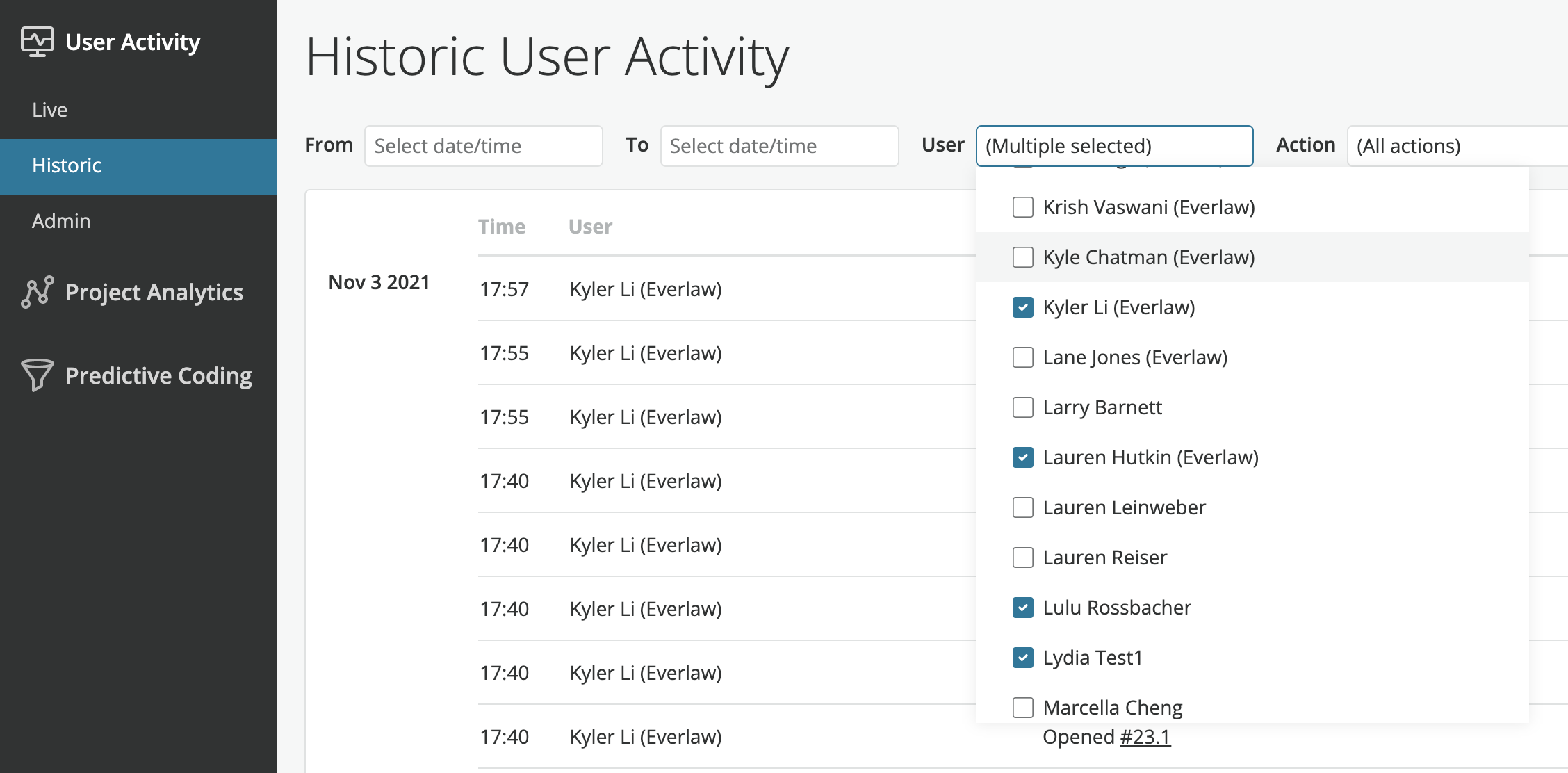 From there, you can filter events further by applying a date range or selecting a category of actions that you would like to view. You will see the 1000 most recent actions that match your applied filters.

For easier viewing, you can condense the individual documents events in a batch action into a single batch event by unselecting the "individual doc actions" checkbox.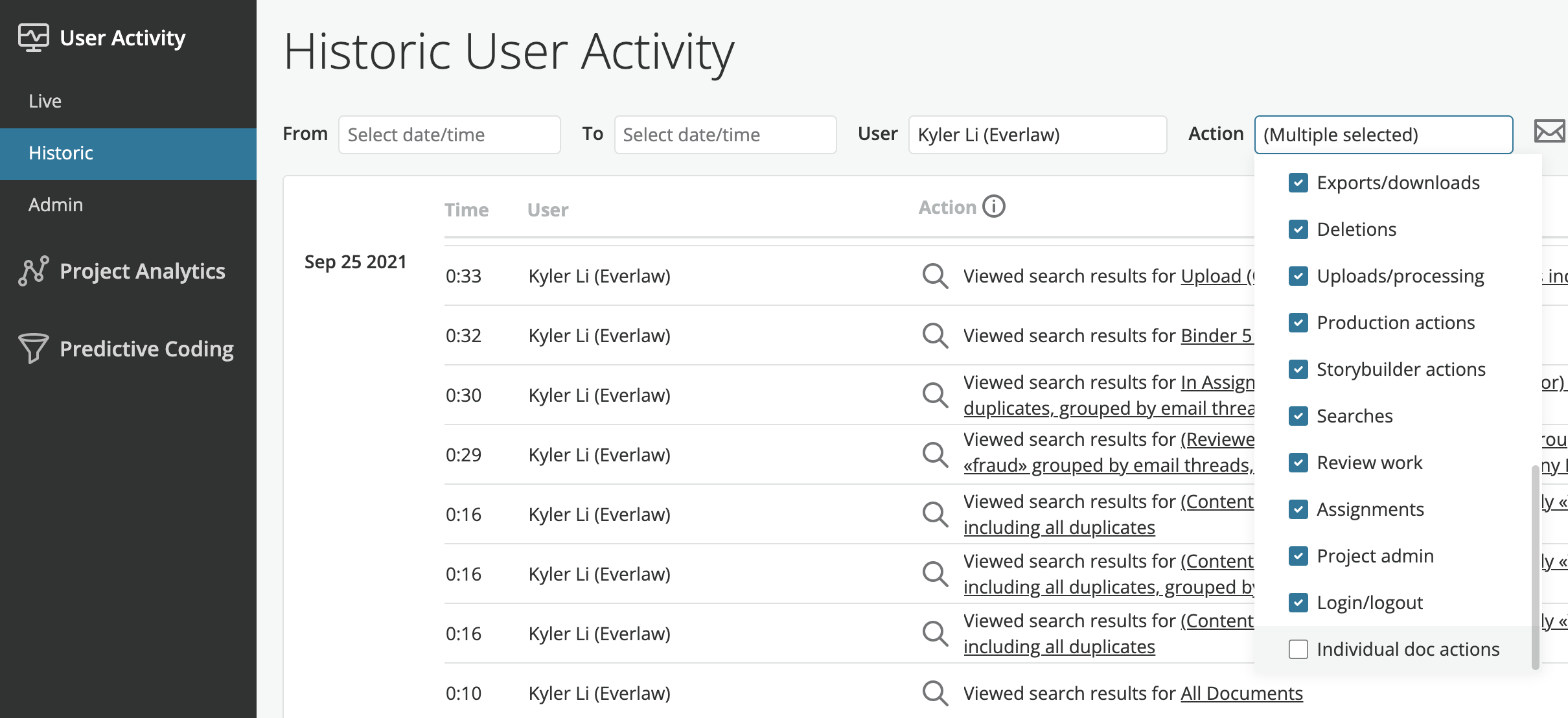 To export user activity on the project to a CSV, click the Export button to the right of the date and action selectors. Exports will be configured based on your applied filters.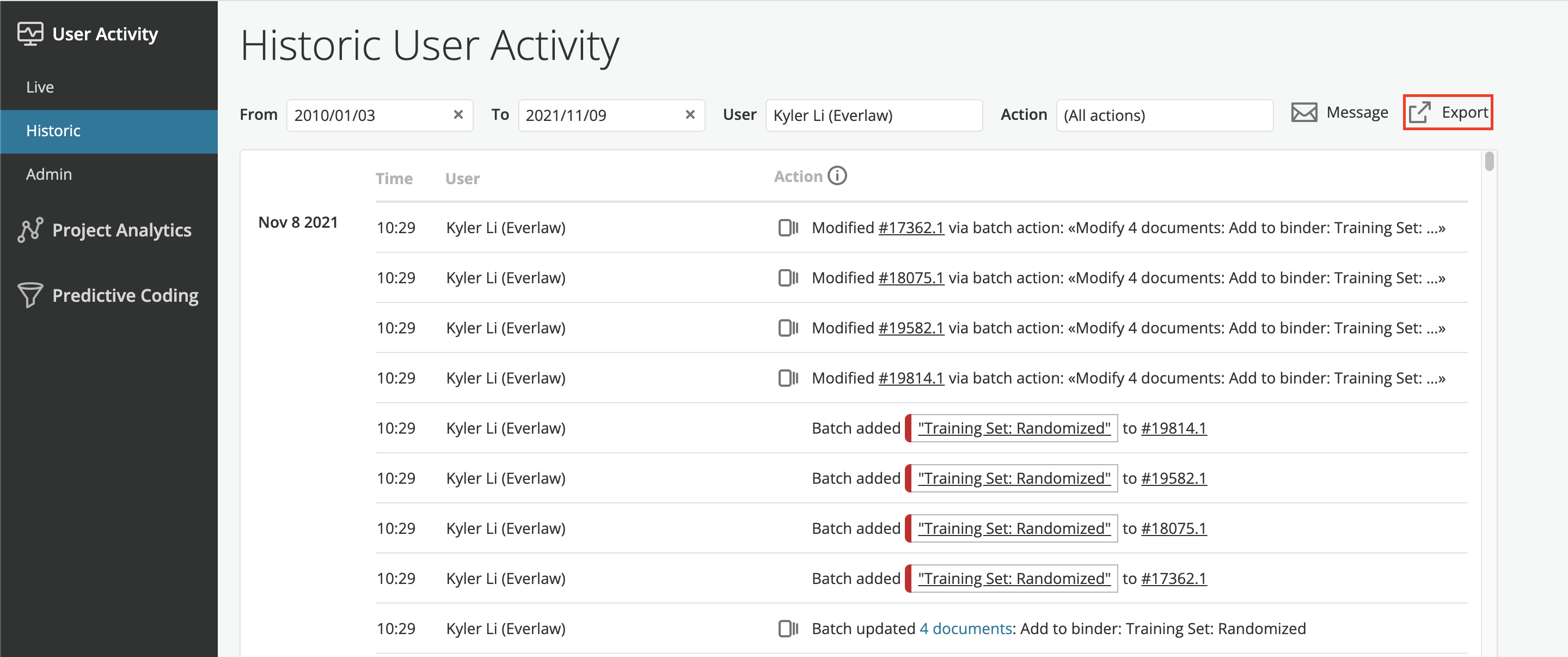 Administrative Activity

The Administrative Activity tab displays all changes to permissions, users, user groups, and categories and codes on the project. For batch exports and deletions, you can click "See details" at the end of the entry to view more information about the task, such as who initiated the task, start time, completion time, and task duration. You can also select a date range for displaying the project's administrative activity, and you can export the project's full administrative activity.