Table of Contents
To watch a video on the full screen mode, see below or click here. You can take an in-platform tour of the review window by clicking "Walk Me Through" in the bottom right of your screen and choosing "Customize Your Review Window" under Review.
Intro: 
There are two review window modes in Everlaw. In full screen mode:
There is more vertical space to see the document

You can view and apply codes without covering the document

You can view metadata, other toolbar icons, and highlights next to your document

The layouts are customizable so you can add, remove, resize, and rearrange tabs in a way that best suits your workflow

Your last full screen panel layout is remembered and restored from

session to session within a case.

You can save a user layout and load them at a later time within the same project

Case admins can save project layouts that can be loaded and used by all reviewers within that same project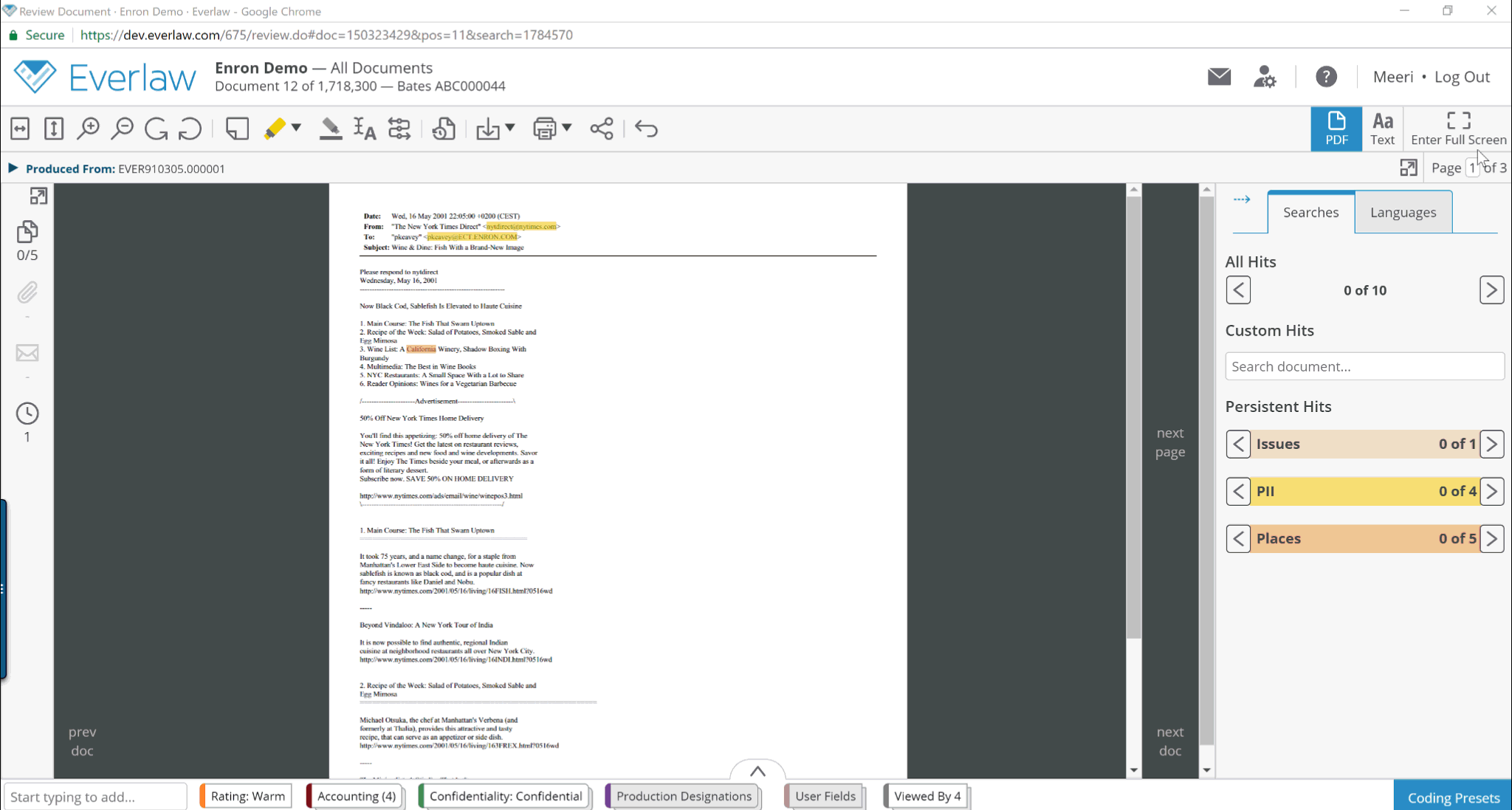 Additionally, a series of keyboard shortcuts is available in the review window to increase the efficiency of your review process. To access the full list, press the "?" (shift + /) key.
Accessing full screen mode
In the top right-hand corner of the review window, click "enter full screen." You can also use the keyboard shortcut "f." Everlaw will remember your preferences, so if you exit the review window while it is in full screen mode, the review window will open in full screen the next time that you open a document for review.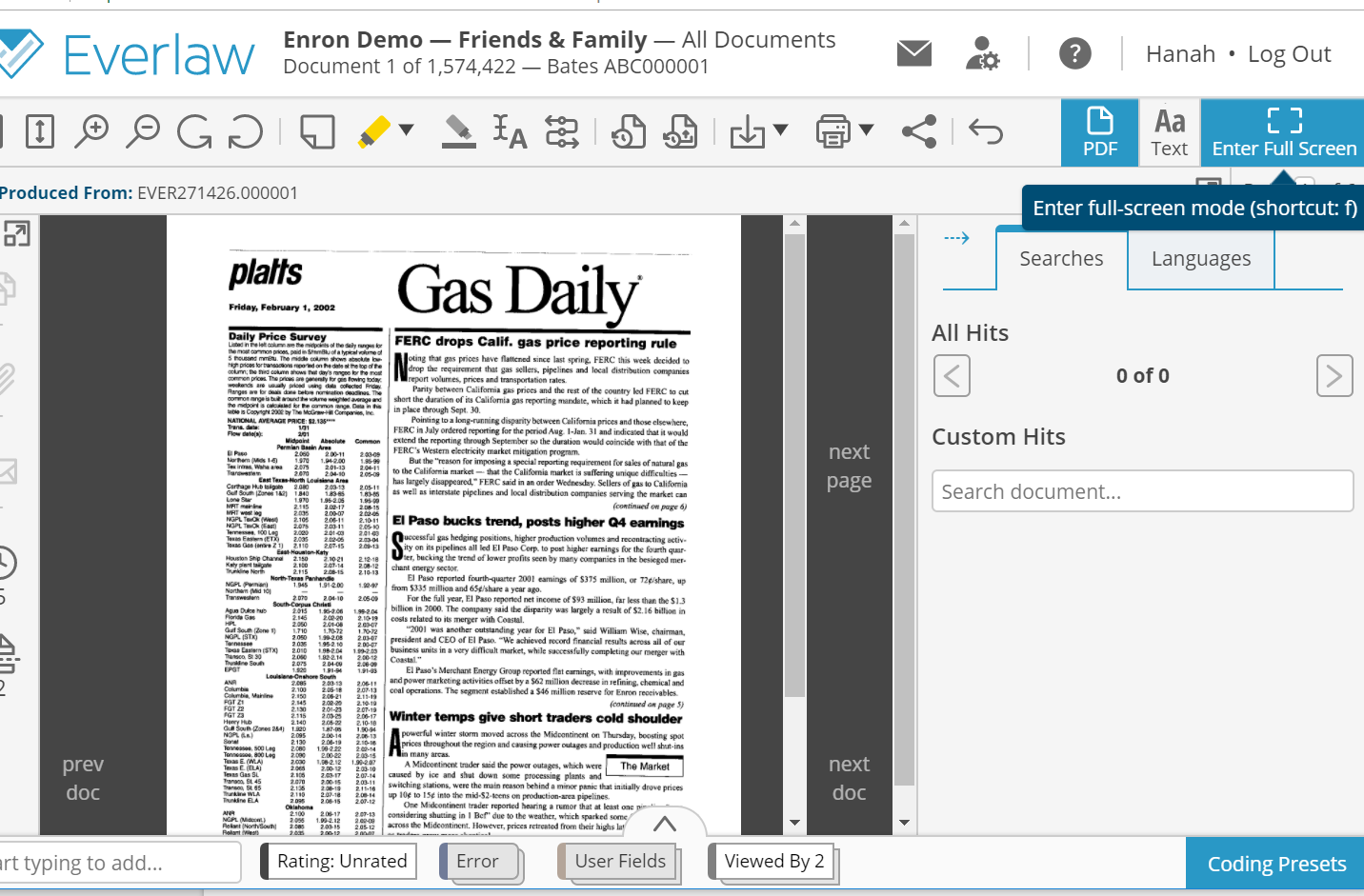 In full-screen mode, all of your review tools (with the exception of the context panel) are organized on the right-hand side of the review window. Panel content is organized into tab groups, and you can add, remove, and reorder your review tools the way you want them. 
The toolbar on the top of the normal review window is moved to the right. In full screen mode, you can see the coding sheet and apply codes without covering any of the document.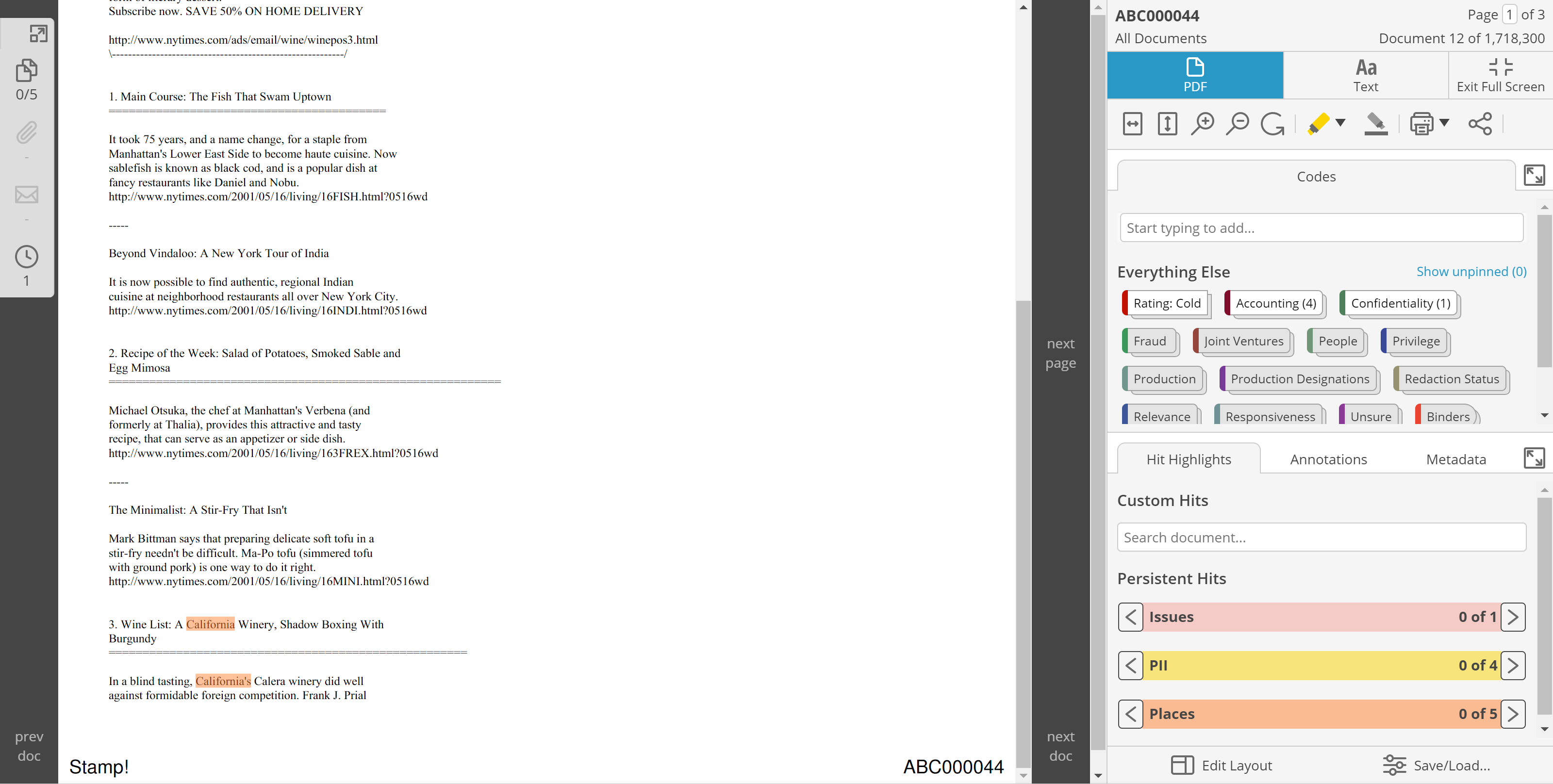 Build layout, rearrange, resize tabs
Once you have accessed full screen mode, and if it's your first time using it for that project, you can choose to build a layout or load an existing layout. Existing layouts are either project-wide default layouts created by an administrator, or user layouts that you have saved in the past for this project. The end of this video will show you where and how to save and load default layouts.
If this is not your first time using full screen mode in that project, the most recently used layout will be loaded automatically. 
To build a new layout, click "edit layout", then, click "edit toolbar". Click or drag icons from the staging area on the left to add them to your review panel. Click the red "x" next to toolbar icons to remove them. You cannot rearrange toolbar icons once they are added since they have a predetermined order. Note that some toolbar icons do not apply to the various format views, regardless of whether you've added them. For example, the redaction tool or highlighter will never appear when you are in text view because you can't use those tools in that view.  When you're happy with your toolbar, click "back to tab layout."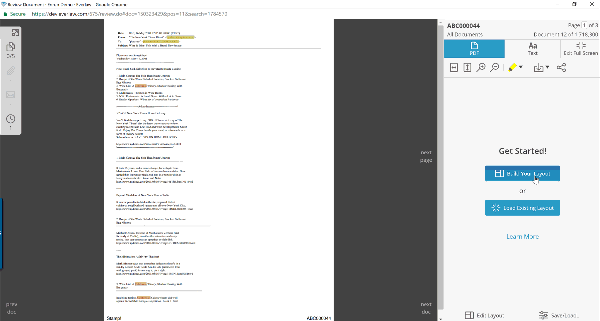 You can then customize which tabs you'd like to view in your panel. Note that your user permissions might affect what is available to add.  Click, or drag and drop a tab from the left side staging area to add it to your review panel. In the example below, we will add codes, annotations, and hit highlights.
You can also group tabs together to clean up your panel. For example, if you want to have access to metadata but don't need to see it all the time, you can drag and drop it next to codes to create a tab group.
You can also rearrange the panel by dragging and dropping tabs to the bottom.  You can adjust the height of each tab group, and the width of the panel. There are endless possibilities for how you can organize your tabs and tab groups. Remember, you can save and reload layouts, which allow you to create multiple iterations of tab groupings.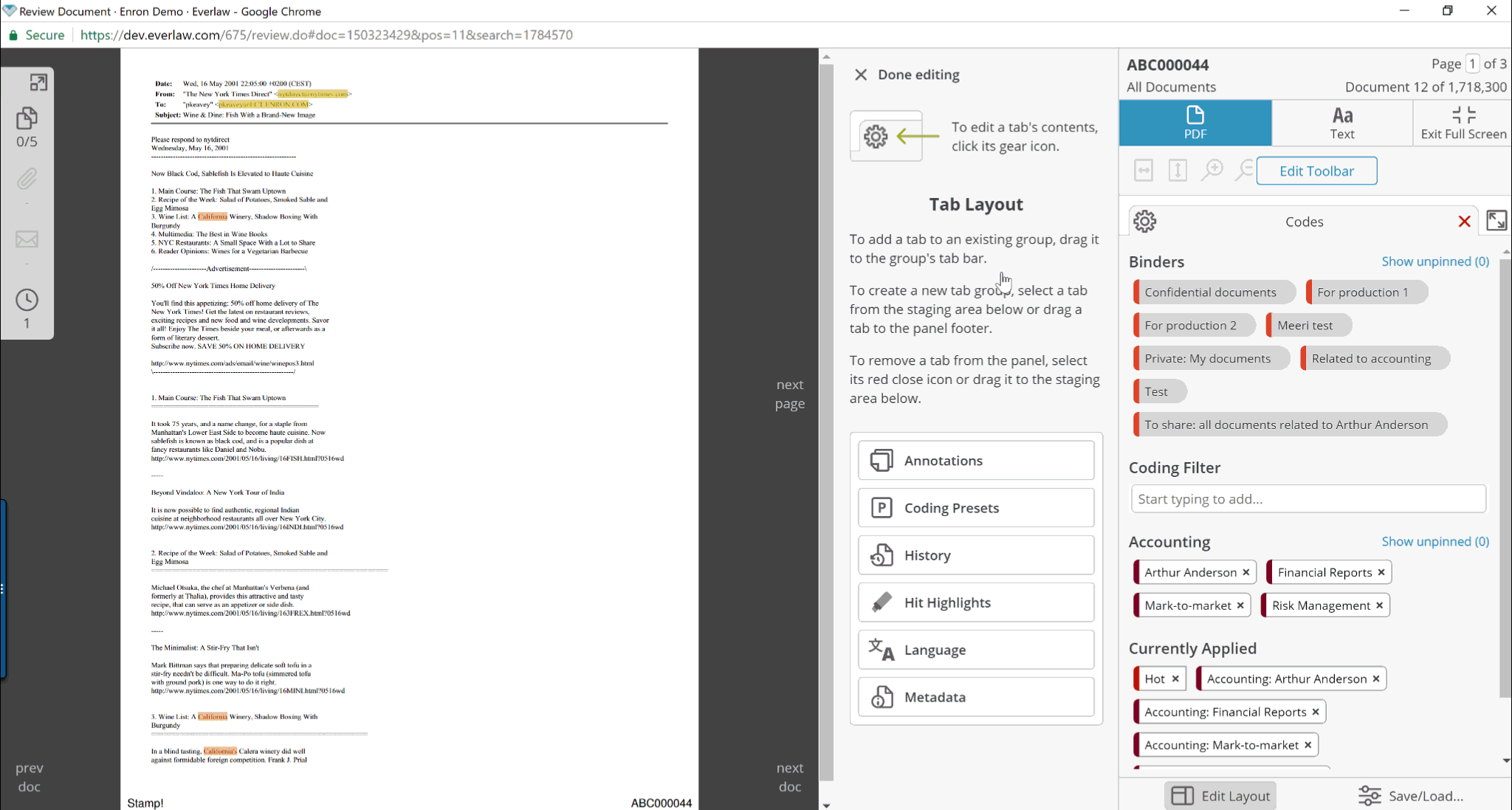 Click "Done Editing" at the top of the staging area, or toggle "Edit Layout" at the bottom of the screen to view your custom panel. You can always go back to "Edit Layout" to add, remove, or rearrange tabs or toolbar icons. 
If you want a tab to expand to cover the entire panel, click the expand icon next to it on the right. The icon will turn blue. You can always collapse it back to the previous view by clicking it again.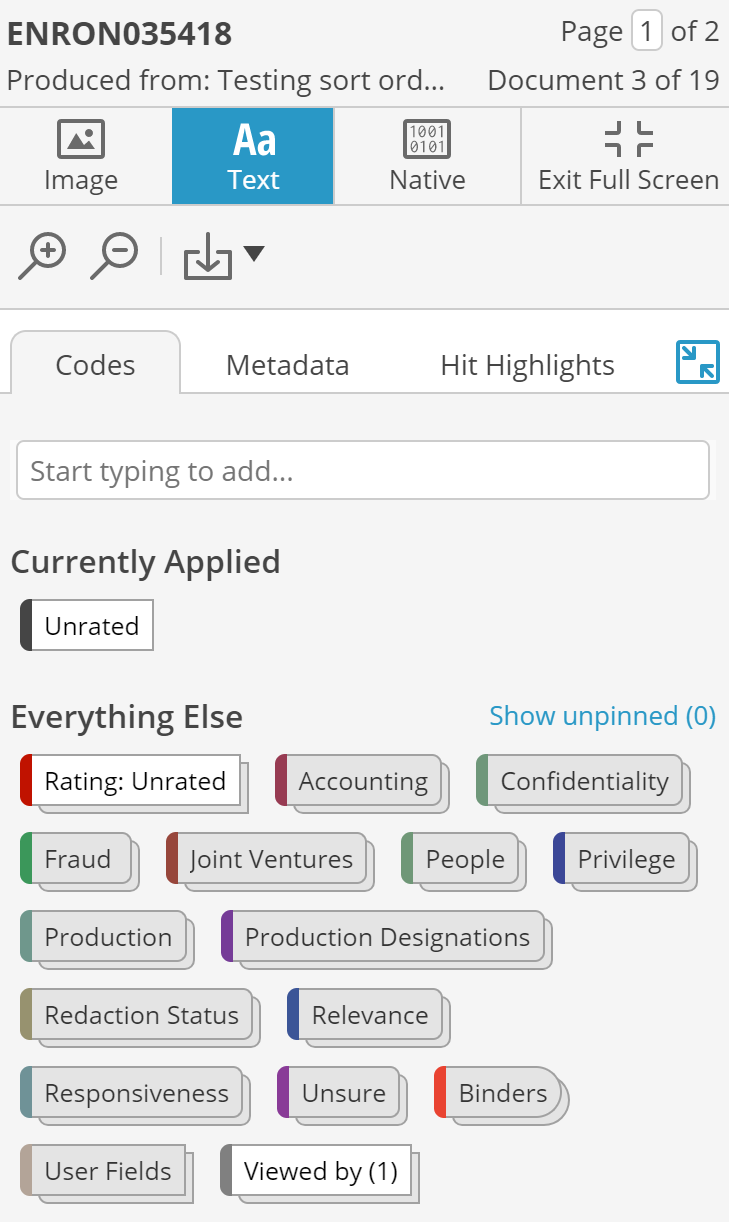 Configure individual tabs
Within each individual tab, you can configure its layout. To do this, click "edit layout". Then click the gear icon next to the name of the tab.
The tabs vary in complexity and number of configuration options. A table of each tab and its configurations is below in the next section (see "list of tabs and configuration options").  In the example below, you can see the annotations settings, which includes three components: notes, highlights, and redactions. 
You can rearrange the components within the tab by dragging and dropping them. You can toggle in and out of edit mode by clicking "edit layout" at the bottom of the screen to see how your proposed configuration will look.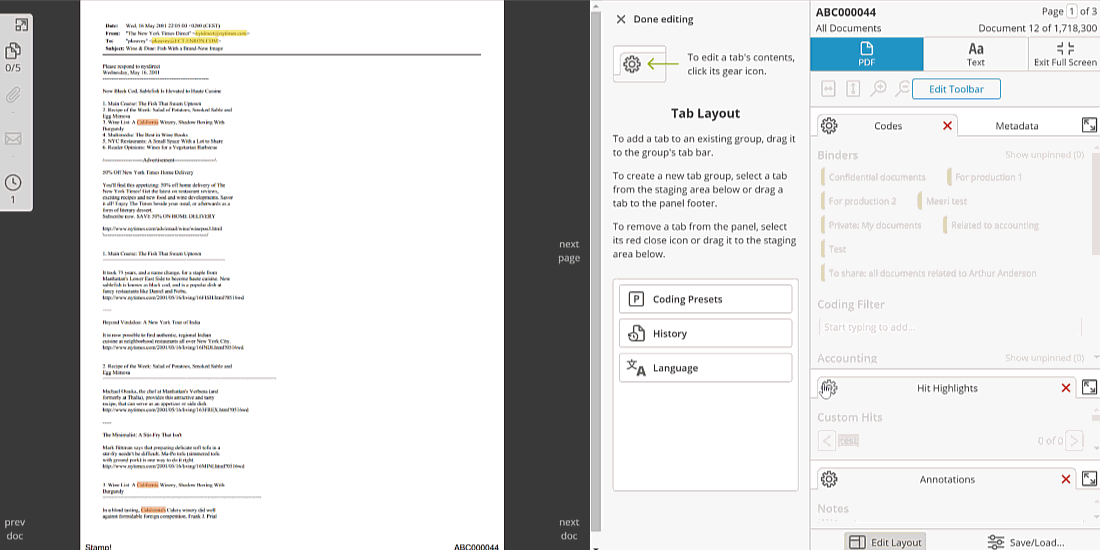 Let's walk through the codes tab step-by-step, since coding is a crucial component of doc review. 
Click the gear icon next to the header of the codes tab. It will turn blue

The staging area on the left includes various components of the coding panel that you may want to display. Click a component on the left to add it to your codes tab. 

Click the red "x" next to a component in the tab to remove it, moving it to the left menu. 

Drag and drop components within the tab to rearrange them. 

You can add coding categories as components in your tab. This is particularly useful for reviewers who only code docs for one type of coding category (such as "responsiveness" or "issues"). 

Click the gear icon again and then click "done editing" to view your panel.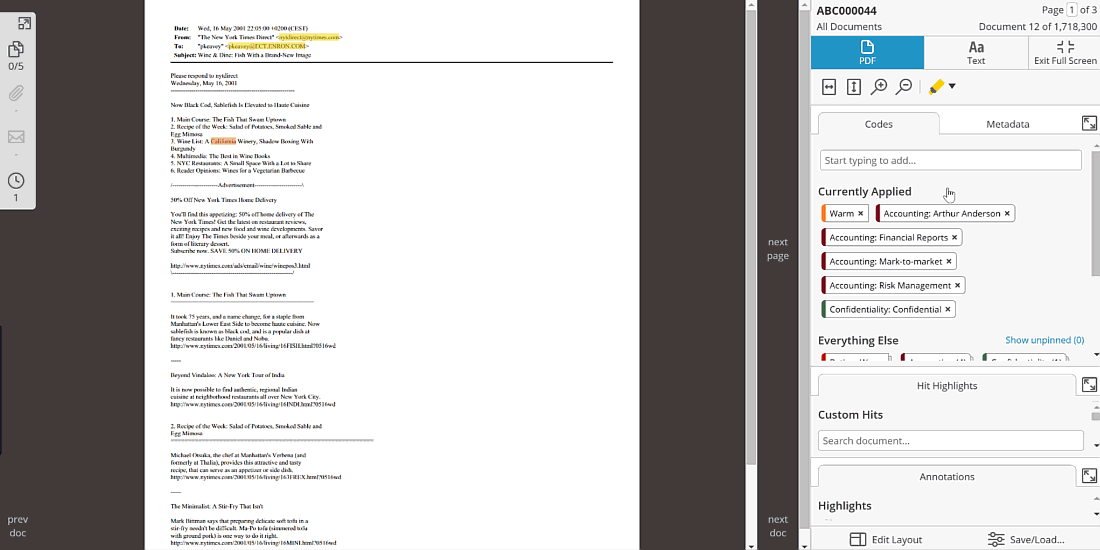 Within the codes tab, you can hide individual codes or binders to clean up your tab even further. For example, you may have chosen to include binders, but want to hide some of them. To hide codes within any section, click "show unpinned," then drag the codes or binders to hide under the dashed line at the bottom. You can also rearrange pinned binders, although by default they're in alphabetical order. When you're done, click "hide unpinned" at the top.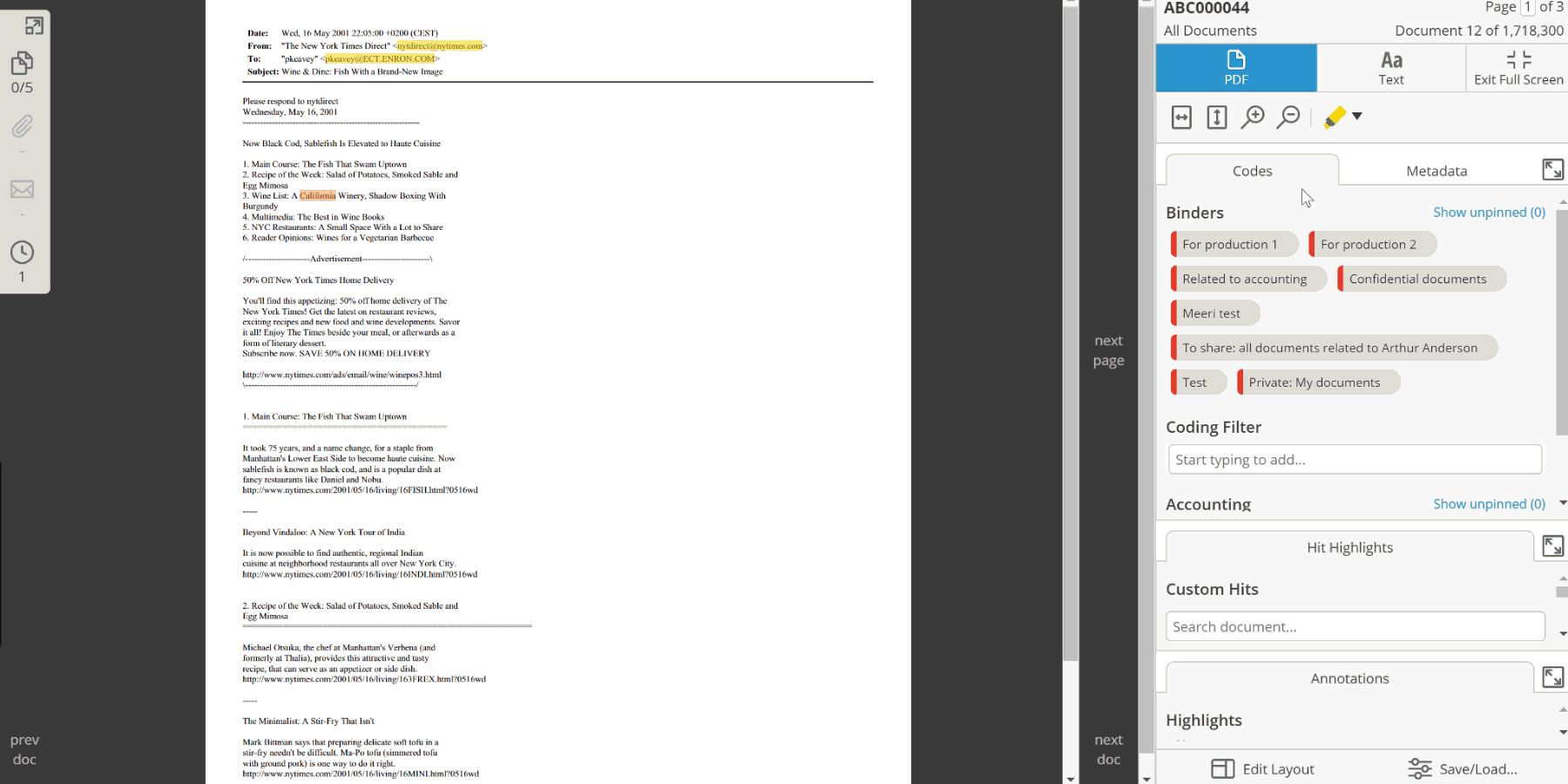 List of tabs and configuration options
Each tab is unique in that the components you can include within the tab differ.  Below is a table where each column is a tab in full screen mode. Within the column are the available components you can include. The Coding Presets, Language, and Predictive Coding tabs have no additional options and are therefore not included in the table below. 
| | | | | |
| --- | --- | --- | --- | --- |
| Annotations | | History | | |
| | Coding Filter: use the keyboard to apply ratings, codes, etc. to the document | Same as current history view: all, view, rate, binder, code, note, conflict, upload | All hits | Every metadata field, along with options to show unpinned, empty, and raw metadata fields. |
| Highlights | Currently Applied: see ratings, codes, etc. on the document |   | Search hits |   |
| | Everything Else: access elements from all sections you have removed |   | Custom hits |   |
|   | Rating: allows you to select hot/warm/cold for documents |   | Persistent hits (will only appear when a persistent highlight appears in that document) |   |
|   | Binders: collections of documents created by you or a colleague |   |   |   |
|   | |   |   |   |
|   | Viewed By |   |   |   |
|   | Coding Categories: you can choose any coding category to focus on those codes |   |   |   |
Shortcuts
Keep in mind that there are keyboard shortcuts in the review window to make your job easier. There are a couple small differences between the shortcuts in the regular review mode, and the full screen mode. These differences are listed in the overlay (which you can view by typing "?" while in the review window). A preview of some shortcuts are below.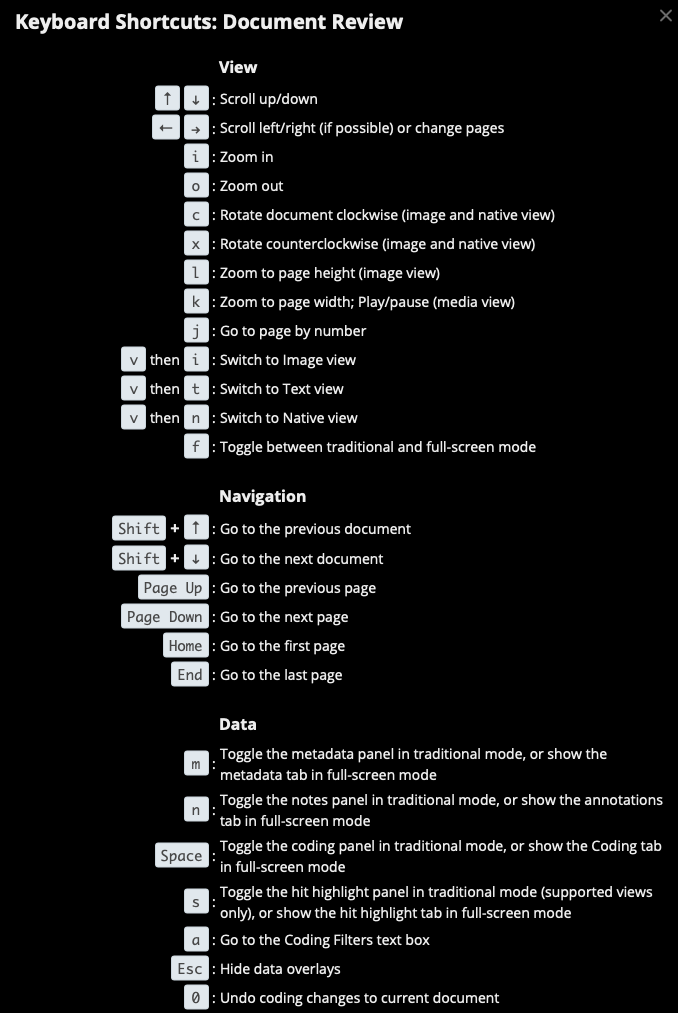 Note differences between a few of the shortcuts in the regular review window and full screen mode. For example, in the regular review window, the spacebar expands and collapses the coding panel. In full screen mode, it will bring the coding tab forward, as long as the coding tab is in the layout panel.
Share layouts and create defaults
You do not need to save a layout to return to it in a separate session. Within a project, Everlaw will always return you to your last used layout when viewing documents in full screen mode.
You can, however, save layouts to share with others (if you are an admin) or to make sure you have the ability to return to it later, should you decide to make changes. Click the "save/load" button at the bottom of the screen. You can create an unlimited number of user layouts, and load them at any time. Save by clicking the green + sign under "Your Layouts."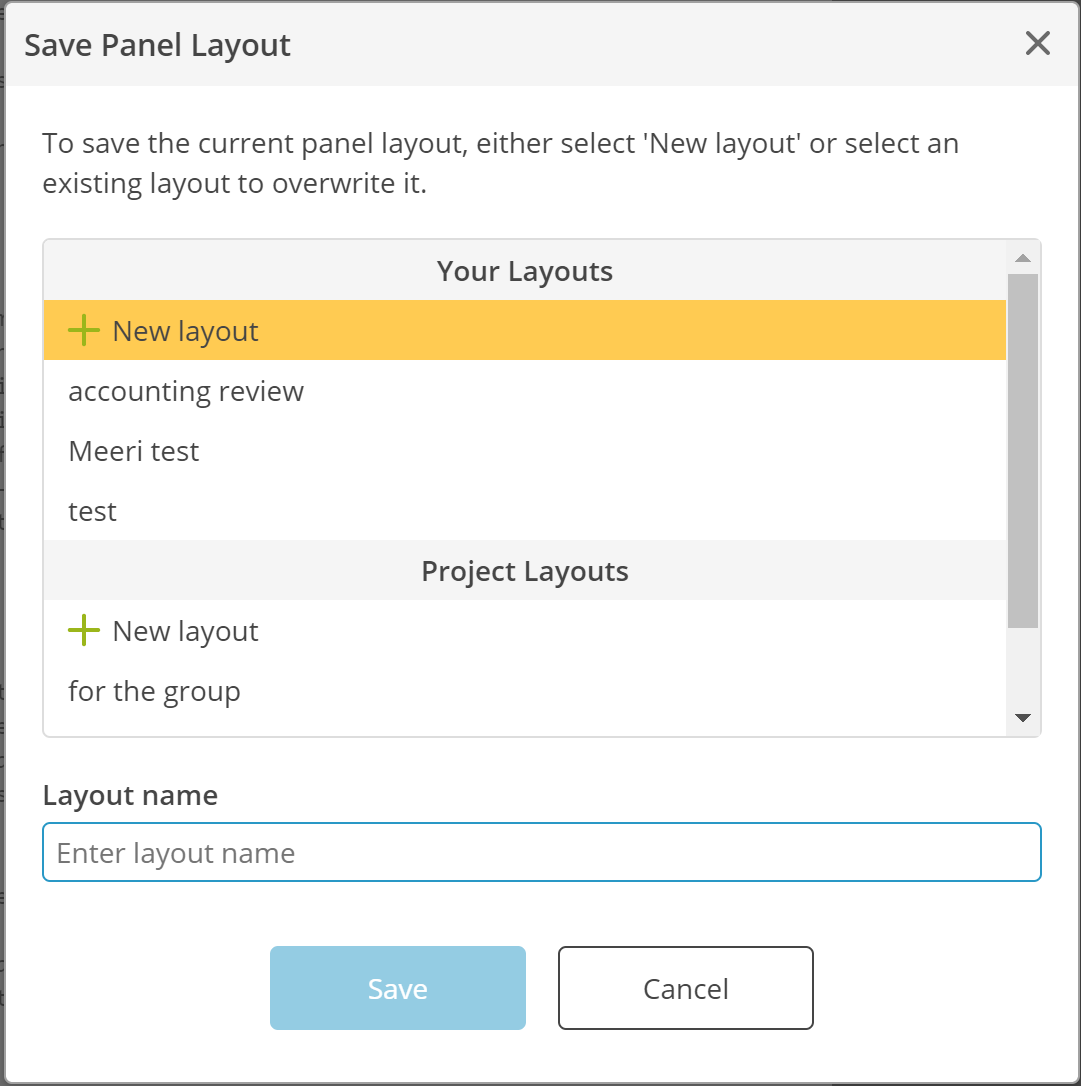 If you are a project admin, you can save layouts project wide under "project layouts." This means any user on that project can access it. To overwrite a previously saved layout, click that layout, enter a new layout name, and click "save." 
If you'd like to load a layout you previously saved, click "save/load" then select load. Here, you can select one from the two lists. Again, layouts listed under "your layouts" are ones previously created by you, whereas "project layouts" are ones available to all users and created by the admin.
To delete a layout, click "save/load" and then select delete. You can choose any of your user layouts to delete. Unless you're an admin, you won't be able to delete project layouts.