Table of Contents
Within the results table, users can click the Batch icon to perform batch review actions, such as coding, deleting, adding notes, and rating documents. Depending on your permissions level, you may be able to take additional actions. For example, some users can batch assign documents or batch add documents to other projects. If you have Upload or Delete permissions, clicking the icon will also give you the option to delete or reprocess documents.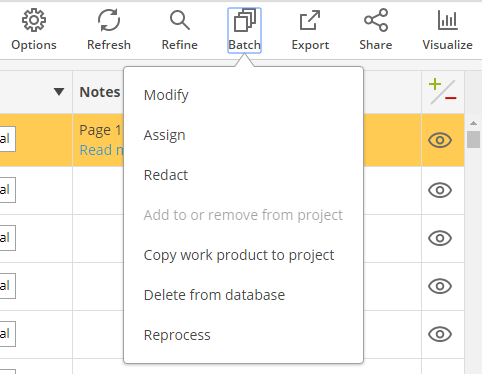 By default, all documents in a search are selected, as indicated by the checkboxes on the left-hand side of each row. This means any batch action, by default, is applied to all documents in the search. To apply a batch action to only a subset of documents, you can multi-select or deselect by holding shift and clicking the document you wish to select/deselect.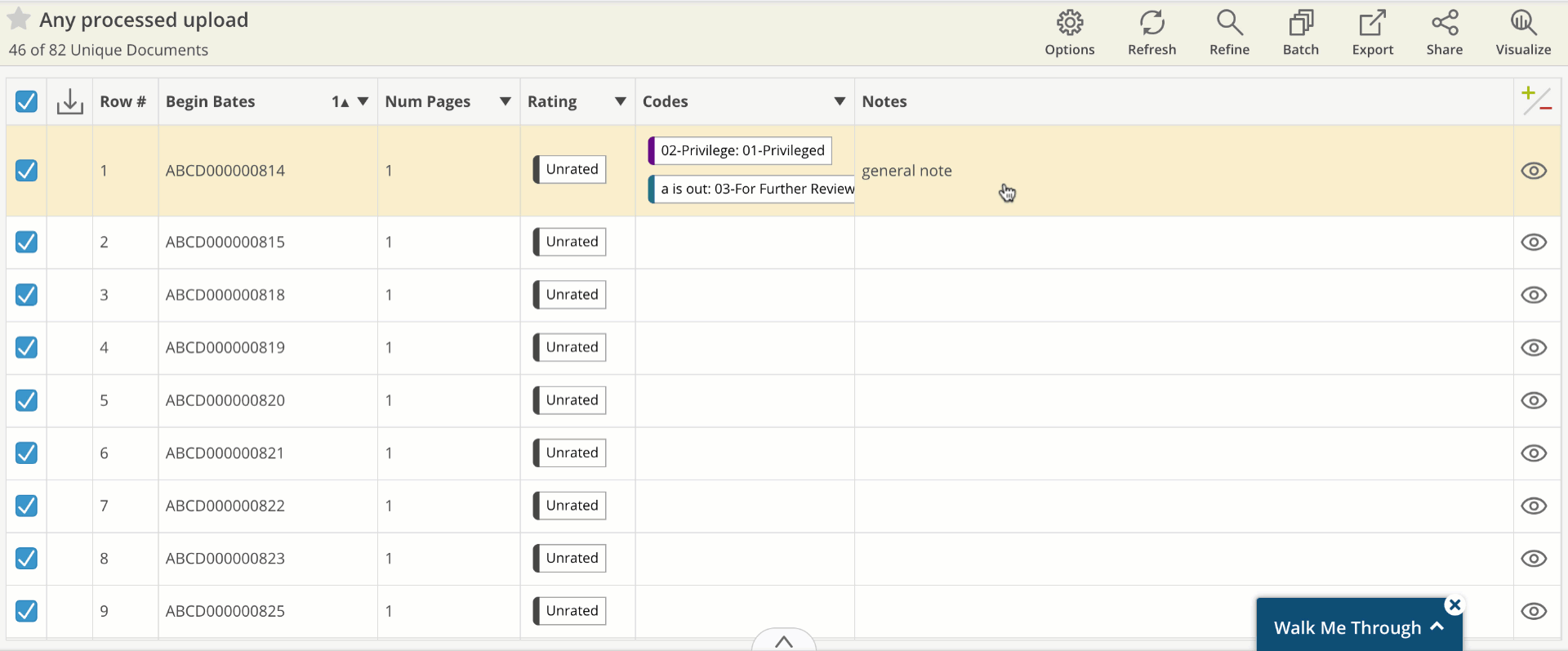 Batch Coding Panel
To apply review work to all of the selected documents, click the "Batch" icon, or the spacebar, to bring up the batch coding panel.
In the coding panel, you can perform a number of batch actions, including:
Batch rating

Batch coding

Batch apply coding presets

Add notes

Add documents to binders

Add documents to Storybuilder

Update user-editable fields

Resolve coding conflicts (project admins only)
Once the batch coding panel is open, you will see a summary of changes, along with the total number of documents you are affecting with the batch action. You can then choose any combination of codes to apply to your document. Codes that are mutually exclusive (ie - you can apply only one code in that category) are denoted by the Venn diagram icon.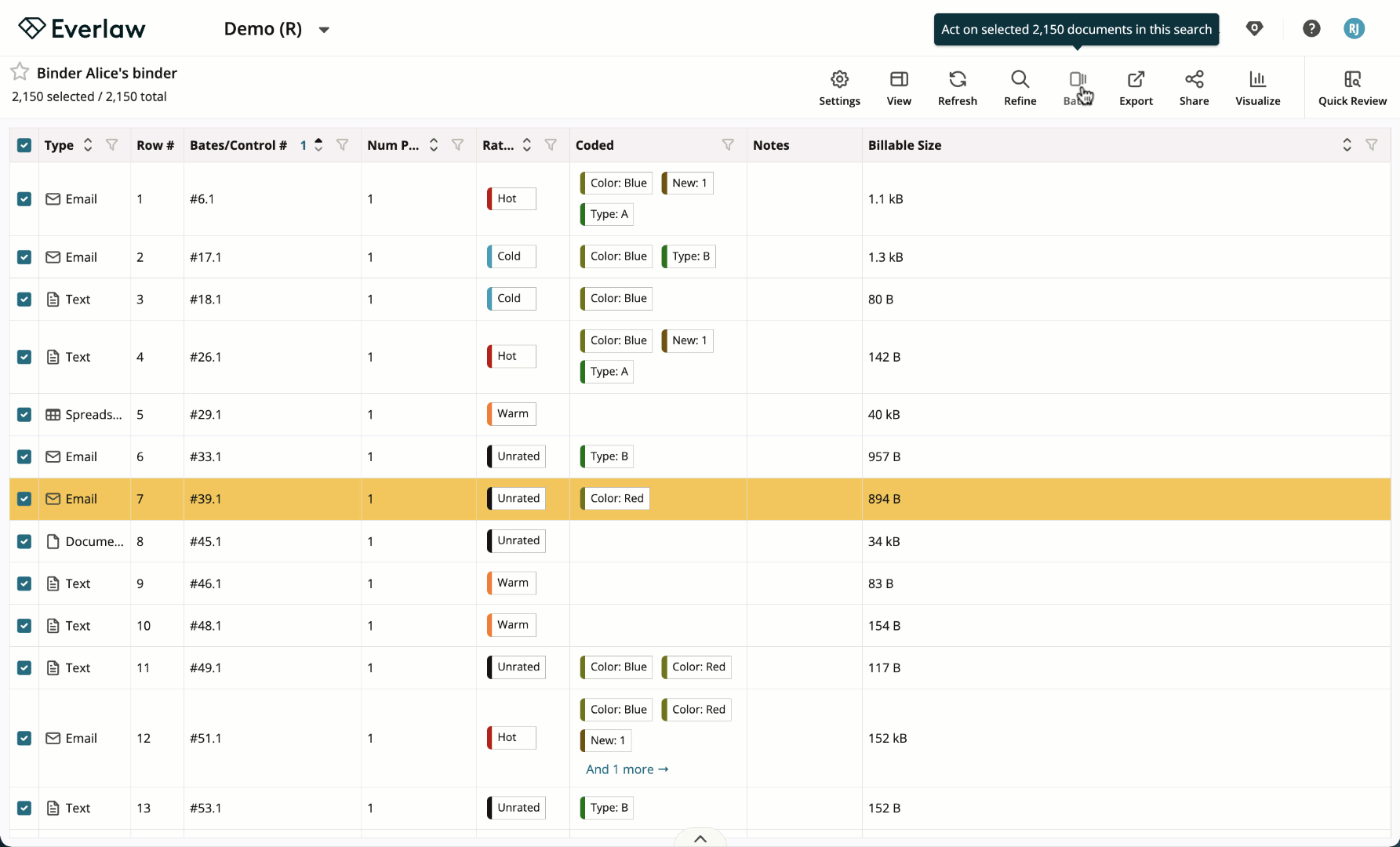 Below are a few specific instructions for batch actions that you can take in the batch action panel.
Batch coding documents
To add codes, click a code to apply. The label's text will turn green, and the label will have a dashed green line around it to indicate it has been selected. To remove those codes from your batch, click that code again. If you batch add a code that belongs to a mutually exclusive category, the other codes in that category will be automatically added to the "remove" section and will turn red. This implies that by adding the one code, you are necessarily removing the other mutually exclusive codes in that category. If you made a mistake and do not want to apply or remove this code from your batch, click the "x" on the right side of a label. Click the Apply button to confirm your codes.
You can also apply codes to these documents using coding presets. To learn more about coding presets, including how to create and modify them, please visit this article.
Batch rating documents
To add ratings, click a rating to apply. The label's text will turn green, and the label will have a dashed green line around it to indicate it has been selected. To remove ratings, select "unrated" in the Ratings category. This will remove all ratings from selected documents. Click the Apply button to confirm your rating decision.
Auto-code rules
Auto-code rules ensure that all accessible documents in a particular context (i.e., duplicates, attachment families, email threads, or document versions) are automatically coded in the same way. For example, a project admin may create a rule to ensure that all exact duplicates of a document are coded similarly under the Privilege category.
Auto-code rules apply to batch actions in the same way that they apply to coding choices on individual documents. That is, if you batch add or remove any codes that belong to a category associated with an auto-code rule, the contextual documents of each batch-modified document will be automatically modified per auto-code rules. You can view the number of documents that could be affected by auto-code rules by clicking the wand icon in the top right corner of the batch coding panel. If you have the Auto-Code override permission, you can also choose to ignore auto-code rules from this dialog. To learn more about autocode rules, see this article.

For more information about auto-code rules, please see this help article.

Understanding your completed task
Once the task is complete, you can view the results of that task from the homepage card, under the Batches & Exports column. The card provides details about what did or did not complete, including batch coding, rating, and redaction. In the event of a failed updates, you can download a report of the documents that were not updated, e.g. for violating coding rules.
Batch add or remove documents to binders
You perform this action in the same way as adding/removing ratings or codes. The only exception is that you can create a new binder directly from the batch coding panel. Click the "Add a New Binder" tag in the binders section, and start typing your binder title. When you hit enter, and then "Apply", all selected documents will be added to that binder. For more information on binders, see this help article.
Batch add or remove notes
You can batch add notes to documents in the same way you add documents to a binder. Click the "Add a note" tag in the note section, type and format your note, click the Add Note button, and then click the Apply button.
To remove a note, click "Select notes to remove" in the note section and choose whether you want to remove all notes or specific notes.

For either option, only document-wide notes will be removed. Notes applied to highlights or redactions will not be removed.
If you select to remove specific notes, you can search for a specific note you are looking for by entering the note's content into the textbox. Although the dropdown displays notes across the entire project, the batch task will only remove the specific notes applied to documents selected in your results table, not across the entire project. To see a count of how many documents contain that note in your selected set, hover or click on a specific note.
To select a note for removal, click on the note in the dropdown and then click "Select." Only notes that are selected in the dropdown will be removed. Notes containing similar content that are not affirmatively selected in the dropdown will not be removed.
After confirming your selection for removing all notes or specific notes, you must then "Apply" from the batch modification panel to confirm the removal.
Add documents to Story
If you have adequate permissions, you can also batch add documents to a Story, Draft, or Deposition within the batch coding panel. These labels are listed at the bottom of the batch coding panel under the "Storybuilder" category.
Other actions in the Batch menu
If you're wondering about how to use the other options in the Batch menu, please see these help articles:
Undo batch actions
From the home page under Batches & Exports column you can undo batch actions that you executed. This will revert any changes you made through that batch action. If you are subject to document access management restrictions, this undue action will still affect all documents initially changed by the batch action.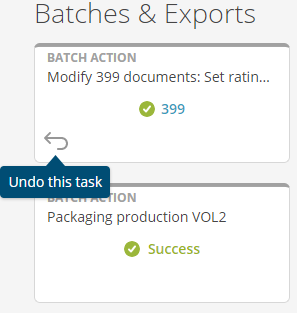 Keywords: bulk, bulk action, bulk tag