Table of Contents
Reprocessing Everlaw-processed documents
If you have Database Admin or Upload permissions, you can retroactively re-configure native and processed documents that have already been uploaded by clicking the Batch icon on the results table toolbar, and selecting Reprocess from the list of options. For example, you can change the timezone information, create image files that weren't initially imaged, or re-run documents that weren't initially processed because of a missing or incorrect password.
First, click the Batch icon in the results table. Then, click Reprocess.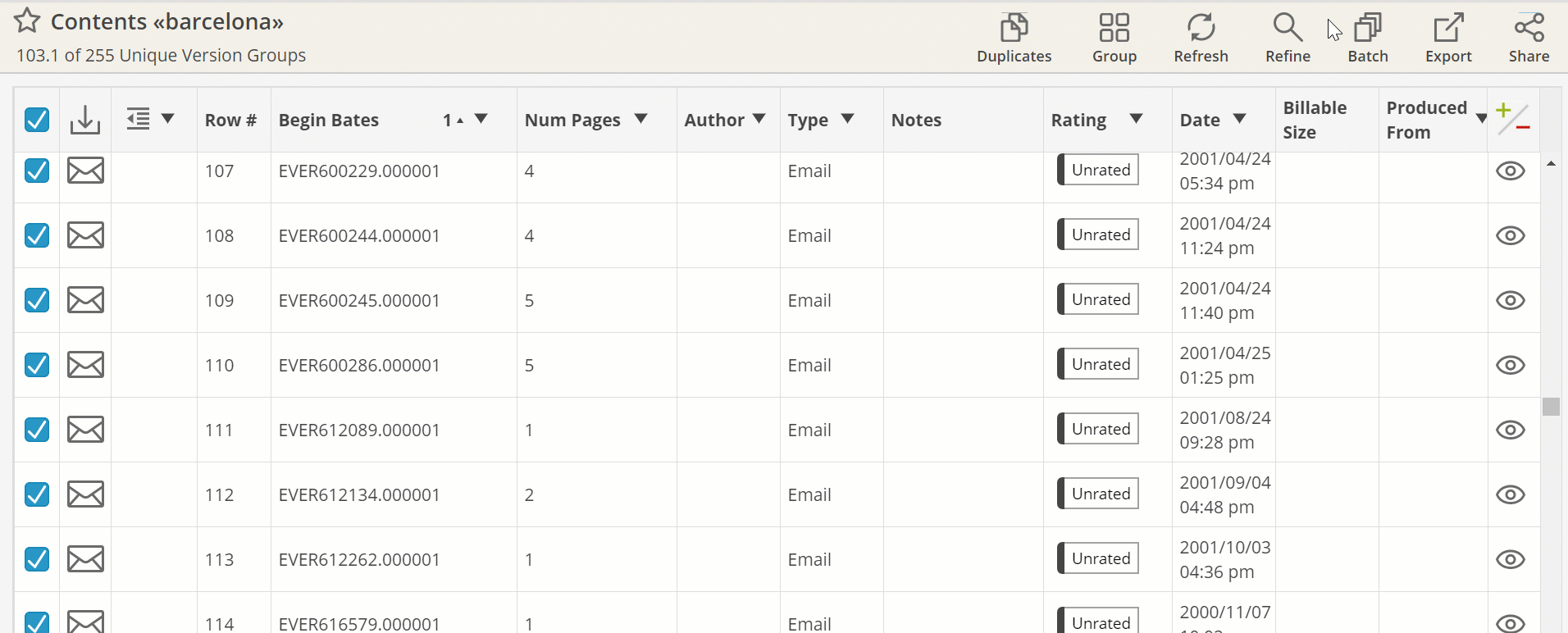 A dialog box will appear. You can re-configure the following settings: 
Timezone specification

Create PDF's (Imaging)

Provide passwords for password-protected files

Include documents with highlights/redactions
As you select these configuration settings, you are rerunning them from their original state. This means any previous settings from the initial upload will be overridden.
When you have configured the settings appropriately, click Process. Everlaw will begin to reprocess documents. Your originally uploaded documents will be replaced by the reprocessed ones.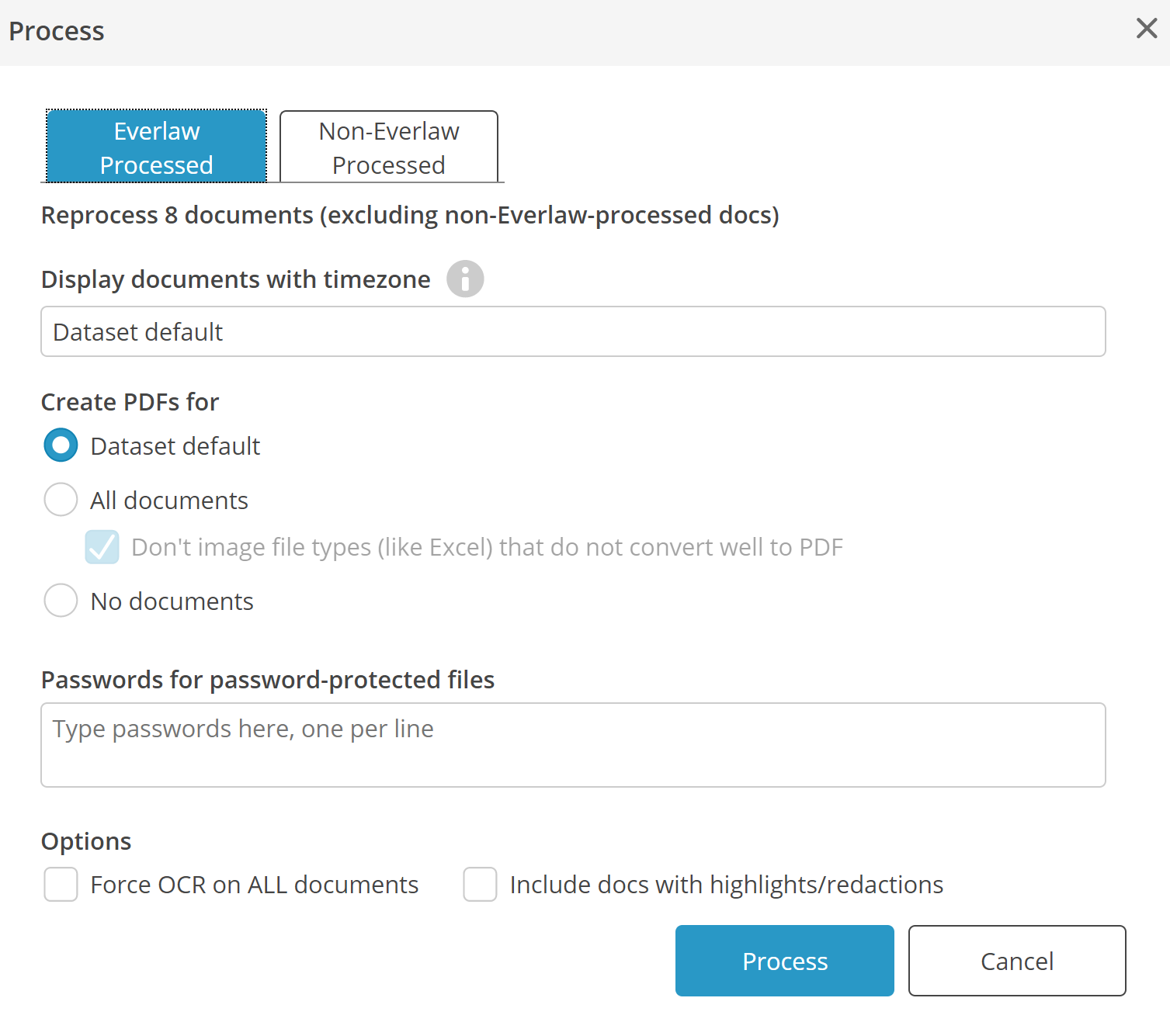 Reprocessing non-Everlaw-processed documents
For documents that were not originally processed on Everlaw, this tool can be particularly helpful if you've received documents from the producing party that do not have searchable text. You can use the processing tool to generate searchable images or PDFs for these documents.
To re-process documents that were not originally processed on Everlaw, navigate to Process in the Export Options sidebar and select the Non-Everlaw Processed tab.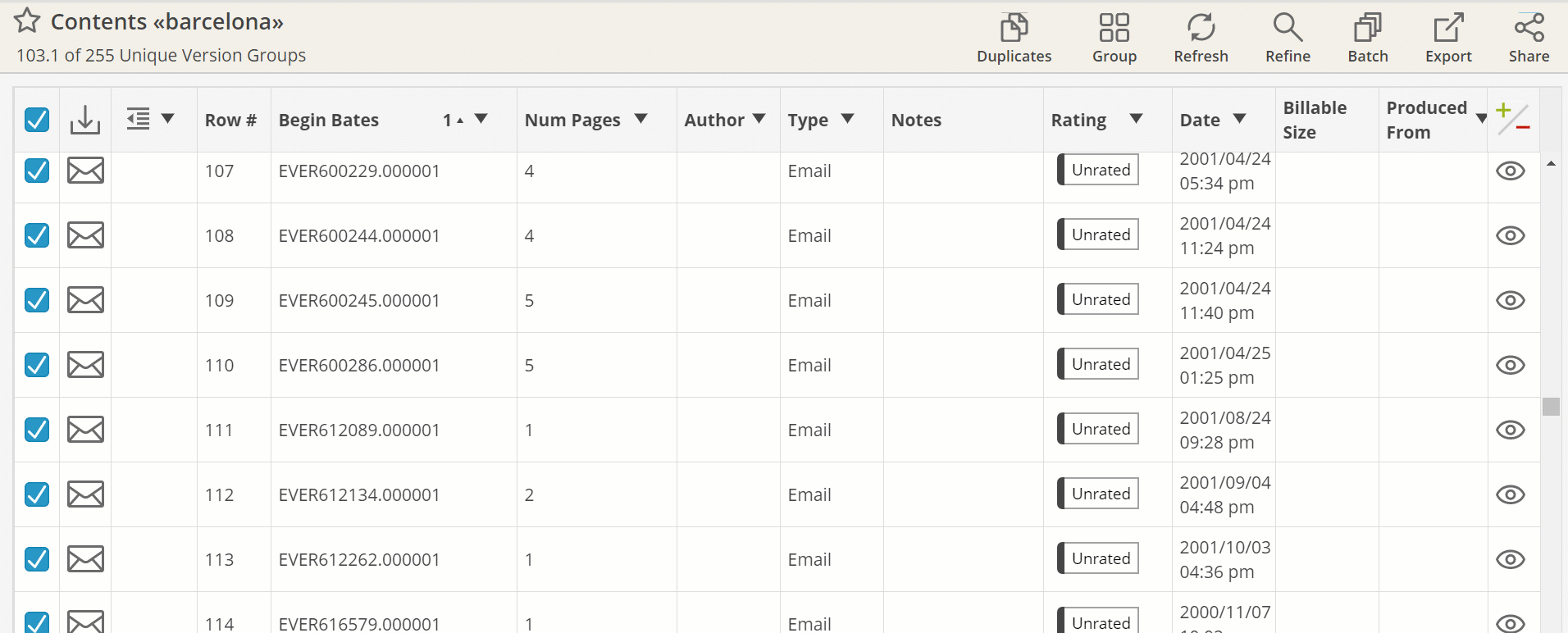 First, you have the option to generate either PDFs & Text, or only Text. If you would like the re-processing task to generate new images of your documents, select PDFs & Text.
Please note that reprocessing non-Everlaw-processed documents may increase the billable size of the documents as a result of newly generated and stored image files. 

If you choose this option and your documents do not have native versions, Everlaw will convert the the documents' images into searchable PDFs. This will preserve the Bates stamps on the documents. If your documents do have native versions, Everlaw will replace the existing images on the platform with PDFs that are generated from the documents' natives. Note that this will remove the Bates stamps, as well as any other features not present in the native versions of the documents, from the new PDFs.
If you do not want your documents' images to be changed or replaced, select Text under Generate. This way, only the text files and metadata of your documents will be updated.

Regardless of which option you choose, the processing tool goes in a set order when generating text. First, it will attempt to generate text from a native file. If there is no native file for a document, Everlaw will check for embedded text in a PDF. Finally, if there is neither native file nor embedded text, the document will be OCR'd.
Next, you can select a timezone to be used when displaying documents. This step is optional, and will only apply to documents that do not have time zone information present in their metadata already. If you leave the field empty, Everlaw will use UTC for documents without time zones.

The system will also ask what you want to do with the documents' existing metadata. If you choose Ignore, the metadata of your documents will not be changed.
If you select Merge, Everlaw will generate new metadata values from the native versions of your documents. If a document already has metadata values in certain fields, those values will be replaced by the new values generated from the native. Any value that already exists on the document, and has no new replacement value generated from the native, will be retained.
Note that selecting Merge has the potential to change your documents' metadata from what the producing party provided.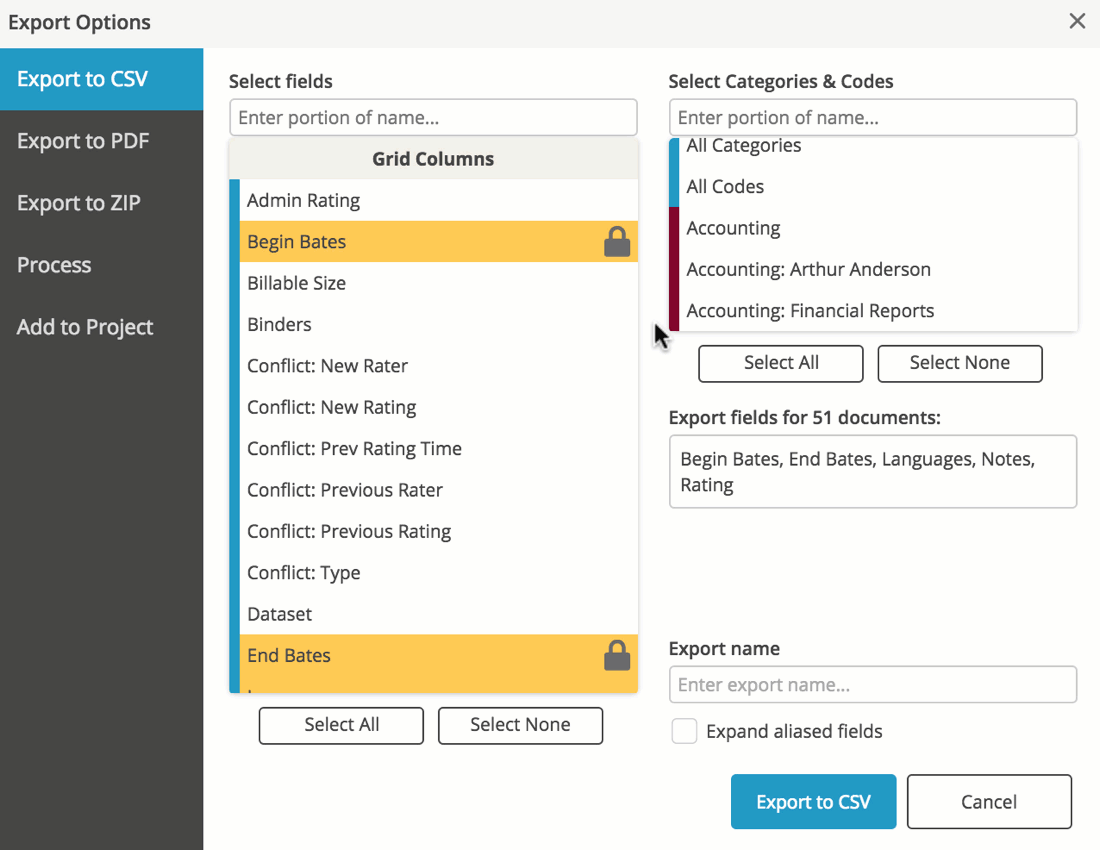 If you have chosen to image your documents, you can select whether or not to create PDF versions of documents that don't image well, like spreadsheets.
Once you click Process, you will get a notification that the task has been queued, and another one once it is complete. To view the progress of the processing job, navigate to the Case Admin icon and click Uploads. The processing job will be represented by a card within the Processing Jobs tab on the lefthand side.
You can read more about how to upload documents, and how to re-configure your upload, here.