Table of Contents:
You can learn about batch modifications in-platform by clicking "Walk Me Through" in the bottom right of your screen and choosing "Batch Actions" under Review.
Within the results table, you can click the Batch icon to perform batch review actions, such as coding, deleting, adding notes, and rating documents. Depending on your permissions level, you may be able to take additional actions. If you have administrator permissions, you will be able to click the Batch icon to assign documents or add them to projects. If you have uploader permissions, clicking the icon will also give you the option to delete or reprocess documents.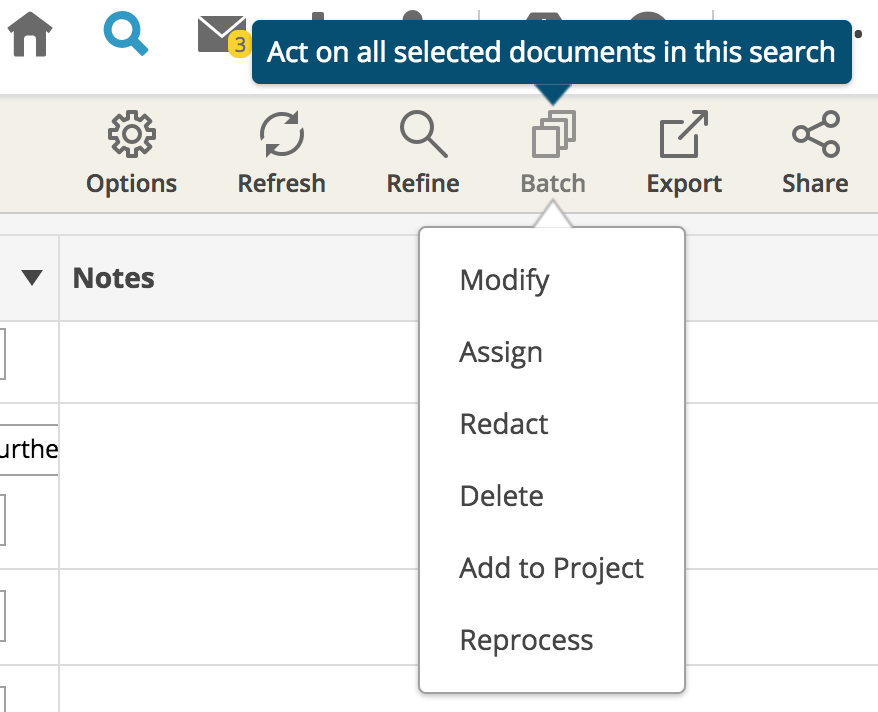 By default, all documents in a search are selected, as indicated by the checkboxes on the left-hand side of each row.  This means any batch action, by default, is applied to all documents in the search. To apply a batch action to only a subset of documents, you can multi-select or deselect by holding shift and clicking the document you wish to select/deselect.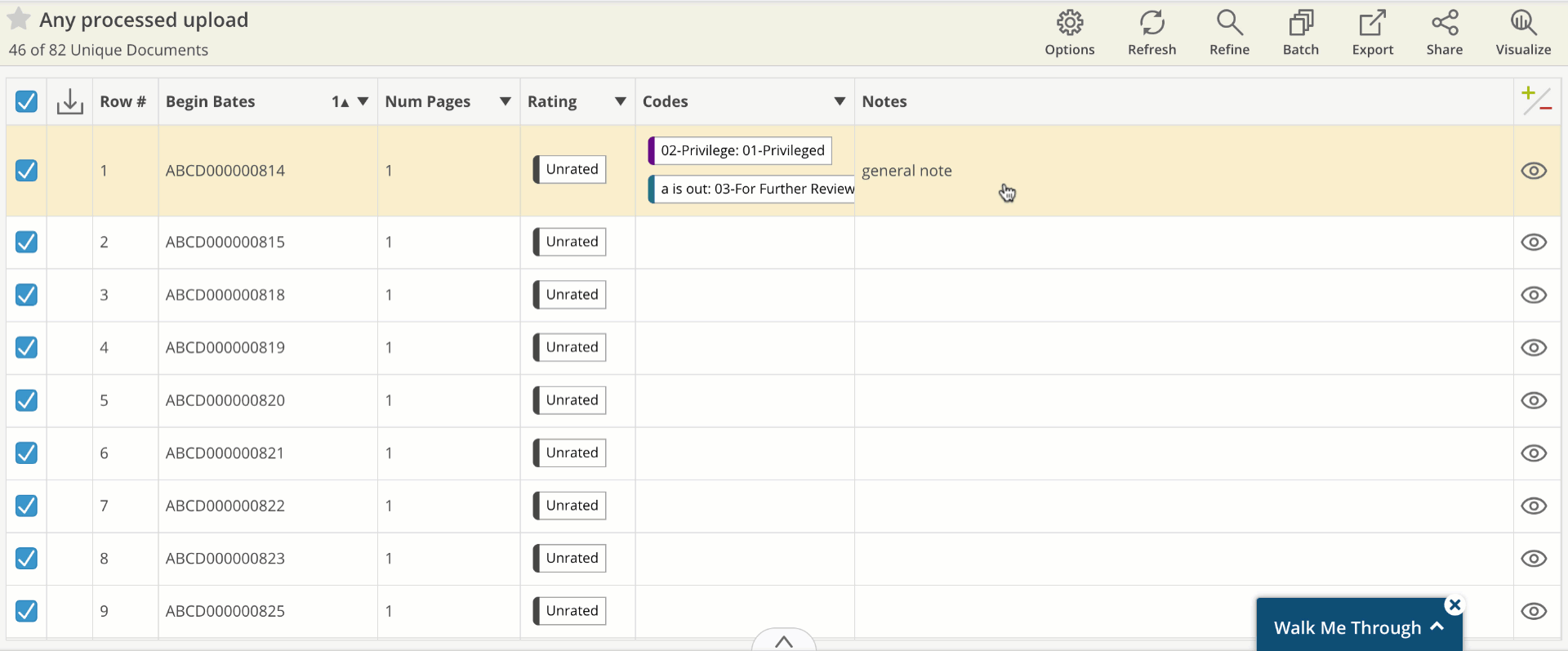 Batch Coding Panel
To apply review work to all of the selected documents, click the "Batch" icon, or the spacebar, to bring up the batch coding panel.
In the coding panel, you can perform a number of batch actions, including:
Batch rating

Batch coding

Denote privilege type

Add notes

Resolve coding conflicts (case admins only)

Add documents to binders or StoryBuilder outlines

Update user-editable fields 
Once the batch coding panel is open, you will see a summary of changes, along with the total number of documents you are affecting with the batch action.  You can then choose any combination of labels to apply to your document.  Labels that are mutually exclusive (ie - you can apply only one label in that category) are denoted by the Venn diagram icon.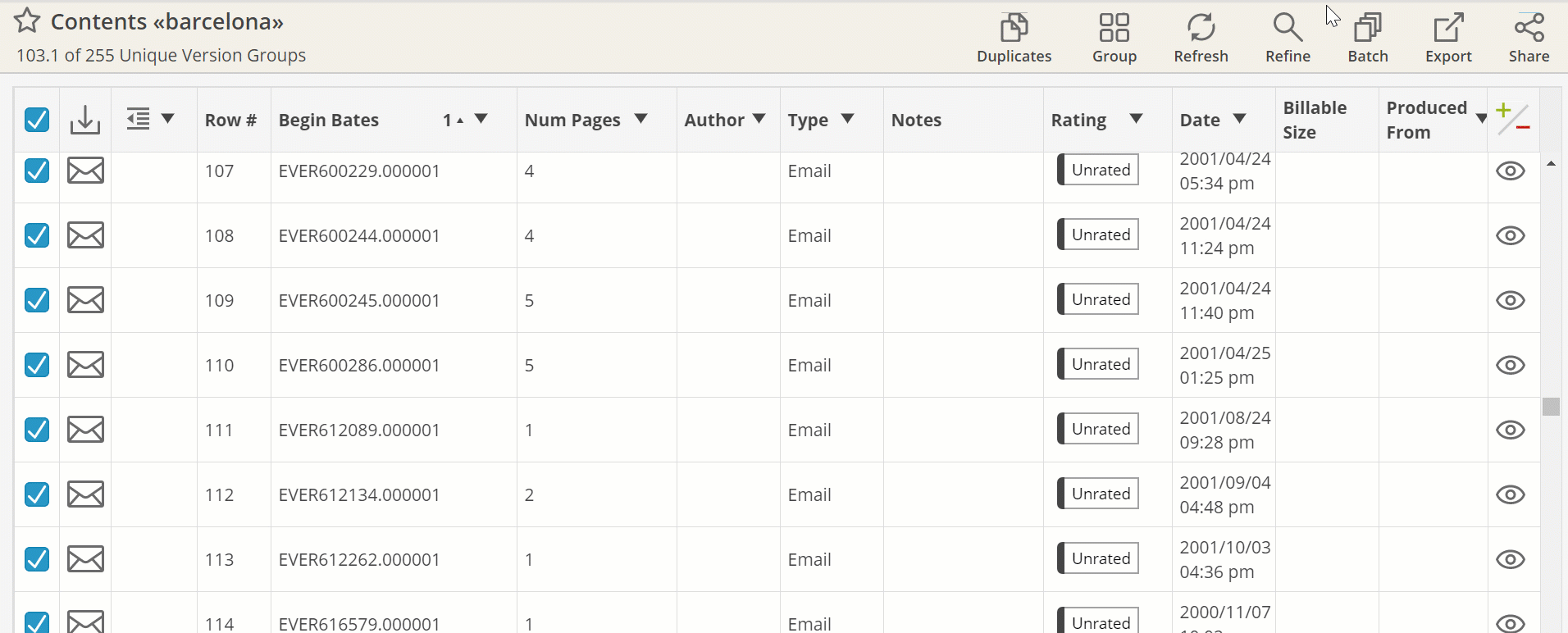 Below are a few specific instructions for batch actions that you can take in the batch action panel.
Rating and coding documents
To add ratings or codes, click a label to apply.  The label's text will turn green, and the label will have a dashed green line around it to indicate it has been selected.  To remove those labels from your batch, click that label again.  If you made a mistake and do not want to apply or remove this label from your batch, click the "x" on the right side of the label.  Click the "apply" button to confirm your labels.  Your labels will now be batch added to your documents.
Batch add or remove documents to binders
You perform this action in the same way as adding/removing ratings or codes. The only exception is that you can create a new binder directly from the batch coding panel. Click the "Add a New Binder" tag in the binders section, and start typing your binder title. When you hit enter, and then "Apply", all selected documents will be added to that binder. For more information on binders, see this help article. 
Add documents to Chronology
Within the batch coding panel, you can also batch add documents to the master Chronology or an outline.  These labels listed at the bottom of the batch coding panel under the "StoryBuilder" category.
If you are adding documents to the Chronology, a popup will appear where you will be prompted to select a date for each document's entry in the Chronology.

There are two types of ways to add a date:
Manually input a date:

This will become the document date in the Chronology entries for all the affected documents

Choose a metadata date field:

Each document's value for that metadata field will become the date value for the respective Chronology entry

If a document does not have a value for the chosen field, it will not have a date value in the Chronology.
Click "apply" to confirm.  A task will run in the background, and you will be notified when the task completes in the bottom right-hand corner of your screen.
Assign (Admins only)
The Assign option on the Batch icon menu allows you to create an assignment from the documents contained in a results table. Choosing this option will redirect you to an assignment creation dialog. To read more about assignments, see this admin-focused assignment article. 
Redact
You can apply redactions to multiple documents at once using the batch redactions option. For more information about batch redactions, please see this help article. 
Delete (Uploaders only)
Choosing the Delete option on the Batch icon menu will prompt a dialog asking you to confirm the deletion. Choosing to delete documents will permanently and immediately remove them from the Everlaw database. This means that they will be removed from all projects that contain them, even if you are not a member of those particular projects. Document deletion cannot be undone. All work product and analytics associated with those documents will be lost. If you incorrectly delete documents, the only way to restore them on the platform is by re-uploading them.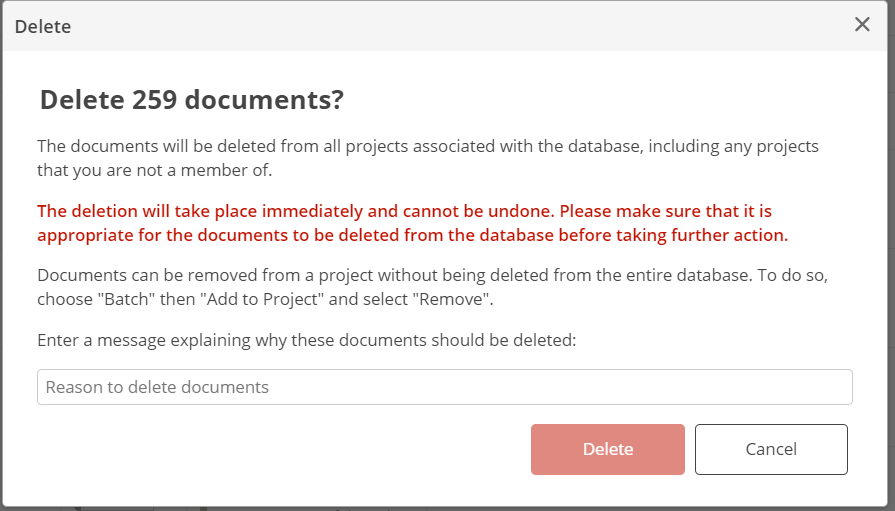 If you wish to remove documents from the project you are working on, but do not want to permanently remove them from all related projects, click on the Batch icon and select "Add to Project" from the menu. Then, select the relevant project and choose the removal option.
To read more about projects and databases on Everlaw, see the projects help article and the projects and databases help article.
Add to Project (Admins only)
Admins can add documents to projects through the Project option on the Batch icon menu. To read more about projects and adding documents, see the projects article. 
Reprocess (Uploaders only)
Uploaders can retroactively re-configure native and processed documents that have already been uploaded to Everlaw using the Reprocess option. For more information on reprocessing in Everlaw, read the reprocessing article.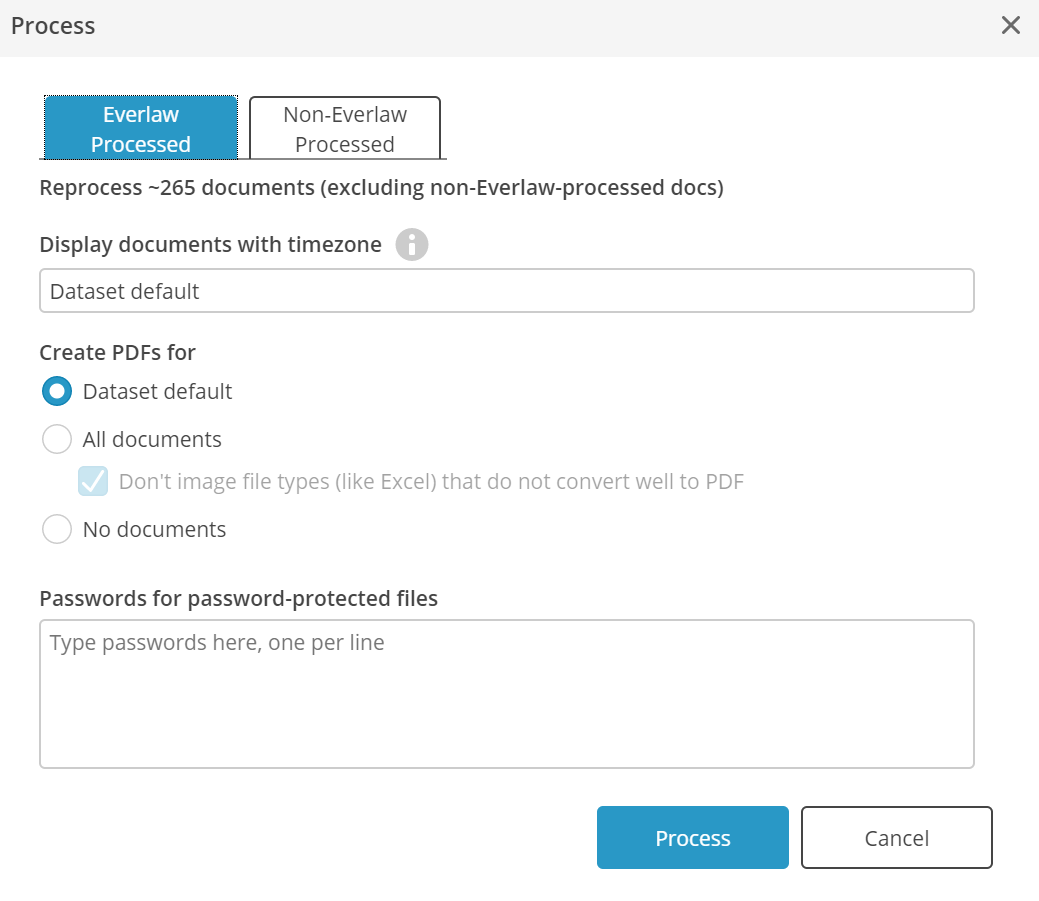 Keywords: bulk, bulk action, bulk tag