If the native file for your document is an audio or video file, you can play it in your browser using the media viewer. To access the media viewer, click on the "Media" button in the top right corner of the window, or use the keyboard shortcut combination of 'v' then 'n'. Please note that only the first hour of playback for a document is available in the browser. To view the full media file for any document over 1 hour in length, please download it and play it on your computer.
When you open the media viewer, the native media file will start to load and you should see a set of playback controls - play/pause button, playback time slider, volume controls, etc. The original native filename is also displayed, along with a link to download the native file.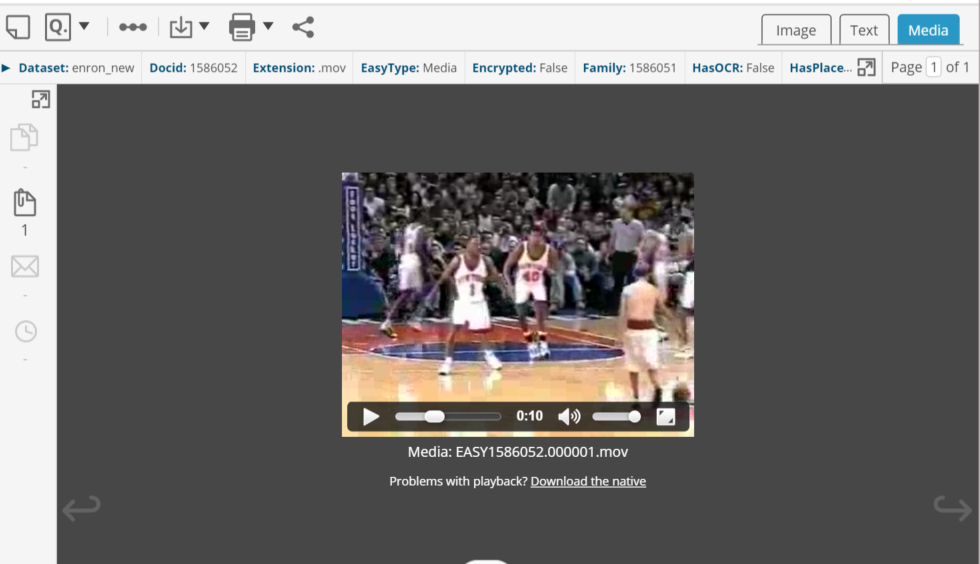 Only the first hour of content for each document is available to view/play in the browser. If the original native file is longer than one hour, the first hour will be available for playback, and a message will be displayed indicating that the browser playback is clipped. In this case, you can download the native file to play the entire content. If there are any errors downloading or playing the native file, an error message will be displayed instead of the media player. If this happens, you can always download the native and open it on your computer.