Table of Contents
What are persistent highlights?
Persistent highlights are content highlights that appear for all users in a project. They are used to draw attention to important words or phrases. Highlights appear both on the document and in the right-hand panel in the review window. Reviewers can also easily redact any persistent highlight that appears in the document.
How do I set up persistent highlights?
Highlights can be created on the Project Settings page, under the "General" header.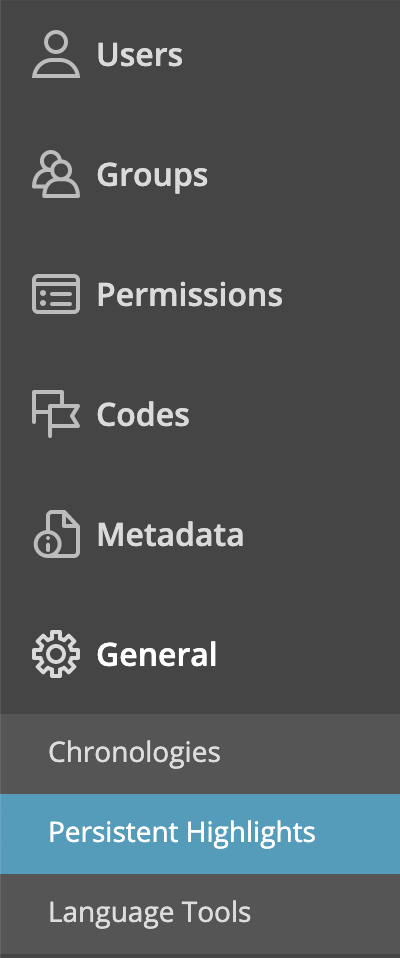 Persistent highlights can either be categorized or uncategorized. New categories can be added through the "Add New Category" button.

Terms in the same category will share the same color when rendered in the review window, and will be listed together in the hit highlighting panel. In general, conceptually-related highlights should be grouped together, as this will make it easier on your reviewers to navigate through, distinguish, and make sense of the different content hits that might appear in a document. For example, you can group all the relevant people in one category, entities in another, and privileged terms in a third.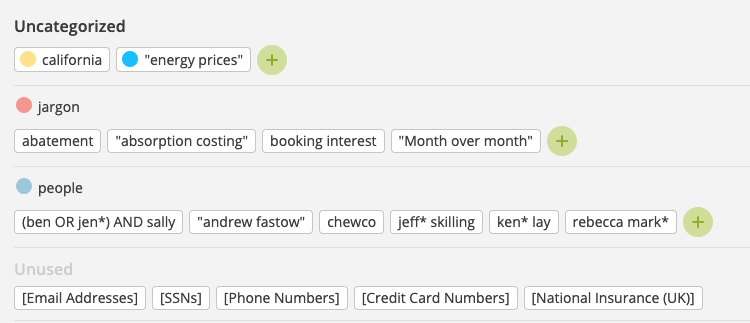 Each "label" under a category represents a distinct content search. Generally, each search follows the rules of content searching and advanced content searches. As with normal content searching, phrases without quotation marks will be treated as an OR search.

One exception to normal content searching is that in persistent highlights, NOT terms will be ignored as operators within a content search. For example, if your search is "peanut AND NOT butter," persistent highlights will ignore the NOT, meaning that you are searching for "peanut AND not" OR "butter."
This hit highlight will look for either "Andrew" or "Fastow" within a document. If you wanted to only highlight the exact phrase "Andrew Fastow", put the name in quotes:

To add a new highlight, click on the green "+" icon in the category you wish to add the highlight to. You can also hit "enter" after completing a term to automatically create a new term within the same category.

If you want to change the color associated with a highlight, click on the appropriate color circle, and choose from the palette. The color for uncategorized highlights can be adjusted at an individual level; the color for categorized highlights can only be set at the category level.

Once created, hit highlights can be moved between categories through a simple drag-and-drop action.
Importing persistent highlight terms
You can also import a list of highlights by clicking the "Import List" button. The dialog that appears, there are three options for importing highlights:
Upload a CSV of categories and terms

Transfer from Search Term Reports

Input text to a persistent highlight category
1) Upload a CSV or categories and terms:
You can upload a CSV that you previously exported from another project in Everlaw. You can also create your own CSV, as long as it includes two columns: Category and Term. Any duplicates will be skipped upon import. You can click Download CSV template to ensure that you're using the proper CSV configuration for import. You should create exactly two columns in your CSV, titled Category and Term.

Transfer from Search Term Reports:
You can also import terms from your search term report and create persistent highlights. Select a search term report(s) from the dropdown menu. Each report title will become the persistent highlight category name. All search term report terms will be added, except ones that use logical containers (such as NOT) or metadata.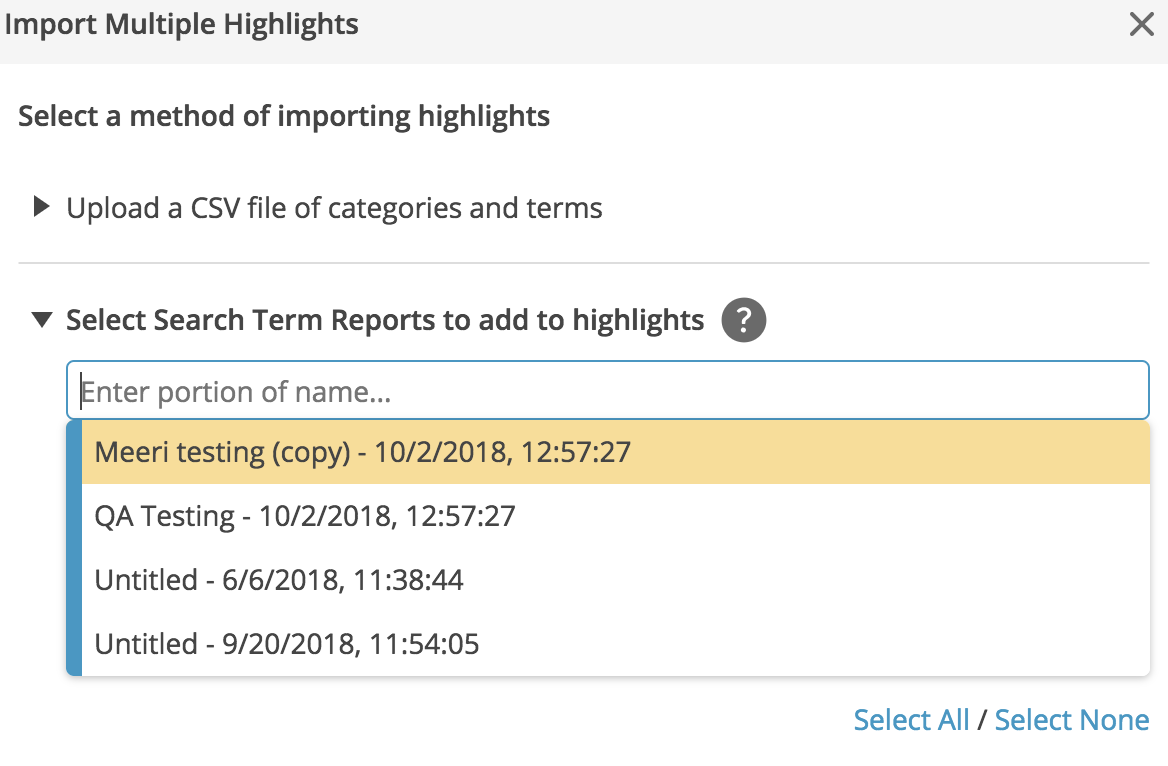 Note that the date the search term report was last updated. It is not included as part of the original report title; therefore, it will not be included as part of the category name.
3) Input text to a persistent highlight category:
Finally, you can select a category to add highlights to (including the uncategorized group). You can either copy/paste in the desired terms (one per line) into the window or type them manually. Searches are subject to the general rules of content searching and advanced content searches.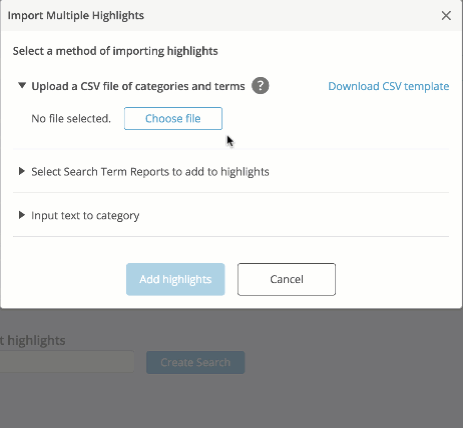 How to create a search from persistent highlights
You can create content searches for categories of persistent highlights directly from the persistent highlights tab. At the bottom of the page, there is a search box titled "Create search from persistent highlights". Upon clicking the box, a drop-down menu will appear listing all of the categories of persistent highlights that have been created for the project. You can select as many categories as you'd like to construct your search. Clicking the blue "Create Search" button will open the results of the search in a results table. The search will be saved to the homepage as a card and can be assigned, exported, and shared like any other search.

Adding personal information highlights
Special content searches that use regular expression to find common patterns of personally identifying information (SSNs, phone numbers, etc.) are grouped together under the "unused" category. You must select them from the dropdown and drag them to another category (including the 'uncategorized' category) if you want them to appear as persistent highlights.

Supported PII formats
United Kingdom
National Insurance (

AB123456C)

Bank Account Numbers (12345678)

Bank Sort Codes (12-34-56)

National Health Service Numbers (123-456-7890)

Passport Numbers (123456789)
Australia
Bank Account Numbers (123-456)

Tax File Numbers (123-456-789)

Medical Numbers (12345678901)

Passport Numbers (AB123456)
Canada
Social Insurance Numbers (123-456-789)

Bank Account Numbers (00123456789)

Health Service Numbers (1234567890)

Passport Numbers (AB123456)

Personal Health Information Numbers (123456789)
United States
Bank Account Numbers (000123456789)

Passport Numbers (123456789)

Employer Identification Numbers (

12-3456789)

ITINs (123-45-6789)

Social Security Numbers (123-45-6789)

Phone Numbers (123-456-7890)
International
IBAN numbers

IP Addresses

Email Addresses

Credit Card Numbers
Removing highlights and categories
In order to remove individual highlights and entire categories, you must enter the "delete mode". Once in delete mode, select the highlights and categories you wish to delete (they will be bordered in red). Select "yes" to confirm the deletions.