To read more about uploading documents on Everlaw, please refer to the articles in our Uploads section. 
Table of Contents
Everlaw has a cloud-processing system that will automatically process native files for ingestion into the platform. This includes de-NISTing, deduping, and generating text, metadata, and images for your documents.
A native upload can contain one file, or multiple files. You can also retroactively upload new documents to an existing upload (This is useful if you want to group related documents together. See the "Preparing your native data for upload" section for more information). Uploaded documents go through three stages of processing before being added to your case: examine, PDF, and text. 
Accepted native data types
Native data are copies of the original data in the format generated by the originating application. For example, Microsoft word creates .doc and .docx files. Everlaw supports automatic native uploading and processing for the following file formats:
Email and Chat Formats
Web Formats
Document Formats
Image Formats
Container Files 

EML, EMLX,  Gchat, iChat, Microsoft Teams, Slack, Lotus Notes (NSF), MBox, MSG, OST, PST, Discord (provisional support*)

HTML, MHTML, SVG

All modern Microsoft Office formats (including Visio, OneNote) except Access or Publisher. All original formats, such as doc, ppt, xls, vsd, etc. iWork (limited support), WordPerfect, OneNote, Lotus, HWP, QPW (limited support), RTF

Apple graphics, BMP, CAL, DCX, DIB, EMF, GIF, JPG, MIL, PDC, PCT, PCX, PNG, PSD, RAS, TGA, TIFF (all compression types), WMF, JPEG XR, and many more

.7Zip, AD1, E01, Gzip, L01, PST, Rar, Tar, TrueCrypt, Zip, .Zip.001, AppleSingle, CAB, DBX

 
 
Medical Image Files 
CAD Formats
Audio and Video
Project Management Files
  Other Formats
 
 

DCM 

DGN (V7, V8), DWG, DXF

Most common audio and video formats

Microsoft Project (mpp),




Microsoft Project Exchange (mpx),




Microsoft Project Data Interchange Format (mspdi),




Primavera XML for P3 & P6,




Primavera P6 XER,




Primavera Self-Extracting Archive for P3 & P6 (PRX)

Google Drive files (Docs, Sheets, Slides, etc) ICS, PList, PostScript, TXT, Source Code, SQLite databases, Disk Images (ISO, etc), PCAP, Zendesk, MHTML (or MHT)
 *Email support@everlaw.com to upload Discord chat data

Unsupported files might return an 'error' during the 'examine' stage of the upload process. If so, these files can be accessed via the upload card by clicking on the 'examine' stage. You can review the files to see what the filetype is, and reach out to Everlaw support (support@everlaw.com) for troubleshooting help. If you upload an unsupported file, one of two things can happen: If you are trying to upload file types not included in the box above, such as SQL databases, please reach out to support@everlaw.com.  

Unsupported files could also be categorized as 'binary' files. In this case, these documents will not return any errors during processing, but will not display properly during review. Please see the "Troubleshooting upload errors" section for more information about how to find and troubleshoot these documents. Once identified, you can reach out to Everlaw support (support@everlaw.com) for help.
Preparing your native data for upload
In order to make the native upload process as smooth as possible, please keep the following in mind:
If any of your files or folders are password-protected, make sure that you know the password(s) as you will need to provide them during the upload process. Inaccessible files and folders will not be processed or uploaded into the

 

platform

.

If your upload includes multiple documents, make sure that you are comfortable propagating the same time zone to documents that do not have a time zone specified in the metadata. If you want to propagate different time zones to documents in an upload that do not have a time zone specified, you should break up your upload in multiple uploads.
All documents in an upload will be added to an uploads card on the homepage. Some review teams like using these cards to organize uploaded documents. For example, you might want to add all documents from a particular custodian to a single upload card. In that case, you would want to ensure that all documents in a particular upload are from the same custodian, and that subsequent data from the custodian are added to the original upload as opposed to a new upload.
Please keep your preferences in mind as you prepare and package your documents for upload, and as you decide whether to create a new upload or add documents to an existing upload.
Preparing split archives for upload
 If you are uploading a forensic image archive that is split up into several parts (e.g. parts example.E01, example.E02, and example.E03), there are special preparations to undertake to make sure that our system can handle them correctly.
First, files in a split archive must be uploaded together in a single container (zip, tar, etc). Second, inside this archive you should have all the parts for the archive, and nothing else aside from summary/information files generated by the software that produced the E01/L01 file. No other types of files, like PDFs or emails, should be included. 
All the files in the container should be in a single directory. Here are examples of good and bad container files and their contents: 
Good: 
   - folder1/folder2/part.E01
   - folder1/folder2/part.E02
   - folder1/folder2/part.E01_summary.txt
Bad (not all in same directory):
Bad (not all in same directory):
Bad (lots of extra files):
 - random.xyz (or whatever suffix is included)
Please contact Everlaw Support if you have any additional questions about uploading split archives.
Creating a native data upload
To access the uploads page:
Click the admin icon in the top right-hand corner of the navigation bar

Select "Uploads" from the dropdown menu

Select "New Upload" on the left-hand sidebar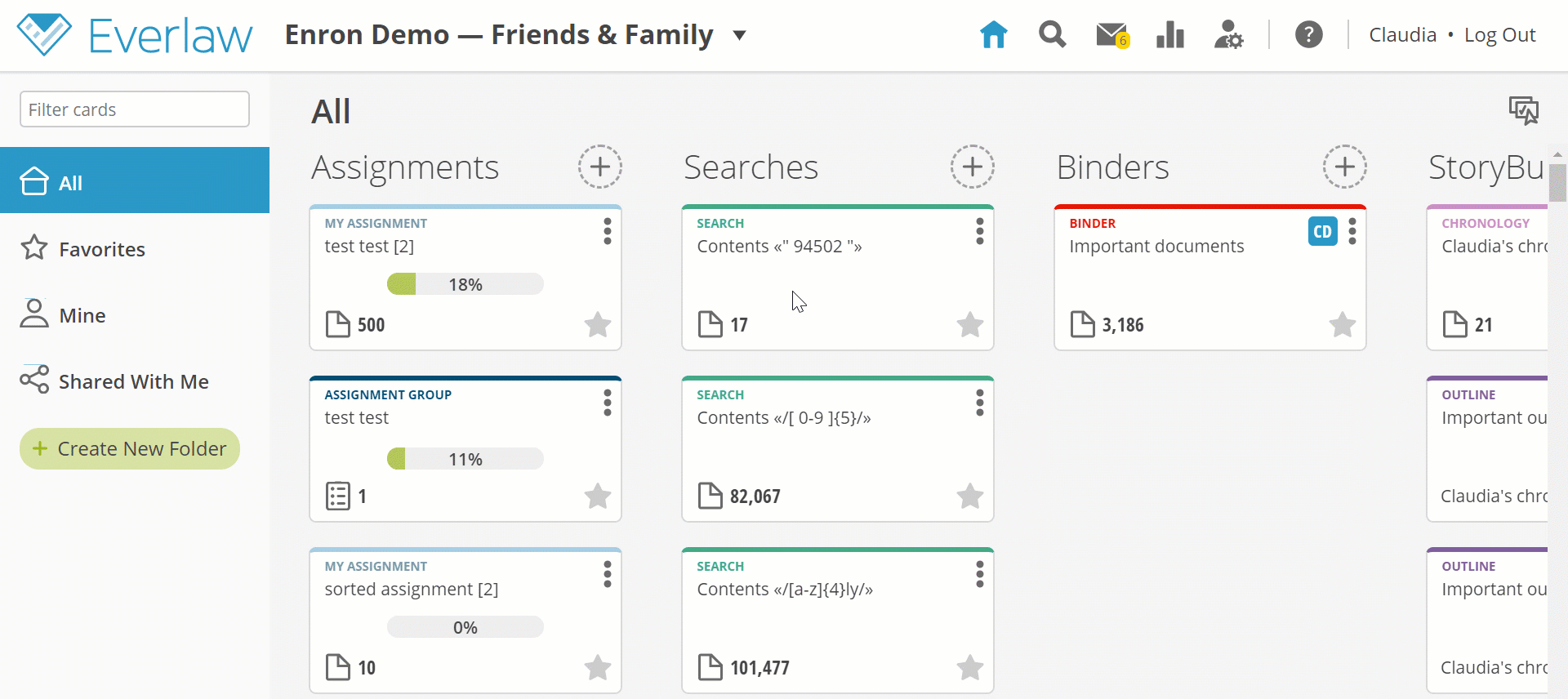 Here, you can add the data you want to upload. Please see the "Preparing your native data for upload" section for information on how to prepare your files.
Uploading via cloud-based apps: 
At the bottom of the screen, you will see options to upload via popular cloud based storage apps. You can upload directly from the following apps: 
Box

Dropbox

Google Drive 

SharePoint

OneDrive

Google Vault
You can also select "direct link" to copy-paste a direct download URL. 
Select an app to begin uploading your documents. Please note that if you are uploading documents via OneDrive or SharePoint, you will need to specify whether you are uploading files or folders. This is because OneDrive and SharePoint have separate interfaces for selecting files and folders. Additionally, any top-level folder uploaded via cloud storage source will be compressed and displayed in Everlaw as a container file. 
Once you select an app, you will be asked to log in via a separate dialog box. If you do not see this dialog box, check your pop-up settings. After logging in, you will be able to select your files directly from the app's platform. Once you hit "enter" or "submit" within that app, you will be taken to the next step in the upload process.
For Google Vault users, simply generate exports of your data in Google Vault, and then load the exports into Everlaw directly by choosing Google Vault in the cloud storage options.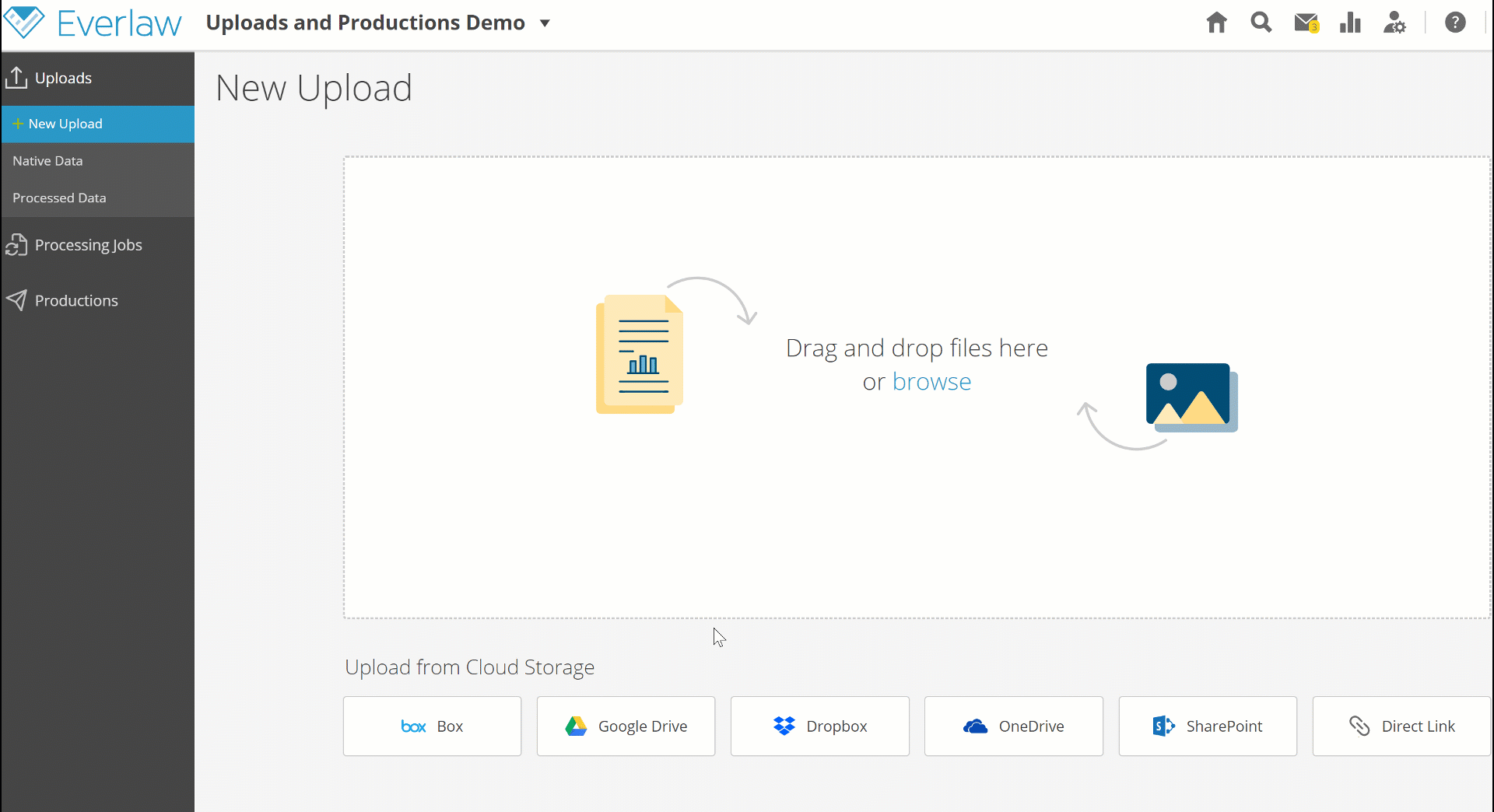 When uploading files from Google Drive, note that filename is the only document metadata that will be captured on processing. Fields such as Author, Last Modified Date, and Title will not be captured, even if the Drive file is derived from a file created in Office. During processing, Google Drive files will be given an Office-based extension so that the uploading tool can better understand how to process it. This extension will be included in the filename field upon upload. 
Once you select your file, you will be asked to specify whether you're uploading native files or processed files. Choose "native."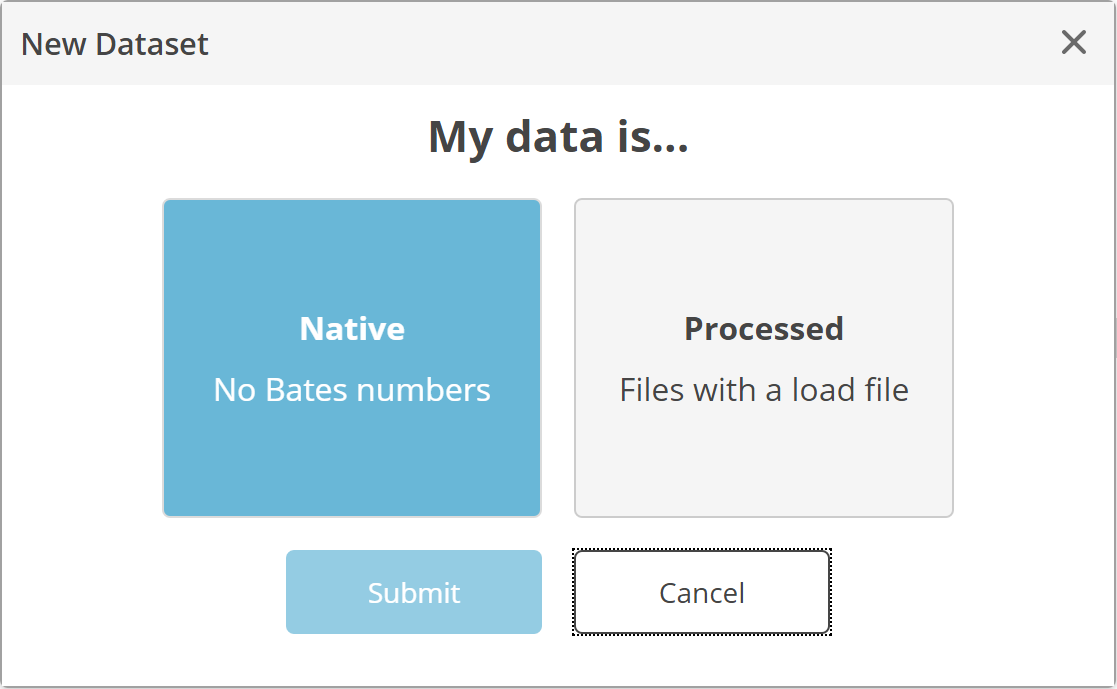 Once you've made your selection, a wizard will appear where you can specify settings for the upload:
Step 1: Dataset details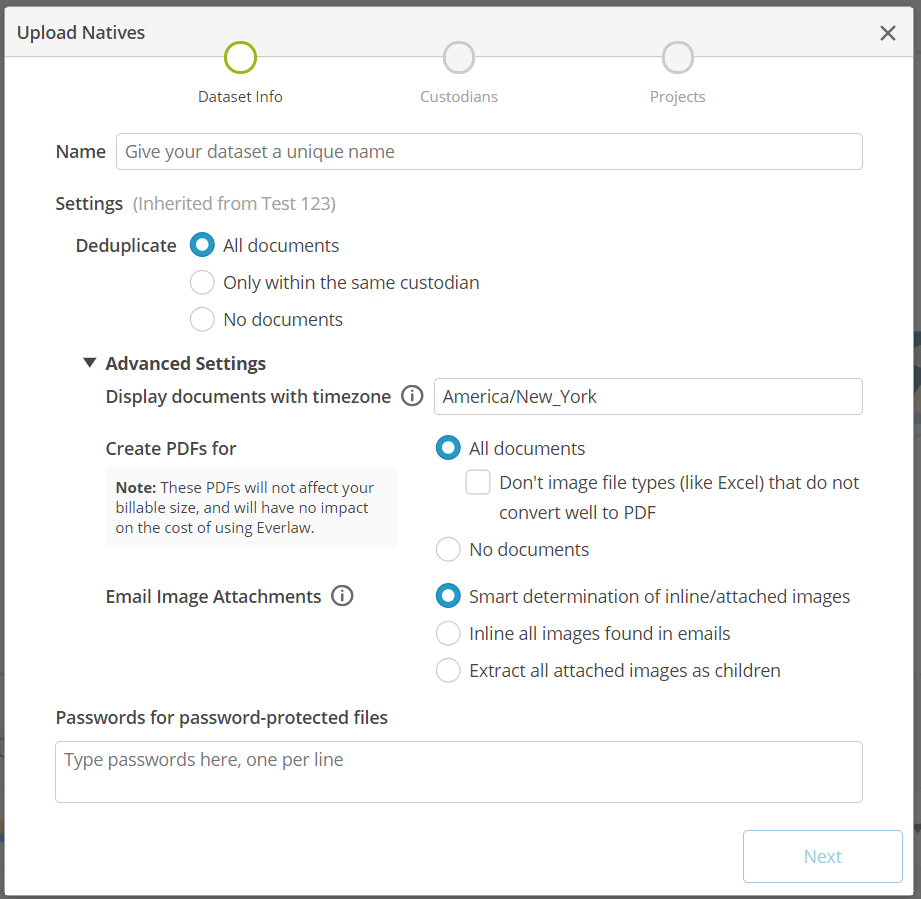 Dataset Name: The name you give here will appear as the name of the associated uploads card on the homepage. The card will also display the date of the upload.
Dataset settings
Dataset settings are inherited from the most recent native upload configuration. If no native uploads have been run on your project, the Everlaw default settings will be used (shown in above screenshot). 
Deduplication: Upon upload, you can choose to:

Deduplicate against all of the existing documents in your database

Deduplicate against all of the existing documents by custodian

Not deduplicate the documents in an upload

Duplicates of documents other than emails are identified using the hash value. Email duplicates are identified through the content, headers and attachments. All attributes must be exactly the same for an email to be deemed a duplicate. 

Please note that Google files (e.g., Google Documents, Google Sheets) will not get deduplicated in the same way as other file types, because they undergo their own conversion process within Google. 

Display Timezone: The timezone you select here will be used as the assumed timezone for metadata fields that lack an explicit timezone value. If you do not select a timezone, then the timezone provided as raw text from the PDF's or emails being uploaded will be displayed. 
Create PDFs: By default, Everlaw creates PDF images for all files in an upload, and placeholder images for file types that don't image well (like spreadsheets). If desired, you can choose to image the file types that don't image well, or choose to not image any of the files in an upload.

Email image attachments:

There are three options for deciding whether image attachments should be displayed inline, or treated as separate attachments. 

If you would like every image in the email to be displayed inline within the 

PDF, you can choose "Inline all images found in emails." If you would like email image attachments to be extracted as children of the parent email, select "Extract all attached images as children." Finally, if you choose smart determination, then Everlaw will dynamically determine which images are likely to be attachments, and which ones are (or are intended to be) inlined images (e.g., signature icons). Factors influencing this smart determination include an image's dimensions, overall size, and content ID. 
Passwords: If any of your files/folders are password-protected, input the password(s) into the password box (one password per line). Inaccessible files will not be processed. Additionally, password-protected spreadsheets will not be viewable in the native spreadsheet viewer, though their text will be extracted.
Step 2: Select custodians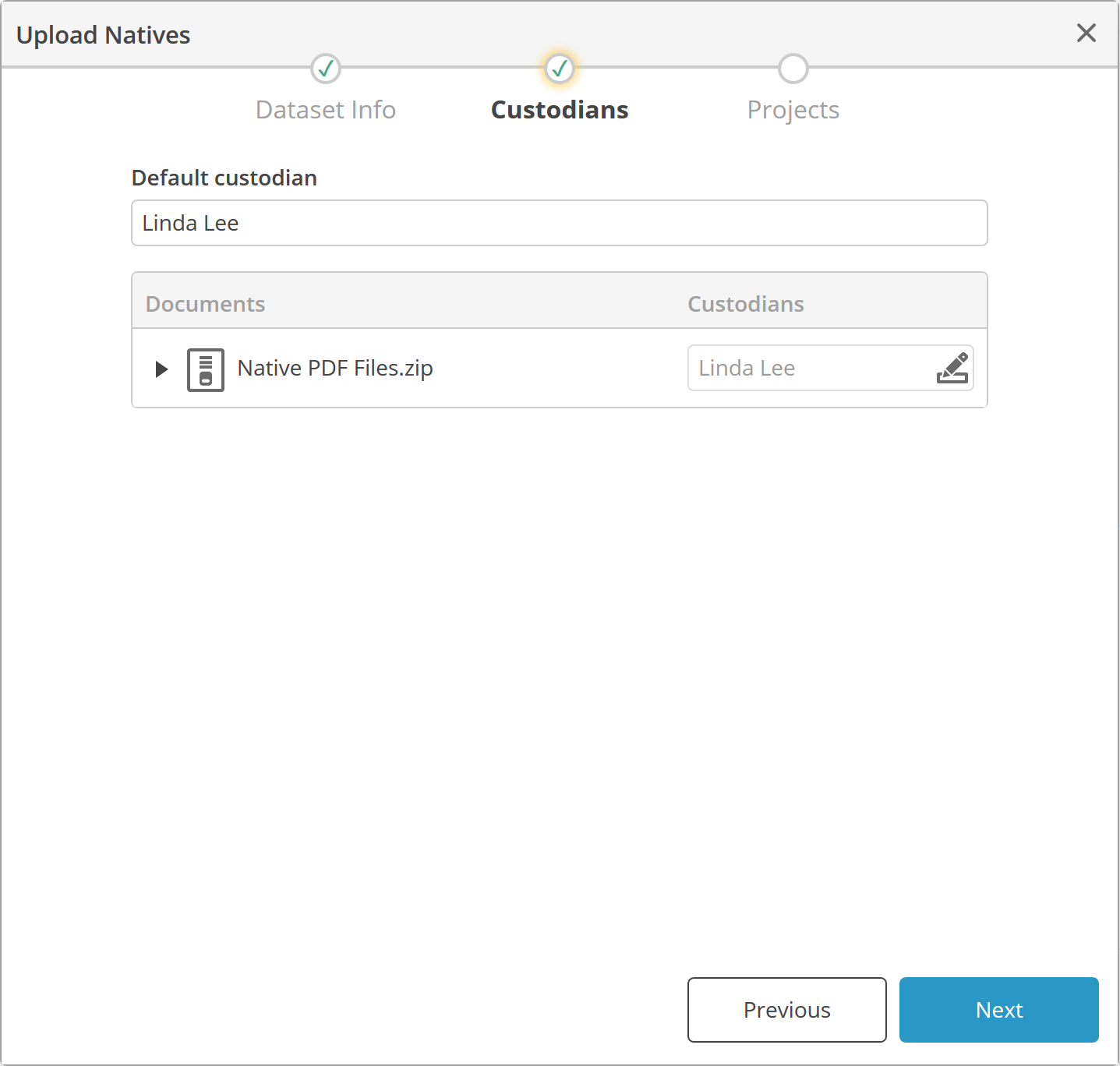 The custodians step allows you to specify what custodian value to associate with the documents you're uploading. You can specify a default custodian for all documents in an upload and/or set custom custodian values for particular files or folders. If your data belongs to multiple custodians, please read this article to learn how to prepare your data accordingly before uploading.

To set a default custodian, input the custodian name into the "default custodian" box at the top of the table. If your project already has custodians from previous uploads, you can also select one from the dropdown list.
To set custom custodian values for particular files or folders, find the file/folder on the table and input the custodian name into the custodian box on the right. If there is a default custodian, it'll be overridden for that particular file/folder. Files that have a black caret symbol in the far left can be expanded to display the individual sub-folders/files they contain. Click on the caret icon to expand or collapse. 
Step 3: Uploading into partial projects
Aside from uploading the documents into the current database you're on, you can also add the uploaded documents to any partial project you have access to. In addition, documents you upload will automatically be added to all complete projects associated with the primary database (ie. projects that share all of the documents from the primary database). The upload will be added to any project that has been selected in the table. To select or deselect a project, click on the checkbox. You cannot deselect complete projects.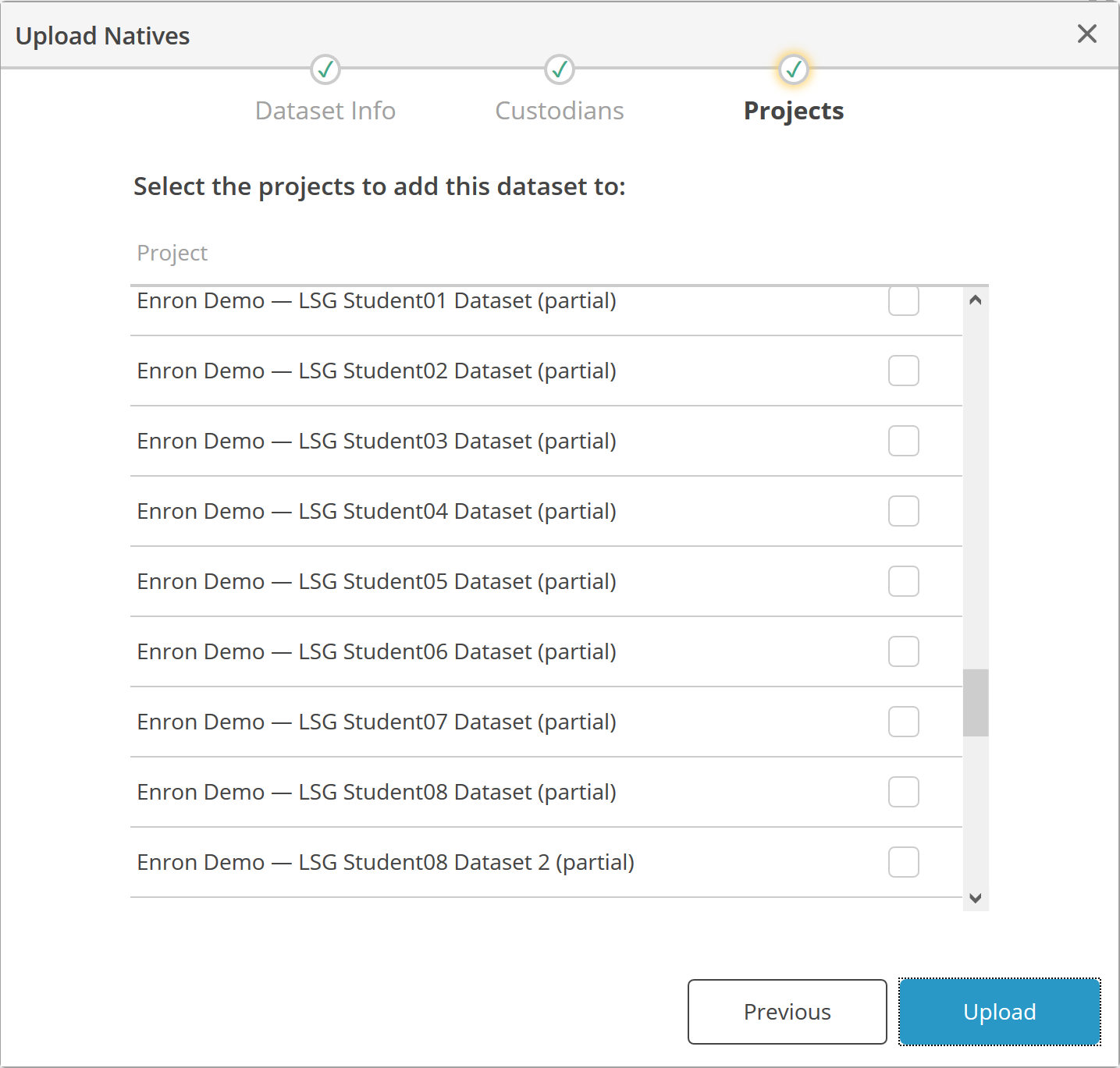 Once you click 'upload', your data will be transferred to our servers. An overlay will appear to show you the status of the transfer. From the overlay, you can add additional documents to the upload by clicking on the "+Add files" button. If you don't want to add files, close out of the overlay and you'll be able to see your full native upload history.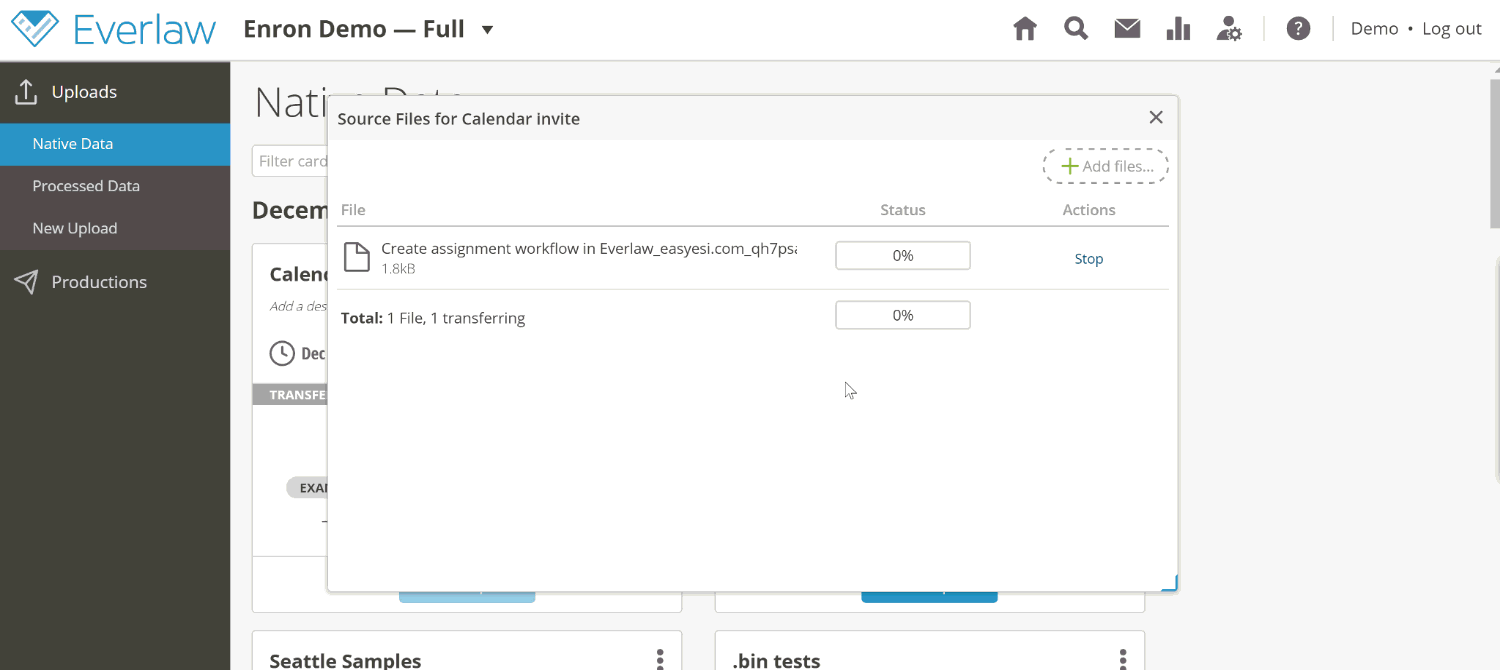 A status card will be added to the native data page corresponding to your upload. A time estimate will appear on this status card to indicate approximately how long it will be until processing is complete. As your upload progresses, you can start reviewing completed docs. You do not need to stay on this page for the upload to continue processing. Once all your files are successfully processed, you will see a document icon with a green checkmark in the status card. Clicking the icon will take you to a results table of your processed documents.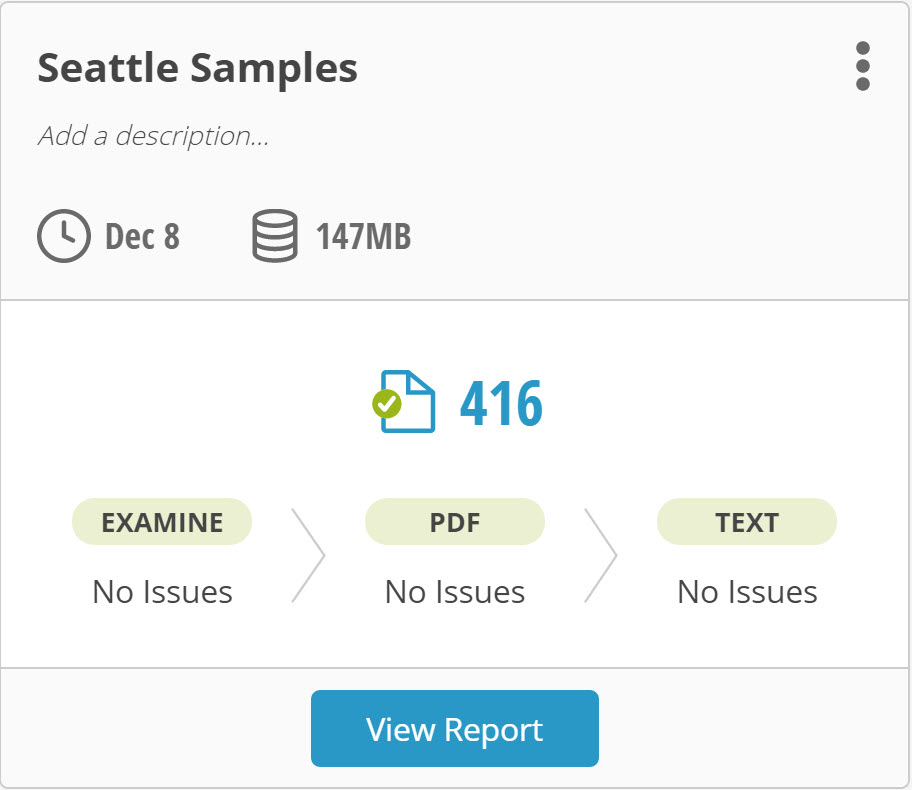 Native uploads will each be assigned a control number, indicated by a # prefix.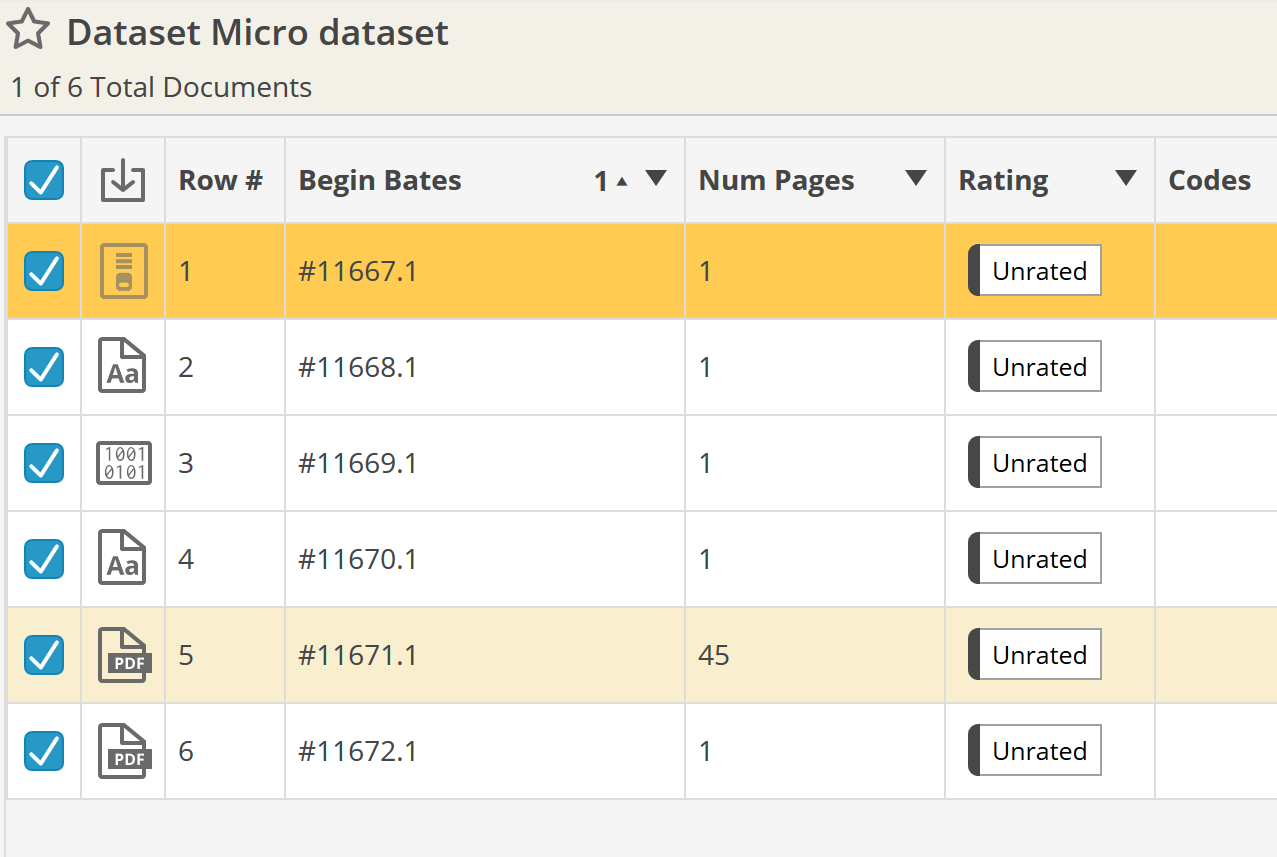 To learn how to view upload status, rerun, delete, rename, and take other actions, please see the "Managing native uploads" section.
Managing native uploads
Your native upload history will appear in the "Native Data" section on the upload and productions page.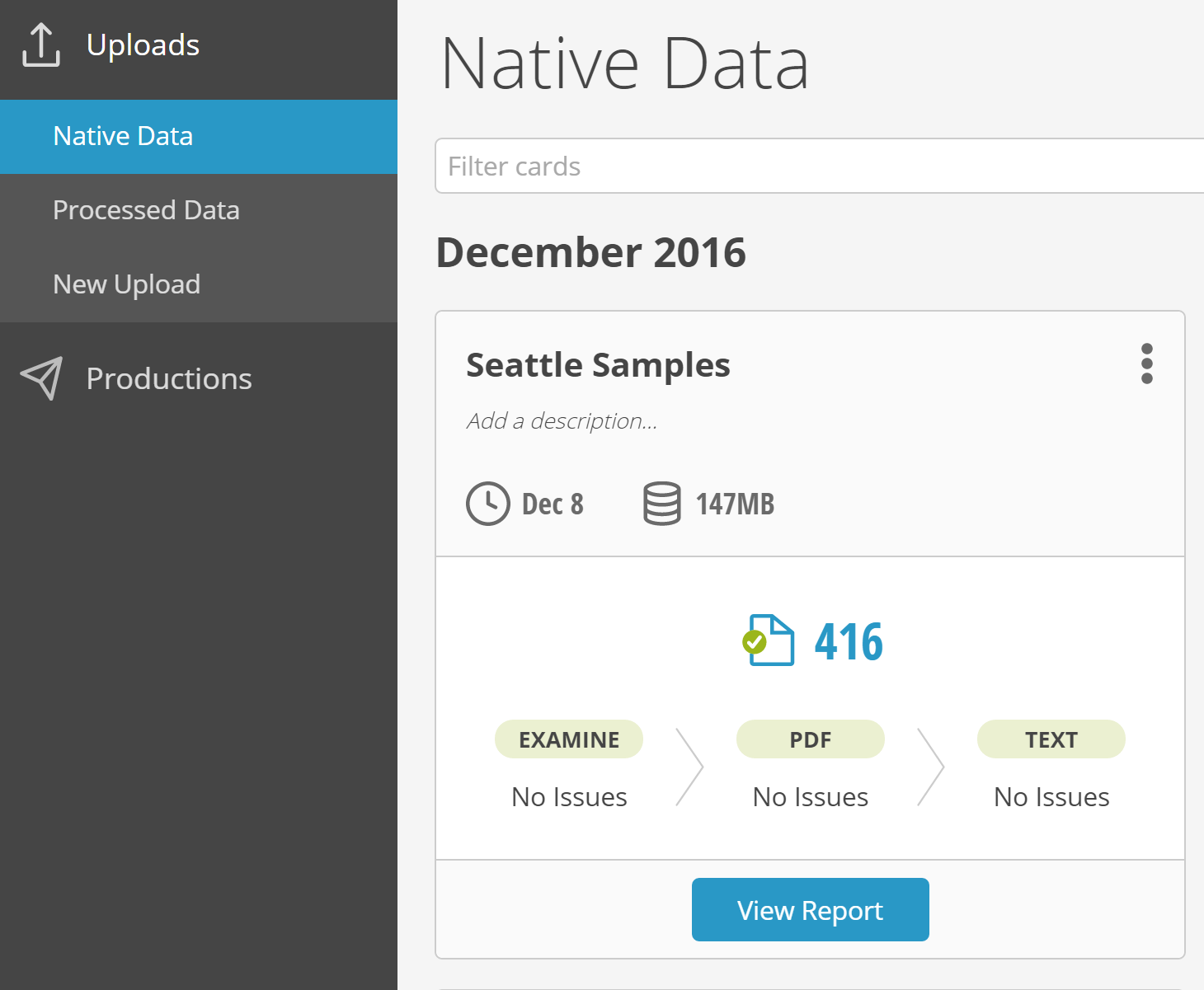 You can take the following actions on an upload status card: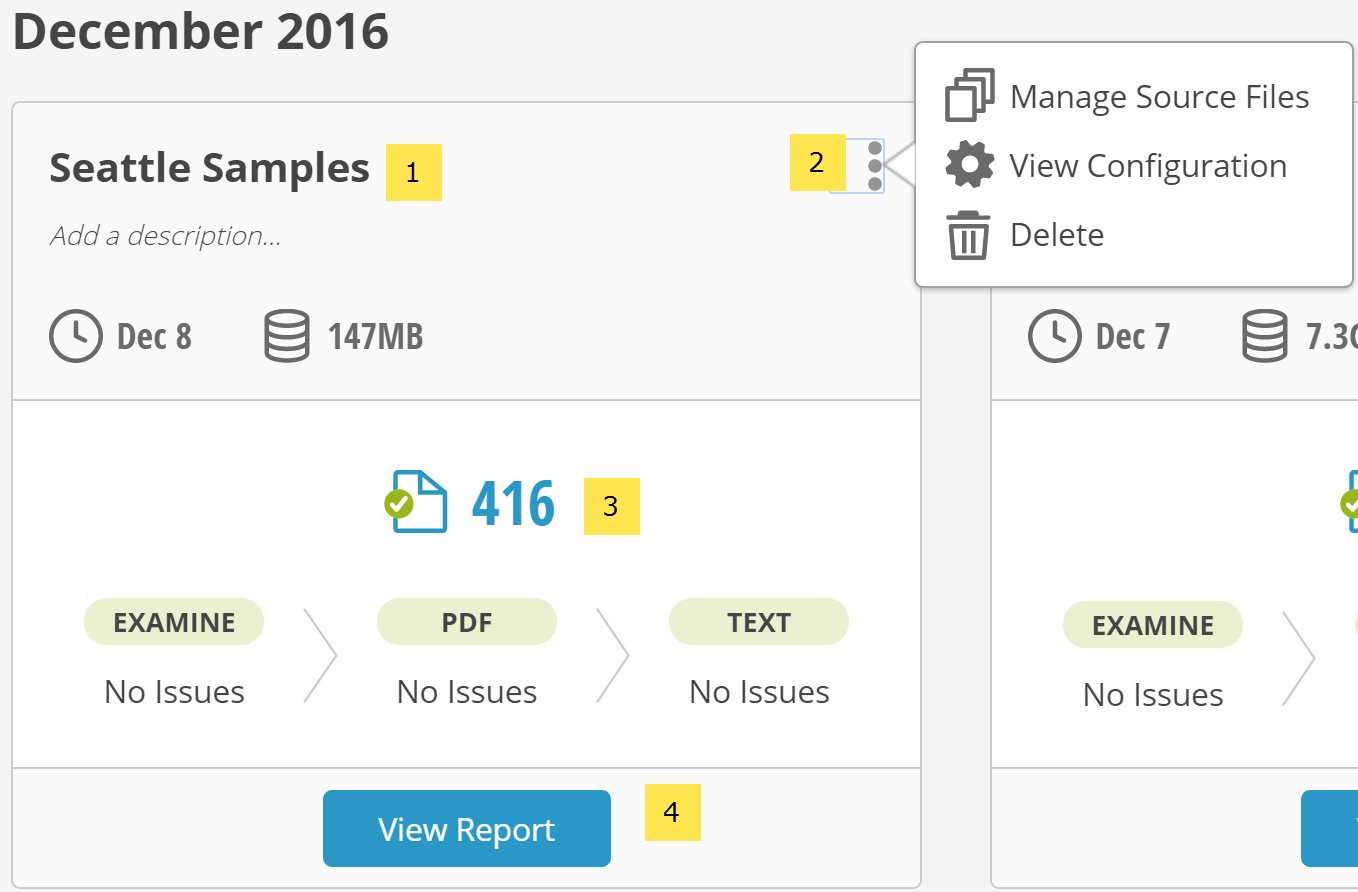 1. Rename the upload
2. Click the three-dot menu icon to:
Manage source files

View configuration

Delete the upload
3. Click on the document count to see your uploaded documents
4. View a report of your uploads
Here are some additional details about these actions:
Manage source files: When you select this option, a dialogue box will appear. You can see if previous files have been successfully transferred to Everlaw's servers for processing.  You can also add more files by clicking "add files" in the bottom right. Adding files to an existing upload is a good way to keep related files, such as files from the same custodian, together in a single upload.

View configuration:

 

View the timezone propagated to your documents and projects the data was uploaded to.

Delete an upload: The documents in the upload, including the files generate during processing, will be removed from your database.
View report: 

The native uploads reporting tool will analyze your upload, including the upload errors and billable size.

 


View Report: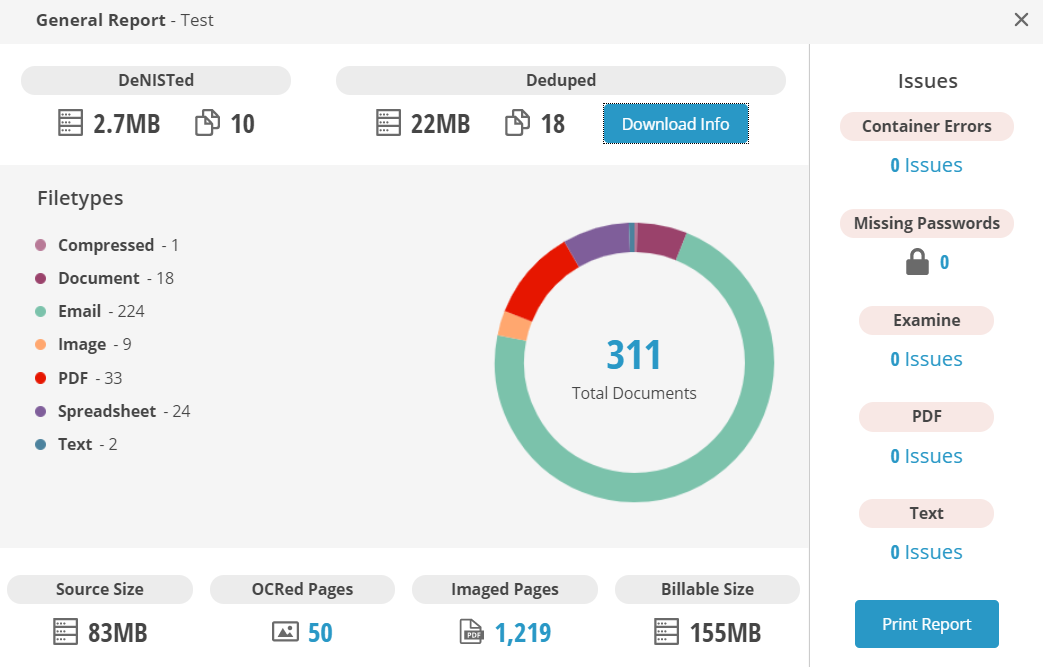 The pie chart in the middle of the report shows a breakdown of the file types that have been processed and uploaded. You can also see the absolute of number documents for each file type using the list on the left. At the top, you can see the number and size of documents that were deduplicated or de-NISTed.  To download a report of the documents that were deduplicated upon upload, click "download info." The results of the csv will look like the below: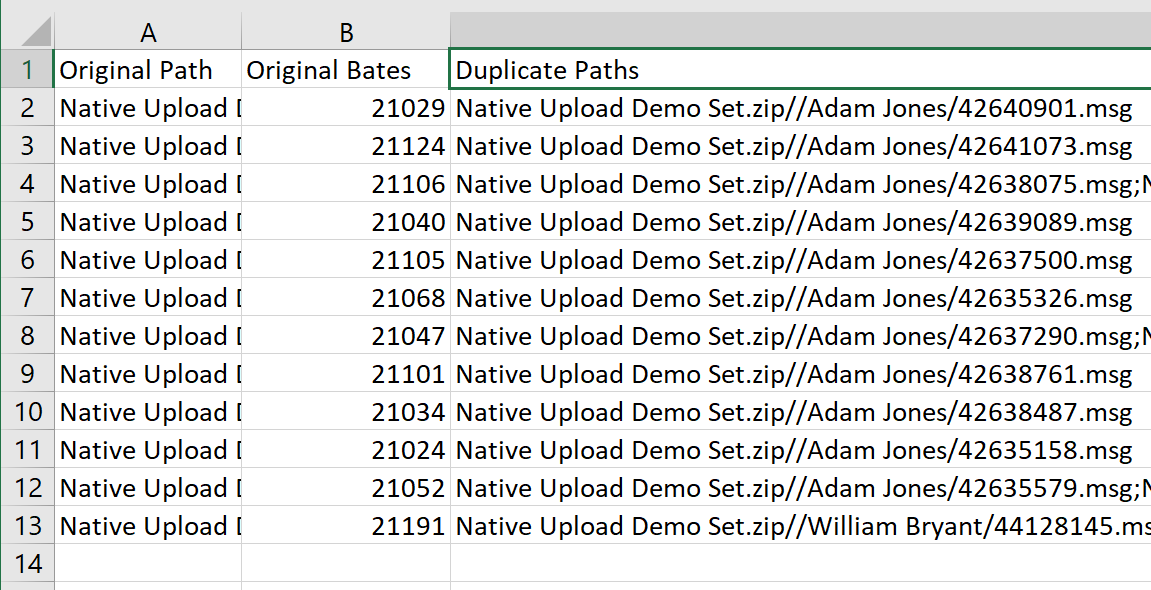 The three column headers upon download are: Original Path, Original Bates, Duplicate Paths. The CSV will display the following information:
Native paths for the "original" documents (for each set of duplicates, the single instance of the document that was uploaded to Everlaw)

Begin Bates numbers for the original documents

Any native paths for the deduplicated documents associated with the original documents
At the bottom, you can view the number of documents that were OCR'd and imaged, as well as the billable size of the upload. Finally, the right panel shows the number of documents that registered errors during processing, broken down by processing stage. Any number in blue is clickable, and will bring you to a results table with the appropriate documents.  Print the report by clicking "print report" in the bottom right-hand corner.
If you are on the homepage, you can access documents from a completed native upload from the Document Sets column. The card's name will be "Natives:" followed up the name of the upload (the name of the title given upon upload).  Native upload cards have a dark orange band.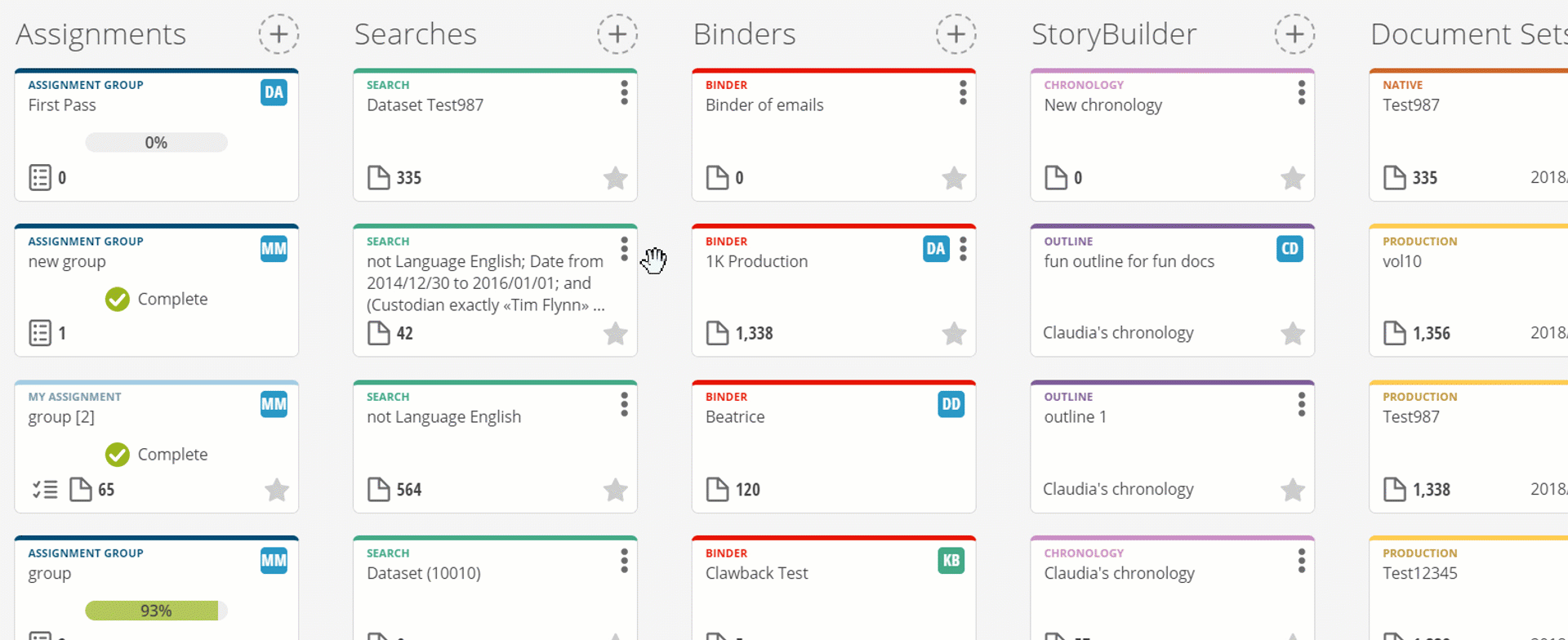 Updating an existing native upload
You can reprocess native documents that have already been uploaded. For example, you can change the timezone information, create image files that weren't initially imaged, or re-run documents that weren't initially processed because of a missing or incorrect password. Learn more here on how to reprocess documents that were uploaded to Everlaw.
Troubleshooting native upload errors
Native files go through three stages during processing: examine, PDF conversion, and text conversion. Your data may experience issues during any of these stages.  For example, upon examine stage, the system may be unable to open the content of a container file (such as a zip file), which could contain thousands of important documents. It is important to examine these errors, and reach out to support@everlaw.com if you experience these issues. 
To view issues, click any of the stages, displayed as red icons in each status card (if they exist). Clicking on the number of issues within a stage will open a results table with the affected documents.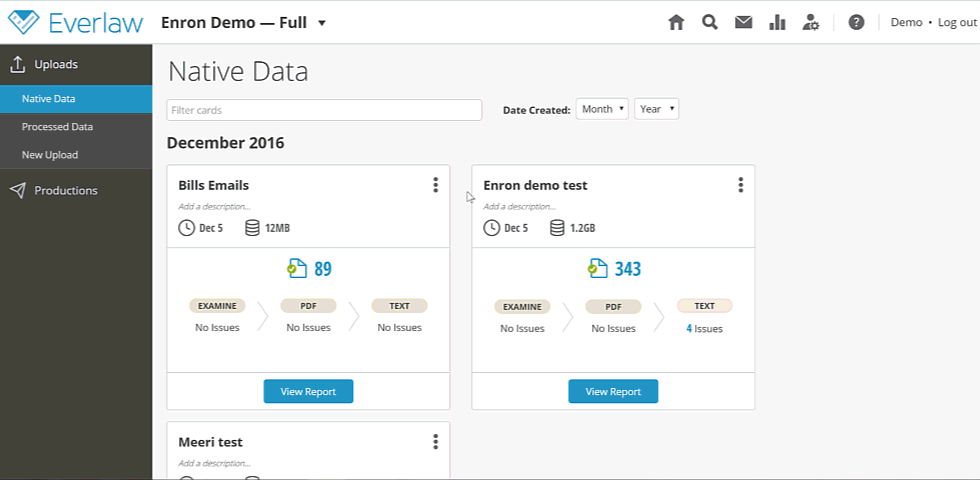 You can also locate documents based on potential issues through the reporting tool.
Please refer to the "accepted native data types" section to learn more about what could happen if you uploaded an unsupported filetype. You can also look at the uploads and productions FAQ page for answers to questions we commonly see.
Sometimes errors can be fixed if you re-run the upload. You can re-run documents from the results table view. See the "Updating an existing upload" section for more details.
Reach out to support@everlaw.com if you need help troubleshooting upload errors or to re-run uploads.