Table of Contents
Project Administrators can copy the work product on one project, and move it between projects associated with the same database. You can copy notes, highlights, codes, redactions, binders, and user-editable fields. Doing so will make a copy of the selected work product on your source project and have it be reflected on your chosen destination project as part of a one-time transfer.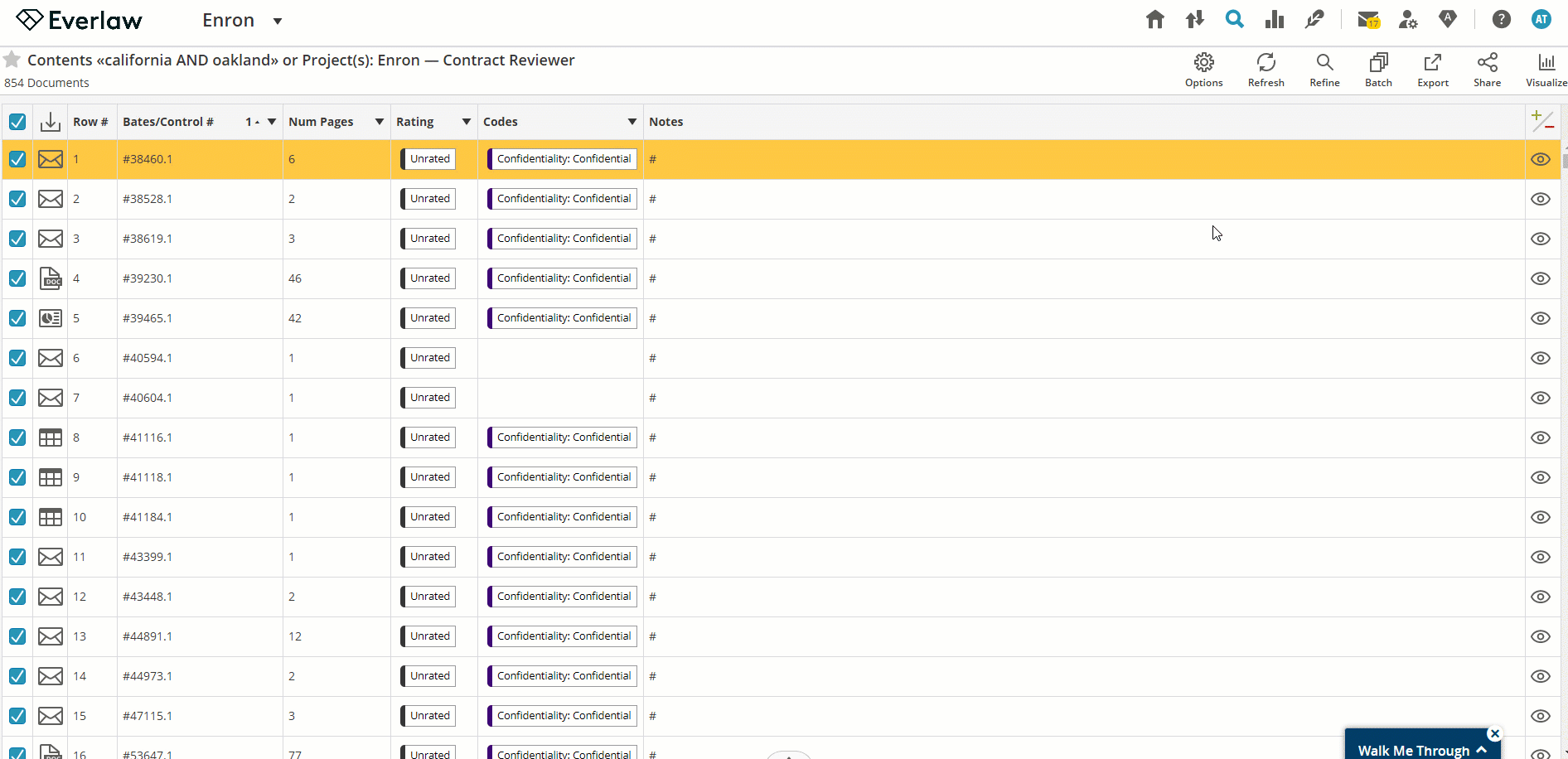 A document's history will attribute any copied work product to the Project Admin, and any new objects added to the destination project (such as binders) will be owned by the Project Admin and will be shared with everyone on the destination project. 
Please note, you cannot copy Storybuilder objects, such as Drafts, Depositions, and Timeline information. In order to copy work product from one project to another, you will need Project Admin permissions on both projects. 
Overview
To copy your project's work product, first navigate to a results table of the documents whose work product you would like to copy. You can use the Project search term in the search to ensure that you are finding documents that also exist on the intended destination project. Select the desired documents in the results table, and click on Batch. From there, select Copy work product to another project.
Select the destination project that you would like to copy your work product to and Everlaw will report how many documents in the destination project match the documents you have selected in the source project. The unmatched documents represent documents selected in your results table that are not in the destination project.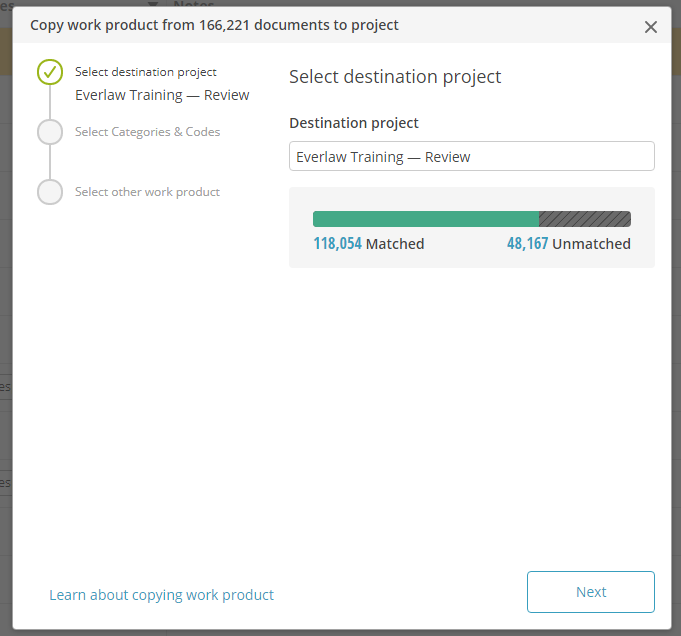 If you would like to add these documents to your destination project, you can click on the number of unmatched documents to be taken to a results table of unmatched documents. From there, you can add the documents to your project by following the steps in this article.
Click Next to select the categories and codes you would like to copy to the documents in your destination project. You may choose to copy individual codes from a category, or an entire category, including all of its codes. Any categories and codes that do not exist on your destination project will be automatically created for you. If you wish to overwrite mutually exclusive codes on the destination documents, check the box at the bottom of the page. If you select this option, mutually exclusive codes will be applied to the destination document, even if it means removing the currently applied code. Note that selecting this option will remove mutually exclusive codes from documents on your destination project to apply the new code.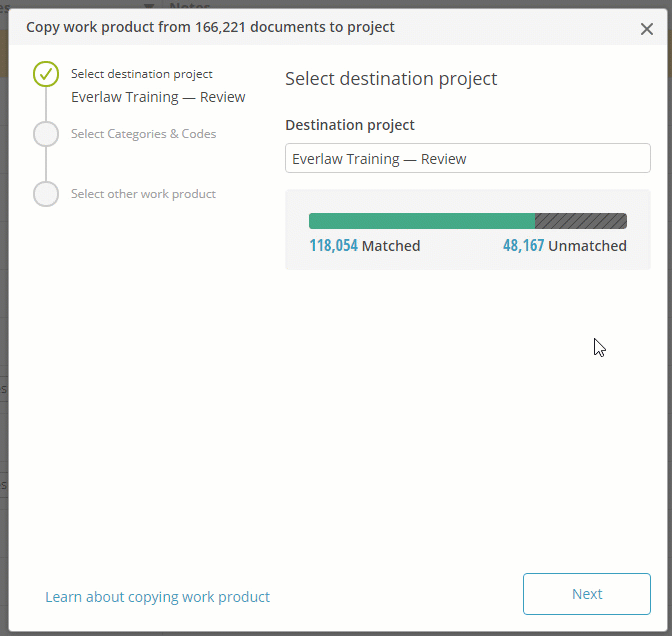 When you have selected all codes and categories you would like to copy, click Next to continue. Select the other types of work product you would like to transfer, and whether you would like to overwrite any conflicts or existing values on the destination project. You can overwrite conflicting ratings, user-editable field values, and redaction stamps. Choosing any of these overwrite options will remove the existing ratings, user-editable field values, or redaction stamps on your destination documents, and replace them with the ones being copied over. For more information about the types of work product that can be copied, refer to this section of this article.
After you have selected all of the work product you would like to copy, click Submit. This will start the process of copying over your chosen work product. A card will be created in the Batches & Exports column on the homepage of your source project where you can monitor the progress of this task.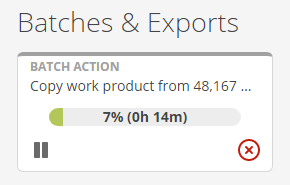 When the task of copying your work product has completed, you will be able to undo the task and be able to see a summary of what work product was transferred by clicking See details.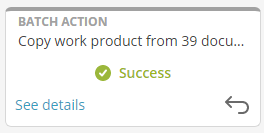 Supported work product
Categories and codes
If a category exists on both the source and destination projects, but the mutually exclusive status is different, the status of the destination project will take precedence.
Rating
Binders
A binder will be copied to the destination project if you choose to copy binders and the source documents are in the binder. Note that this means that not all binders will be copied to the destination project. Only the binders that are associated with the documents you have selected from the results table will be copied.
User-editable fields
Notes
Highlights 
Redactions
Redaction stamps that do not exist on the destination project will be created as project stamps and will be accessible to everyone with create or admin permissions on redactions.