Table of Contents
Introduction
On Everlaw, the recipients of legal hold notifications are known as data custodians or simply custodians. Later, if documents from these custodians are uploaded to a particular database, these custodians will become regular Everlaw custodians that are stored in document metadata and searchable in the query builder. The process of linking custodians from legal holds to uploaded documents is covered in Connecting Legal Holds to Uploading Documents section of the Introduction to Legal Holds article.
Before adding custodians to a legal hold, legal hold org admins must first create a directory to store custodian information. You can add just the custodians to whom you plan to send legal holds, or you can upload entire directories of employees and select the employees that will receive hold notifications and become custodians later.
Directories are stored at the organization level and are accessible to all users with legal hold org admin or org admin permissions. When creating a new hold notice or data preservation, these users will be able to select from any directory in the organization.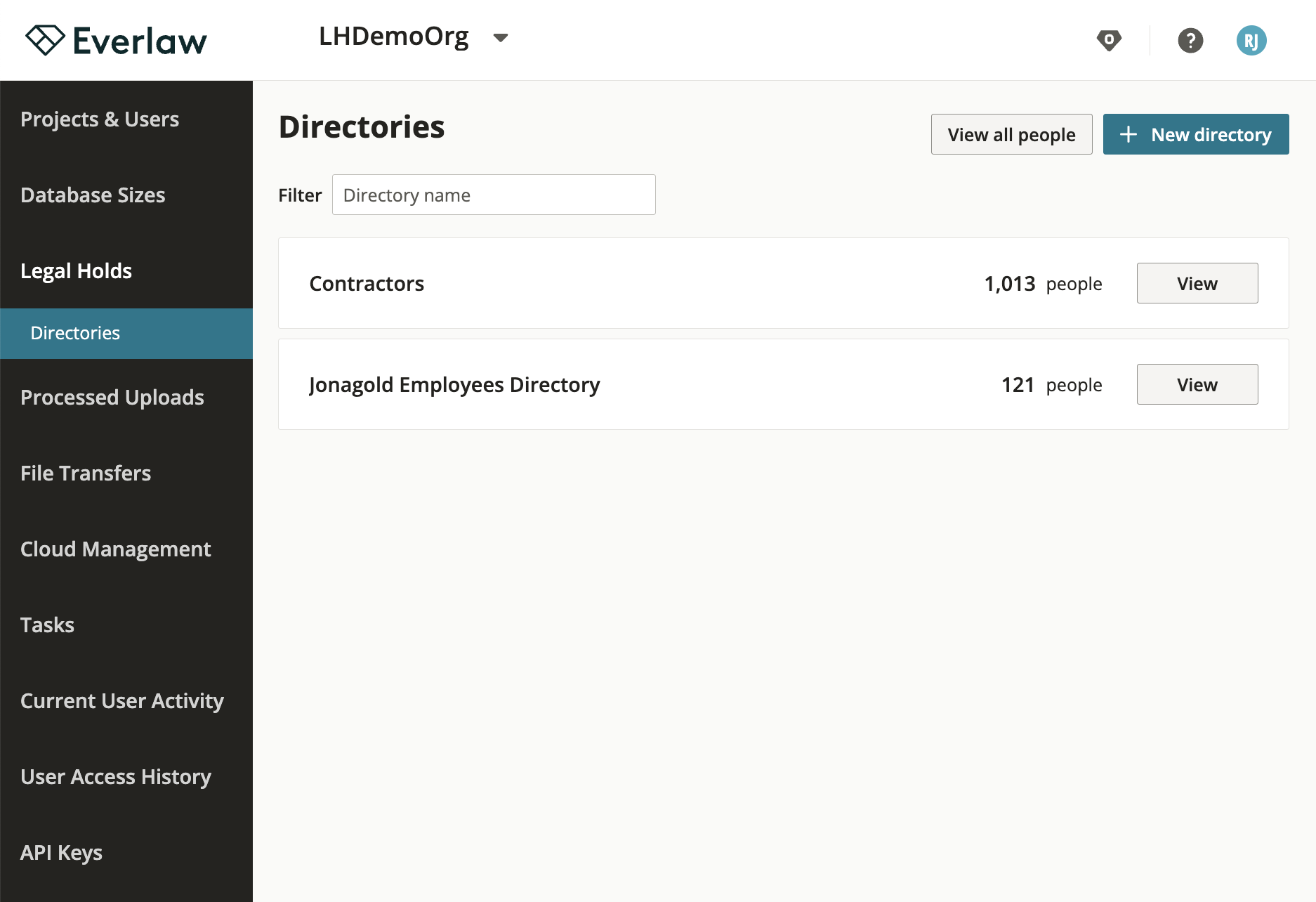 In addition, legal hold org admins will be able to access and view all their directories at the database level when managing holds that are associated with Everlaw databases. (For more information on associating legal holds with databases, please visit the Introduction to Legal Holds article.)
To view all the people in a particular directory, select the "View" button next to the directory name. Within a directory, you will be able to sort and filter on any property column by typing in a keyword. You will also be able to export a report of all people in the directory, add selected people to hold notices or data preservations, and view all legal holds using custodians from that directory.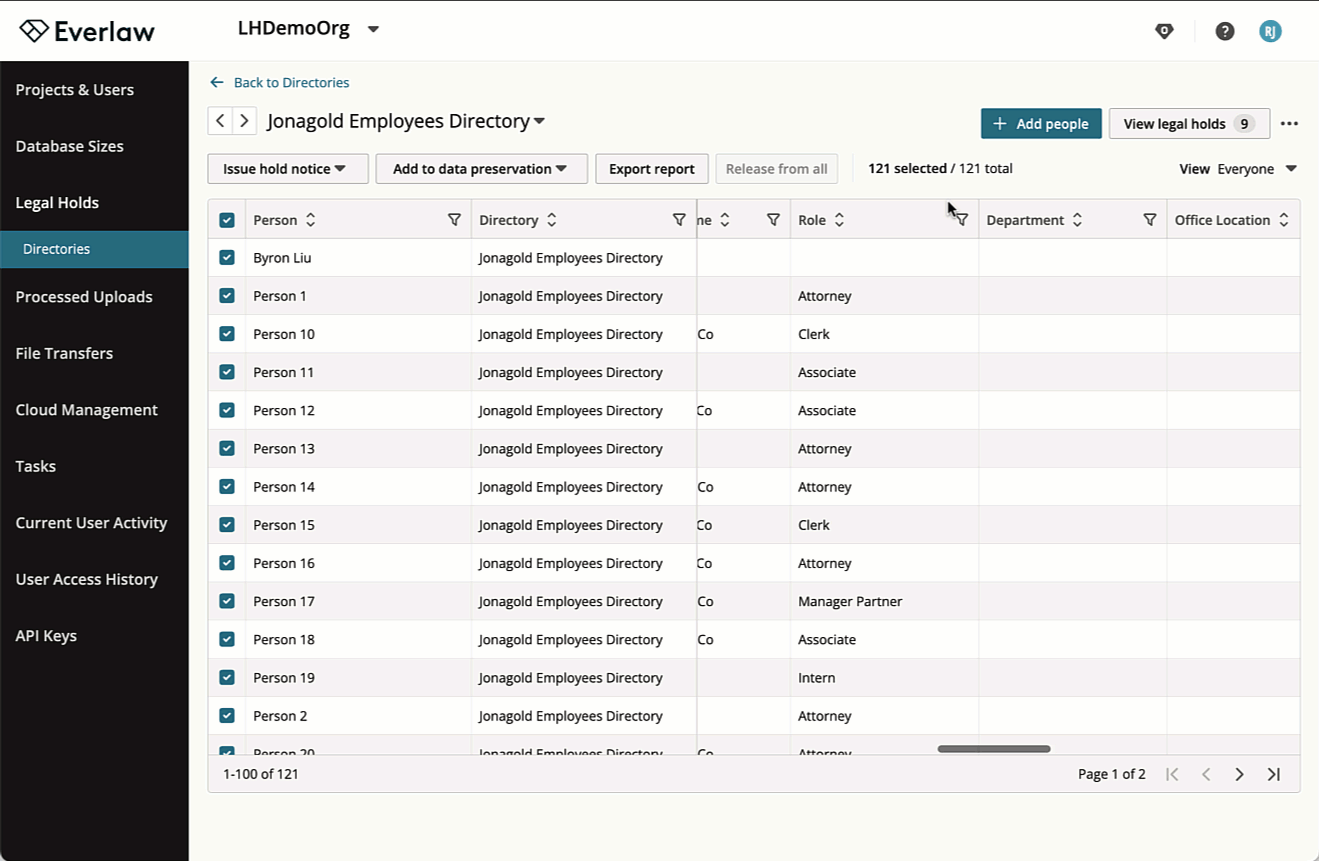 If you have multiple directories in your organization, you will also see an "All directories" view in your directory dropdown, which will allow you to see and act on all people in all directories in one large table.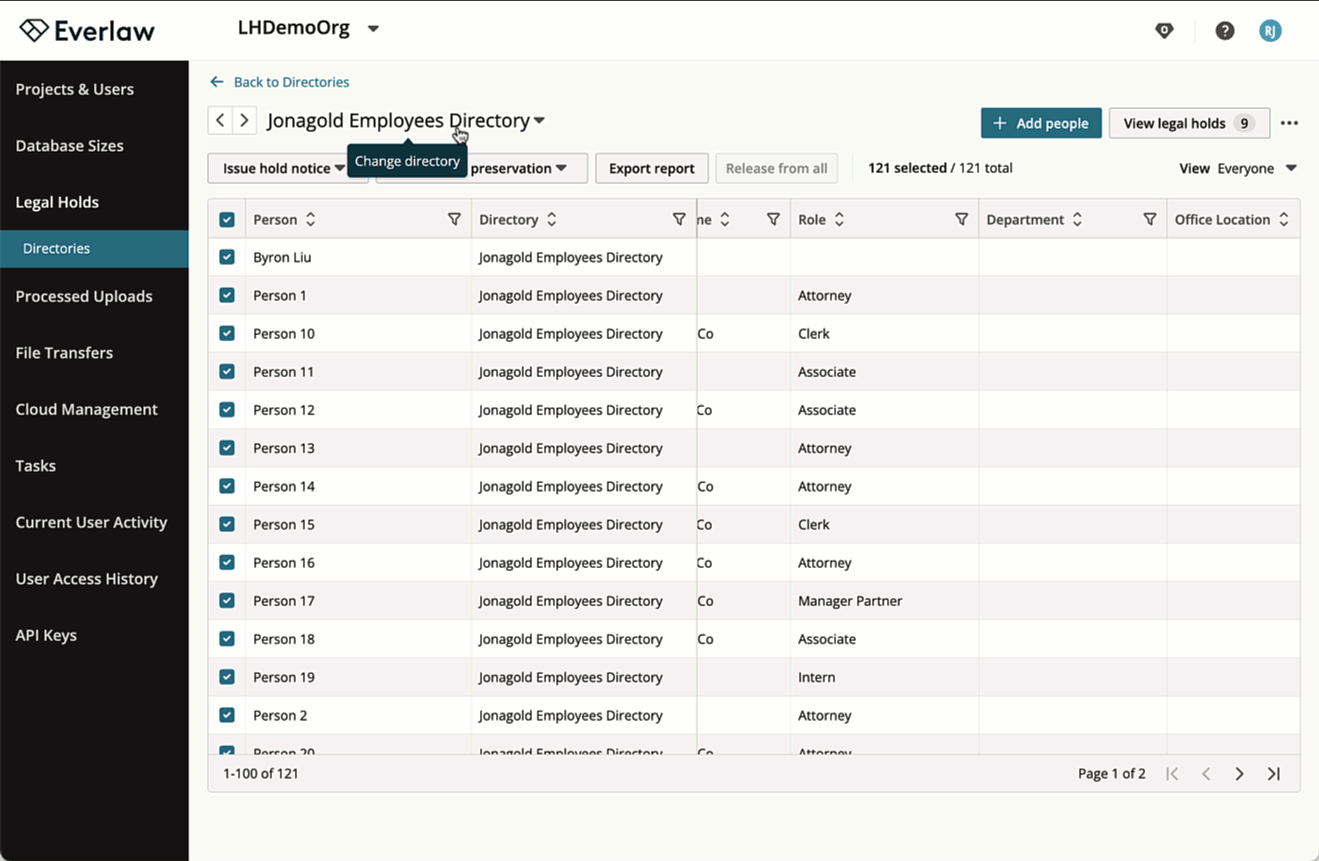 Creating a directory
To create a directory, select the Directories subtab of the Legal Holds tab on the org admin page. You can create a new directory by clicking the "New directory" button either in the center or at the upper right of the page.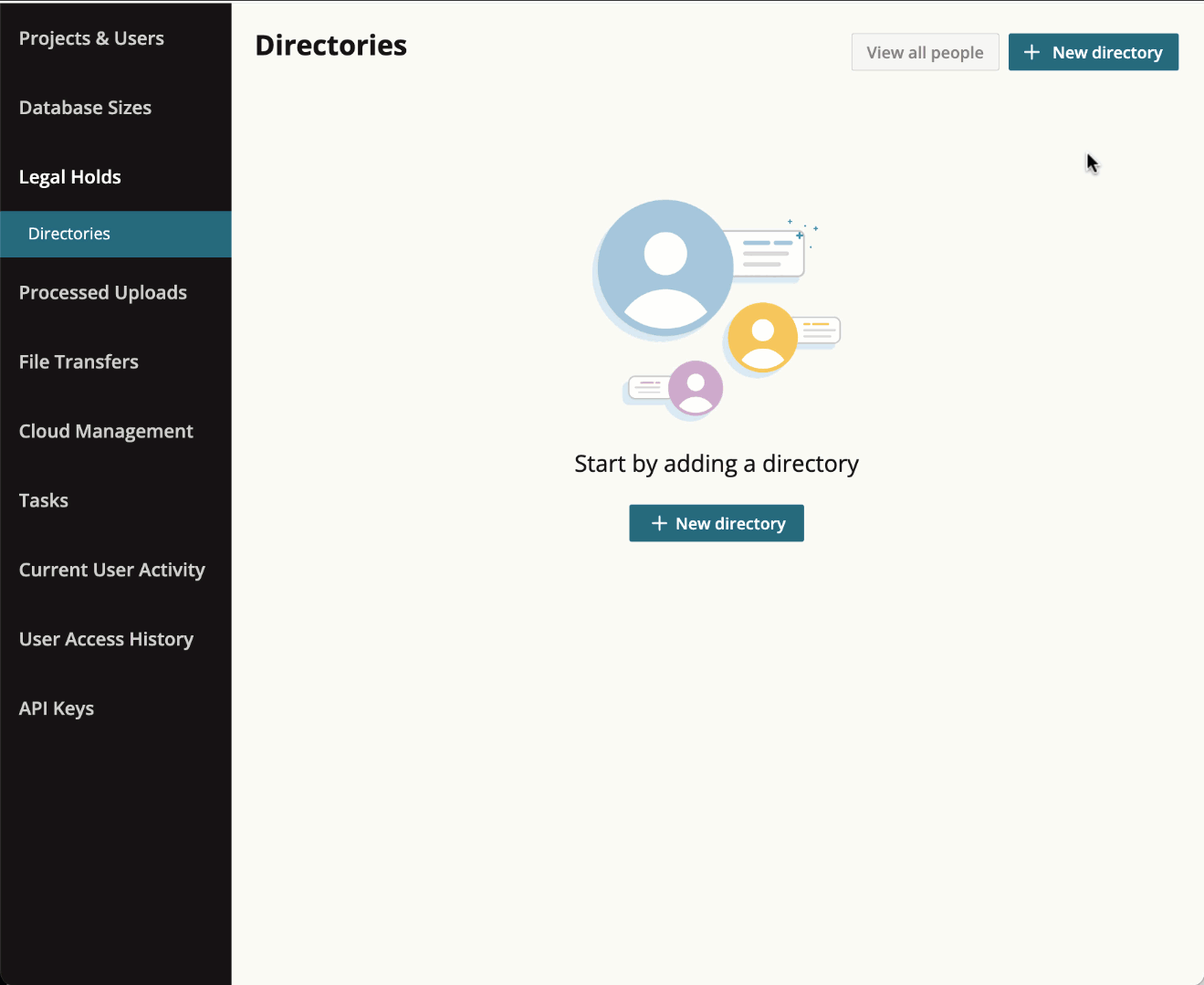 To add people to your directory, click on the "Add people" button, then select whether you want to add a single person or import many people from a CSV file.
Adding single custodians
To add people one by one, fill out the side panel of properties that pops up, then click Add. The only required field for adding a person is the person's email address, and all email addresses must be unique. However, please note that if a person's manager email field is not filled out, Everlaw will not be able to send automatic escalation notices to that person's manager.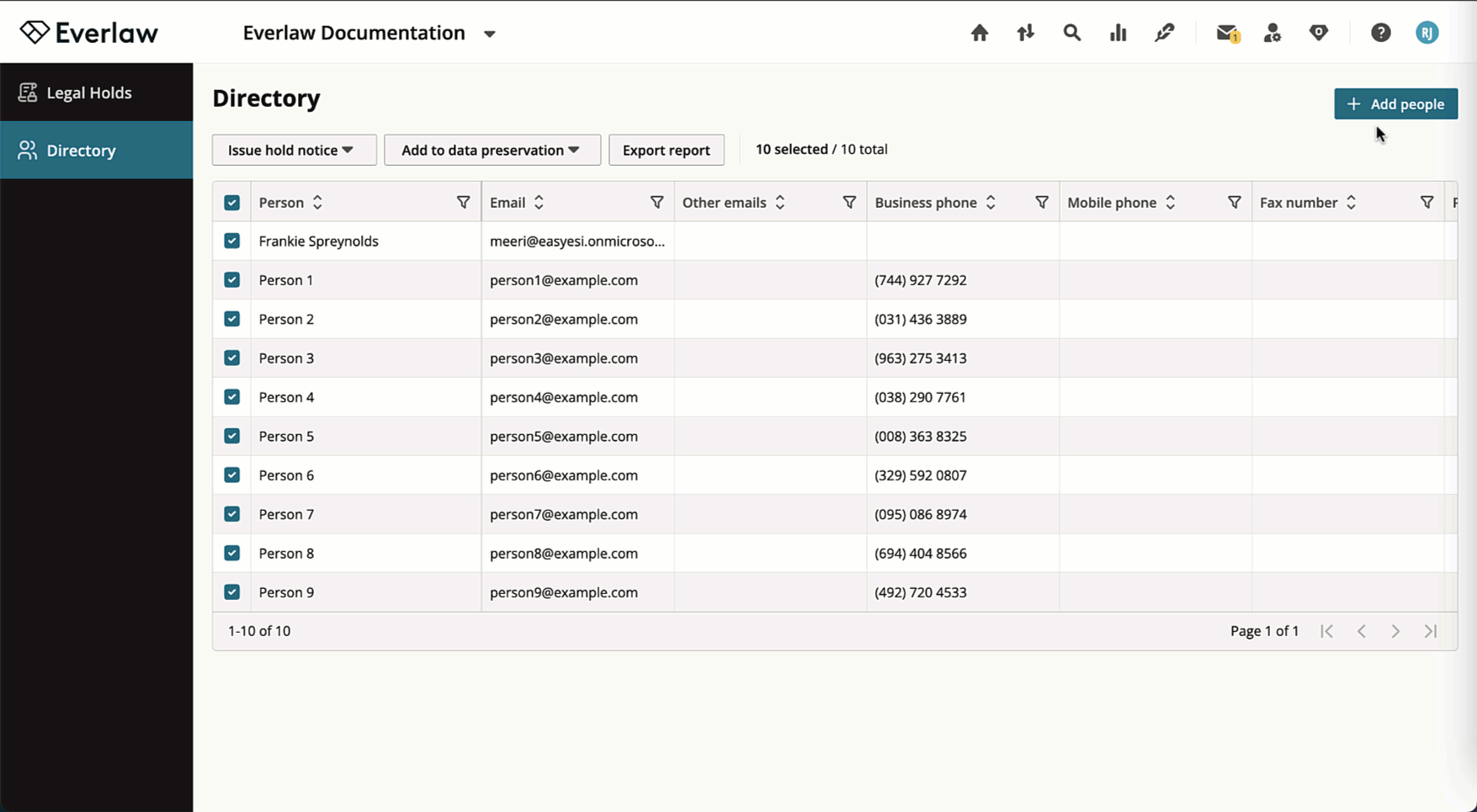 Importing a CSV directory
If you want to add multiple people at once, you should add people by CSV. To do so, first download the CSV template provided on the CSV upload page.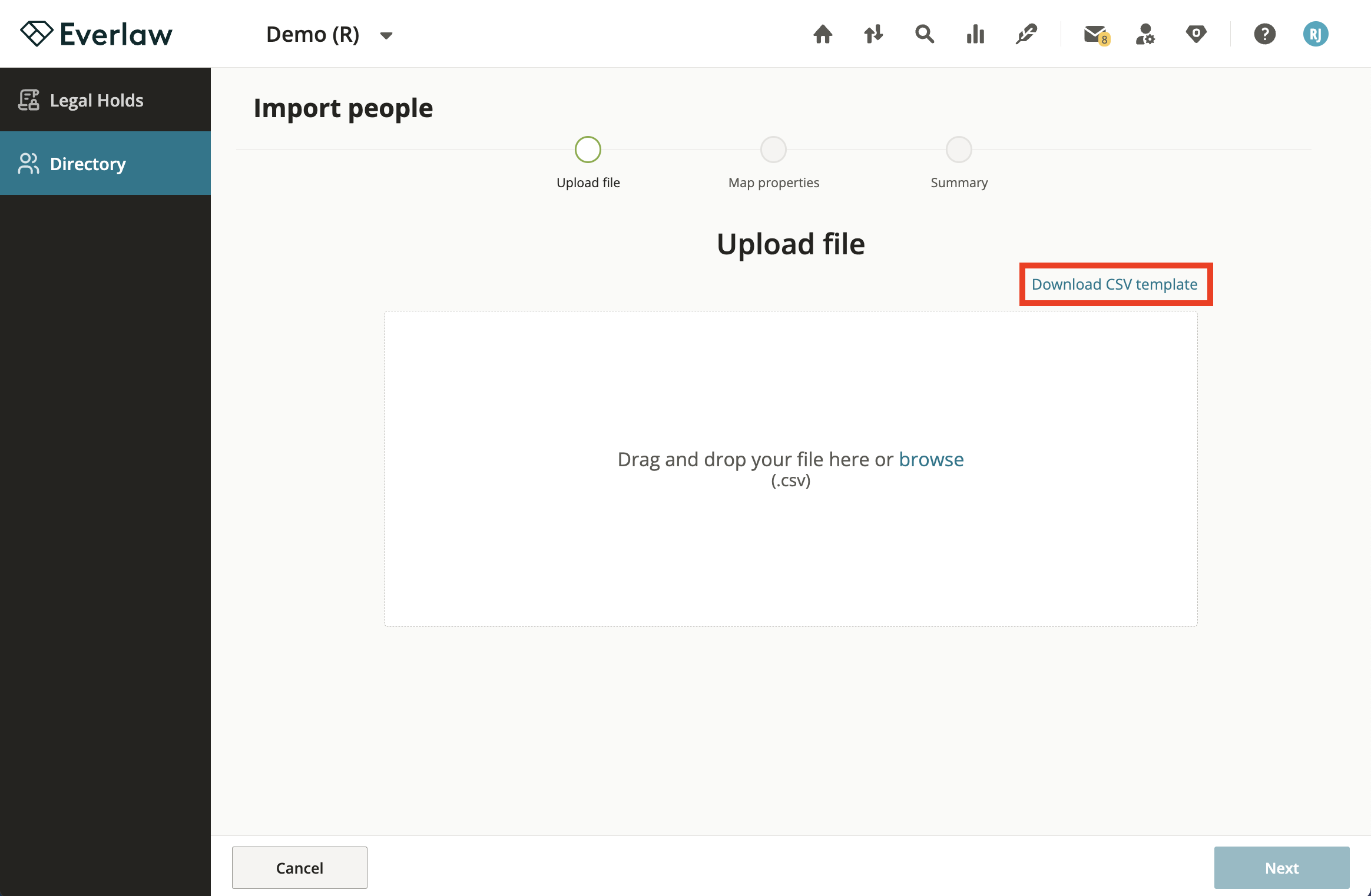 Once you've ensured that your CSV of user data is in the required format, upload your CSV to the page and follow the instructions in the wizard to map CSV column headers to people properties. Everlaw will automatically detect the following columns in your CSV: name, email, other emails, business phone, mobile phone, fax number, preferred language, company name, role, department, office location, manager name, manager email, employee type, employee start date, employee end date, and notes. Any other columns in your CSV will automatically be mapped to and stored in the Notes field.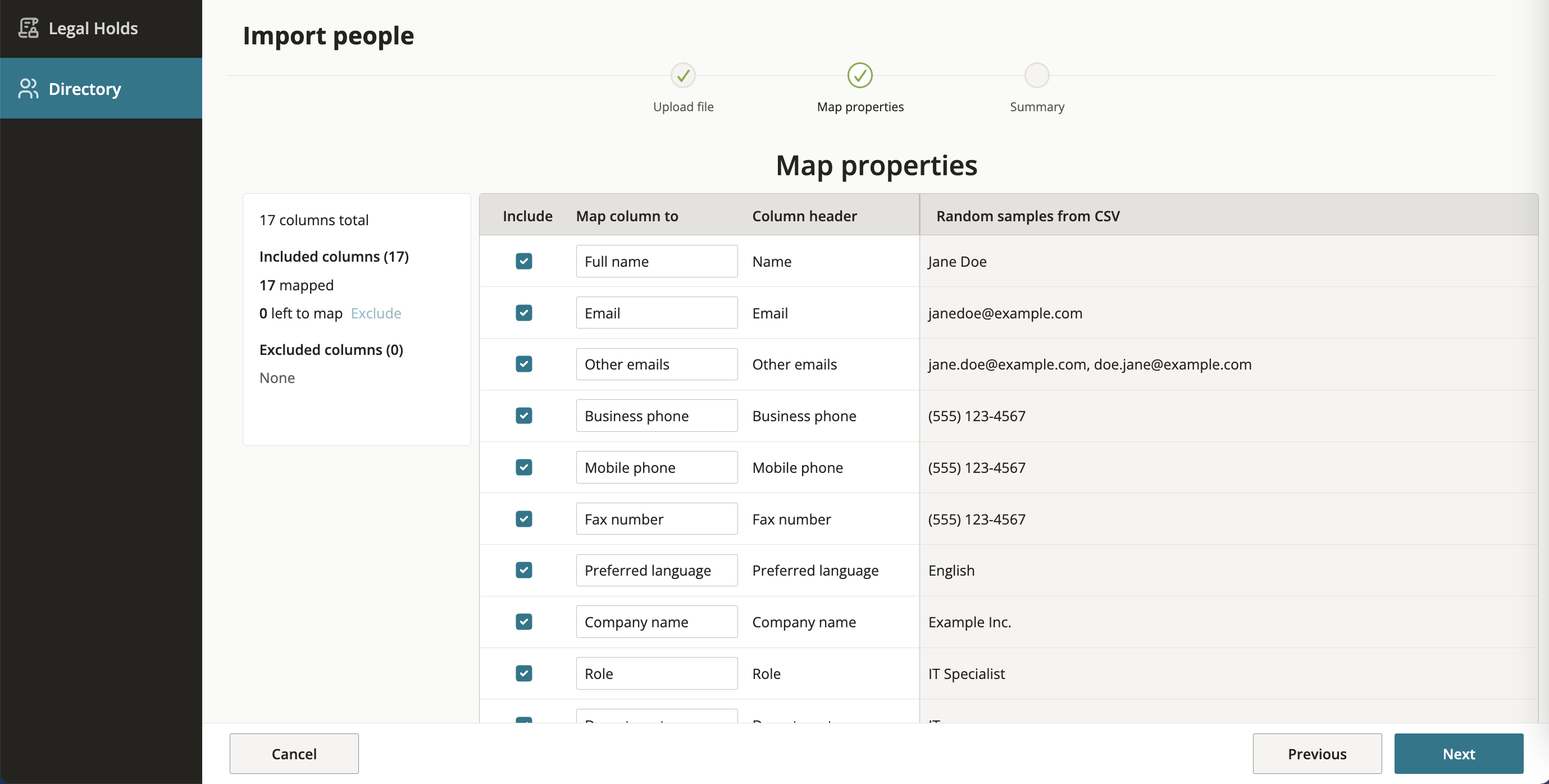 In order to import, an included column must be mapped to the "Email" field. If your CSV includes a person whose email address already belongs to another person in the database, you'll be taken to an "Overwrite settings" step. Here, you'll need to select whether you want to overwrite existing custodians. You can also choose to overwrite values only if the new values aren't blank.
You can also set up an automatic import of a CSV to your directory using Everlaw's legal hold directory API. For instructions on how to set up this import, please refer to our API documentation.
Viewing, editing, and exporting custodian information
After upload, all people will be displayed in a table on the Custodians tab. Clicking on the person's row in the table will bring up a side panel where users can view and edit the properties associated with that person. This side panel also contains information about the legal holds associated with that custodian, sorted by database or matter.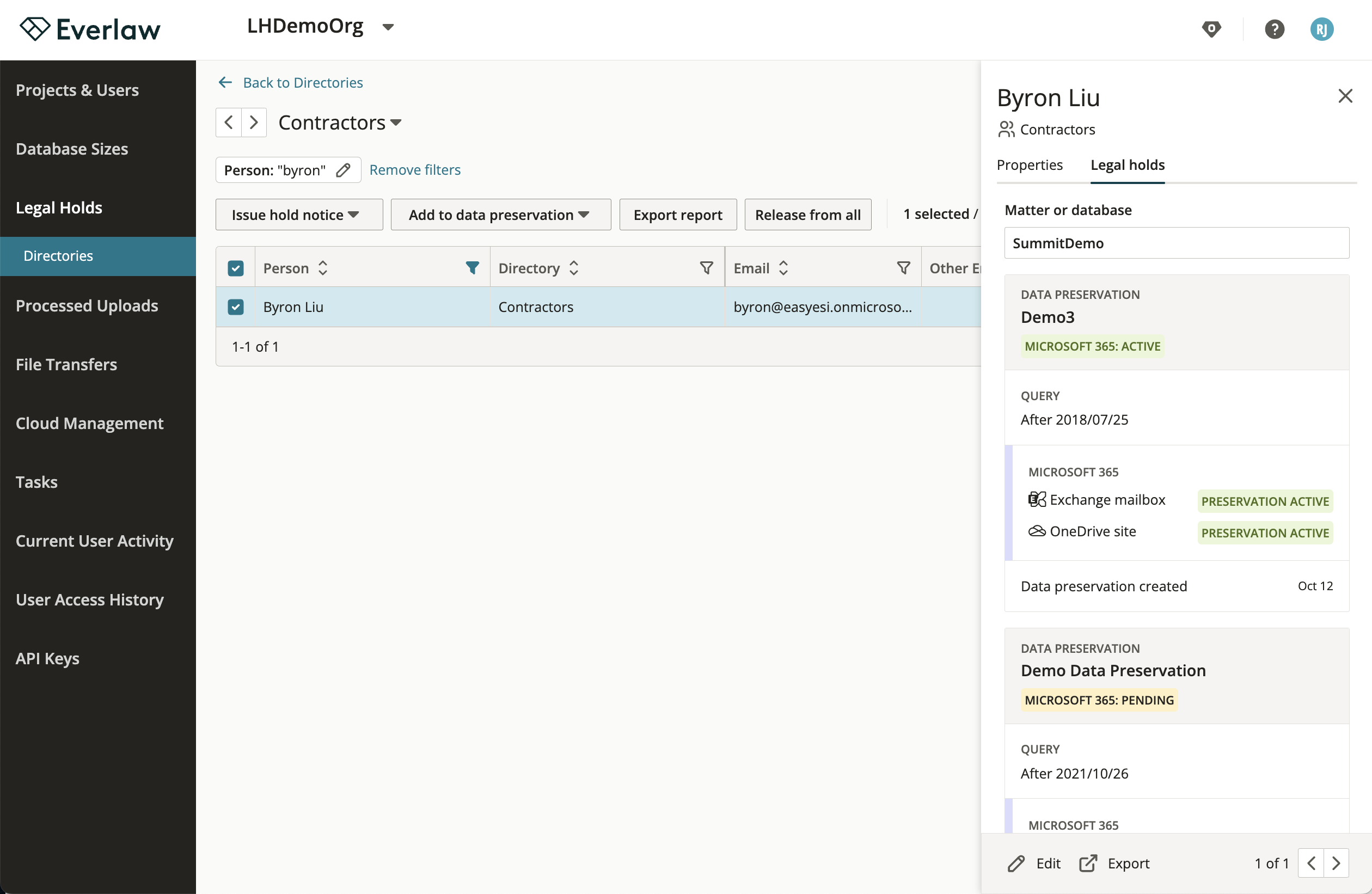 You can export the information about that custodian by clicking on the Export button at the bottom of the custodian side panel. The export will be a zip file containing two CSVs. The first CSV will contain information about the selected custodian's properties, and the second CSV will contain information about the selected custodian's legal holds.
If a person has not yet been added to any issued legal holds, you will also see a Delete button at the bottom of the side panel. Click on this button to delete the person from the database.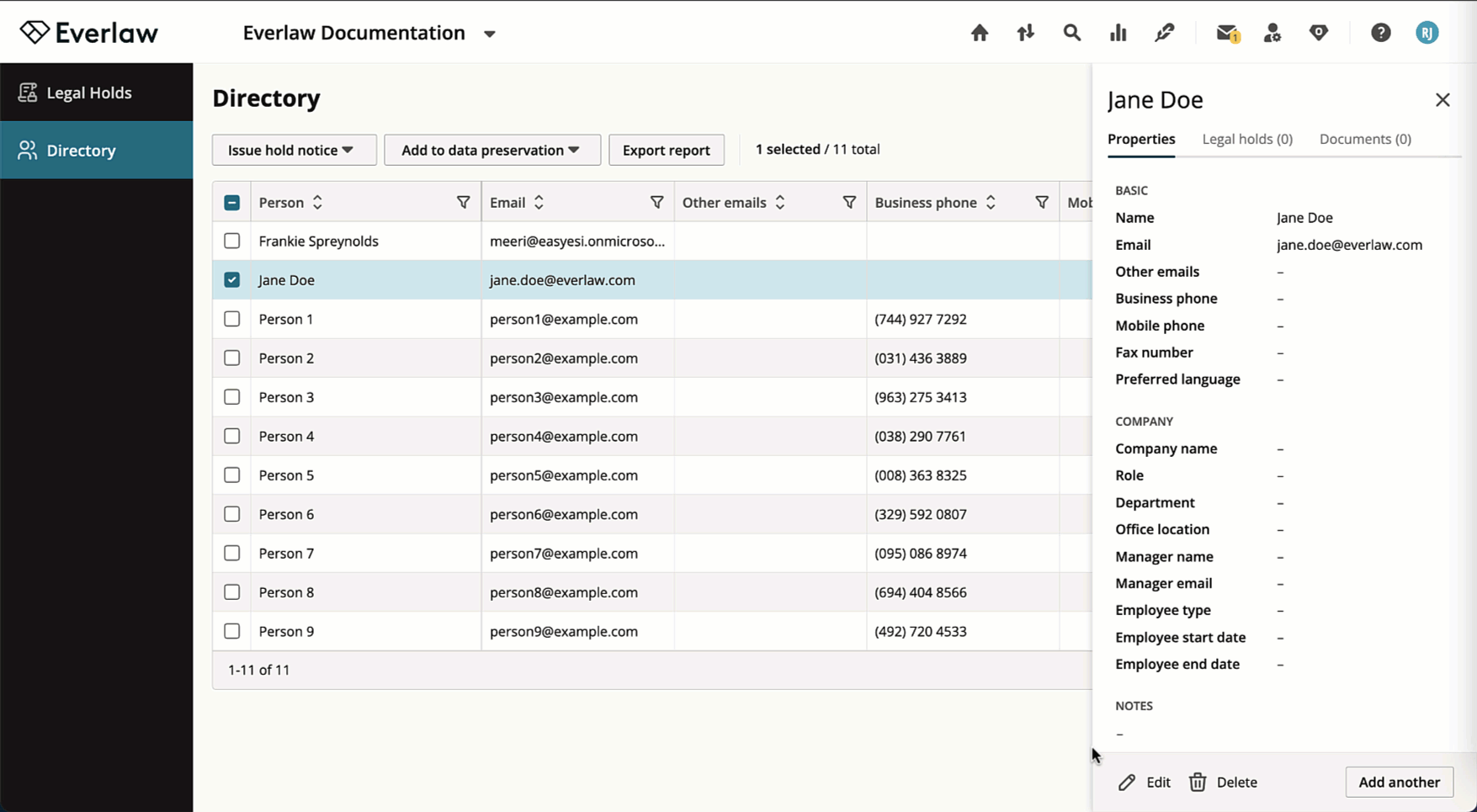 Importing Microsoft custodians during data preservation creation
When creating a Microsoft data preservation on Everlaw, Everlaw will automatically detect which of these custodians exist in your Microsoft organization. If any detected custodians exist in your Microsoft organization but have not yet been added to the Everlaw directory, you will see a warning page where you are given the option to can automatically add them to the directory.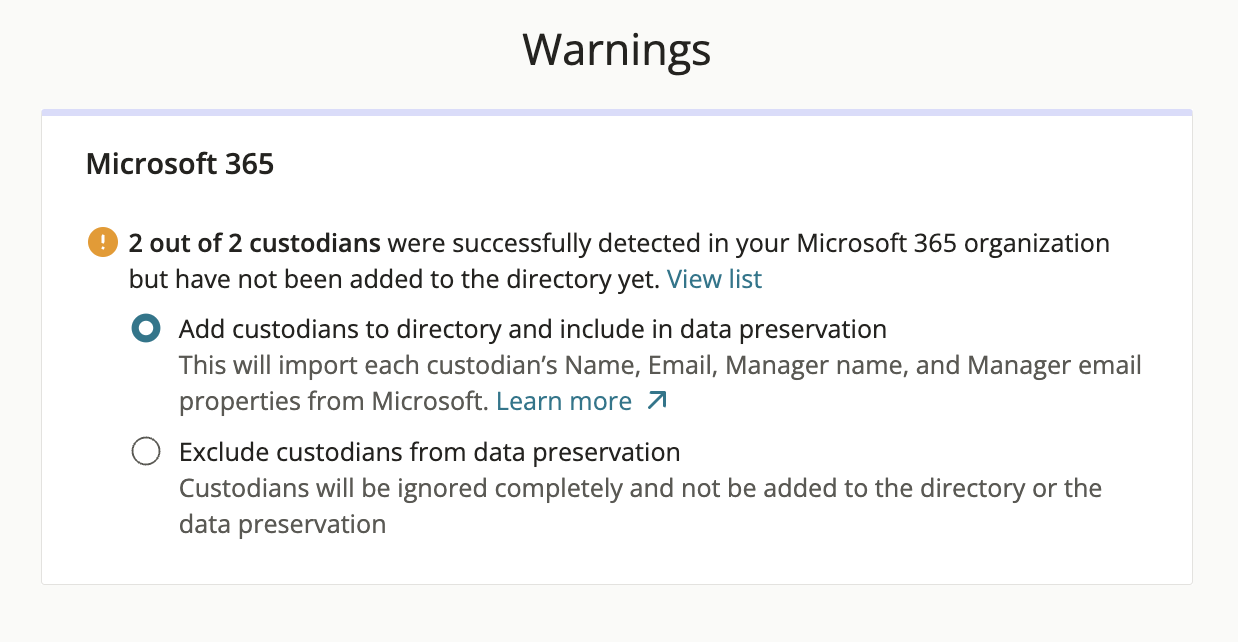 The directory entry will be populated with the custodian's first and last name, primary email address, manager name, and manager email address, taken from your organization's Azure Active Directory (Entra ID).
If any of the custodians in your organization have a Microsoft User Principal Name (UPN) that differs from their email address, we will still be able to identify that custodian and add them to the directory with the correct email address. You will be able to enter either the UPN or the email address, and we will correctly populate the email field with the custodian's email address.