Table of Contents
Introduction
Everlaw's legal holds tool allows you to send hold notices to custodians in your organization and create data preservations on those custodians in Microsoft 365.
The legal holds tool is designed to be managed at an organization level instead of a database level. In order to access Everlaw Legal Holds, your organization will need to be on an annual subscription and have access to the org admin page.

Hold notices refer to the communications you send to non-silent custodians. With hold notices, you can schedule automatic renotification and escalation notices, send periodic reminders, and track custodian acknowledgement.
Data preservations refer to preservation-in-place hold objects created in external data sources, such as Microsoft 365. You can create data preservations on your custodians in Everlaw and track the statuses of those data preservations without ever having to leave the Everlaw platform.
When it comes time to collect documents from your custodians, you can easily connect your legal hold custodians to documents uploaded in your Everlaw database.
You can create as many hold notices and data preservations on as many custodians as you like with no additional limits imposed by Everlaw.
Legal holds permissions
In order to create and modify legal holds, you'll need to have org admin or legal hold org admin permissions.
The Legal Hold Org Admin (LHOA) permission allows users to access the Legal Holds tab of the organization administration home. Users who have LHOA but not OA permissions will not be able to access any other organization level pages or permissions. 
LHOAs will have full access to everything in the legal holds tab, including all legal hold directories, hold notifications, and data preservations.
If you have legal holds on sensitive matters that should not be seen by all legal hold administrators, we recommend creating a separate sub-organization to hold those sensitive legal holds only. Using a separate sub-organization will protect not only the legal hold information but also other information about these sensitive matters, including their case names, users, sizes, and more.
An org admin can assign a user LHOA permissions on the Projects and Users tab of the organization admin page. Select the Users subtab, find or add the user who should receive those permissions, and then modify their permissions in the table.
All legal holds in the organization will be displayed on this org-level page. However, some legal holds will be relevant to ongoing investigations and will also be displayed on the legal holds tab in a particular database. (To learn more about which legal holds will be associated with databases, please read the "Creating new legal holds and matters" section below.) Although we expect legal hold management to be primarily done from this org-level management page, if a user with LHOA permissions has access to a database with legal holds, they can manage the legal holds from that database as well.
To access legal holds within a particular database, navigate to that database via the project dropdown, then select the Data Transfer icon in the navigation bar. Click on the icon and then select Legal Holds from the menu.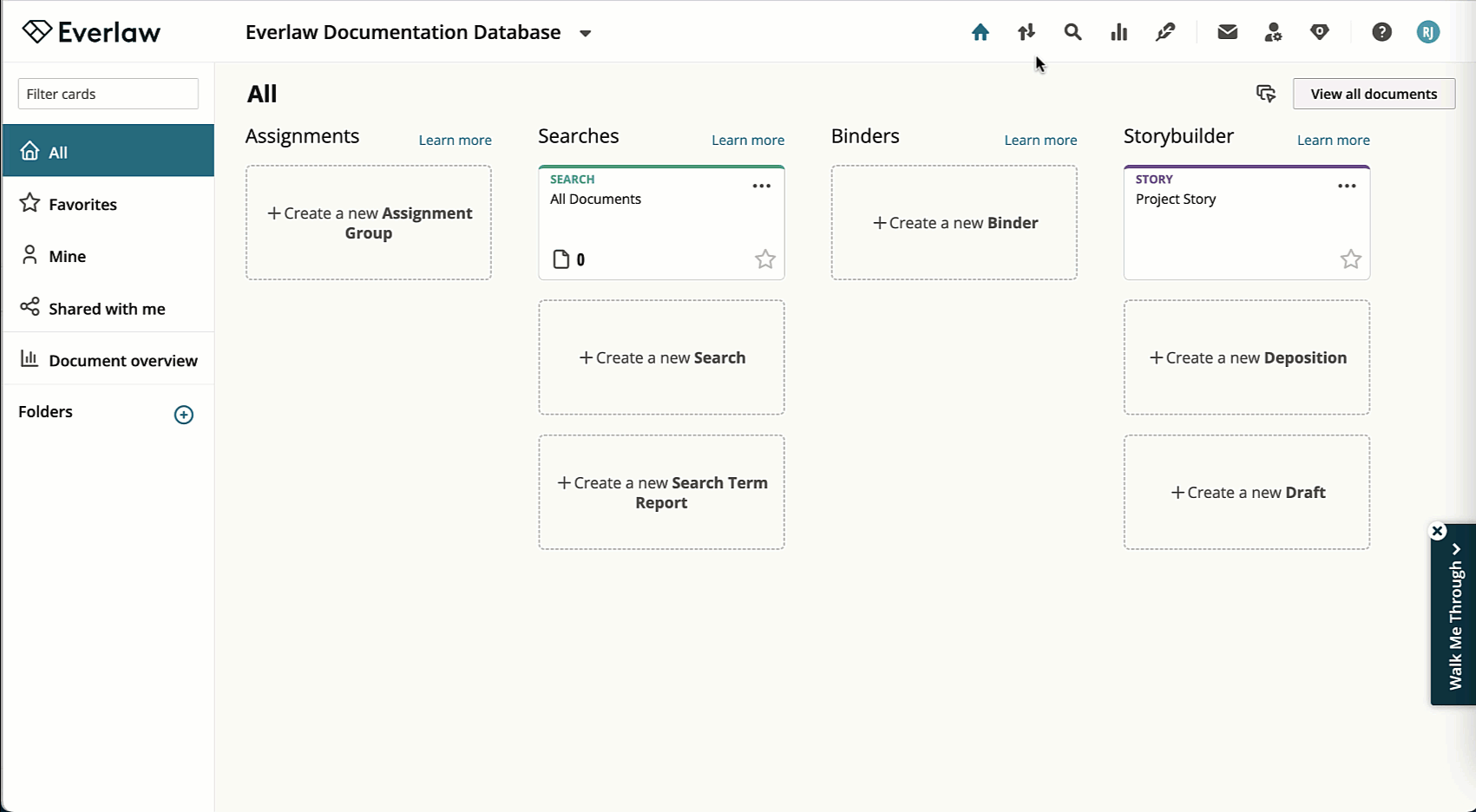 Legal holds dashboard overview
The organization-level legal holds dashboard displays all the hold notices and data preservations in your organization, sorted by database or matters.  This includes issued, drafted, and released hold notices, as well as drafted, pending, active, and released data preservations. Using the buttons at the top of the table, you can expand or collapse these matters to display all legal holds within them, and export a report of all holds in the organization.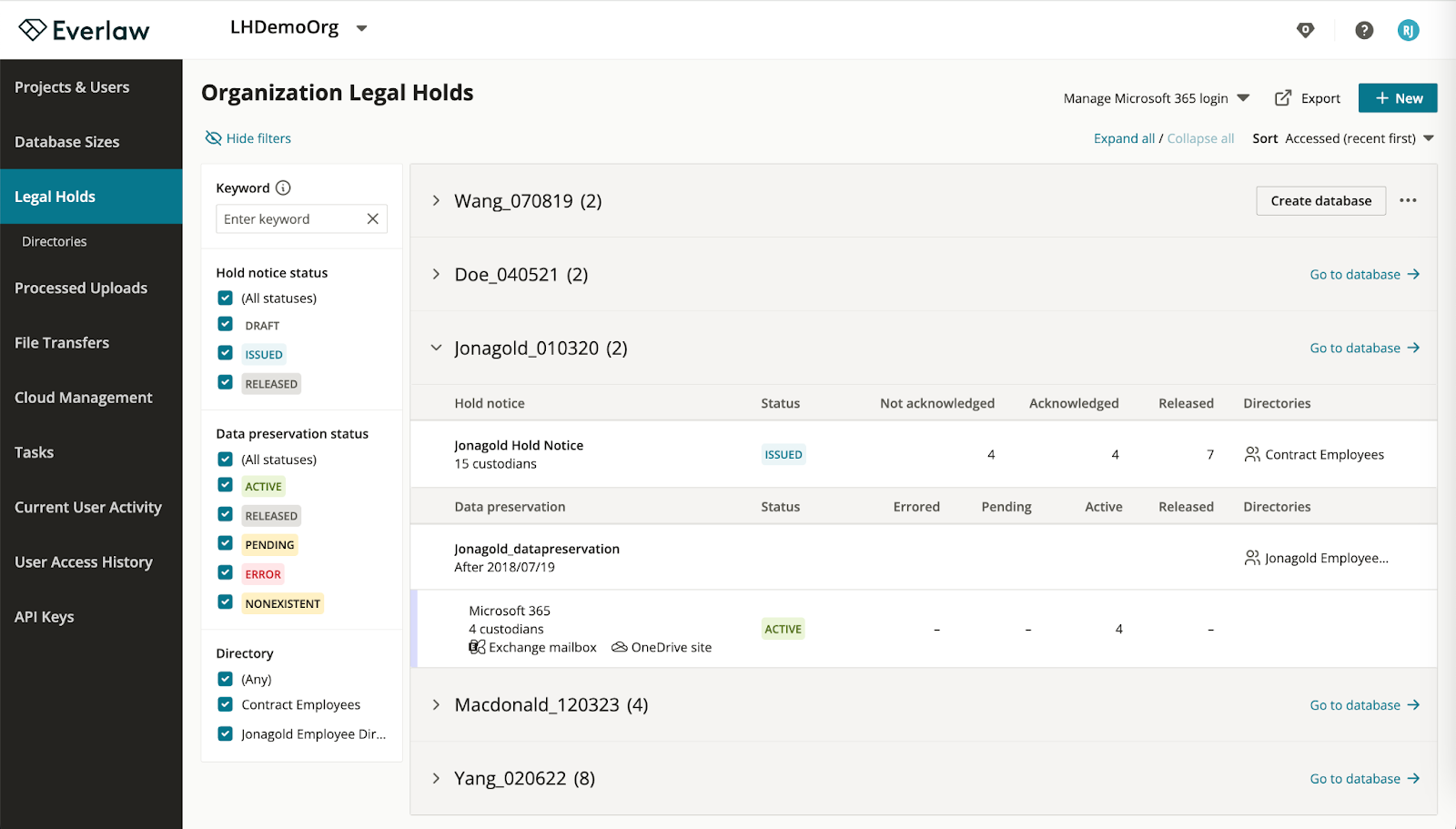 You can filter down the displayed legal holds by keyword, hold status, and directory using the filter menu on the left side of the page. Filtering by keyword will search over database and matter names, database labels, hold notice names, and data preservation names; however, it will not search over the text of legal hold notices. The export will always reflect what is displayed on this page, so filtering down the holds on the display will also filter down the holds included in the export.
You can also manage your Microsoft login for data preservations from this page by clicking the "Manage Microsoft 365 login" button at the top right of the page. From here, you'll be able to see which account you're currently logged in as, log out, or log in. You can also log into Microsoft 365 during the process of creating a data preservation, described in the data preservations article.
Creating new legal holds in matters or databases
To create a new hold notice or data preservation, click the "New" button at the top right of the page. You will be prompted to select either a database or matter for the hold notice or data preservation to live in.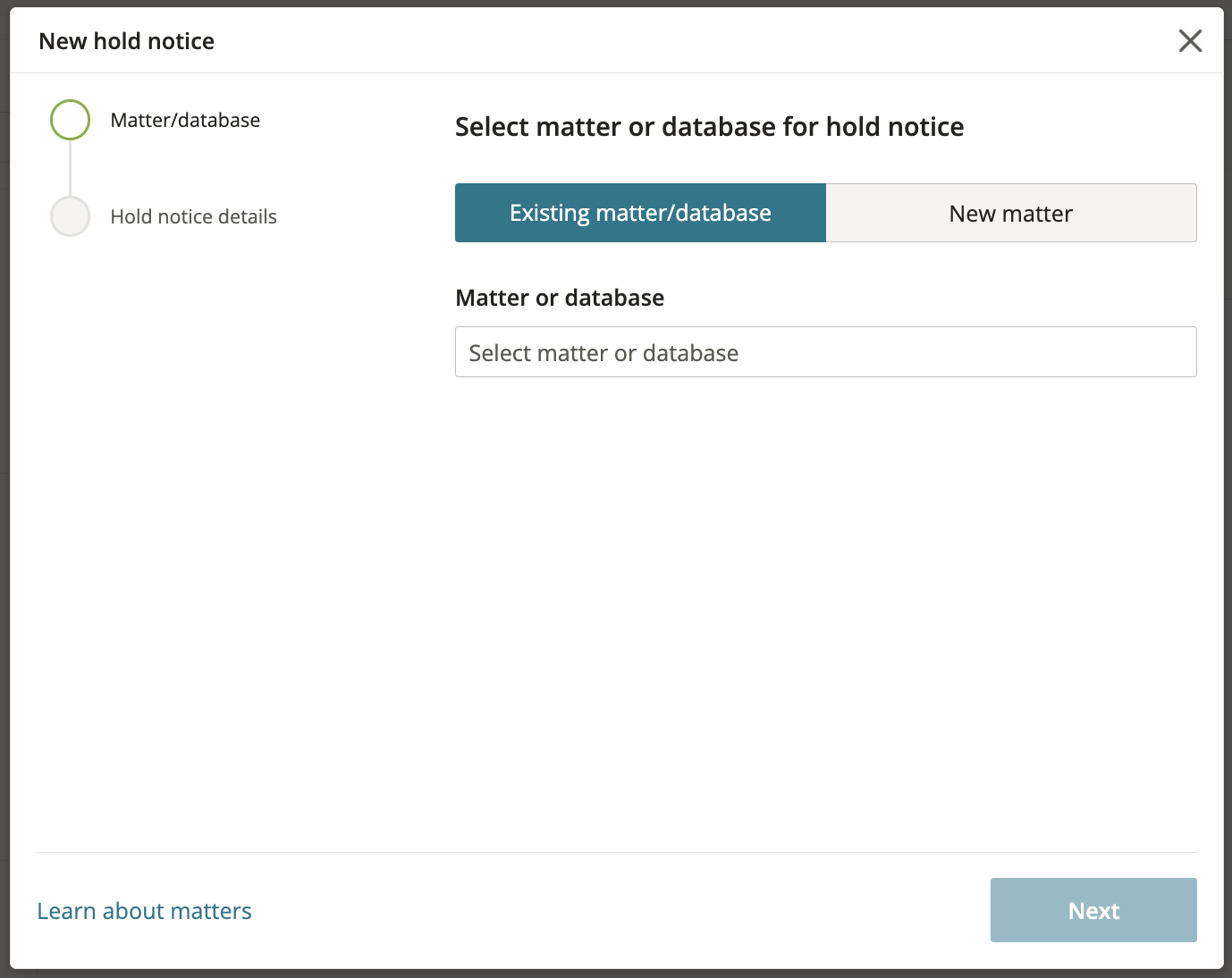 If you choose to associate your legal holds with a database, those legal holds will also show up in the Legal Holds tab for that database. Creating a new database from this page will add a database to your dropdown and allow you to immediately begin uploading data.
If creating a database is not necessary, matters allow you to associate related hold notices and data preservations together without immediately creating an Everlaw database. If you choose to create a matter instead of a database, you won't see a new database in your project dropdown. You should leverage matters instead of databases when creating legal holds for a particular investigation ahead of data collection. Later on, should you need to collect data, you can easily promote the matter to a database by clicking the "Create database" button next to the matter's name in the table. (Please note that you must have organization administration permissions to promote matters to databases.) Once promoted, all legal hold information will automatically appear in the Legal Holds tab of that newly created database.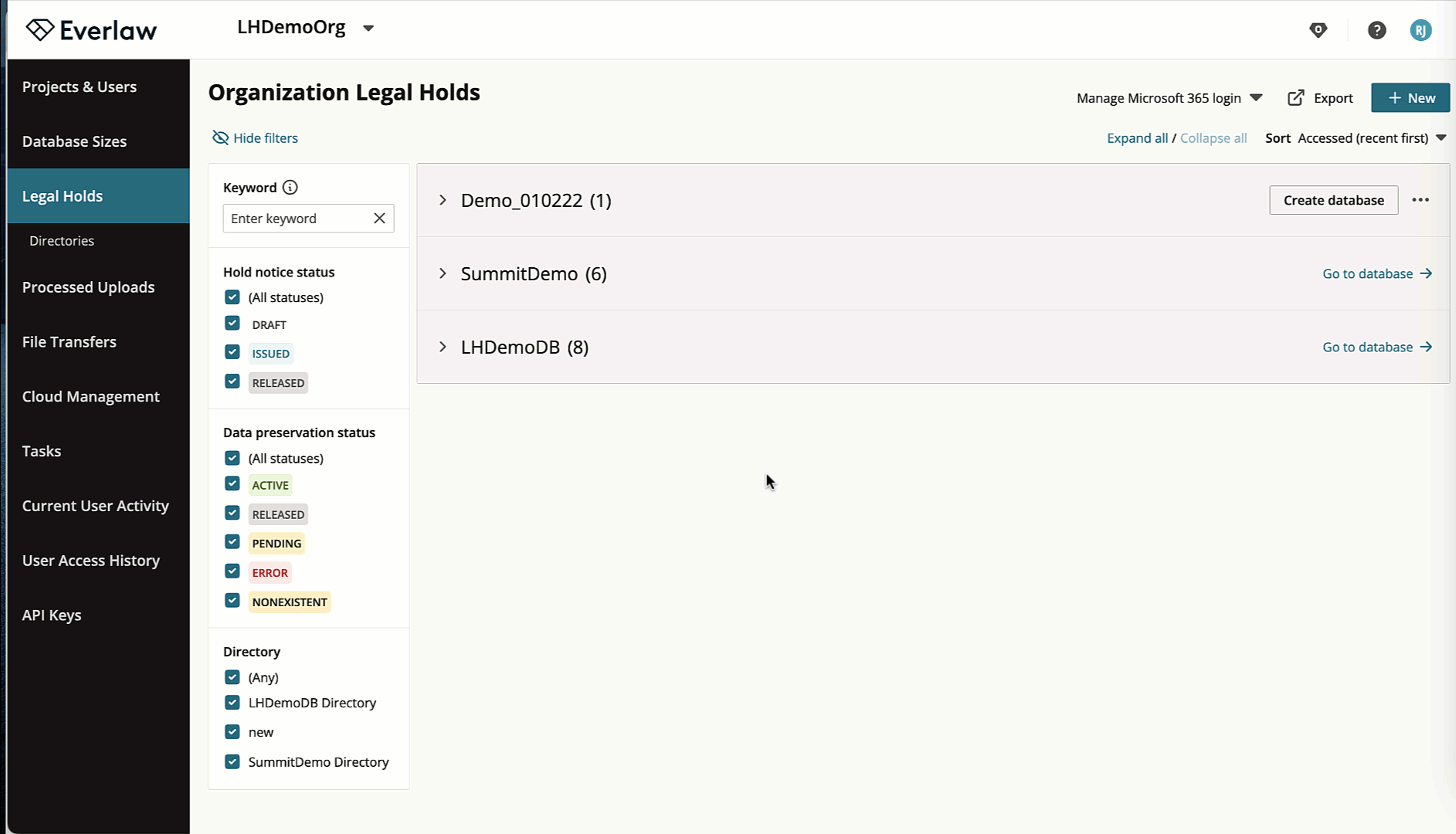 Hold notices and data preservations are intrinsically connected by being in the same database. When setting up a legal hold, you will need to create both a hold notice and a data preservation on the custodians relevant to the matter. If you want to create a silent hold on any custodians, simply include those custodians in the data preservation but not the hold notice.
In the table, issued hold notice cards display the number of custodians who have acknowledged and who have yet to acknowledge their notices. Released hold notice cards display the total number of custodians who were ever issued the hold notice. All hold notice cards display the date that the hold was issued.
To learn more about creating and managing hold notices, visit Legal Holds: Hold Notices.
Data preservation cards display the date and keyword query (if any) associated with the preservation, the selected service (Microsoft 365) and data sources (Exchange mailbox and OneDrive site), and the date of creation. They also display the total number of custodians selected for the preservation, and the total numbers of errored, pending, active, and release custodians.
To learn more about creating and managing data preservations, visit Legal Holds: Data Preservations.
Legal holds directories
The Directories subpage of the Legal Holds tab will display all employee directories in the organization. All people in all directories will be available to select from when creating a new hold notice or data preservation from the organization administration page. Administrators  will be able to sort and filter, export reports, and take action on all custodians in these directories.
Clicking on a custodian's row in the directory table will bring up a custodian side panel containing information about all of the legal holds that custodian belongs to in the entire organization, grouped by matter or database. The custodian side panel is described in more detail in the Legal Holds Directories article.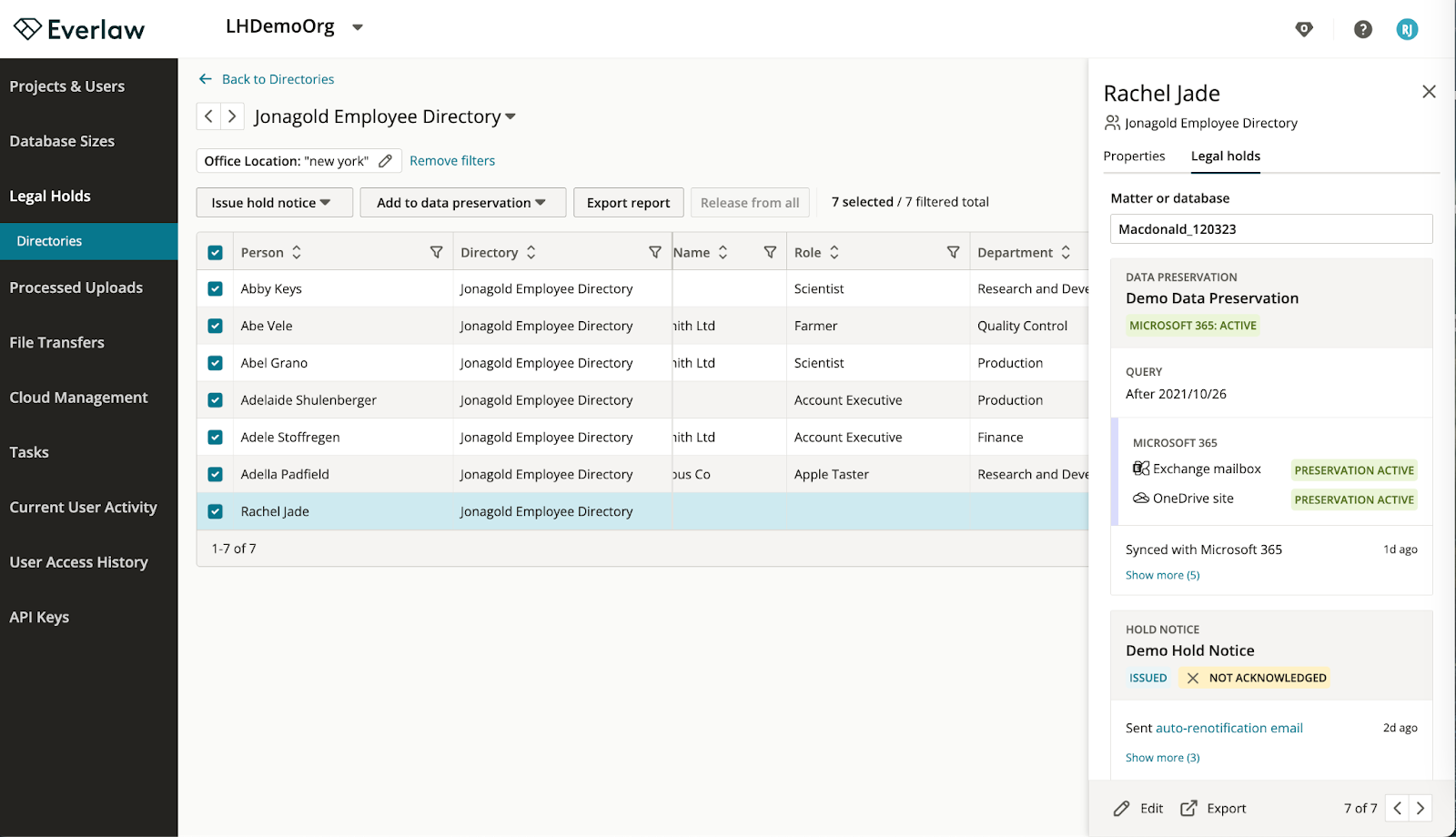 Connecting legal holds custodians to uploaded documents within a database
If you do need to upload data associated with a legal hold, first ensure that your legal hold exists within a database, not a matter. If needed, you can promote the matter to a database (described above).
Once the matter has been promoted to a database, the legal holds will automatically b displayed on the Legal Holds tab of that database. You can then run an upload in that database and assign those documents to any custodian from any legal hold object. Those documents will then be associated with the selected legal hold custodian in the custodian side panel. Furthermore, once associated with documents, the legal hold custodian will also become a searchable custodian stored as document metadata in that database.
To assign documents to a legal hold custodian, first go to the Uploads tab and proceed with whatever native upload you like (either through a cloud connector or by uploading documents on your machine). During the Custodians step, you will be asked to assign custodians to your upload by selecting from a dropdown of existing custodians (or by typing in a new custodian name). All active and former legal hold custodians will show up in the custodian dropdown under the header "From Legal Holds".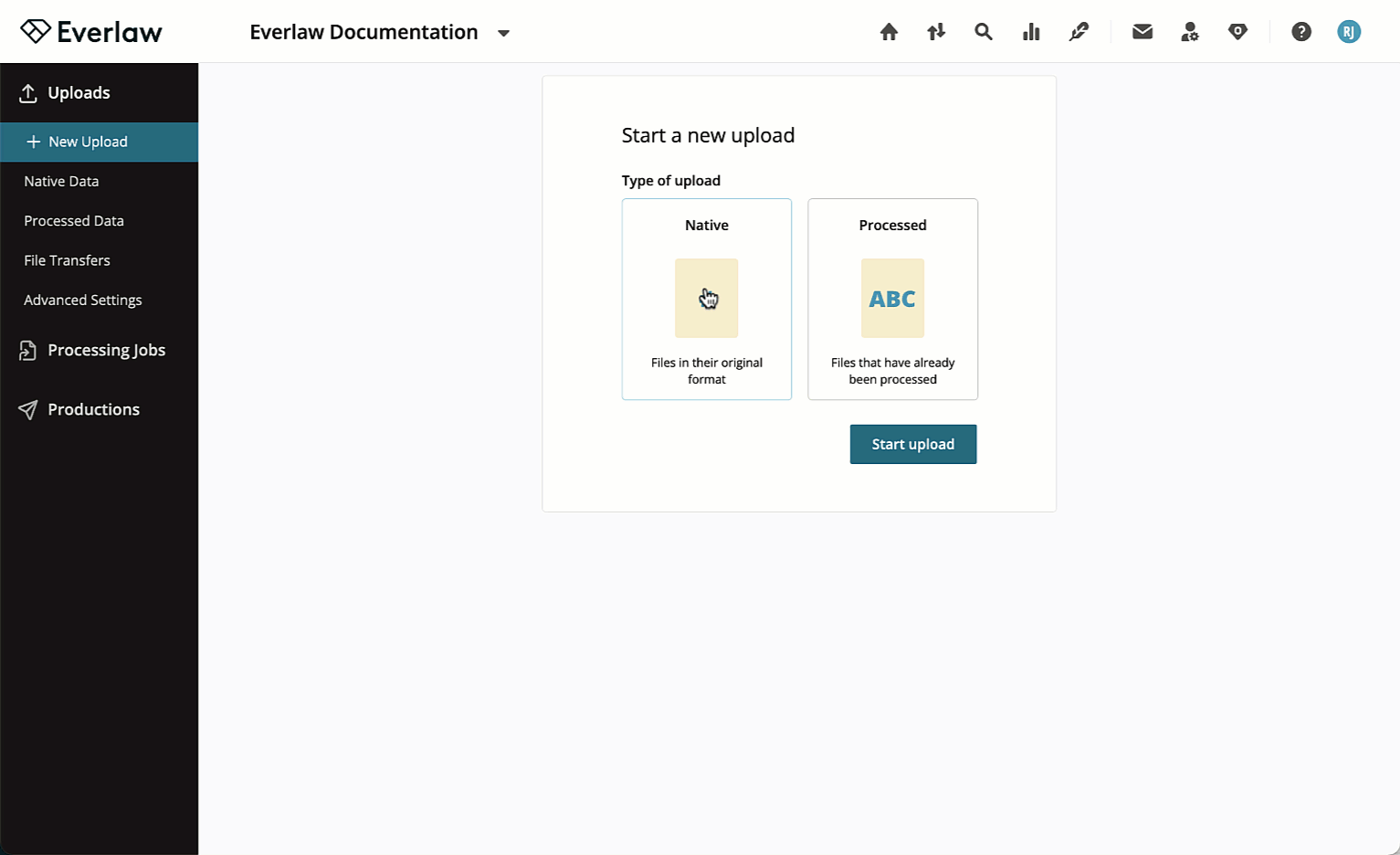 Once the upload is complete, you can go to the Documents tab of your legal hold custodian's side panel to see all document sets associated with that custodian. Clicking on the topmost document set link in that tab will open a results table of all documents associated with that custodian.