This article covers organization admin functionalities, which are available to certain users with contracts covering unlimited database creation. 
 Table of Contents
Creating organization admins
Only organization administrators within the organization can grant organization administrator access to other Everlaw users. This is the highest level of permissions a user can have on Everlaw. You can make a user in your organization an organizational administrator on the projects and users tab. To see the users in your organization, click on the "organization members" button in the upper right. This will show all members of the organization, not just users associated with a particular case. It will not show any users that are not members of your organization, even if they are on cases owned by your organization. Then, once you have identified the user whose access you would like to modify, click Member in the box to the right of their name. You will be asked if you would like to make them an organizational administrator. If they are already an organizational administrator, you can click on their label to remove it.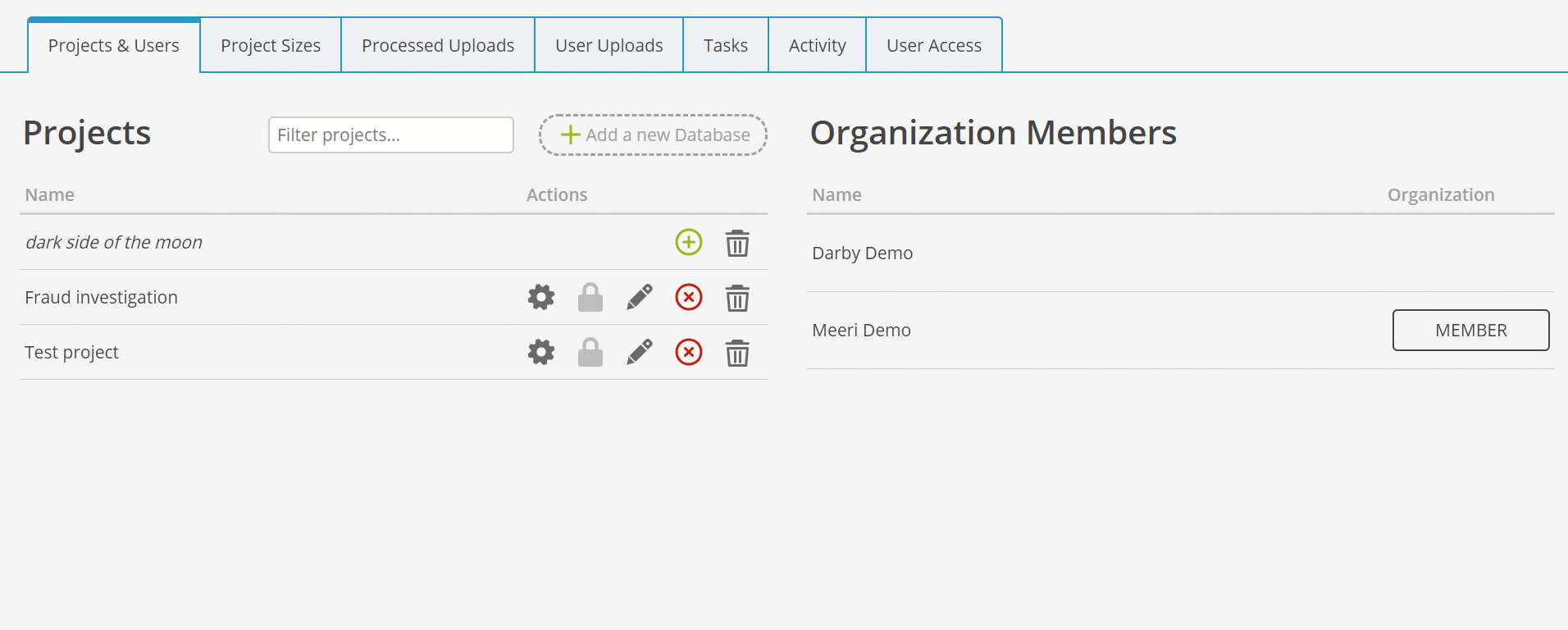 Renaming a Database
You can rename databases from the Projects & Users tab on the Organization Admin page. Under Projects, search for the name of your existing database in the "Filter projects…" search bar. Next, click the pencil icon and enter the new name of your database. This will propagate to all associated projects.

Suspending a Project
There are a number of options for projects where active and ongoing access is no longer necessary. See our help article for more information about the different options.
Suspending a project on Everlaw can be a good option if you may need to reopen or gain access to your database in the future. If you choose to suspend your project, Everlaw will keep all documents, review data, and user analytics in place and immediately accessible.
Project suspension comes with a one-time fee equivalent to the full one-month storage amount, as well as any accrued monthly charges prorated to the time of suspension. After one year of suspended storage, the bill will transition to a monthly charge that costs 10% of the one-month storage amount.
Organization administrators can suspend projects from the Projects & Users tab on the Organization Administrator page. Under Projects, enter the name of the project you would like to suspend. Next, click the red X icon. Note that there is no confirmation box when suspending a project.

To unsuspend your project, please contact Everlaw support at support@everlaw.com. 
Requesting project deletion
There are a number of options for handling your project on Everlaw once you no longer need active and ongoing access to it. Read our support article for information on all of your options.
To submit a project deletion request, navigate to the Projects & Users tab on the Organization Admin page and select the project you would like to delete. Next, click the trash can icon.
You will then be presented with a confirmation dialog box. In order to request that your case be deleted, enter the reason for your case deletion and then click Request Deletion.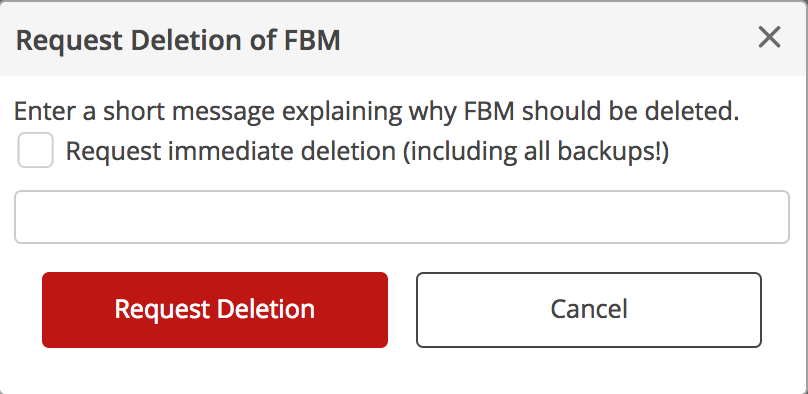 You will also see an option to "Request immediate deletion (including all backups!)." This option should only be selected if you need to immediately and completely expunge all data and backups from the platform. There is no way to get back any data that have been deleted via this option.
Deleting the main project will not automatically delete its associated projects. You will need to request deletion for all associated projects following the above steps.
Once you have submitted your deletion request, Everlaw will need to confirm the request. Once Everlaw has confirmed your request, you will receive a notification of the deletion confirmation and your project will be deleted from Everlaw.