You can access an on-platform, step-by-step guide to this feature by clicking "Walk Me Through" in the bottom right of your screen and choosing "Add New Users" under Case Settings.
Please note that Everlaw staff do not directly grant users access to projects for security reasons. If you are a user seeking to be added to a project, please contact a case administrator. 
Table of Contents
Adding Users
To add users, navigate to the "users" page under the "users and groups" category.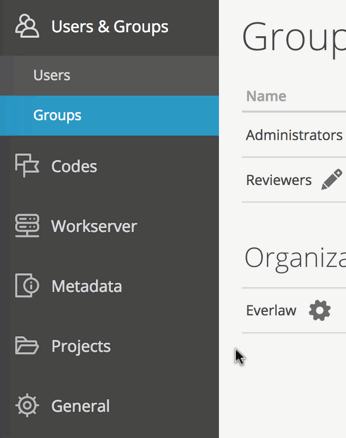 Click the "Add Users" button in the upper right. This will prompt a dialog that asks you to enter the emails of the users whom you wish to invite to Everlaw. (If your organization has single sign-on enabled, make sure that these emails correspond to those used for your organization's directory.) Enter one email per line. Then, select the user or users' group or groups. All user(s) listed will be added to the same group(s).
You can also add users by uploading a CSV containing their user information. If importing by CSV, you can specify different user groups per user. Click "Select file" and upload your CSV. You can download a template of a properly formatted CSV by clicking "Download CSV template."

Your uploaded CSV should have these four columns, separated by commas:

Email

User Groups (with multiple groups separated by semicolons)

First Name (optional)

Last Name (optional)
Once you have entered the users' email addresses or uploaded your CSV, enter the name of the admin who will be approving the invitations (you can put your own name if applicable). This helps to create an audit trail of who approved each user's invitation to the project. Then, click Add Users. If everything is properly formatted, you will be asked to confirm the users to be added.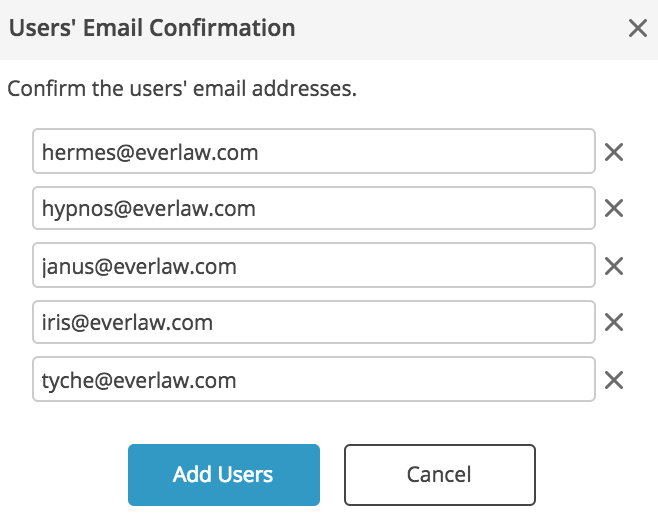 Confirmation dialog for multiple users added manually.

Confirmation dialog for users imported via CSV.
Finally, a dialog will show you which users were added to the project. If any users already existed on the project, they will be listed, as well.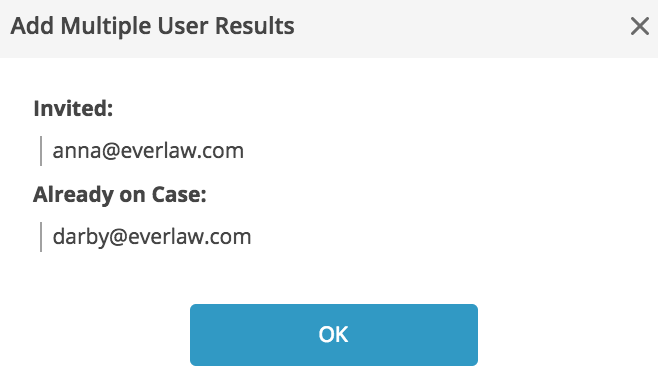 If the user already has an account with Everlaw, they will automatically be added to the project and sent an email notification. If the user does not have an account, you will see a new entry in the "Pending Invitations" table at the bottom of the page. An email will be sent to the new user with a link to set up their account. The invitation is valid for 30 days, and can be renewed if it expires. 

You may add as many users as you want at no additional cost. For more information on users permissions, please consult our larger article on Users and Groups.
User Table
The users table provides a list of all the users in the project, as well as the group(s) the user belongs to. To remove a user from the project, click the trash can icon next to their name. To alter a user's group, click the gear icon. Select the groups for that user, then hit the "Enter" key on your keyboard. To remove a user from a particular group, click the gear icon, then click the "x" associated with the group label for the user.
Users can be in multiple groups. In that case, their permission for any given category is determined by the most permissive permission level allowed among all the groups they are part of. For example, one group may be given permission to code documents and another does not; if a user is in both groups, they will be able to code documents in the project.

How do I remove users, without losing their data?
To remove a user, click the trashcan icon next to their name.  
You, or others on your team, may still need access to the deleted user's binders, outlines and other creations.  If you are an admin, you can preserve a user's data when removing the user from a project.  When you click the trashcan icon, a dialogue box will appear, which will allow you to preserve the data by sharing it with other users on the project.
Select the groups and/or users from the dropdown menu who you would like to share the data with.  Then, select the data you would like to share.  When you have completed your selections, click the blue button that says "Transfer & remove user."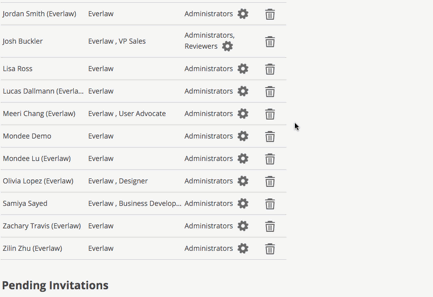 If you do not want to share and preserve any data, do not select any users or data to share.  Scroll to the bottom of the dialogue box and select the red button that says "Remove user only." A dialogue box will appear, asking you to confirm that you only want to remove the user without transferring any data.