The first page you see when you login to Everlaw is the homepage.
Here is a video introduction to the homepage:
The homepage is a user- and project-specific hub that keeps track of your activity in the project, and also displays anything that others on your team have shared with you. Most of the information shown on the homepage is private to the individual user. For example, running a new search will add an associated search card onto your homepage, but not to the homepage of others on the review team, unless you explicitly share the card. The homepage has many ways to interact with the documents in your project, as described below. If you would like to view all the documents in your project, the "View all documents" button is always available on the top right of the homepage. You can return to the homepage at anytime by clicking on the "home" icon in the navigation bar, or by clicking the Everlaw banner in the top left.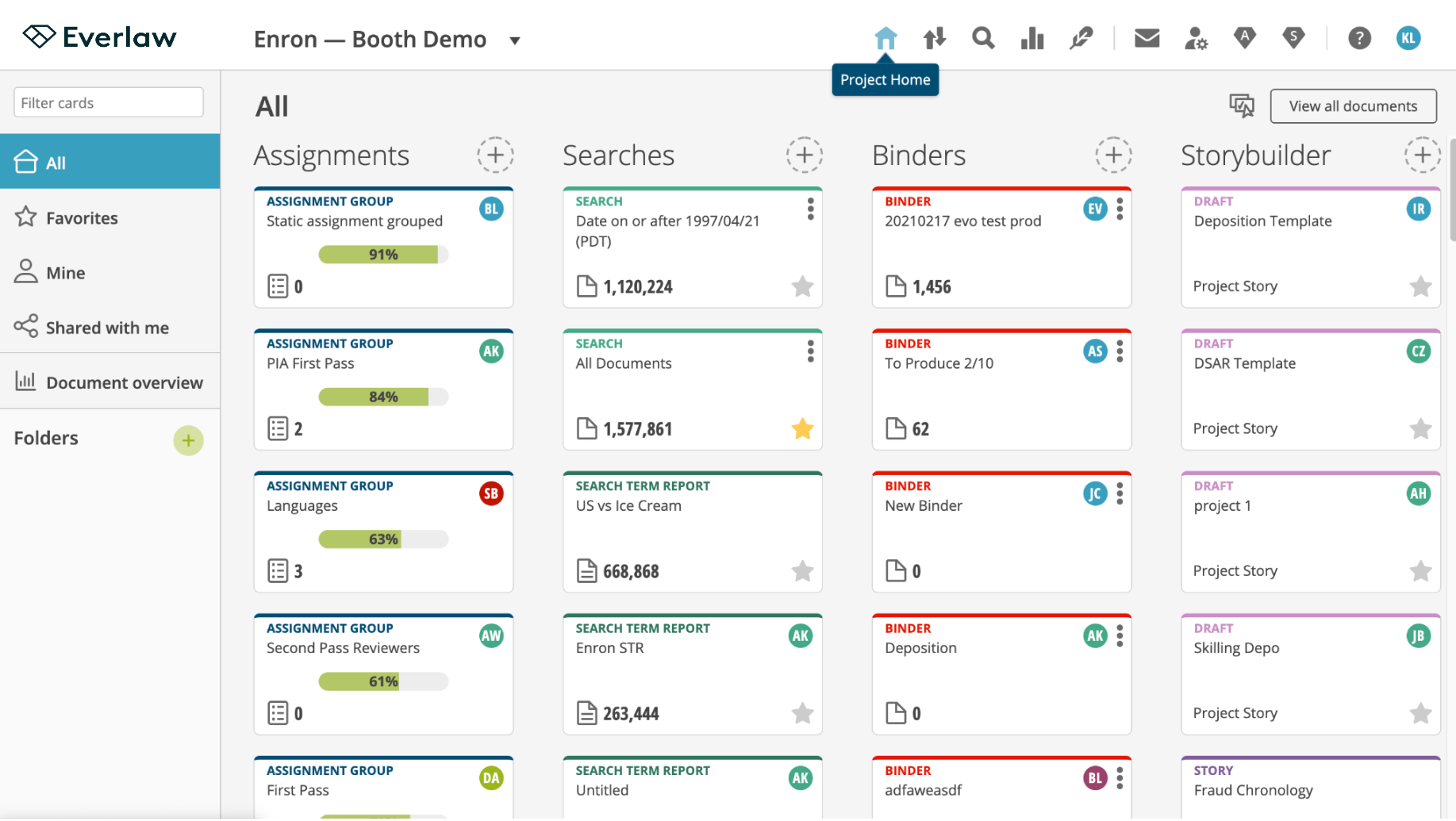 Cards
Information on the homepage is displayed via design elements called cards, and arranged into columns by category. Each card represents either an object (like a binder) or event (like an export task), and shows pertinent information and modification options, if available.
Cards are ordered from most recently accessed to least recently accessed, within each column. You can click on a card to access the card's content. If you click a card to open it, the card will move to the top of that column when you return to the homepage. To favorite a card, click the grey star icon in the bottom right of a card. The star will turn yellow, indicating that it is favorited. Favorited cards will be accessible from the "Favorites" tab on the left.
If you create an object, or have greater permissions on an object beyond view only, you will see a three-dot menu icon in the top right corner. To see what permissions you have on an object, you can click the card's three-dot menu icon and select "View/Edit Permissions." Since you receive full permissions on any search that is shared with you, you will not see this option for search cards. You can learn more about sharing objects in this article.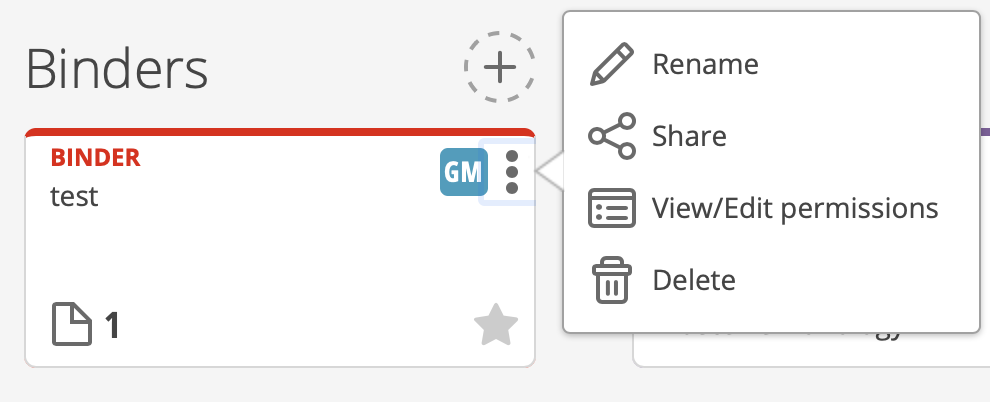 Clicking on the three-dot menu icon may also present other options, depending on the card type and your permissions on that card. Possible options are below:
Renaming objects: To rename an object, click on the pencil icon on the card, type the new name of the card, and press Enter on your keyboard.
Sharing objects: To share an object's card, click on the Share icon. You can learn more about sharing objects in this article.
Deleting objects: You can delete objects from the homepage or from within a homepage folder. Note that this will delete the object entirely throughout your project. To delete an object, click on the three-dot menu icon, and click Delete. If you do not see the delete option, it means you do not have permissions to delete it. You cannot delete events in the Batches & Exports column, nor can you delete Stories.
Once you click Delete, you can confirm your decision. If you have shared one of these cards, it will be deleted for others as well (with the exception of searches.)
When deleting a search, you are deleting it from your homepage and any folders the search is in (shared or personal), but you will not delete the search for other users whom you've shared it with.
To delete multiple search cards in a batch action, you can enter multiselect mode, select the searches you'd like to delete, click Delete Searches in the top right, and confirm removal.
There are three ways to enter multiselect mode:
Longpress a card

Press "x" on your keyboard

Click the multiselect icon in the top right of your homepage
Columns
Cards exist within columns, which exist in a static order on every homepage. In homepage folders, only columns with cards will appear.
Here is a list of homepage columns:
Assignments: Allocate documents or review batches of documents assigned to you

Only Project Administrators, or those with CREATE or ADMIN Assignments permissions, can allocate documents

Search: Create searches that identify documents across your entire project

Under the Search column, we will display your 50 most recent searches, favorited searches and searches in folders that are not included in your most recent searches, and Search Term Report cards.

Binders: Organize arbitrary sets of documents

Storybuilder: Create Drafts and Depositions

Document Sets: Access uploads and productions

Batches & Exports: Track and undo batch actions; track and download document exports
You can expand a column to take over your homepage view by clicking on the column header. That column will expand, and the others will collapse. Your cards will be rearranged in alphabetical order.
Filtering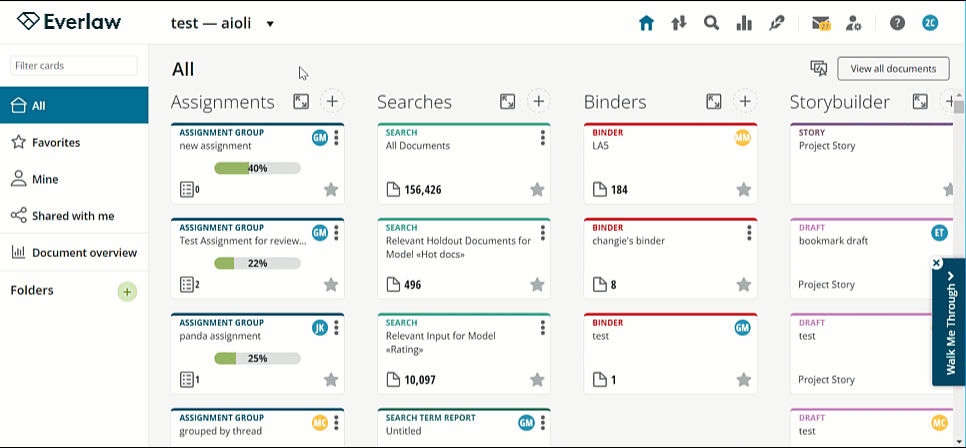 To filter your cards, search by keyword in the top left of the homepage. As you type, the cards will be automatically filtered.
To filter and sort homepage cards per column, click on the expand icon next to each column header. To return to the default homepage view, click on the collapse icon.
You can filter cards by card type and sort cards using the dropdown menu on the right. Sorting will remain applied in the expanded column view; you can collapse the column and re-expand it to see your previously applied sorts. Filters will reset upon collapse.

Additionally, the folders menu on the left-hand side allows you to view and organize your homepage according to your needs. Card sorting is applied across folders and views.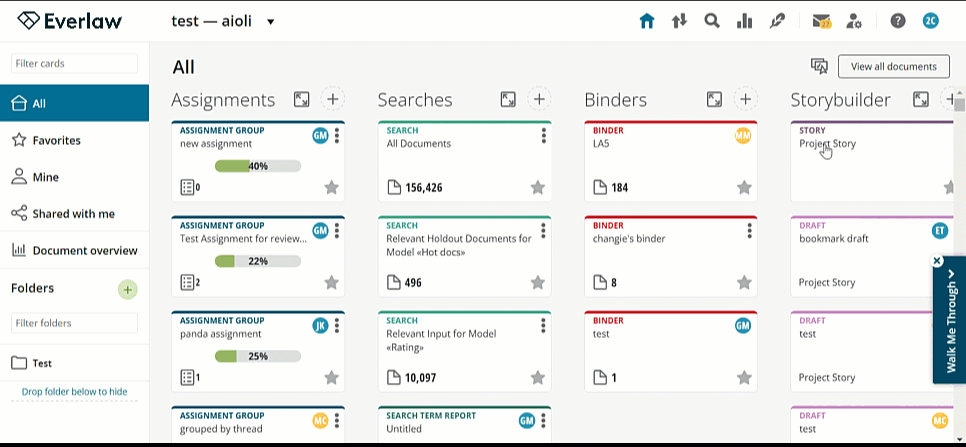 The homepage views and folders article provides a more in-depth overview of views and folders.
You can also use keyboard shortcuts to efficiently navigate the homepage. To access the full list of shortcuts, press the "?" (shift + /) key.
Document Overview
The document overview allows you to view your Data Visualizer dashboard from the homepage. Here, you can view pinned data visualizations of all the documents in your project. Clicking on any of the dashboard cards will take you to that specific visualization on the Data Visualizer page, where you can apply filters and further explore your data. You can also pin and unpin different data visualizations from the Data Visualizer page, and your selections will be reflected in the document overview.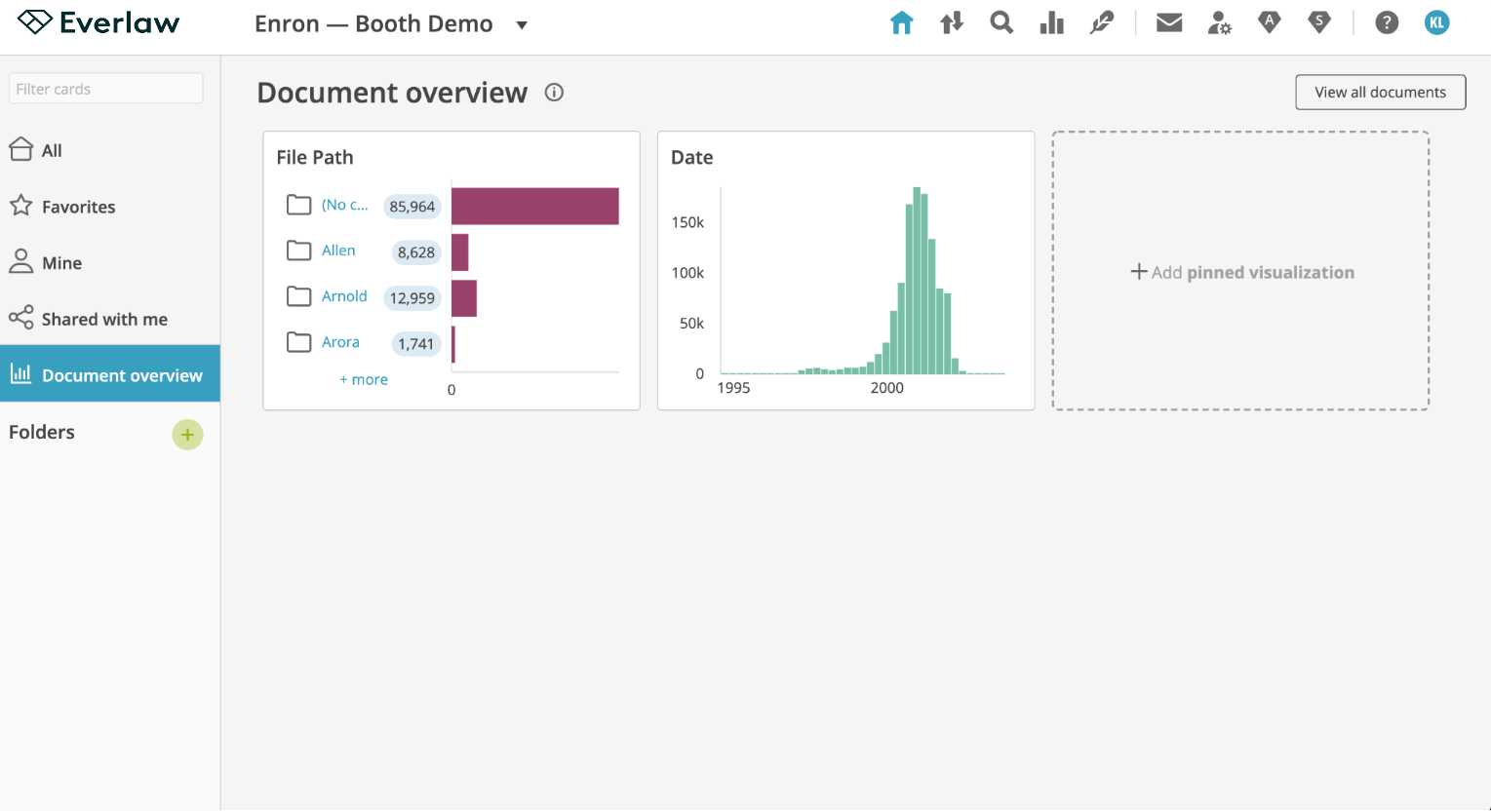 Project Administrators can set the document overview as the default homepage view for new users by toggling the Homepage view setting in Project Settings. You can learn more about setting homepage views in this article.