Data Visualizer provides an overview of the documents in your database by summarizing their characteristics visually. With Data Visualizer, you can explore documents at a glance without the need to review individual documents or predetermine a search. This is particularly useful in the context of early case assessment.
Data Visualizer is a flexible tool that can be applied to a variety of exploratory search use cases. You can visualize all of your project's documents by clicking the All Documents card on the homepage, followed by Visualize in the results table.
You could also search by a particular term, such as Custodian, then visualize various properties within that search. Or, you could visualize data based on ratings, codes, or predicted relevance values derived from a predictive coding model.
How to Access Data Visualizer
Data Visualizer is accessible to every user. You can begin visualizing data from the search page, or from the results table of any set of documents.
To access Data Visualizer from the search page, click "Open Data Visualizer."

In the results table toolbar, click the Visualize icon to enter Data Visualizer.

Finally, you can navigate to specific pages of data visualizer via the column sort of some results table properties. In the results table, click the caret icon of the column you'd like to view in data visualizer. Select Visualize. This will bring you to the corresponding section of data visualizer. Note that this option does not appear for all sorting dropdown menus. There are some columns that are not included in data visualizer (such as num pages, billable size, etc).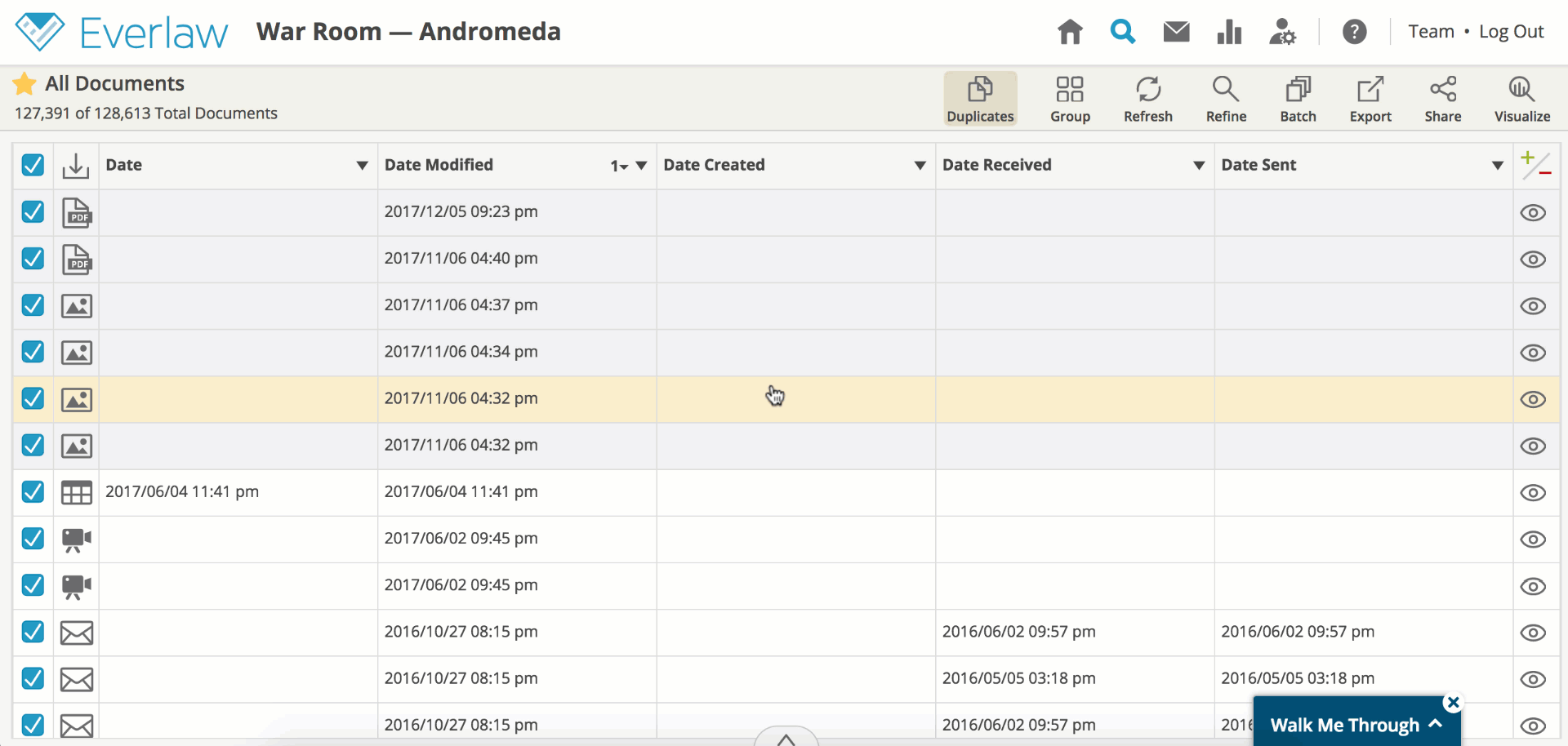 Applying Filters to Data Visualizer
In Data Visualizer, various document and review categories are displayed on the left side panel. You can filter by any of the following properties.
| | | | | |
| --- | --- | --- | --- | --- |
| Dates | People | Document | Review | Prediction |
| Date | Custodian | Bates Prefix | Rating | Rating |
| Date Created | Author | Doc Type | Codes | Any custom model you build  |
| Date Modified | From | Application | Binders |   |
| Date Accessed | To | Has Format |   |   |
| Date Sent | Cc | Subject |   |   |
| Date Received | Bcc | Title |   |   |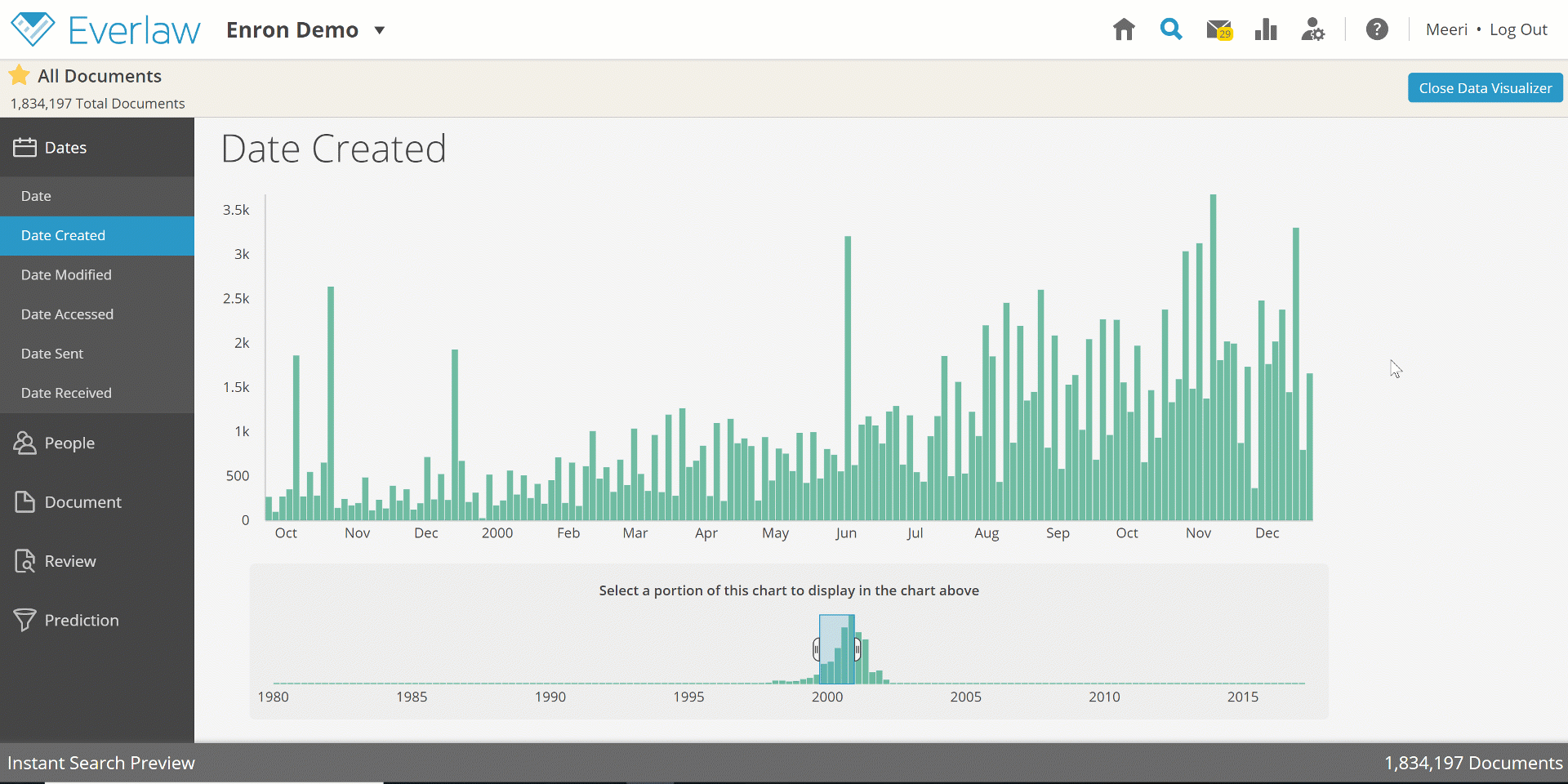 To use Data Visualizer, select a property within a certain category (like a date range, or particular custodian, for example). Then, apply the filter by clicking "Add Filters." After the filter is applied, all resulting graphs will adjust to display the filtered data. You can remove filters from the top of the screen once they are applied by clicking the red x. 
Filter by date and predicted relevance
The "Dates" section allows you to filter your documents by a date range. Your document's metadata will dictate which Date field you should use. In other words, although all date options are available in the panel, only certain fields may be captured in the metadata.
To use the date selection tool, zoom into a particular date range by using the chart at the bottom. To select a range to zoom into, click and drag. The range selected in the bottom chart will be reflected in the main chart. You can also move your selection by dragging it. You can resize your selection by clicking and dragging either end.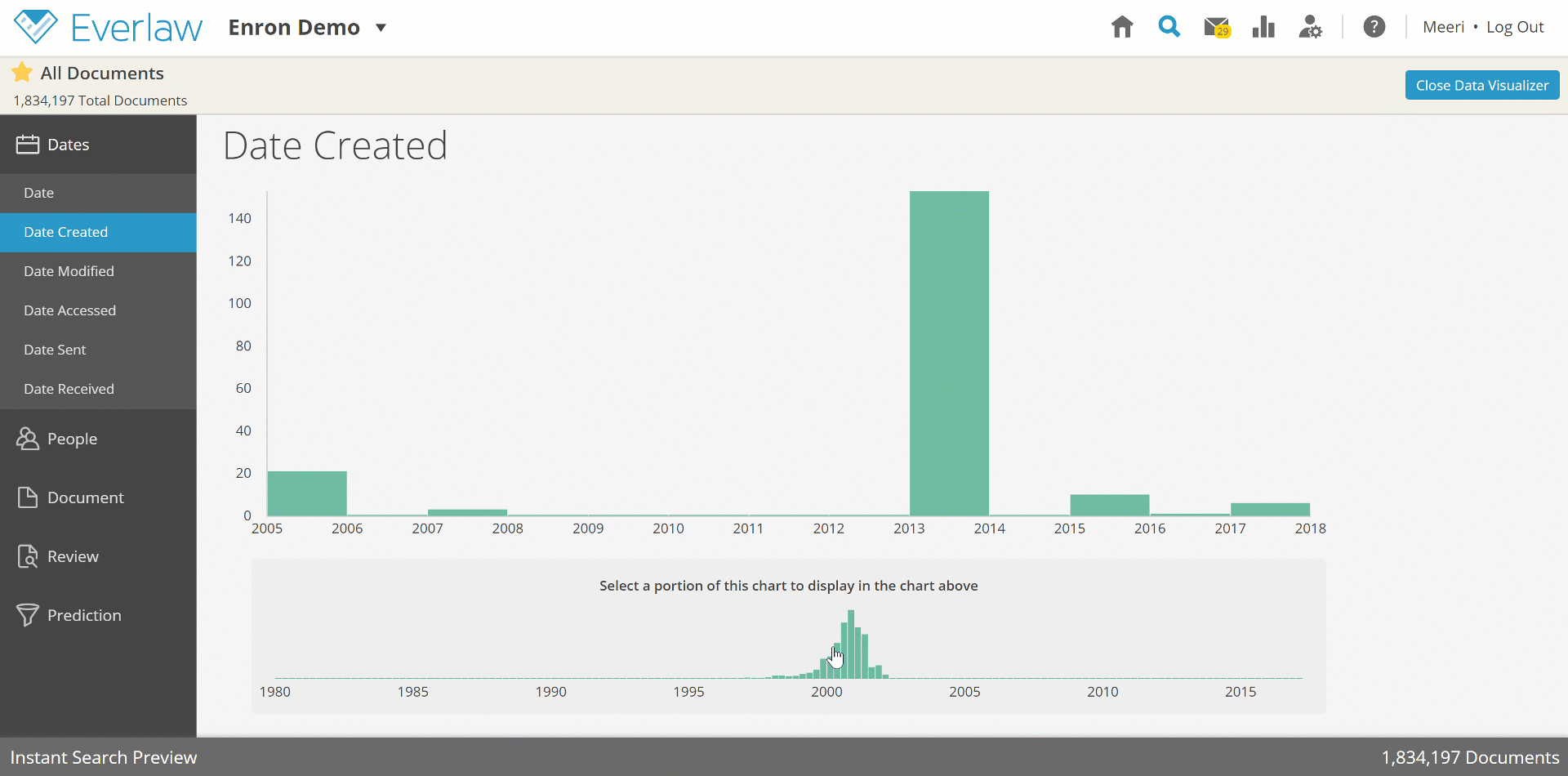 Then, you can select the filter you'd like to add by clicking and dragging a range in the top main chart. In the example above, dates between 2001-2002 were selected in the bottom chart. Then, between the years 2001-2002, the dates of February 2, 2017 - 6/21/2017 were selected to add as a filter.
To apply a date range filter to your search, click "add filter". If you do not add the filter and move away from the page, a dialog box will appear asking if you'd like to continue without the filters, or go back to apply them.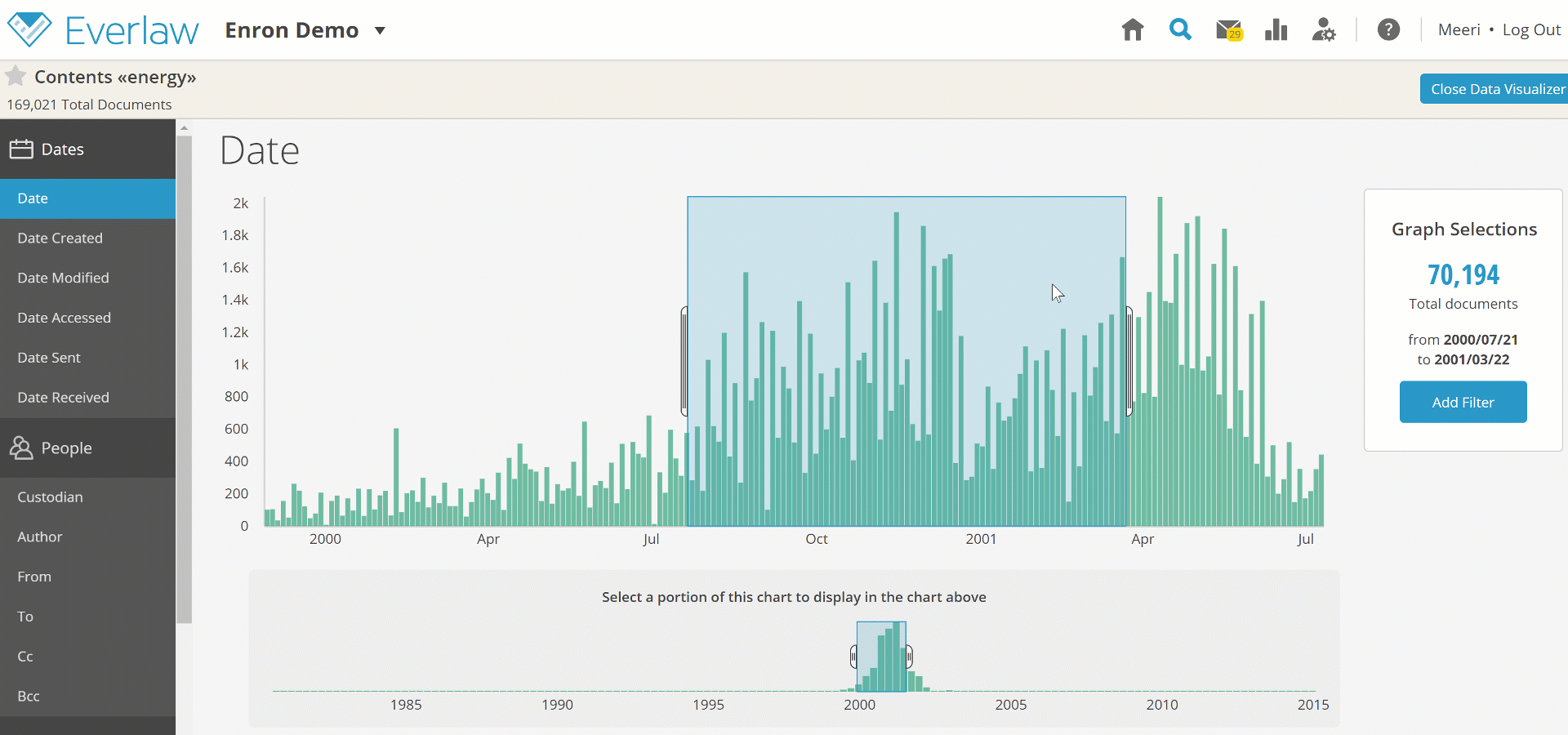 After you apply a filter, all resulting visualizations will be displayed with the filter(s) applied. For example, we can now view the breakdown of fields like subject line, author, and doc type within our given date range. You can start by filtering any category, not just date, and visualize all subsequent categories with that filter applied. Your applied filters will be shown at the top of the page and can be removed by clicking the red x.

Filter by non-numerical categories
The remaining categories (which is everything except date and prediction) are shown as horizontal bar charts. To select a property to apply as a filter, click the bar. The color will change to indicate selection. You can deselect by clicking again.
You can view more results by clicking the blue arrow at the bottom of the chart. Data Visualizer will display up to 60 of the most popular results for each respective property. If you are looking for a property that is not displayed, you should run a search with that term applied, then go to the Data Visualizer directly from the search page.
Each selected property will be displayed in the Graph Selections box. Again, you need to click "add filters" to apply them to your visualization.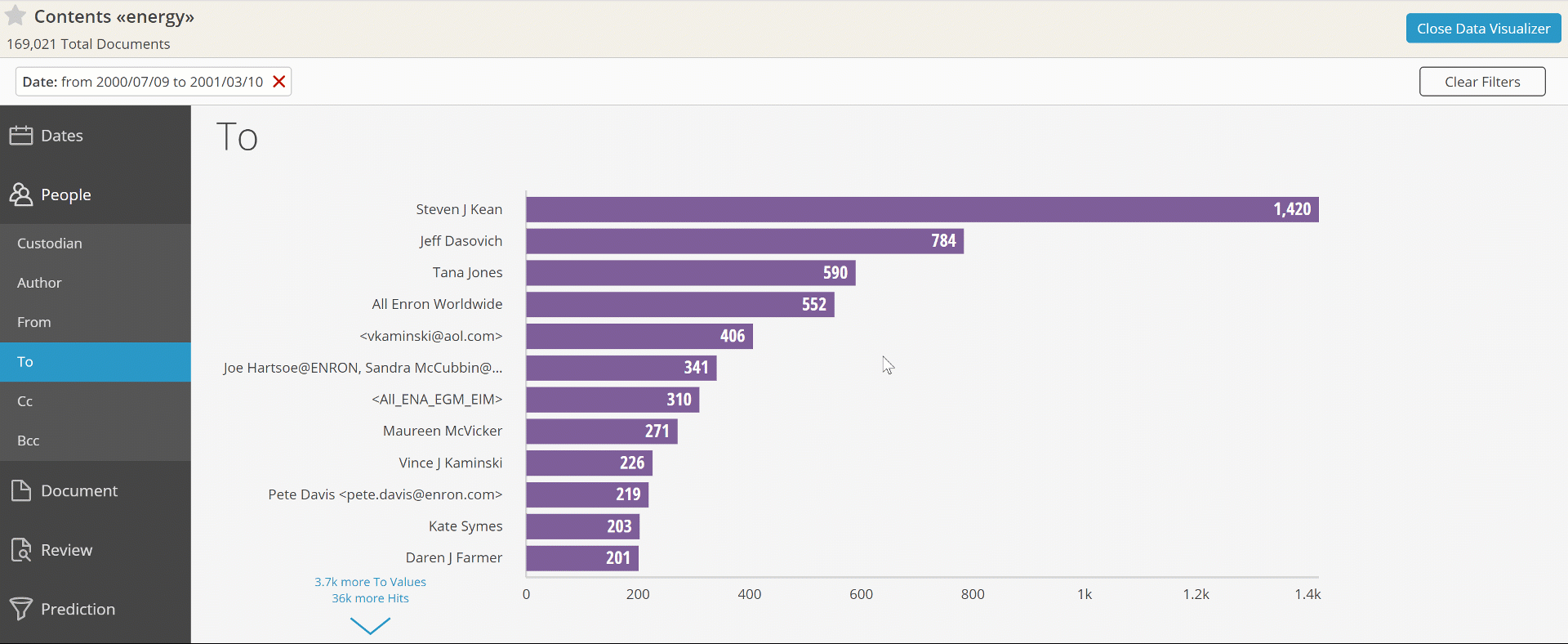 To save your visualization with filters applied, click "Close Data Visualizer" in the top-right of the page. A dialog box will appear. Click "add filters" to create a new search card on the homepage with your Data Visualizer filters applied.  
If you click "discard filters," all filters will be removed and cannot be recovered from the homepage.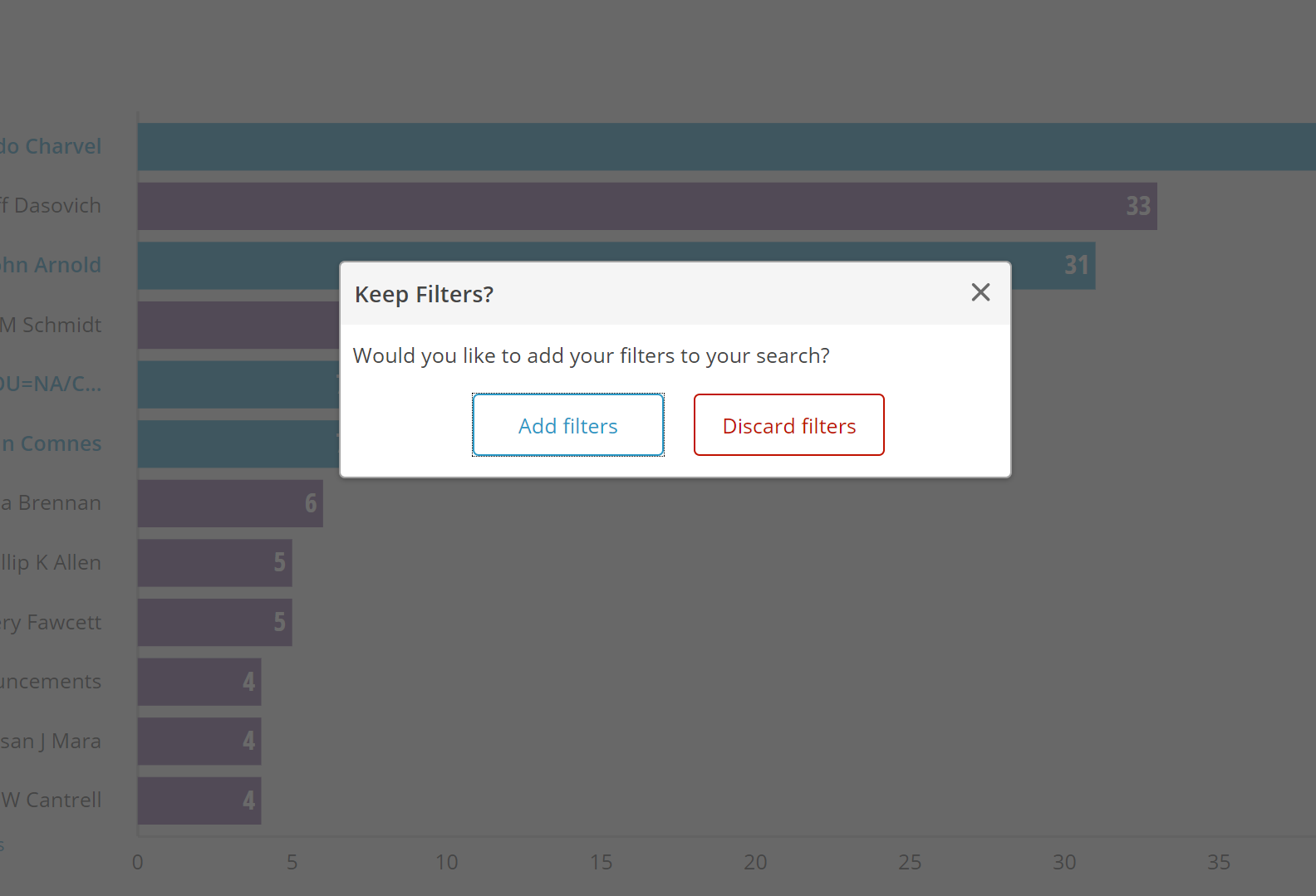 To visualize documents directly from the search page, click Open Data Visualizer. Your search will be applied to the visualizer.
A note on filtering grouped/sampled searches
You cannot apply any filters to searches with any the following applied: sampling, flattened groups, removed children.  
Accessing and Editing Data Visualizer Results
Data visualizations are saved as searches under the "Searches" header of the homepage. You can share a result of a data visualization in the same way that you would a search. For more information on sharing cards from the homepage, please read this article. 
There are a few ways to return to a visualization and add more filters.
1) After creating a visualization, select "refine" to return to the search page. Your filters from the Data Visualizer are now applied as search terms. You can add other search terms, and save new searches as you normally would by clicking "Begin Review". Note that when clicking Begin Review after refining your visualization, the resulting search terms are saved and cannot be edited when you go back into data visualizer.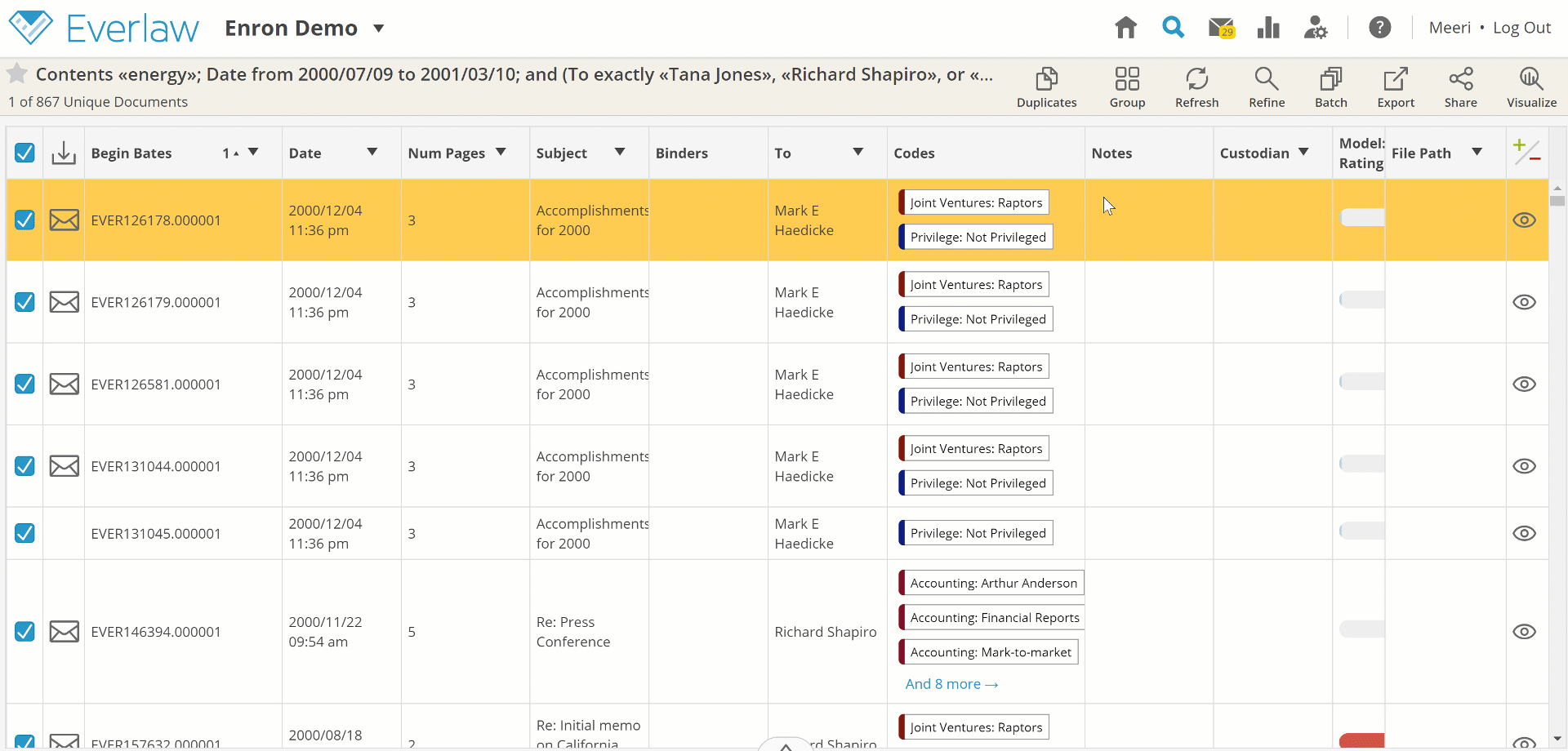 2) Applying filters will take you to the results table, where you can return back to Data Visualizer by clicking Visualize again. By doing so, your most recently applied filters can be added or removed at the top of the page. This means that if you close Data Visualizer and discard filters, all filters (including the ones you most recently applied in the last session) will be removed.
3) If you'd like to be able to save your previously applied filters so that they cannot be discarded, and thus avoid the situation above, you should access your visualization directly from the homepage. After applying filters, go back to the homepage. Click on the respective search card generated from your visualization, then click visualize in the results table. You'll notice that instead of editable filters, your previous filters are displayed as part of the search criteria.