Introduction to Storybuilder
What is Storybuilder? What is a Story?
Storybuilder, Everlaw's narrative building toolkit, allows review teams to seamlessly move between their review and post-review workflows. All Storybuilder capabilities and tools can be used via a single object called a Story. Within a Story, relevant documents and testimony from deposition transcripts can be labeled by people, critical events, or other relevant issues related to the case via a Timeline view. Each project that you start on Everlaw will have a Project Story by default. If you have access to a Story you will see it on your homepage. Learn how to add documents to your Story.

You can also prepare for a deposition or presentation by creating a Deposition in Everlaw, or a Draft that lives as a separate collaborative tool for written work product. Depositions include a collaborative text editor that can be used to prepare briefs and witness prep binders so that your case team and/or witness feels prepared to enter a deposition. In a Deposition object, you can reference previous testimony and exhibits (or potential exhibits). You can also curate an exhibit list, chat colleagues during the deposition, and create tasks. Afterward, you can write a summary and review the transcript of the deposition, which will automatically link transcript text to marked exhibits. You can highlight and label important text in your transcript, preserving particularly important snippets as key testimony which can be referenced in other Depositions or Drafts in the Story.
Accessing Storybuilder
All Project Administrators can view, edit, and share all Stories in the project, as well as Depositions and Drafts. Project Administrators can also give Storybuilder access to specific groups in the Permissions page. Here is an overview of project level permissions for accessing Storybuilder:
Receive: Users in this group can receive Stories and any associated Drafts and Depositions explicitly shared with them by others. When a Story/Deposition/Draft is shared with a user in this group, the user can be given View, Edit, or Full access permissions on the object. Users in this group that also have at least View permissions on a Story, will automatically be able to see transcripts associated with Depositions in that Story without being given explicit permissions. Learn more about

"Transcript Only" Deposition Permissions

.
Create: Users in this group with access to at least one Story will be able to create Depositions and Drafts within that Story as well as edit/share/delete the Depositions and Drafts they have created. Permission levels on Everlaw are additive, so groups with the Create permission are able to to receive Storybuilder objects shared by others.
Admin: This is the highest permission a group can have on Storybuilder. Users in a group with Admin permissions on Storybuilder are able to view, edit, and share all Stories in the project. Users in this group can also administer (view/edit/share/delete) all Depositions and Drafts in the project, regardless of whether the object was shared with them or not.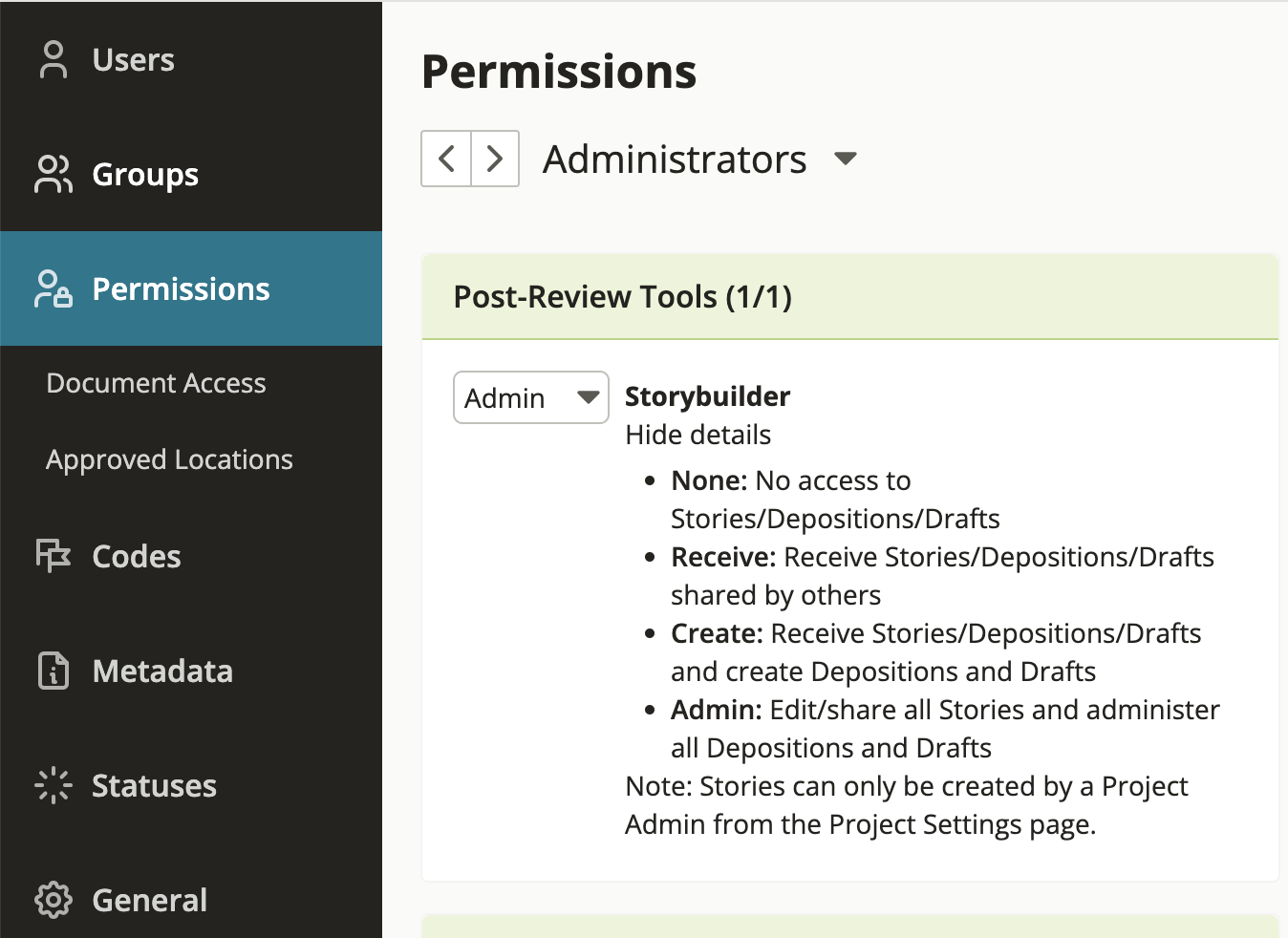 If you have Share permissions on a Story, you can share it with others by clicking the three-dot menu icon. Note: Stories can only be created or hidden by a Project Administrator from the Project Settings page. Learn how to create and hide Stories.
When opening your Project Story, you will see the Story's dashboard. Alongside the dashboard are tabs for the Timeline view, as well as the Depositions and Drafts that live within your story. To rename your Project Story, click the title in the top left, rename, and press Enter on your keyboard. You can favorite your Story by clicking the star icon, which will add your Story to Favorites on your Everlaw homepage.
Story Dashboard
In the dashboard, you can view a count of documents and testimony added to your Story listed under "Evidence in Story." You can adjust the time span by what matters most to you.
If your documents have a Story date then they will be represented in the date visualization in the center of the dashboard. Click and drag within the date visualizer to select a series of documents with that date range. If you click the blue View button, you will be taken to the Timeline view, filtered by the selected date range.
You can also view how many potentially relevant documents were reviewed in a certain time period. By default, the dashboard suggests documents Rated in the past week, but you can customize the suggested additions criteria to suit the needs of your case.
If you have Edit permissions on the Story, you can click the pencil icon to choose which review criteria to display, and for what time span. To choose a different suggested additions criteria other than "rated hot," click the X to remove the Hot rating. Select which code or rating you'd like to use as your "relevant document criteria" then click Save.
To change the time span, click one of the available radio buttons, then click Save. You can remove the time parameter entirely by unchecking the box that says "Only review documents in the last…"
You can also view upcoming depositions, which are determined by dates set by a user within a Deposition. Prior depositions, or depositions without a date, will not be displayed.
The Tasks section of the dashboard aggregates all tasks across Depositions that are assigned to you or created by you. If you are a project or organization administrator, you can view, edit, and complete all tasks across all depositions. Your permissions on individual tasks are reflective of your permissions on the associated Deposition. For example, if you have View permissions on a Deposition, you won't be able to edit the due date for tasks associated with that Deposition. However, you can edit the due date for tasks associated with a Deposition you have Edit permissions on.
You can learn more about task permissions here.
In the top right, you can view which Depositions have unread chat messages. If there are unread chat messages, the icon will have a yellow badge. You can click it to reveal the list of Depositions. Clicking a Deposition will take you to it. If the badge is disabled, that means you either have no access to Depositions, or there are no unread messages.
At the bottom of the dashboard, you can click on recently accessed Depositions and Drafts within your Story. The Recently Accessed section updates anytime you access an object (not anyone else on the Story) and will be updated on page refresh.
Your Story is also the central location to navigate to all other Storybuilder views and objects, which can be done by clicking headers in the top menu.
To view the Timeline of that Story, click the Timeline tab. To learn more about the Timeline view, visit this help article.
To access your Depositions, create one, or search across all transcript content, click the Depositions tab in the header of your Story.
You can filter cards by card owner (if the owner is not you). To filter by your cards, use the filter "Owned by Me" next to the text filter.
You can also search transcript content on this page, which will search across any transcript text that you have uploaded to a Deposition object. Transcript content search supports all advanced searching capabilities, which you can learn more about in this article. You can also click the "i" icon to view a help menu of common search syntaxes.
Labels
Labels are a critical component of post-review document management and deposition preparation. They enable you to organize your information in the Timeline by issues, people, events, and whatever categories you deem important. They can be applied to any document or testimony in your Story, as well as any highlights in your transcripts. Labels are entirely separate from codes and ratings applied to the documents during review.
Every label must belong to a category, some of which are included by default in the Timeline view. There are five default categories: Events, Issues, People, Depositions, and Drafts.
If you have Edit permissions on the Story, you can create and apply labels to documents in the Story from the Timeline and from the review window. You can also apply Story labels directly from document panels in Depositions and Drafts. Learn more about creating and using Story labels.

Choose which document version to display in your Story (prefix priority list)
If you have multiple produced versions of a single document on the platform, you can choose which version of the document to display throughout your Story and its associated objects. This might be relevant if you prefer viewing all documents in your story by a specific Bates prefix. It also ensures you never have two or more of the same document version within your Story; only one will ever be displayed.
Please note that Storybuilder version priorities will only connect documents produced on Everlaw, regardless of how you have configured versions under the Metadata tab in Project Settings.
To begin, go to the Timeline and within Settings, select Version Settings.
Choose your order of preference for prefix display from the filter bar at the bottom and use the arrows, or drag and drop the prefixes. The prefixes higher on the list will be prioritized. When you are finished prioritizing your prefixes, click Submit.
Now, for all documents referenced throughout your Story (including in the Timeline, Depositions, and Drafts), the version with the highest prioritized prefix will be displayed.
To use a concrete example, let's imagine that document A has three different versions on the platform: #1.1, ABC123, and DEF123. Document B has three different versions on the platform, as well, but one of them is from a production that Document A was not a part of. The three versions of Document B on the platform are: #2.1, ABC456, and GHI456.
Let's also imagine that the prefix priority list looks like this:

Based on this prefix priority list, any reference to Document A will display the DEF123 version in this Story. Document B does not have a DEF version on the platform, but it does have an ABC version, which is the next prefix on the prefix priority list. Therefore, any reference to Document B will display its ABC456 version. Any documents with neither DEF nor ABC versions on the platform will display the control numbered version of the document. Note that Storybuilder version priorities will only connect documents produced on Everlaw, regardless of what project settings are set to show as versions in the review window.
Click "How it works" on the prefix priority list to see a visual depiction of this tool.
How to create additional Stories and hide Stories
Storybuilder is designed to have one Story per project. However, it is possible, though not recommended, to have multiple Stories in your project. To add a new Story, you must be a Project Administrator. Go to the General section of the Project Settings page, then select Stories. Click the "New Story" button and enter the Story name. Note that all associated Depositions and Drafts in that Story will also be hidden from all users in their next browser refresh.
You can learn more about creating and managing multiple Stories in the General Settings article in Project settings.