Documents, binders, searches, folders, assignments, review window layouts, results table views, Predictive coding models, Stories, Drafts, and Depositions can all be shared in Everlaw. All sent and received objects will generate a message in the message center for you and the recipients. All objects shared with you can be accessed from the "Shared with me" folder or the shared folder on your homepage.
Table of Contents
Accessing the Share Dialog
Objects like searches, binders, Drafts, etc. are represented via elements called "cards" on your homepage. Cards can be shared via the three-dot menu icon. Click on the icon, and select "share" to open a message dialog with the card attached. If you do not have access to the three-dot menu icon or the share option, it is because you do not have proper permissions to modify or share the object.
You can also share any object you are looking at if you see the "Share" icon in the toolbar or the "Share" button on the screen.

To share an object, click the "Share" button on the left. To see who an object has been shared with or to edit their permissions, click the permissions icon on the right.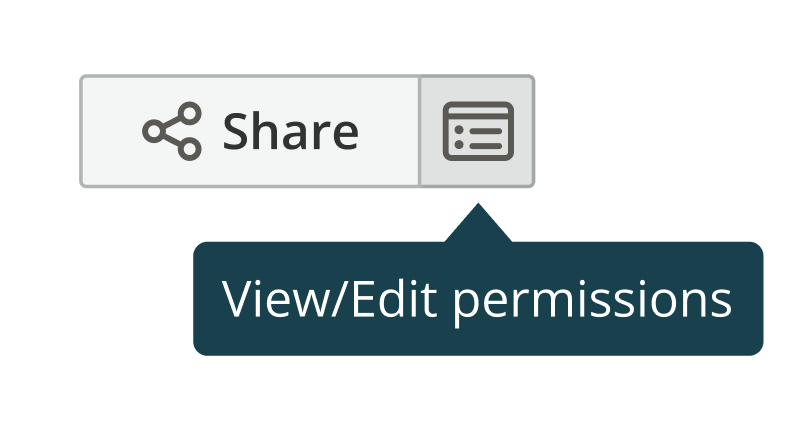 Sharing Options
Once you select "share", a message creation dialog with several options will appear.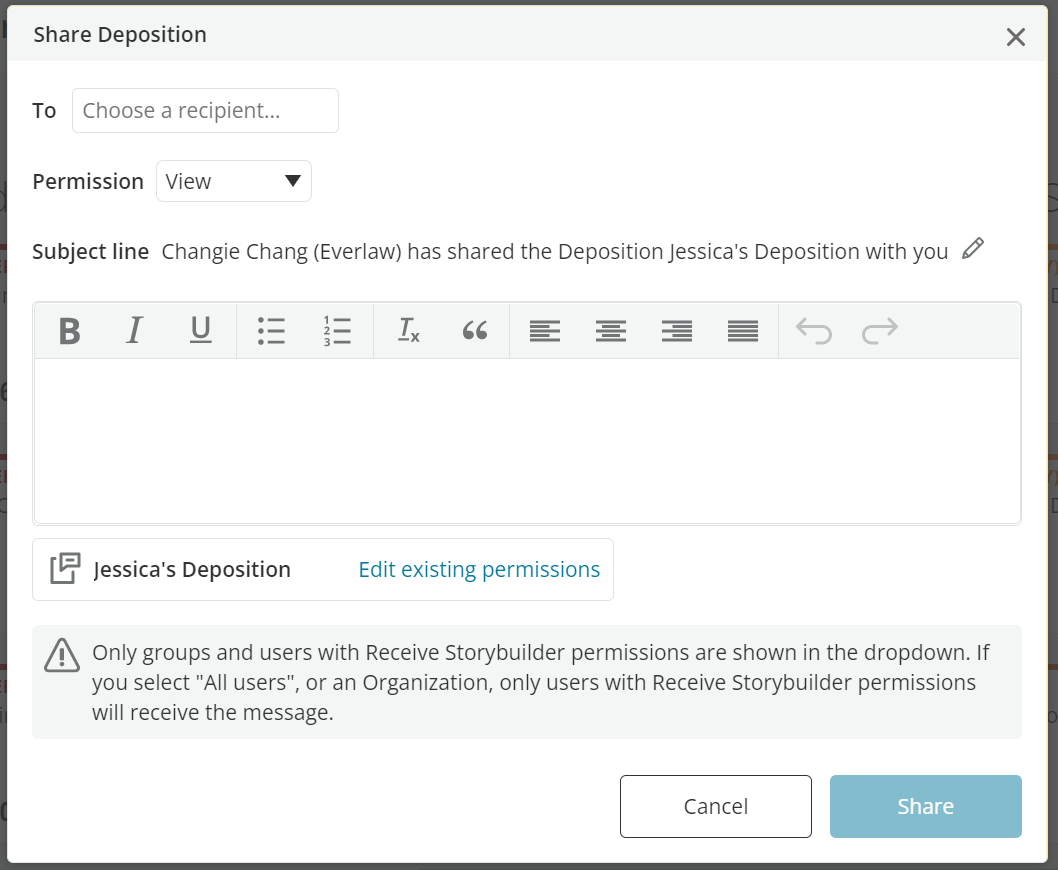 To
Here, you can select who will receive the object. Only users with permissions to receive the object you are sharing will appear in the drop down list. By default, users have receive permissions on searches, binders, and folders. Note that users with restricted document permissions will only see the documents that they have permissions to view. All other documents will be unavailable to view, even if they have been shared in a search, binder, or folder. You can configure document access permissions in Project Settings. For objects and cards, you can share with individual users, groups, organizations, or all users. Sharing with specific users gives those users access to the object.
Subject line
When sharing an object, Everlaw will create a subject line for your message that includes your name and the name of the object. Click the pencil icon next to the subject line to write a custom title.
Body
In addition, you can add an optional message to provide your recipients with more information.
Permissions
Depending on what you are sharing, you can also grant different levels of permission to the recipients. For example, if you are sharing a binder, you can choose to let your recipients only view the documents in the binder, add and/or remove documents from the binder with the Edit permission, or have "Full Access" permissions.
Sharing an object other than a search with a group, organization, or all users will give all members of those entities access to the object, even if they are added to the group, organization, or project in the future.
If you are sharing a folder, you will be able to specify your recipients' permission levels on both the folder itself as well as the objects it contains. To be able to share a folder, you must have creator or "Full access" to all folder contents. You will not be able to share folders that contain objects that you only have View and/or Edit permissions on.
To learn more about overall permission categories that a user may or may not have access to, read this article on user groups and project permissions.
Share selected documents
If you are sharing from the results table with individual documents selected or with a subset of documents selected, you will have the option to share just the selected documents or share the entire search result.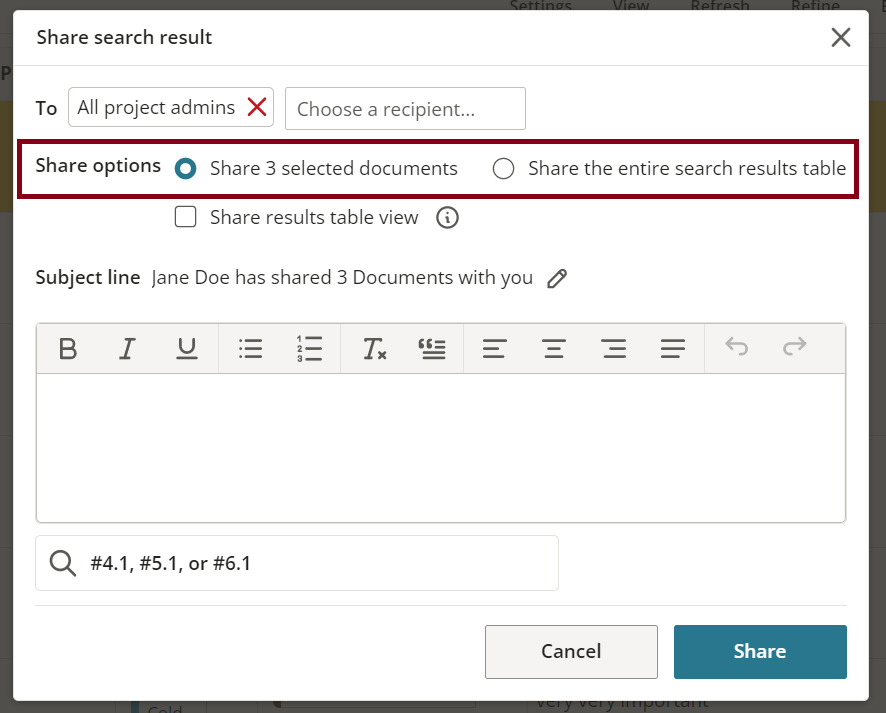 Sharing Searches
Most cards associated with the object you are sharing will also be added to your recipient's homepage(s), with the exception of searches. Searches will not show up on the recipient's homepage(s) by default. You must access the message in the project messages center, click the search card, and return to your homepage to see it displayed at the top of the Searches column.
When you share a search, you may grant the receiving party View permissions on all the objects contained in the search automatically by sharing the search. For example, if your search references a binder you created that the person you're sharing the search with doesn't have access to, the act of sharing the search can make the binder visible to them. Please note that just as in any case where you are granting View permission on an object, sharing objects through searches requires you to have "Full access" on the object and the receiving user must be allowed to view them.
You will not be able to share objects referenced in a search with some users and groups. These users will be absent from the recipient drop down list. This happens when the users or groups you are trying to share the search with would see different results than you would, for example because they don't have permissions to receive the type of object as mentioned above. One exception is when you are sharing a search based on all instances of an object, for example "all binders", the search will be allowed and simply return the set of objects the user can view without granting any new permissions.
When sharing a search, you may also share the view associated with that search. To learn more about views, please read this article.
Permission Management
By Object
If you have "Full access" permissions on an object, you can modify or revoke existing permissions from the three-dot icon. Just click the "View/Edit existing permissions" option in the menu that appears.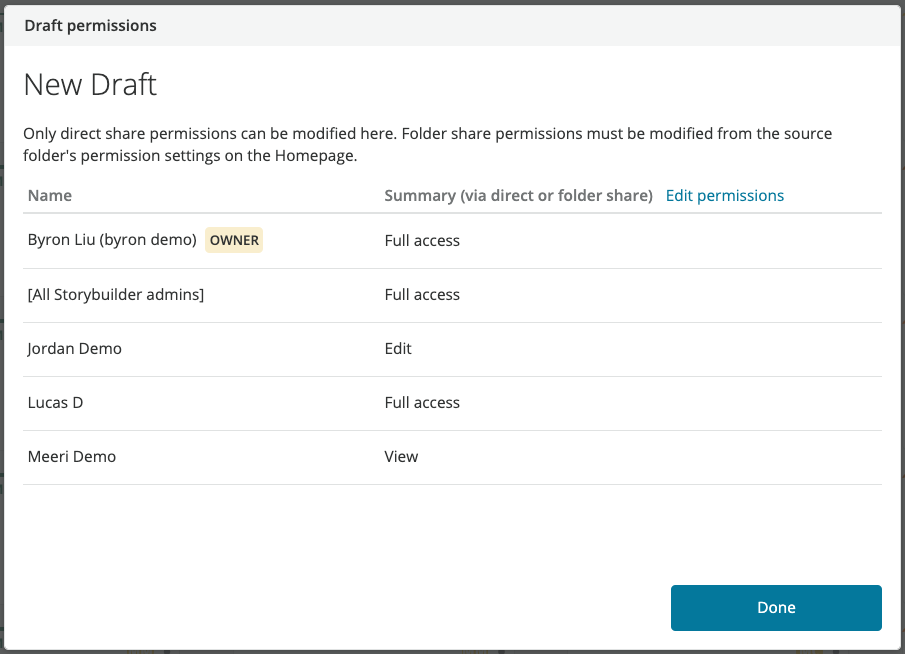 By users and groups (project administrators only)
Project administrators can view, edit, and remove permissions by individual user and group. Under Project Settings you can navigate to the Users tab and click the permissions icon next to any user to see their individual access. Then navigate to the Object Permissions tab.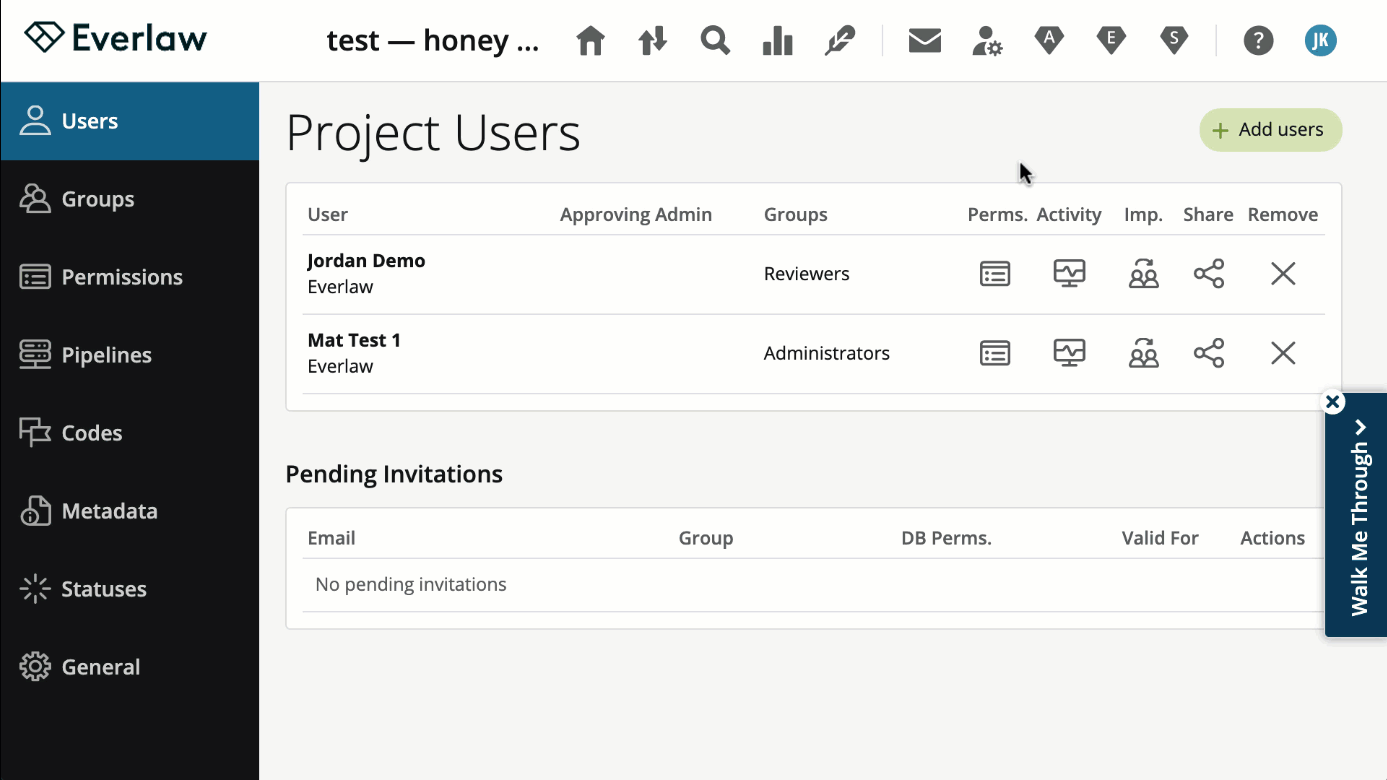 You can also find this information in the Groups tab via the three-dot menu icon of each permissions group to open "Object permissions."
Once in the "Object permissions" window you can see all objects that a user group has explicit permissions access to. You will not see any objects that an entity has access to through folders or admin access to objects. You can change permission levels by expanding the dropdown and you can remove permissions by clicking the trash can icon. Keep in mind that access to Drafts require access to the parent Story so you must remove access to the Draft before you can remove the Story.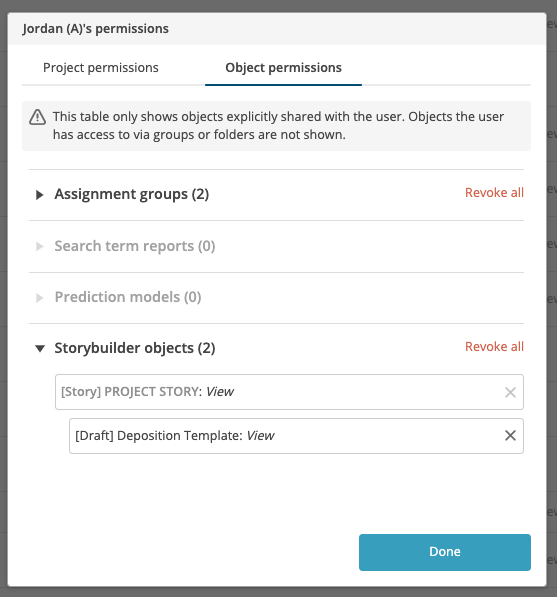 Admin Default Access to Objects
Below is a table of admin default permissions on objects. Note: Organization admins can access all project binders and folders by default in databases where OA Access is enabled, even if the owner has not shared the object. Organization admins and project admins have admin permissions by default on Storybuilder objects.
| | | | |
| --- | --- | --- | --- |
| Object | Organization Admin | Database Admin | Project Admin |
| Binders | Full Access (View, Edit, Share and Delete) | None | None |
| Folders | Partial Access (View, Share, and Delete) | None | None |
| Searches | None | None | None |
| Stories, Drafts, and Depositions | Admin | None | Admin |