Table of Contents
Accessing the results table
The results table can be accessed from any search you have conducted. After building a search, click "Begin Review" to access the full results table view. The table itself is the same as the one in the Instant Search Preview, except that it now shows the full set of results as opposed to a sampling of the search results.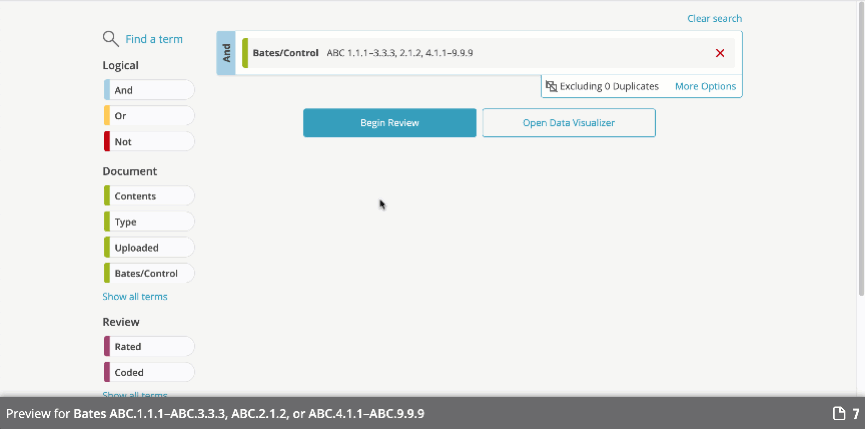 To access the results table of a previous search, select the green Search card from the homepage. Any set of documents that you open from the homepage will also take you to the results table.

Navigating the results table
The results table provides information about all the documents in your search. You can customize your results table to display information relevant to you. The results table toolbar allows you to group, manage views, refresh, refine, export, share, and visualize your search results. You can also apply coding actions to multiple documents, as well as assigning, deleting, or reprocessing them, depending on your permission levels.

You can use keyboard shortcuts to efficiently navigate through the results table. To access a full list, press the "?" (shift + /) key.
Name
The name of your search is listed in the top left-hand corner. You can rename your search by clicking the name. Type in a new name, and hit "enter" on your keyboard to automatically save it. You can also favorite the search by clicking the star icon next to the search's name.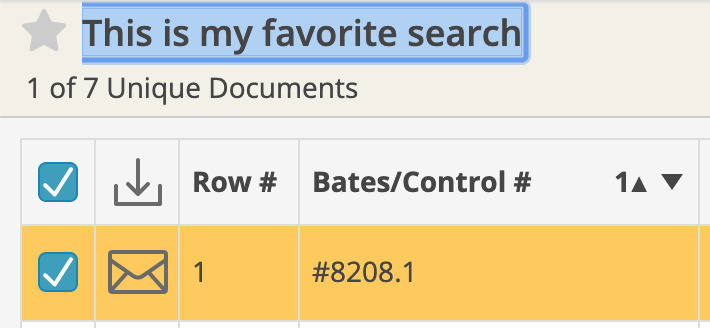 Table
Each row in the results table represents a separate document.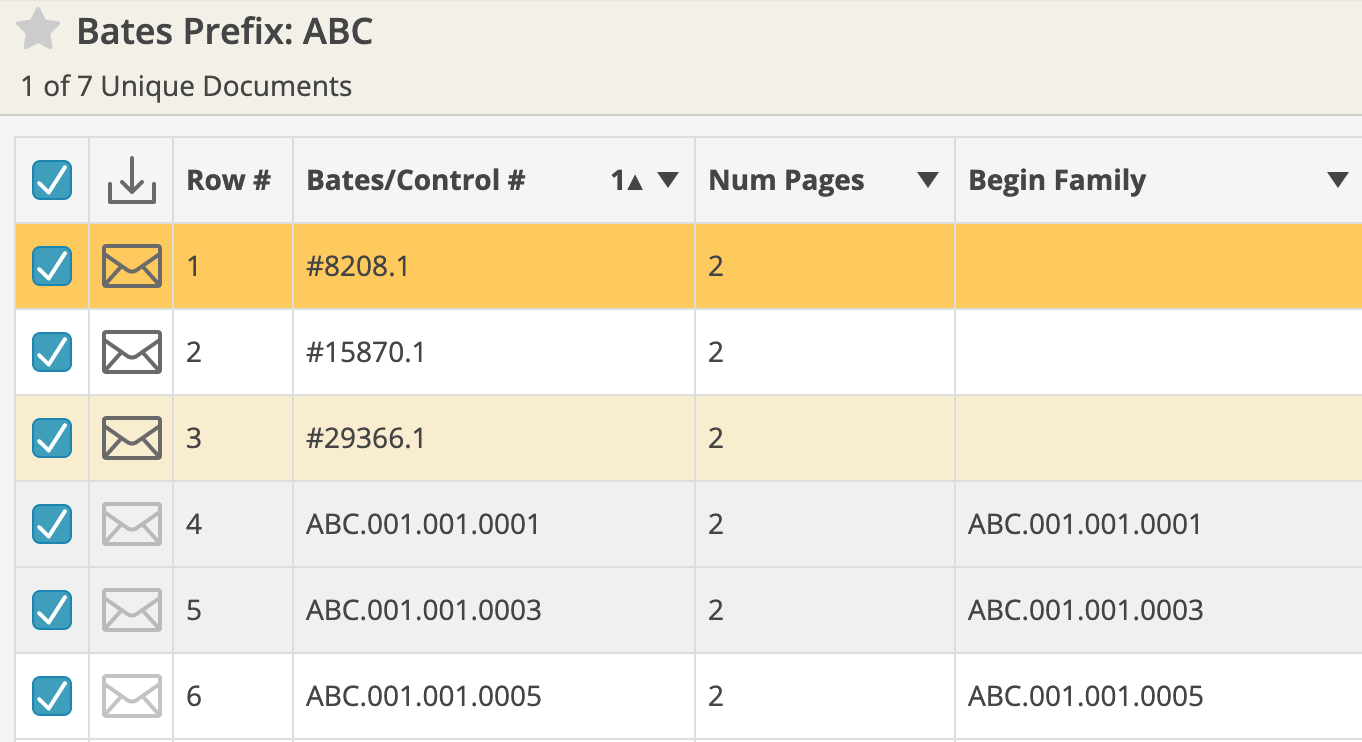 The background color of the row provides information about a document's status.
Grey: Document has been viewed

White: Document has

not

been viewed

Yellow: First row of the table if table is new, or most recently viewed document if table is not new

Light Yellow: You are hovering your mouse over that document
To download the native version of a document, click the file type icon on the left side of the page. If the icon is grey, there is no native file type for that document. There is a unique icon for each file type. Some common file types are below: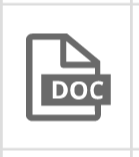 Document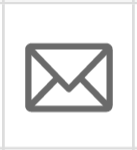 Email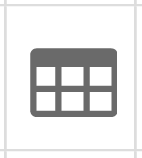 Spreadsheet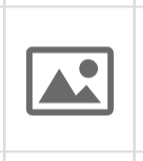 Image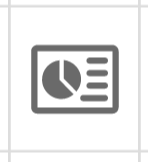 Presentation
Organizing the results table view
By default, your results will open in the last view you have used. If you have not visited the results table before, your view will open in the project default view.
Adding and removing columns
To add other fields to your results table, click on the View icon in the Results Table toolbar and choose Add or remove columns.
A window will pop up that allows you to select your desired columns. You can either scroll through the list, or type in a field name at the top to select a column type. Selected columns will be highlighted in yellow. You can also deselect a column by clicking its highlighted name.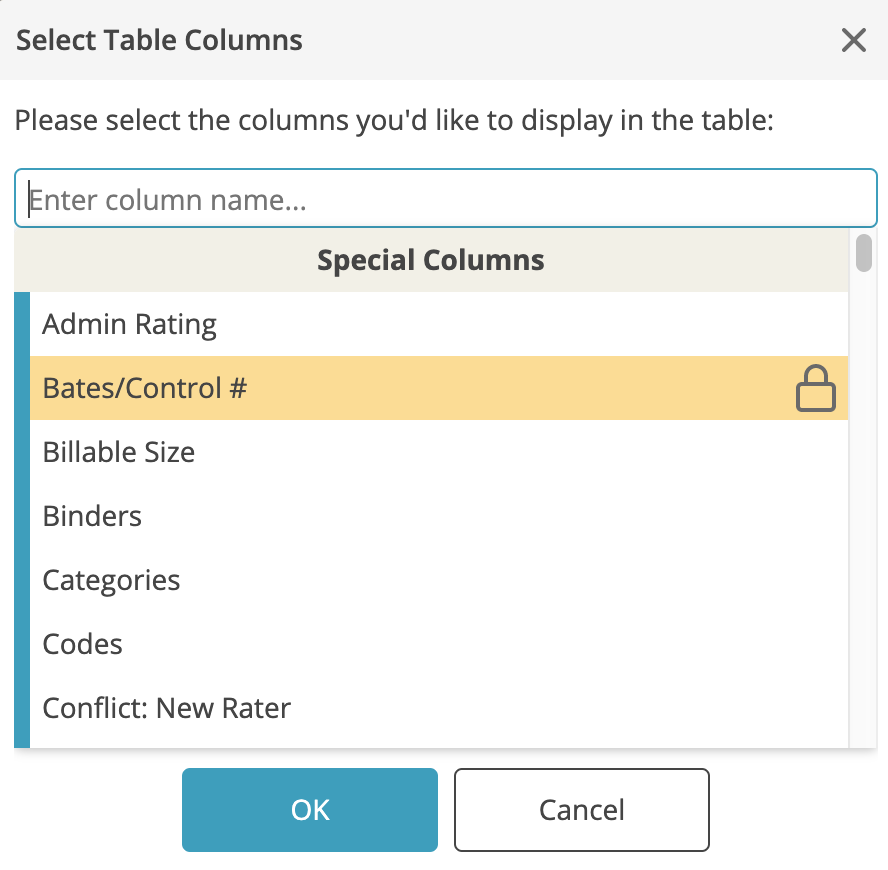 Please see this article for a list of columns that you can add and view in the results table.
There is no limit to the maximum number of columns you can add. Click OK to update your column view and to return to the results table.
Ordering columns
You can configure the results table so that your document information is organized to your preference.
To move a column:
Select and hold a column header

Drag and drop it to its new spot
Table preferences are specific to this results table view. You can set up your columns exactly as you like without affecting other views on your project or on others' projects.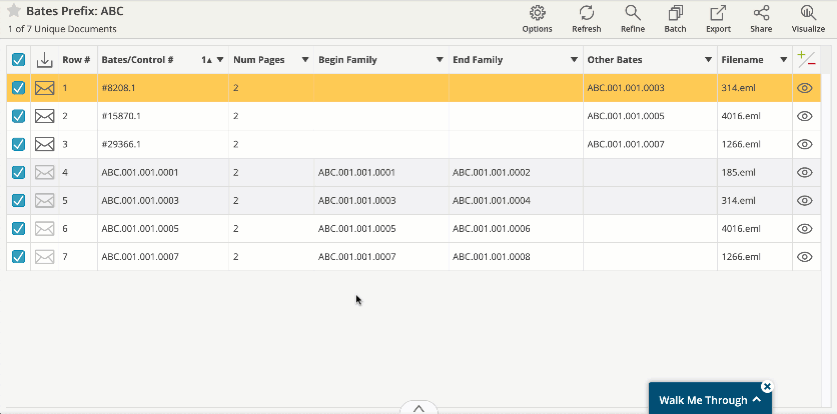 Sorting by columns
To sort the documents by a particular column's attribute, click the caret icon associated with that column and select "single-column sort (asc/desc)." In the "num pages" column, for example, you can sort by ascending or descending page count. You can switch from ascending to descending order, or vice versa, by clicking the small caret icon that appears when you sort a column.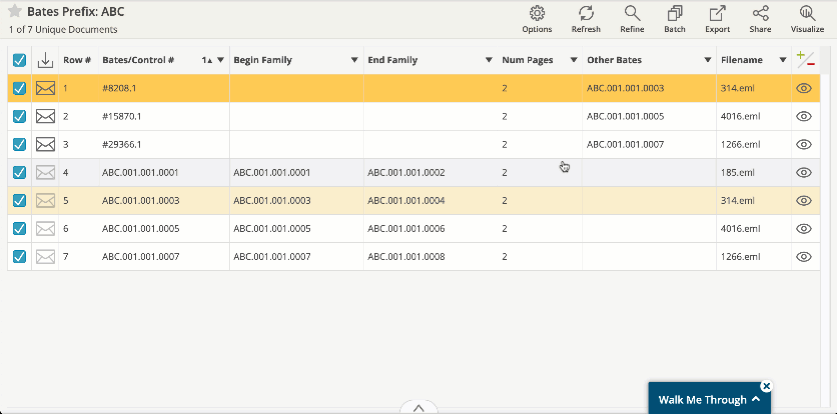 You can also add a sub-sort, which allows you to sort by two or more categories.
To sub-sort:
Choose your primary sort category by clicking the caret icon in

that column. Sort by either descending or ascending order. The number "1" will appear above your primary sort column.




Choose your sub-sort category by clicking the caret icon in that column and selecting "Add to sort (asc/desc)." Sort by descending or ascending order.

A number will appear above the sub-sorted column to designate the sorting level.
The example below sorts first by rating, then by Bates/Control number.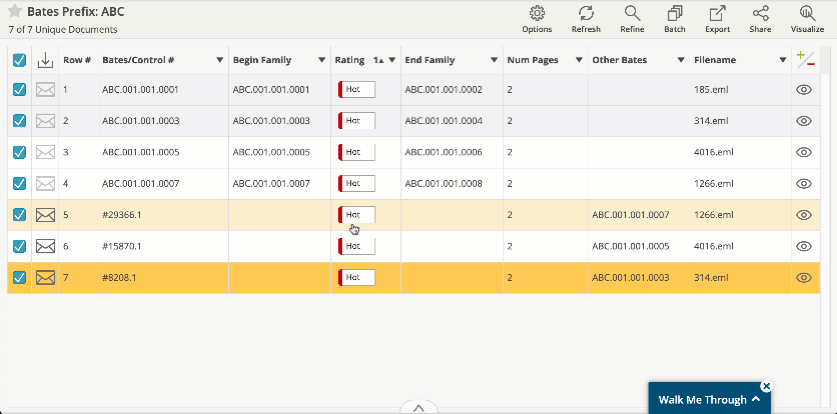 Managing results table views
Each search is associated with a particular view. Views include the selected set of columns, their order, and the sorting of those columns. The view does not include search settings such as including attachments or duplicates. You can select, save, and manage views using the new View icon on the Results Table toolbar.

Selecting a view
To select a view, you can click on the View icon. You will see a list with some options at the top and your views separated into three categories below: Project default view, My views, and Views shared with me. Clicking on a view listed in these sections will load the view for the current search in your results table.
Saving a view
If you choose to save a view you will be presented with a dialog box. You can either save a new view or overwrite an existing view that you created previously. Overwriting a view will update that view for everyone that has access to it. Once you have selected a new or existing view, you can enter or alter the name of the view and, if you are a project administrator, choose to make this view the project default view. The project default view will be the first view any user sees in the project. (If another user has an existing search set to a different saved view, that search's view will not be changed.)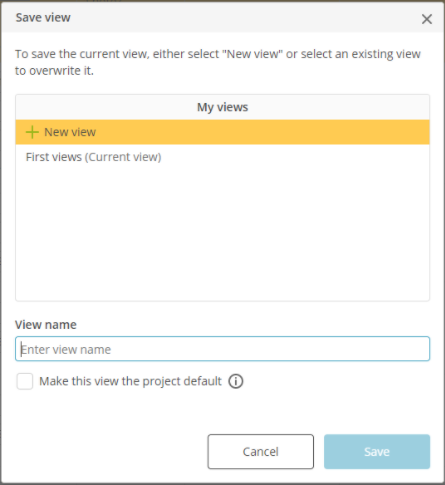 Managing views
When managing your views, you can rename a view, share it with others, delete it, or hide it from your View menu. You can only rename or delete a view if you are the creator.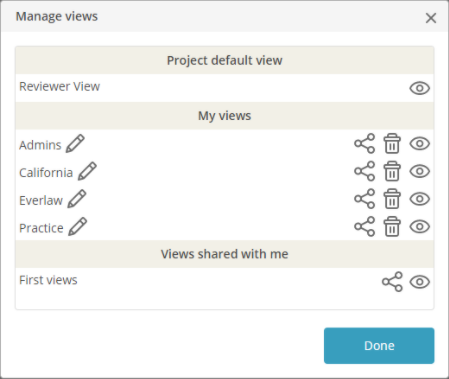 Sharing views
There are a few ways to allow others to see your views. If you are a project administrator, you can save a view as the project default. This view will be the first view any user sees in the project. The project default is an independent view that can be overwritten by any project administrator.
Any user can share a view directly with other users or groups through the manage views dialog. Those users can then select your view via the View icon dropdown.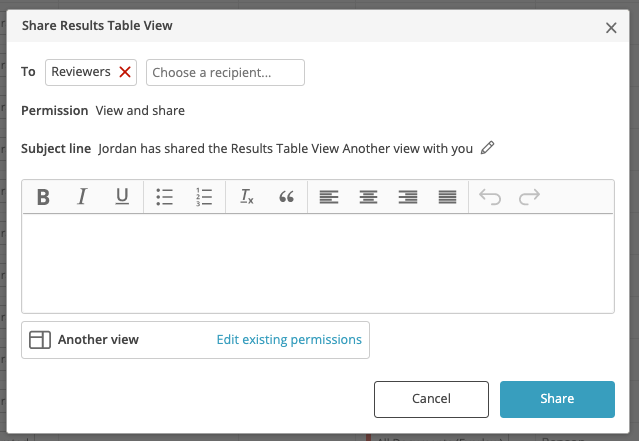 Finally, you can share a view along with a search. When sharing a search, the dialog will have an option to share the view that you are currently viewing. The recipient(s) will see your view when they first open the search. They will also have regular access to your view as if you shared it directly.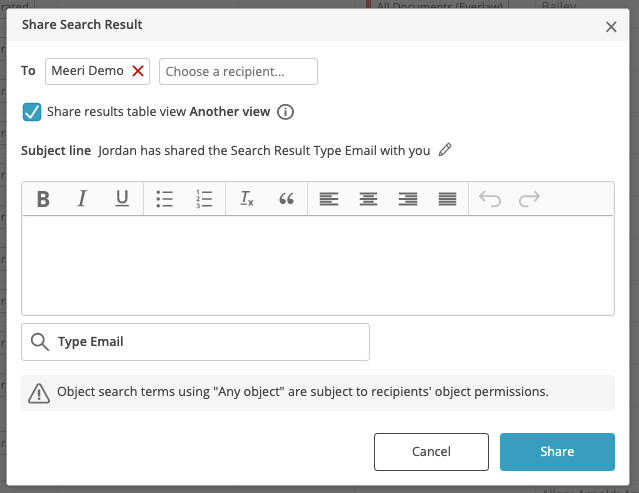 Next step: review
There are two ways that you can review your documents from the results table. The first way is to click on the document's row to open the document in the review window. For an overview of how to navigate the Review Window, click here.
The other way you can review the document is by toggling on Quick Review mode from the toolbar of the results table, which is helpful for high-speed review workflows. This will open the document from the selected row in a right-hand pane.