Documents, binders, searches, folders, assignments, and StoryBuilder outlines can all be shared in Everlaw. All sent and received messages and shared objects can be accessed through the message center.
Accessing the Share Option
Objects like searches, binders, outlines, etc. are represented via elements called "cards". Cards can be shared via the three-dot menu icon. Click on the icon, and a panel of options will be displayed. Select "share" from the list, and the share dialog will open. If you do not have access to the three-dot menu icon or the share option, it is because you do not have proper permissions to modify or share the object.

You can also share any object you are looking at if you see the "share" icon somewhere in the toolbar or screen.

The Share Dialog
Once you select the share option, a dialog will open where you can choose who you would like to share the object with, whether it be individual users or entire groups of users. You can also easily choose to share the object with everyone in a particular organization. 
In addition, you can add an optional note to provide more information. Depending on what you are sharing, you can also grant different levels of permission to the recipients. For example, if you are sharing a binder, you can choose to let your recipients only view the documents in the binder, add and/or remove documents from the binder, or have full sharing and deleting permissions. If you are sharing a folder, you will be able to specify your recipients' permission levels on both the folder itself as well as the objects it contains.
To be able to share a folder, you must have creator or "share and delete" permissions on all folder contents. You will not be able to share folders that contain objects that you only have viewing and/or editing permissions on.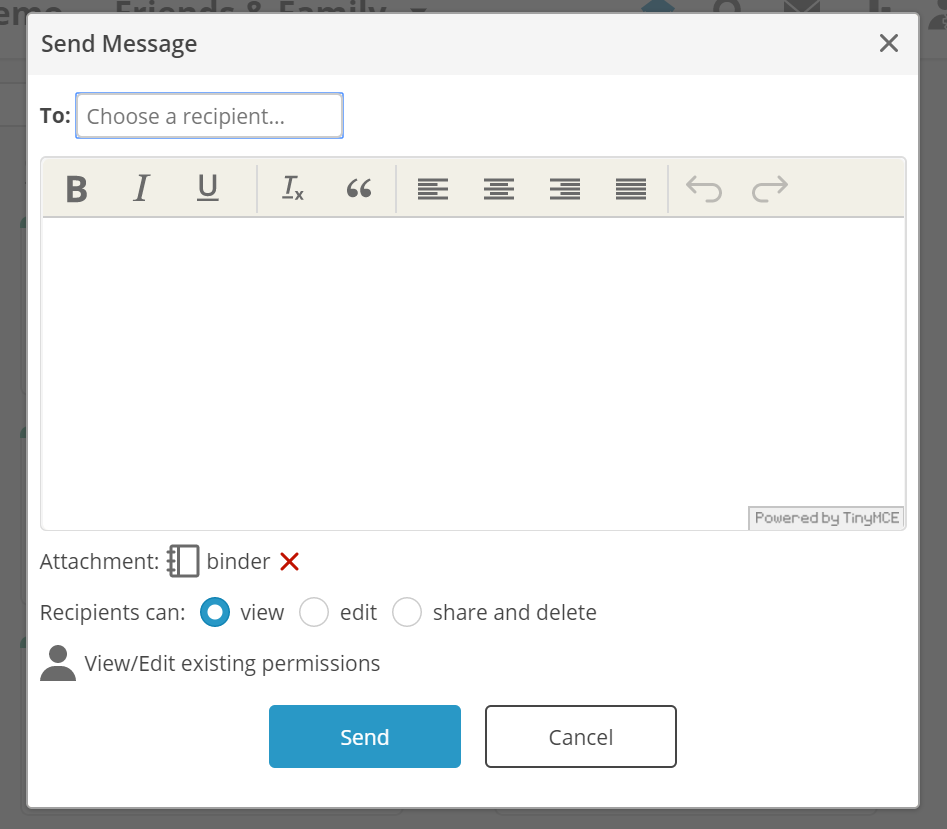 Permission Management
For objects that have permission settings associated with them, you can view and edit existing permissions from the share dialog. Just click the "View/Edit existing permissions" link in the lower left.
If you have share and delete permissions on an object, you can revoke other users' existing permissions on that object. This can be done by clicking "View/Edit existing permissions" and clicking the red X by that user's name in the menu. You can revoke permissions for any user except yourself and the owner of the object.