Q: What are productions
A: A great primer to productions can be found here.
Q: Do you have a production workflow guide?
A: Yes. Please see Production Workflow Guide and Best Practices.
Q. How much does it cost to run a production?
A: Running standard productions out of Everlaw is completely free! If your production requires custom technical work, you might be charged for support at an hourly rate. We will always seek permission before performing any chargeable technical work.
Q. How do I find the original, pre-produced version of the documents?
A: Once the production is complete, a mapping file is created that links the produced documents to their pre-produced versions. This mapping file is uploaded to Everlaw, and the documents are linked through the versions field. The full version history of documents is viewable in the context panel.
Q. Can I change the stamped message on processed documents?
A: Yes - you can specify what text you want stamped on your documents in the production protocol wizard.
Q. How do I redact text and metadata from a document?
A: To redact images, use the redaction tool to draw a black box over the area of the image you would like to redact. All redacted documents are OCR'd to ensure the text under the redaction is not provided. Note that all documents redacted must be coded as redacted within the coding panel.
To redact metadata: 
Create a user metadata field that is identical to the metadata field you are redacting (ie. "Subject" for "Subject"). Please reach out to your case administrator or Everlaw contact for assistance if you do not know how to create user-editable fields. 

Edit the user-editable field to read "REDACTED".

Code the document with a redacted code.
Q. How can I redact spreadsheets?
A: You can only redact documents that are available in image view. If there are spreadsheets you want to redact, create a search or binder that targets those documents. Then, re-process those spreadsheets by clicking on the export icon on the results table toolbar and navigating to "Process." Make sure to choose to image all documents and not to create placeholders for documents that are difficult to image. Then, simply redact them using the redaction tool as you would any document. Natives will never be produced for documents you choose to redact, since it is not possible to redact a native document.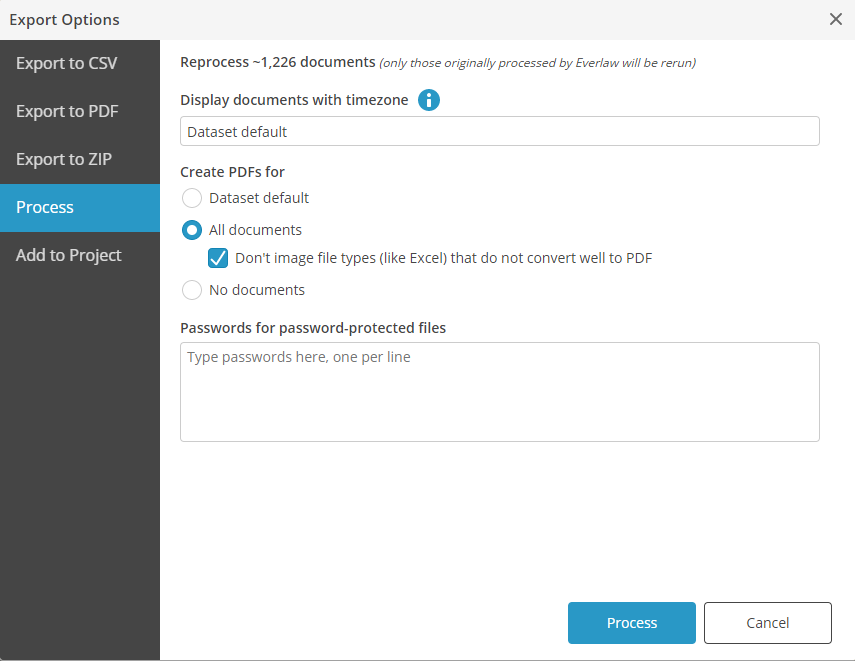 Q. Where can I find my produced documents?
A: Produced documents can be found through the versions context view, from the production card on the productions page or homepage, or through search. If your case admin has turned production notifications on and included you on the production notification recipients list, you will also receive a message in your Message Center with a small production card attached. More information can be found here. 
Q. How are privileged documents handled?
A: See the "Privilege" step of the protocol wizard. 
Q. Can I create a privilege log?
A: Yes! In the productions wizard, you can withhold privileged documents and then create a privilege log in a subsequent step. For more information, check out this section of the productions help article.
Q. What documents are provided in a production?
One image per page per document, if images are included
Images can be in PDF or TIFF/JPG format
One text file per document, encoded in UTF-8 (Unicode)
One native file per document if you included them in the production protocol
All of the following load files:
For more information, see our production help article.
Q. What do I do if the document looks like it was produced incorrectly?
A: Please let your Everlaw contact know as quickly as possible.
Q. How do I migrate codes from pre-produced documents to the produced versions of those same files?
Open up the search page and craft a search that looks for a) your pre-production binder(s) and b) a code that you'd like to transfer over to the produced versions.

Once you've got that in place, hit "Begin Review" to pull up a results table that contains all the pre-production docs with that particular code.

In the results table, hit the "Group" button and select the option "Versions" from the pull-down menu. This will pull in the corresponding produced docs and nest them within the matching pre-production document. 

At the very top of the new column that shows the nesting (full of the sideways arrow icons), click the drop-down icon to show the grouping table options. Select "flatten groups".

From here hit the "Batch" button in the results table toolbar (to the right of the group icon) and then select the same code you searched upon in step 1. Hit "Apply" to add that code to all pre-production and produced documents within the table.
These steps will need to be repeated for each code you wish to transfer over.
Q. Can I modify a production if I already produced the documents?

Yes! Please see this article to learn more about the various production modification tools offered on Everlaw.