Table of Contents
*Note: For information about modifying productions once they have been created in Everlaw, please consult our article on Production Modification Tools here. For all information on productions in Everlaw, please see the help articles in our Productions section.
Producing documents in Everlaw
Everlaw has a cloud-based production system which allows you to automatically generate productions at any time of your choosing. You can create and save an unlimited number of production protocols in your project, and produce documents under a particular protocol.
Your production will be packaged as a zip file that can be shared with opposing counsel through various mechanisms. Please see the 'Sharing a production with external parties' section. We automatically generate load files in the following five formats for each production: .DAT, .OPT, .DII, .LST, and .LFP.
Produced documents will also be uploaded into your project for your reference, and will be searchable and viewable.
The details and specifications for a production (e.g. what formats to produce? which metadata fields to include?) are often negotiated at the beginning of a case. If you have questions about negotiating a production protocol, we are happy to help; please reach out to your account representative or support@everlaw.com.
Permissions associated with productions
In order to access productions from the Productions page, you must be in a group with either of these permissions:
Share Productions: Download and share productions from the Productions page

Admin

Productions: Create, modify, download, and share productions from the Productions page.
If you do not have either of these permissions, you will still be able to search for and view produced documents, but you will not be able to access the productions themselves from the Productions page.
Production mode must also be turned in on your project. Some databases may have child projects (ie. sub-projects that share some or all of the same underlying documents as the original project). If productions are generated in a child project, the production status cards will only be visible in that project's Productions page, but the produced documents will appear in all complete projects in the database. Productions generated in a complete project will not appear in partial projects (until they are explicitly shared with the partial projects).
Preparing and packaging documents for production
Documents should be coded and redacted before production. Common production codes, such as those related to confidentiality, redactions, and responsiveness, can be added to your project through the production wizard. You can also create or delete codes through the coding sheet.
There are two ways to collect documents for production once they have been reviewed:
1. Run a search
You can run a

search

to fetch the appropriate documents. If you use the 'Produced' search term, and negate the term, you can easily exclude documents that have already been produced. Make sure to select "Original Docs" so you are excluding the pre-produced version of the documents you would like.

From the results table view, you can launch a production by clicking on the Export icon and selecting Production. All selected documents in the table will be produced.

2. Add documents to a binder
During review, or before production, you can add documents to a

binder

. When setting up a production, you simply need to specify that you want to produce the documents in a particular binder.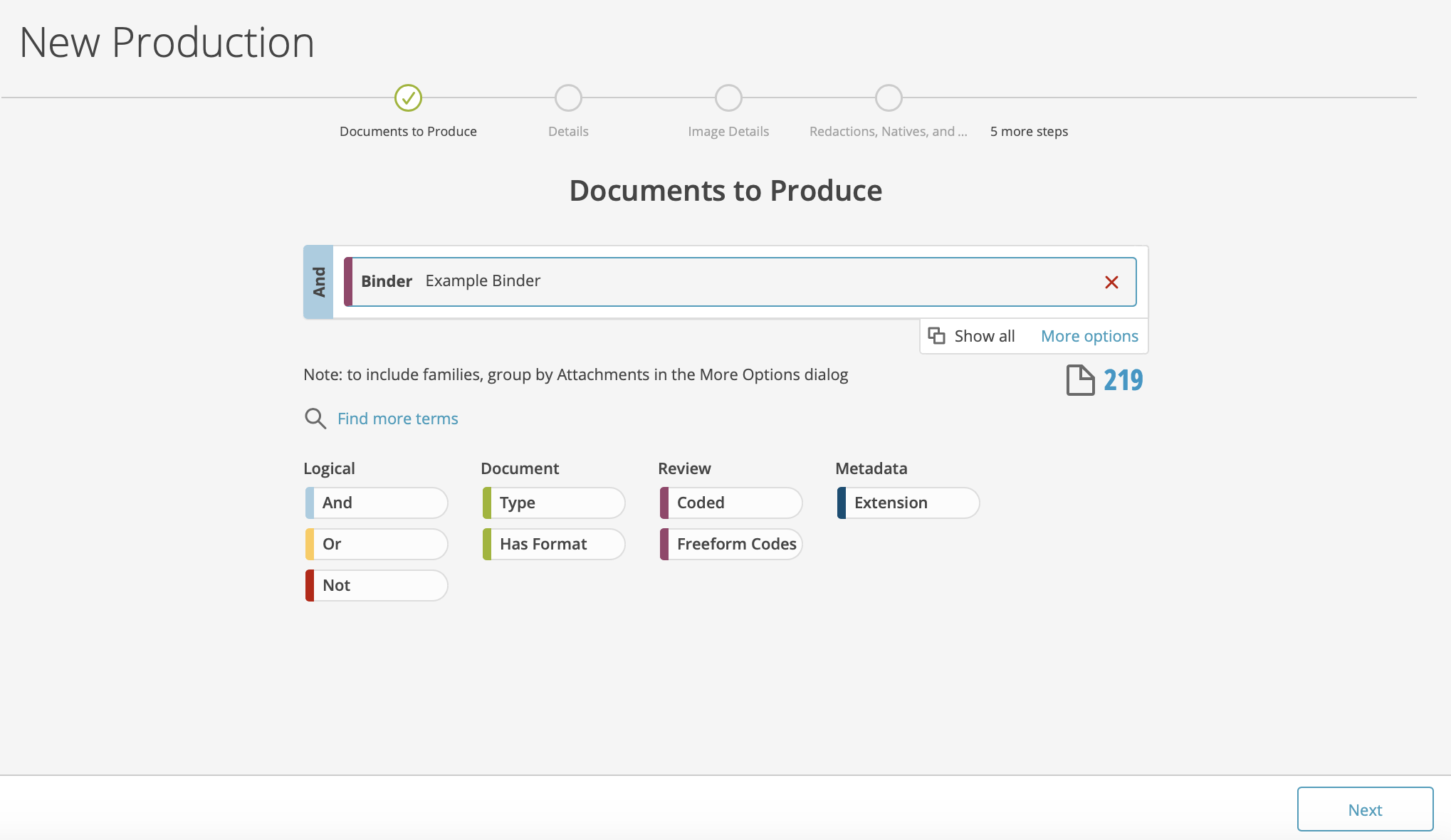 You can also use any combination of codes and binders to identify the documents you want to produce.
If you want to discuss review and production workflow ideas, please reach out to your Everlaw account lead, or support@everlaw.com. You can also review our assignments documentation to get ideas about how to set up a review workflow.
Pre-production quality assurance
Performing quality assurance on your documents before producing them will help ensure that there are not any mistakes, such as missing family members or redactions. For recommended best practices and suggested pre-production QA steps, please visit our production workflow guide.
Creating or editing a production protocol
A production protocol specifies the rules for a production. Protocols can be created either (i) independent of a production or (ii) during the process of creating a production. You can store any number of protocols for future use, allowing you to reuse previously created protocols.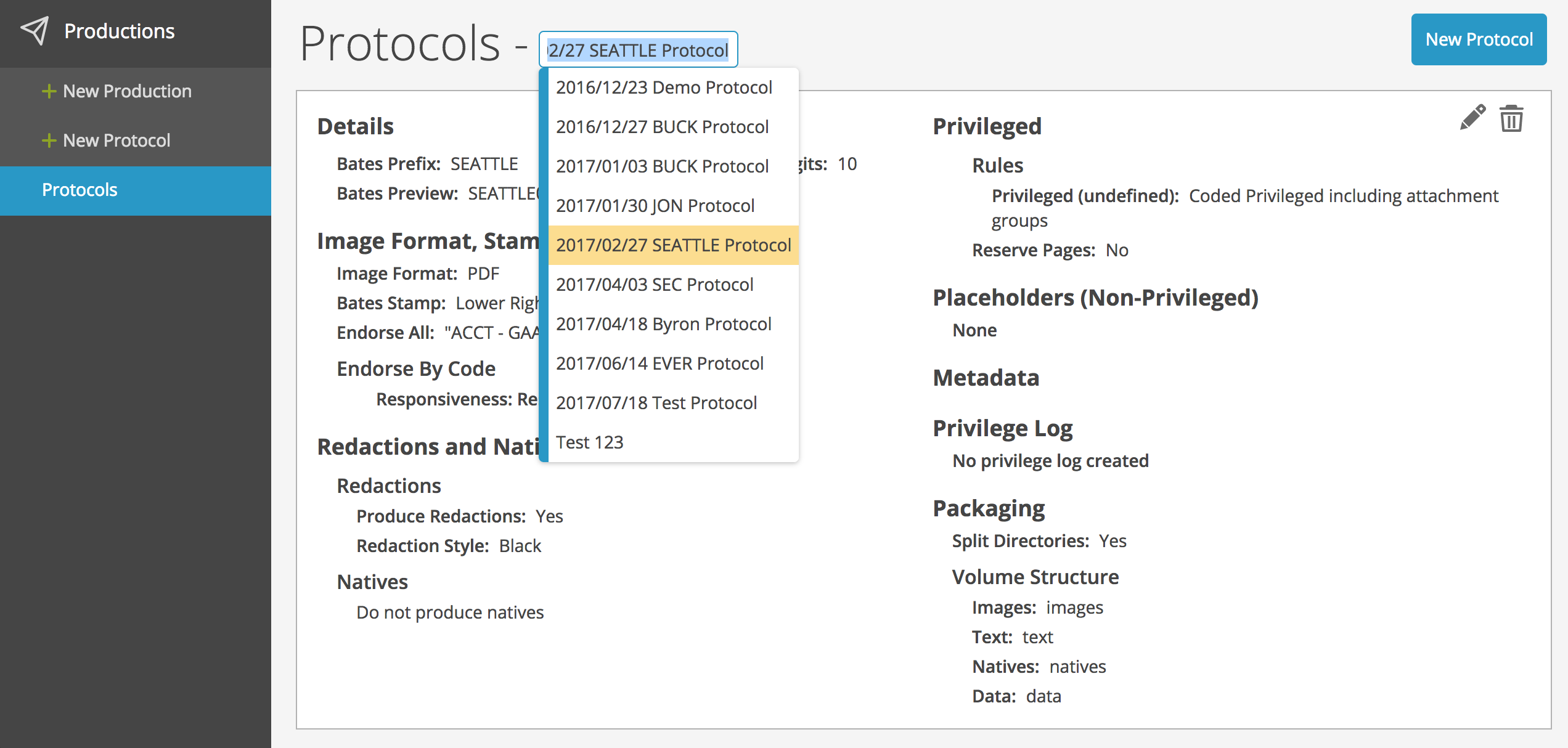 We strongly recommend that you create a protocol in Everlaw as soon as you know what the agreed upon settings are, as opposed to when you need to run your first production. Creating protocols early will give you a chance to see whether or not you need Everlaw to set up custom settings or fields. For example, a production protocol might require you to produce a field that is not in your project. In that event, Everlaw can add custom metadata fields to your project.
If you have questions about creating a protocol, adding custom fields, or non-standard production requests, please reach out to support@everlaw.com.
To learn more about creating a production protocol in Everlaw, please refer to the production protocol help article.
Creating a production
To create a production from the productions page:
Navigate to the productions page

Use this page, or the '+ New Production' button in the left panel to create a production. Then, create a search to fetch the documents you want to produce.




You can also launch a production from the results table, by clicking on Production in the Export icon menu.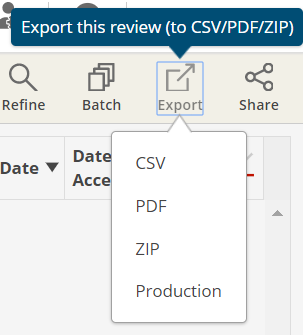 Accessing and monitoring productions
Upon completing production, your produced documents will be fully rendered in Everlaw. They will be full first-class docs, with their own images, text, and metadata. Each production will be stored on the productions page as a card. The cards are arranged by date created, with more recent productions at the top. If you want to filter the production by keyword or date, use the filtering options at the top of the page.

For ongoing productions, you will see the name and description of the production, and a progress bar.
For successfully completed productions, you'll see: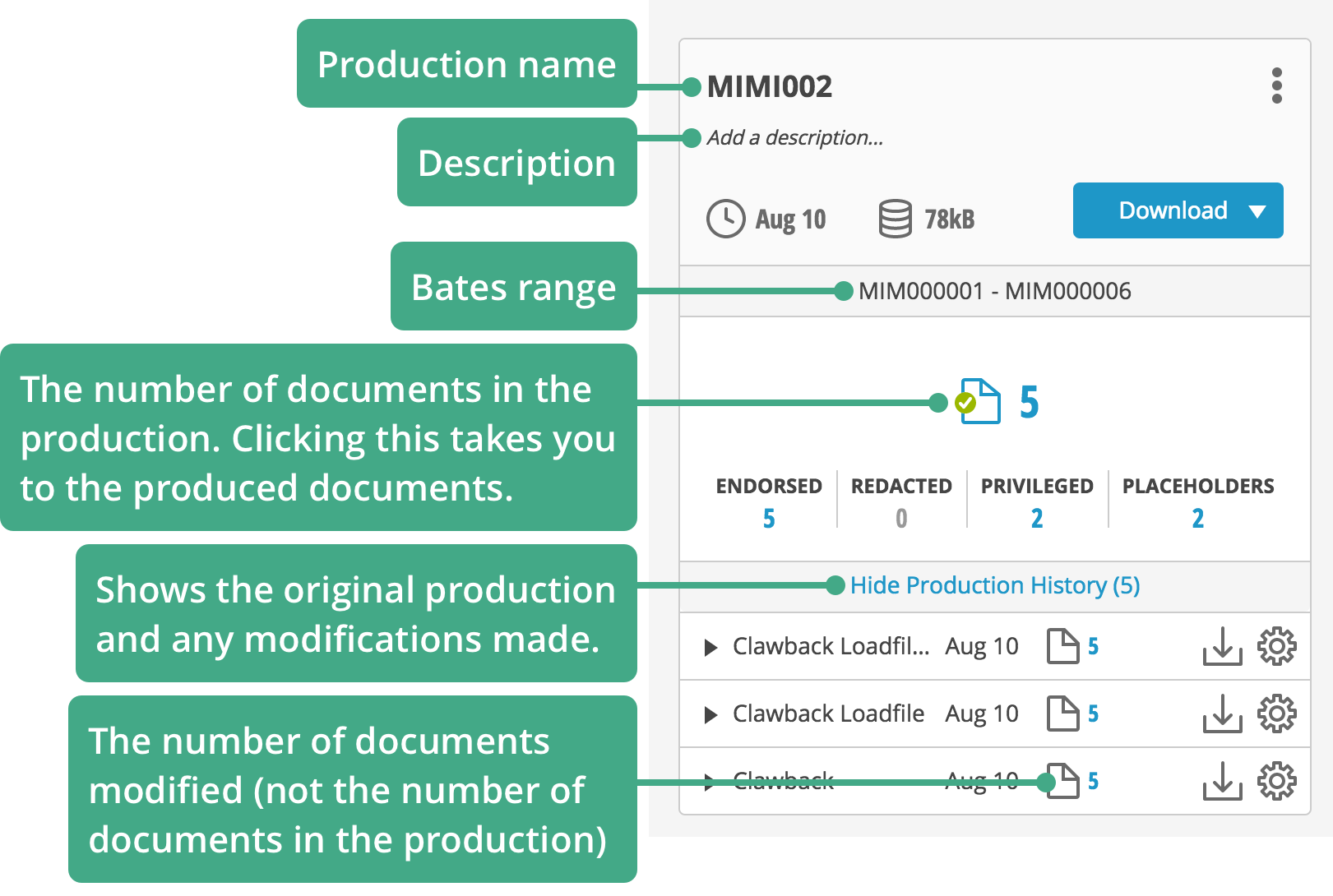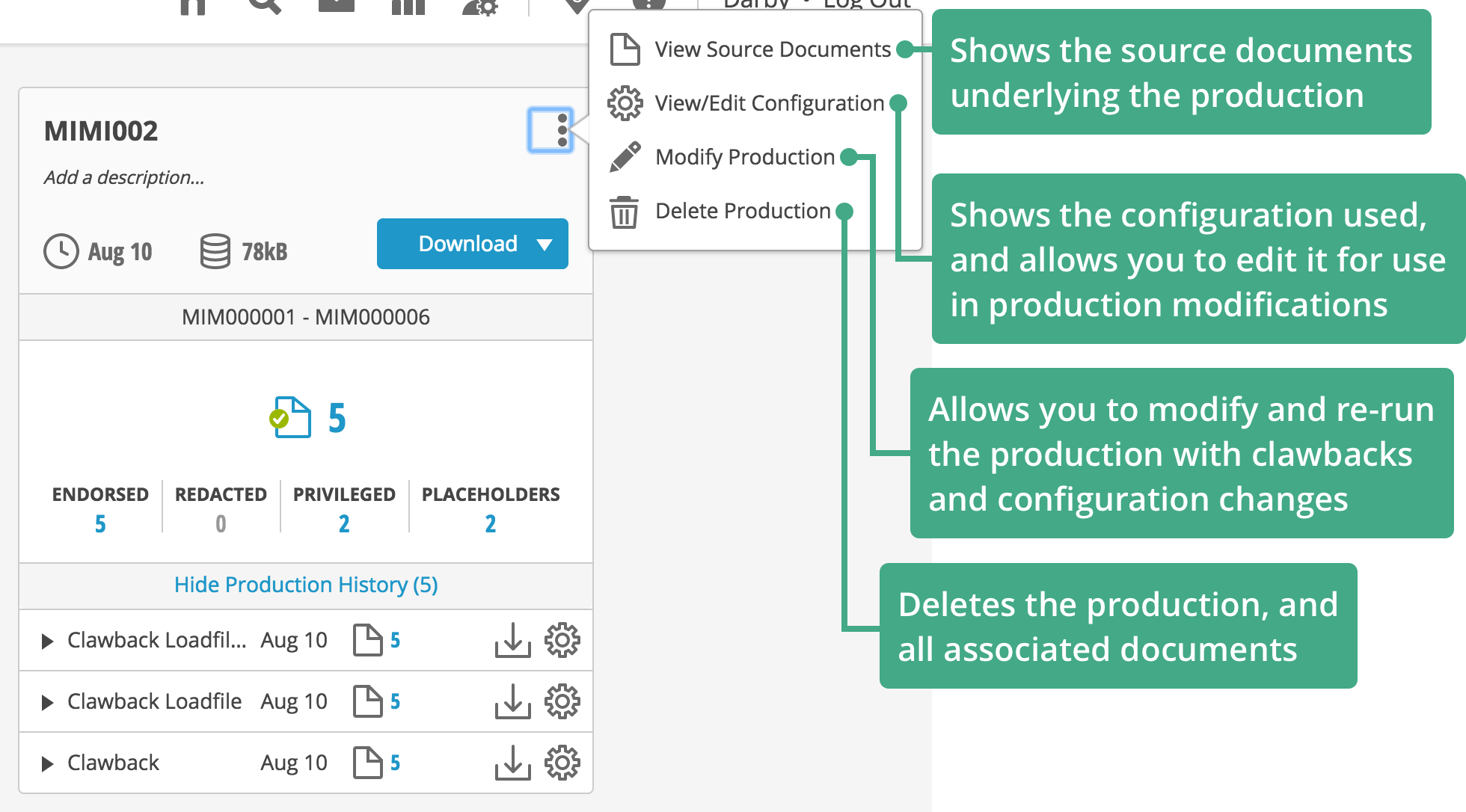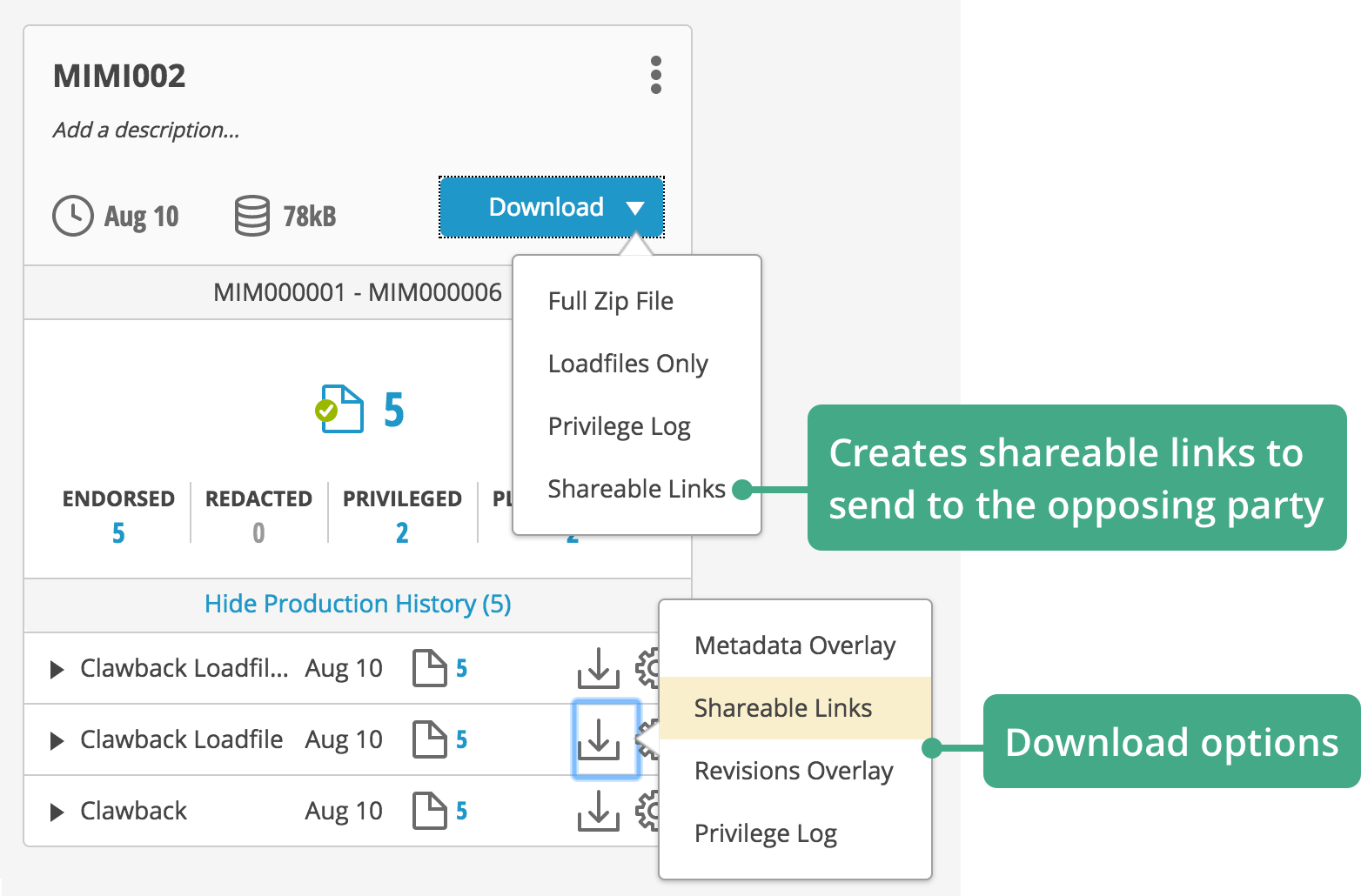 Access production's underlying search logic
You can access the production's search logic on the production card. This gives you more transparency into what was included in a production and leads to quicker modifications if necessary.
In the Productions card, click the three-dot menu icon and then click View/Edit Configuration. Then click Show Detailed View within the dialog, and the detailed view will display the search logic of your production. You can click Re-run search to go to the results table. The search will display the most recent update, which might differ from the documents produced.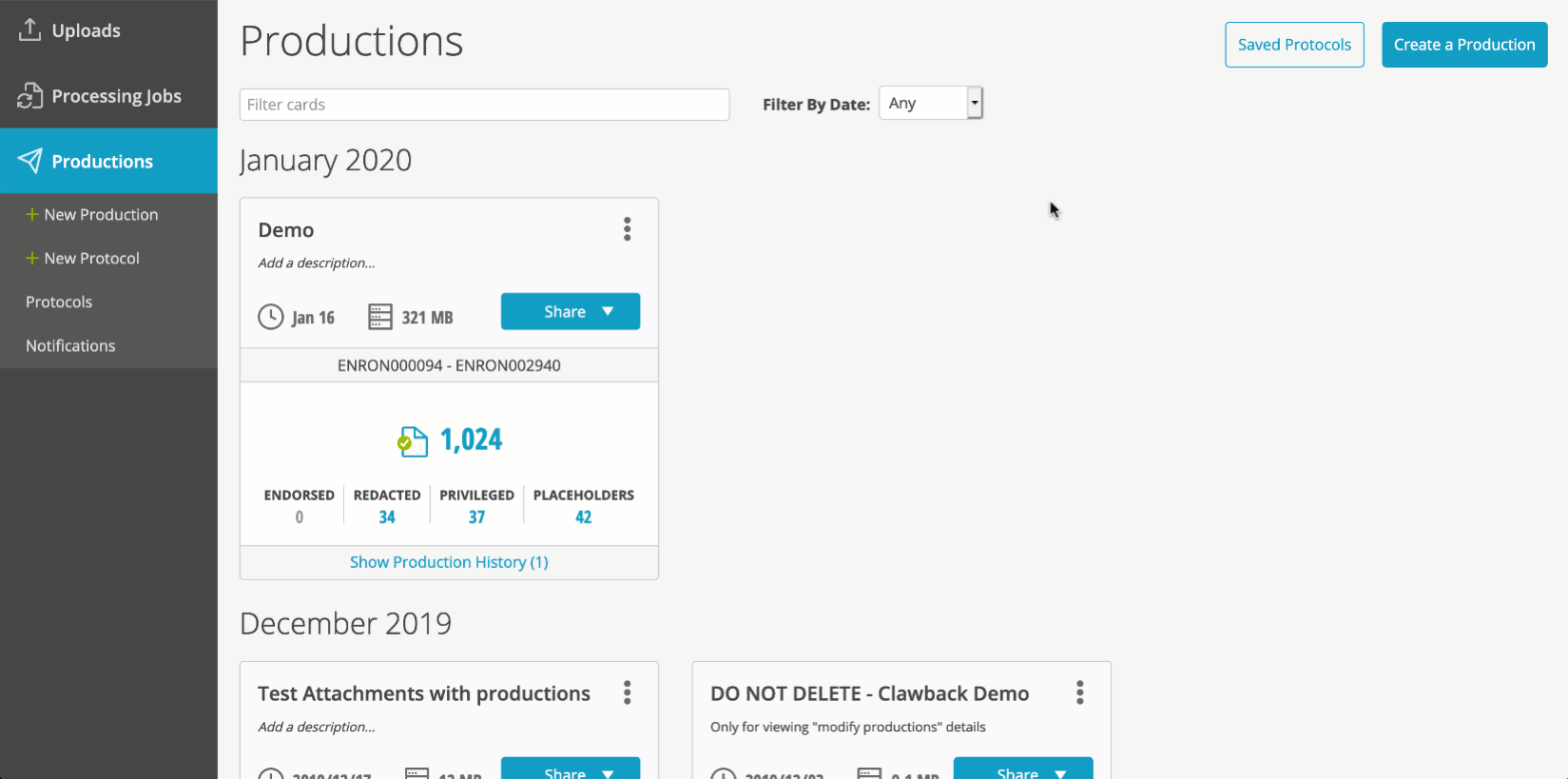 Cards for failed productions
Cards for failed productions have much of the same information and functionality as cards for successful productions, with the following exceptions and changes:
The card will have a red border, font, and alert icon, which you can hover over for information about why the production failed (1)

You can see the total number of documents that registered an error next to the total number of documents in a production (2)

You cannot download a failed production (3)



If your production has any errors, you can hover over the alert icon for more information about why it failed. For support, please reach out to Everlaw (support@everlaw.com) immediately.
Please note that if you choose to delete a production, documents from the production will begin to be deleted immediately. This means that if you then choose to abort the deletion, some of the documents will already have been deleted and the production will no longer be considered complete. Incomplete productions are not able to be modified, and you will need to delete the complete production in order to reproduce the documents using the same Bates numbers.
Production cards can also be found on the homepage. They are stored under the Document Sets column and have a yellow band. The cards are arranged by date created, and can also be filtered by keyword or date.
Finding produced documents and post-production quality assurance
Your produced documents are also displayed as a new version of your original documents. Once documents are successfully produced, they are linked to their pre-production counterparts through the versions context. There are many ways to locate produced documents:
Click on the number of total produced documents in the appropriate production card



Click on the associated production card on the homepage, under the Document Sets column.


Run a search using the 'Produced' search term. You can also find documents based on specific production errors or attributes using the second parameter of the 'Produced' search term. If you want to find the pre-production counterparts, simply select the 'Original Docs' flag.

Run a search using the prefix and Bates range of the produced documents

Group any results table by clicking on the Options icon and selecting the Versions context

View the Versions context in the review window
Before sending a production out the door, you might want to perform quality assurance to make sure that everything looks correct. Teams will perform different checks depending on their needs. We'll go over how to perform one common QA check in detail and recommend some other checks that you might want to perform using similar methods.
Let's make sure the redactions look correct:
Pull up the documents from a particular production. Using the 'produced' search term is the easiest way to do this for QA purposes. Select the production name you want to QA for the first parameter, and choose 'Redacted Document' for the second parameter.

If this search returns a lot of documents, you can use the 'sample' search term to pull up a more manageable randomly sampled subset of the results.

View the returned documents to verify that redactions were properly burned in and redacted text does not appear in the text file.

We also recommend checking that the Bates and endorsement stamping look correct, verifying that redacted and special metadata fields show up correctly, and confirming that privileged documents are properly withheld. You can use the 'Metadata' search term in conjunction with the 'Produced' search term to find documents for the metadata check. Please reach out to support@everlaw.com if you need help QAing your documents.


Sharing a production with external parties
To learn how to share productions, please read this help article.