Everlaw Pricing Approach
Having clear and consistent pricing is a big part of your user experience, so we strive to make our pricing simple, predictable, and transparent. Everlaw's pricing is based on the amount of data hosted, with unlimited user licenses, unlimited processing and productions, and unlimited access to advanced features like StoryBuilder™ and our prediction engine. We also provide the flexibility to either pay as you go or lock in lower per-GB rates by subscribing to an agreed-upon volume of data on an annual basis. Please feel free to reach out to your Everlaw rep or sales@everlaw.com with any questions about Everlaw's pricing options.
FAQ:

At what point is the case size determined for billing purposes?
Bills will reflect the peak size of your case data for the month.

How can I view and manage the size of my data?
To view the size of your case's data, navigate to the Case Analytics page and select Case Analytics in the sidebar. Then, click Case Size. From here, you can view your data over time, as well as see the peak size for each month.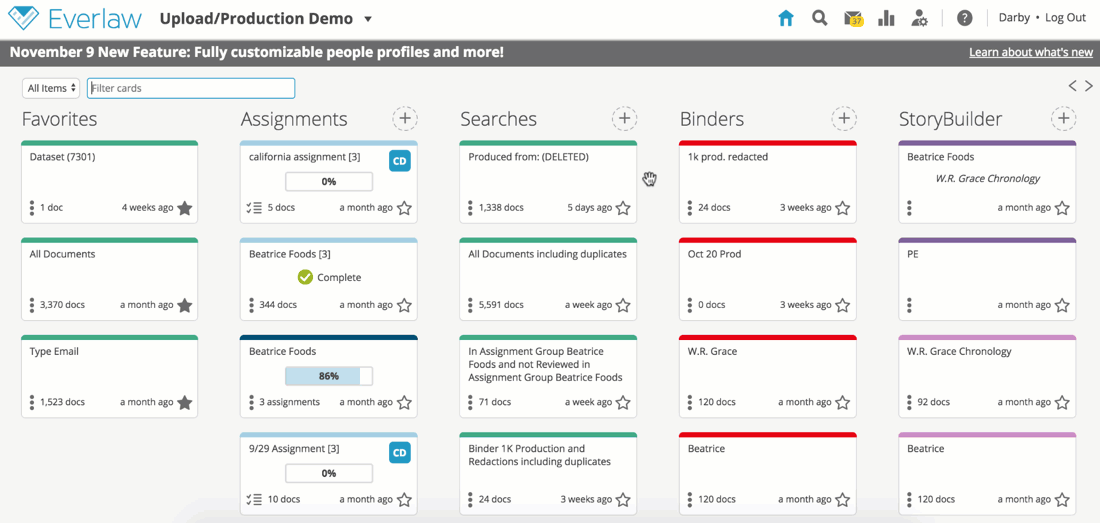 One way to manage the size of your data is to delete documents that you no longer need hosted on Everlaw. Note that this will reduce your bill for subsequent months, but will not affect the peak size of the current month. To delete documents within your case, gather the documents for deletion in a binder. Then, share that binder with Everlaw with a message to delete all of the documents in the binder. After deletion, the binder will still exist in your case, but the documents will be deleted.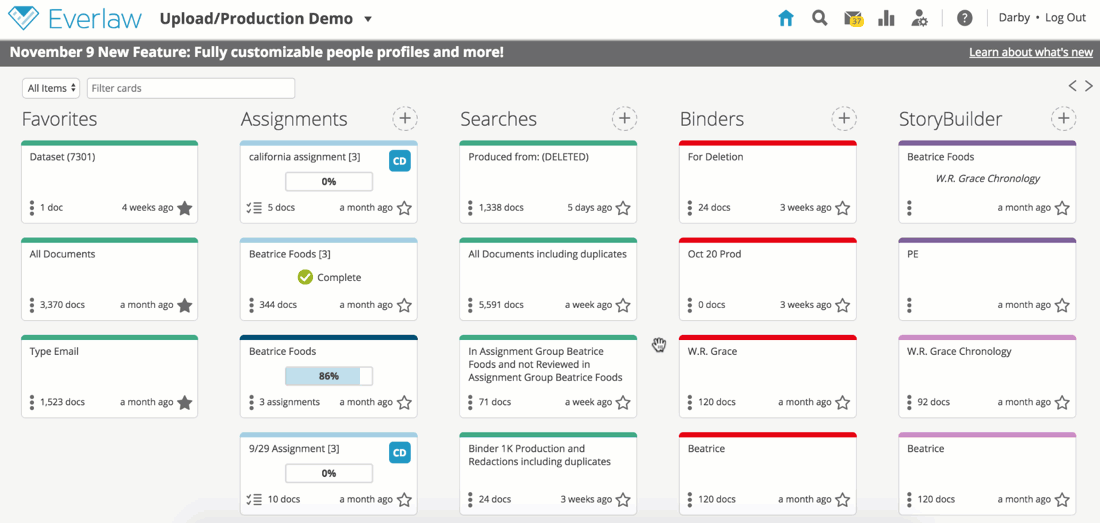 You can also delete all documents in a native upload or production. Simply navigate to the card of the upload or production you would like deleted, and click the three-dot menu in the top right corner. Then, click Delete. This will permanently remove all of the documents within the particular upload or production from your case.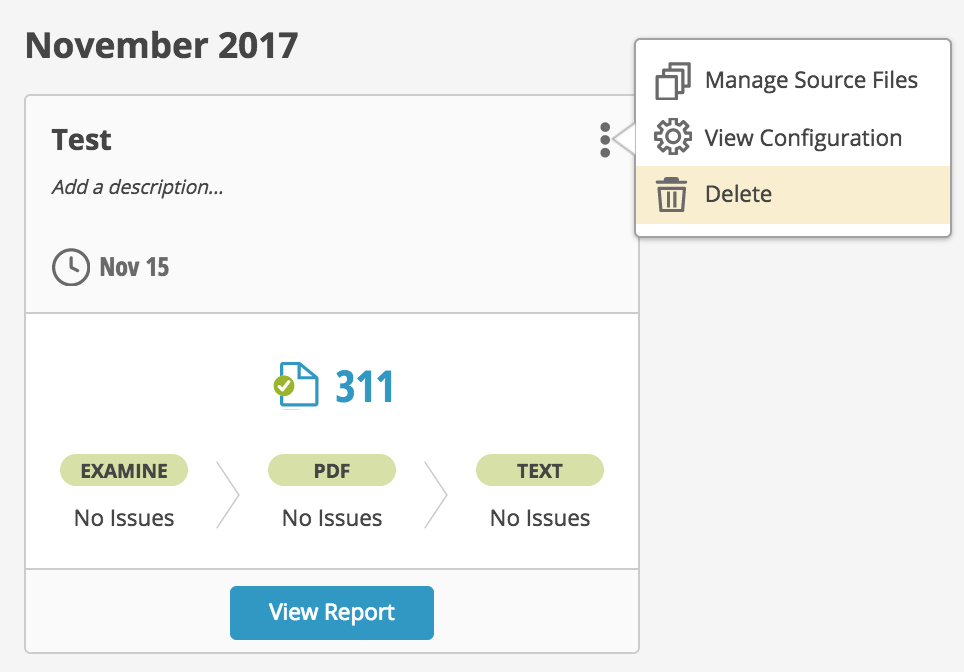 Deleting documents from a native upload.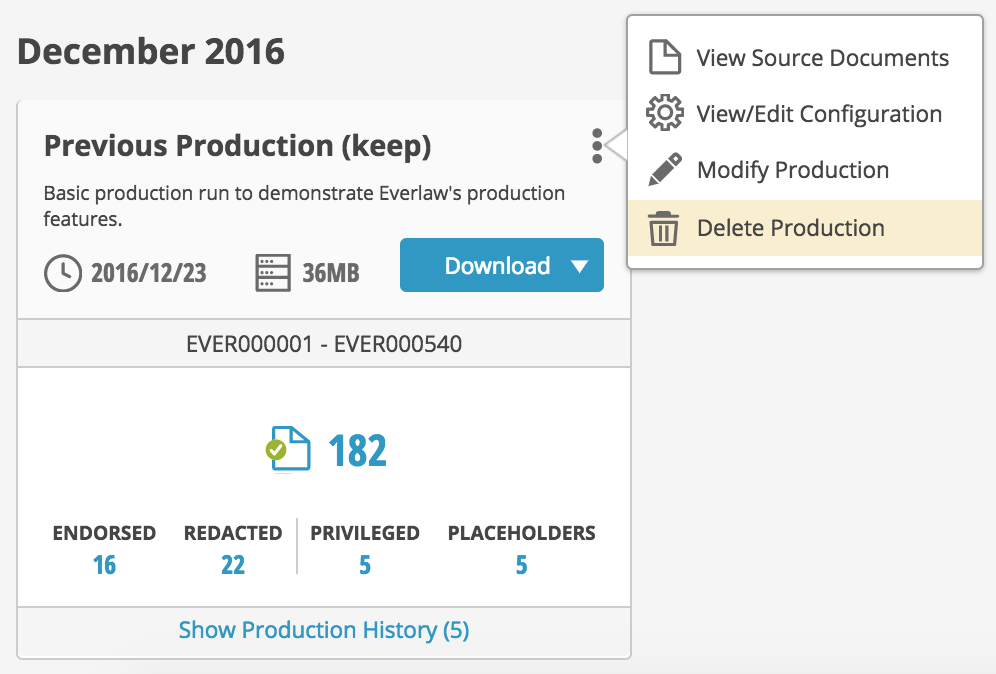 Deleting documents from a production. 
Uploaders can also delete documents straight from the results table. 
Are there charges aside from hosted data size?
The pricing for Everlaw's software is based entirely on the amount of data hosted, with unlimited user licenses, unlimited processing and productions, and unlimited access to advanced features like StoryBuilder and our prediction engine.
Should you wish to take advantage of our limited-scope project management, however, those capabilities are offered for an additional hourly fee of $140/hour (with a 1 hour minimum). Additionally, working with non-standard data also incurs an additional hourly fee at the rate of $140/hour.  Check out our article on non-standard data to learn more.  
How are productions generated by Everlaw handled?
We upload produced documents to the case from which they were produced. This allows the user to quickly reference and compare produced documents with the original native files.  There is no charge for the production process and Everlaw will charge for the storage size of the produced files per standard pricing.
What are my options for exporting or suspending data?
There are two options for exporting and suspending your case's data.
First, you can export the data and then have Everlaw delete the entire database and all documents. Should you wish to re-upload the documents to Everlaw at a future date, there will be a one-time re-uploading fee. Before removing a database, you can:
Run a

self-managed backup

by

exporting

all documents and review work to a zip file and a CSV;

Request an

Everlaw-managed backup

by having Everlaw perform the export for a one-time fee equivalent to the final full month of storage, plus the cost of the hard drive  and shipping and handling;

Choose not to backup any of the case data.
Second (recommended), you can have Everlaw suspend the database, which will incur a one-time fee equivalent to one full month of storage. This amount covers one year of suspended storage and will allow you to re-open the case on Everlaw at any time at no cost. At the conclusion of the year, clients can either have the bill transition to a monthly charge equivalent to 10% of the one-month storage amount or re-suspend the data for another year at the same cost.
See this article for more information on deletion, suspension, and export options.