This article covers organization admin functionalities, which are available to certain users with contracts covering unlimited database creation.
Table of Contents
Video overview of the Organization Admin dashboard:
This article covers the functionality of the various tabs on the organization administrator page. This page is only accessible for users with an annual, organization wide contract. Please contact your account representative or support@everlaw.com if you are not sure if you qualify.
You can access the organization administrator page by clicking on the diamond icon with an "A" on the upper right of your screen, near your name.
Projects & Users
The Projects & Users tab is the hub of larger project and database management. From this tab, you are able to create databases, rename projects, export projects, suspend projects, and request project deletion. Please see our project administration documentation for more information on each of these functionalities.
For information on adding and setting up a new database, see this help article.
The Projects and Users tab is used to view all of the projects and users that are associated with your organization. On the left side, there is a list of projects belonging to your organization. These cases may or may not include you as an organization administrator, but they are "owned" by your organization. For example, if you are on a multi-plaintiff case that was started by another organization, it would not appear in this list. Conversely, if a project is part of your organization even if you are not on it, it will appear in that list. You can filter projects by typing into the filter box next to where it says "Projects."
By default, the list of users on the right side will be all users in your organization. If you select a project, you will see the full list of users on that project. If you would like to return to the list of users in your organization, de-select the project you are currently looking at by clicking anywhere on the project name (the row will be highlighted in orange). You can also click on the expansion button in the upper right corner to view all users in your organization.
To remove a user from your organization, click the trash can icon on the right side of the user's name.

This will remove the user from all projects owned by your organization, as well as the organization itself.

You cannot transfer any review work for the user you are removing if they are removed from the organization admin page. To transfer a user's review work prior to their removal, navigate to their individual project(s) and remove them from the project's settings page. There, you will be given the option of transferring their review work before their removal.
To navigate to a project, click on the gear icon to jump to the project's settings page. If you do not have Project Administration permissions on a given project, the icon under project navigation will be greyed out.
Search Across Projects
Organization administrators can simultaneously search across all projects to find hits for any given search criteria. The tab, found under Projects & Users in the organization admin page, contains our normal search interface but with a more general search term set to better account for finding hits across all projects. After building a search on the query builder, clicking "Search" will open up a corresponding results table that displays rows of every project you have access to and its corresponding search hits.
To learn about Search Across Projects in more depth, please refer to this article.
Project Sizes
On the Project Sizes tab, you can see a list of all of your projects, along with the processed and native peak size for the month. You can also see the number of new uploads for the month. This number does not include modify uploads, such as metadata overlays.
On the top right, you can filter projects by a particular name or date range. If you pick a different date than the current month, you can see the peak sizes (processed and native) for the selected month in parentheses. Because Everlaw bills based on peak size, this will correspond to what your bill would have been for that month.

By clicking on the download icon next to Project Sizes in the upper right, you can export the current billing cycle's sizes to a CSV.
Processed Uploads
For information about uploading processed data into Everlaw via the organization administrator page, please consult this article.

User Uploads
On this tab, you can see a list of uploads done via the processed upload page on individual projects that are owned by your organization. You can filter by project, and choose what status you are interested in looking at. For example, you can view all uploads in the "Received" stage to see uploads you may not have begun processing.
Please note that the statuses for these uploads must be adjusted on the individual project pages. Completing the upload on the Processed Uploads tab will not change the status.

Tasks
On the Tasks page, you can see a list of all active and finished tasks on projects owned by your organization. These include batch actions like assignments, adding documents to binders or batch coding documents. It also includes single actions like exports and binder deletions.
You can see the time the task started, the user who started it, a description of the task, its progress, and an ETA. If the ETA is listed as "Queued," the task has not yet begun but will start when the system is freed up to work on it. Under "Action", you can choose to pause or abort the task. Please note that if the task can be completed in stages, like batch coding documents, aborting the task will just prevent future documents from being coded. It does not remove the code from the documents that were already affected. If you would like to undo the coding decisions, you can do so in the Finished Tasks section. For tasks like exports, aborting the task will prevent you from being able to use the export.
Under Finished Tasks, the date will be the date and time the task was completed. Under Description, there might be a blue "i" icon. This indicates there is more information you can expand by clicking. In most cases, it is a list of missing files in an export. In the Result column, it will show whether the task completed successfully or not. The final icon will allow you to undo batch actions or download completed exports.

Activity
On the activity tab, you can see all current activity by users in your organization on projects that are owned by your organization. For certain objects like searches and documents, you can click on the linked label to be taken to that object. Any event that has happened within the last ten minutes will be displayed here.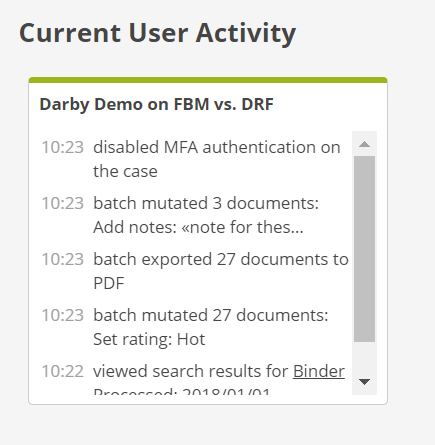 User Access
The User Access tab on the Organization Administrator page allows you to see the user access history of your organization, as well as any project your organization owns. To view the access history of a particular project, simply type the project name into the search box and hit Enter on your keyboard.
From this page, you can view who has been granted access to a particular project, which groups they were added to, as well as which users have been removed from the project.