Table of Contents
You can access the users and groups settings by clicking on the admin icon in the toolbar and selecting 'case settings'.
What are user groups and organizations?
User groups allow administrators to control the actions of certain subsets of users. You can control your reviewers' permissions to rate, code, write notes, redact documents, update metadata, and perform batch actions. You can also designate which user groups will have administrative privileges. To access the user group settings, click Group under the Users and Groups header in the Case Settings navigation bar.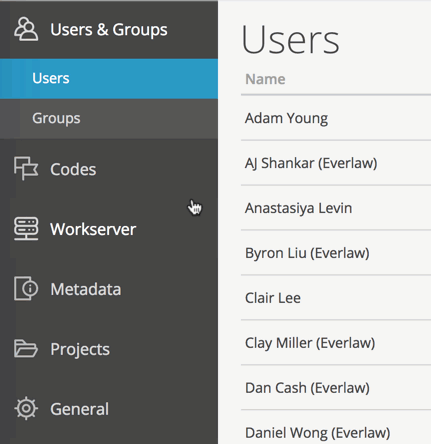 The user groups table displays the names of the current user groups in the project, as well as the modifiable permission settings. The "Administrators" and "Reviewers" user groups are included by default on all projects in Everlaw.
To set the permissions associated with a user group, select any combination of permissions in the appropriate row. If you want to rename a group, click the pencil icon. To add a new group, click the "Add a new Group" button in the upper right. To delete a group, click the trashcan icon. Note: If you delete a group, the users in that group will be removed from the project unless they are in another group.
To learn about organizations, click here.
How do I edit permissions for user groups?
If you deselect a check box in a row corresponding to a user group, all users in that group will be unable to perform the action. For example, if "Batch Update" is deselected, users will not be able to perform batch actions on any set of documents. If only "View Case" is selected, users in this group will not be able to edit any of the documents in any way; however, they will be able to see all annotations to the documents along with the documents themselves.

Giving a user group the "case admin" permission will cause all users in that group to be considered case admins for the purpose of analytics. Case admins are also able to access the case settings page, the analytics page, and create search term reports. 
At times, you may want to control which groups have access to your documents during a given time frame. A group of users might not be ready for review, or they might have just finished up. You may want to keep these individuals as users in the project, but not allow them to see documents. In these cases, you can use the "view case" permission setting to control whether or not groups of users can view documents in the project.

Permission Setting Options for Rating, Codes, Notes, and User Fields:
View - Individuals in the user group will only be allowed to see the ratings, codes, notes, and field values
Edit/Create - Individuals in the user group can see, apply, and change codes, ratings, notes, and user field values
None - Individuals in the user group can not see or edit ratings, codes, notes, or user fields
How do I add users? 
To learn how to add or remove users, please see the Adding Users article.